This post may contain affiliate links that, at no additional cost to you, I may earn a small commission. Read our Disclosure Policy.
Last year we purchased a "new to us" home, a brick rambler situated on over an acre with beautiful views. The home was in great condition but was dated. The patio was on the "have-to" list of projects to get done but it was way at the bottom of the list. So when Home Depot contacted me to be a part of the Home Depot Patio Style Challenge – I was thrilled!! I've been wanting to create a hanging table and this was the project to do it!
Home Depot Patio Style Challenge – Hanging Table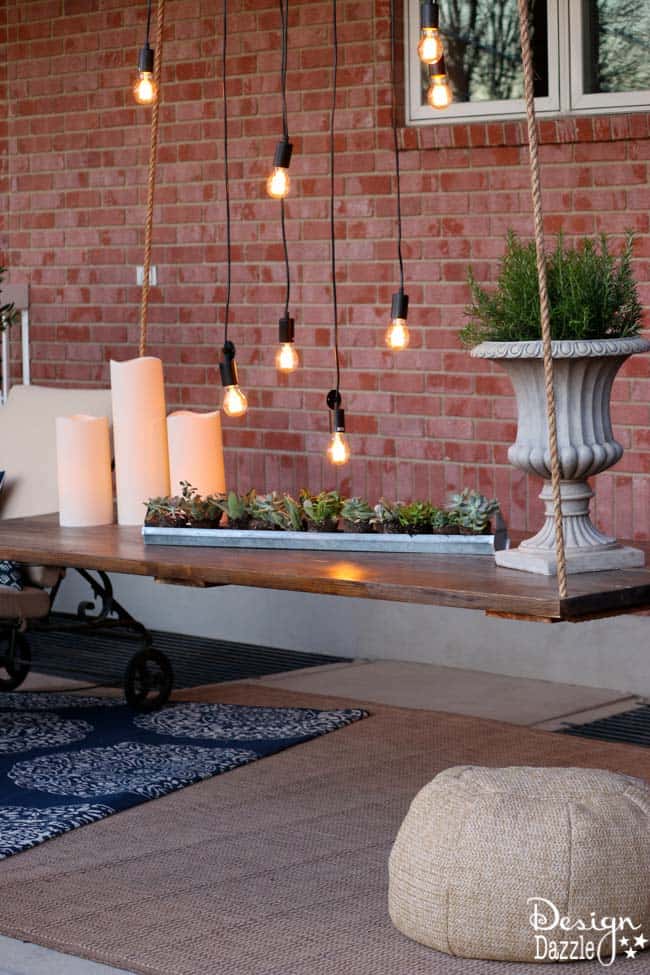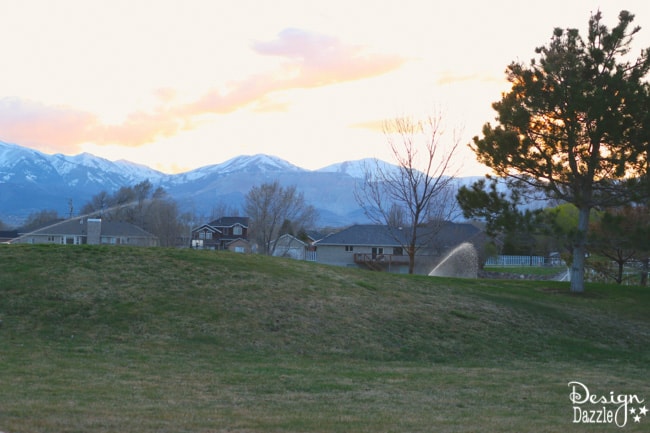 We looked at several homes to purchase and nothing was working for the both of us. When I first showed my husband the listing for this home, right away he noticed the name of the street – Lovers Lane. He said, " I'm not living on Lovers Lane!" Well, we went and looked at the property and here we are now living on "Lovers Lane". It's actually a fun street to live on, and the name always brings a smile to my face. This is my backyard view!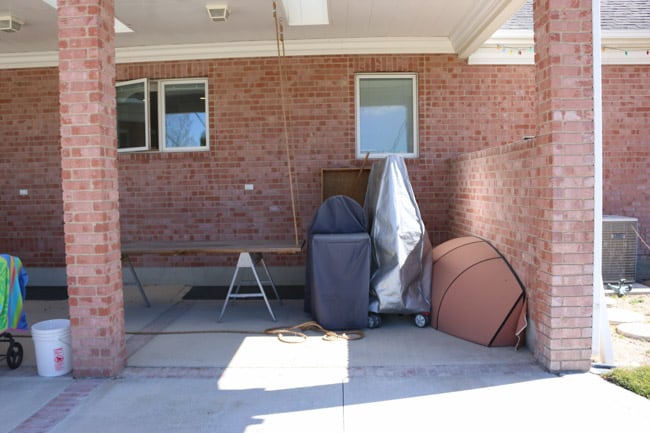 Many, many projects have been completed on the house but I still have a long way to go. I had more important rooms to work on like a kitchen, family room, bathroom, etc that I had to complete before working on the patio. Yikes! This was the before picture of our patio being used as a storage spot.
I couldn't wait to use my design skills to transform the home and add my personal touch. As you can see, up until now, the only things we had done to our patio was use it to store items/junk on it. But, this was the summer I wanted to create an outdoor retreat on our patio. Thank you, thank you Home Depot for helping out with this goal.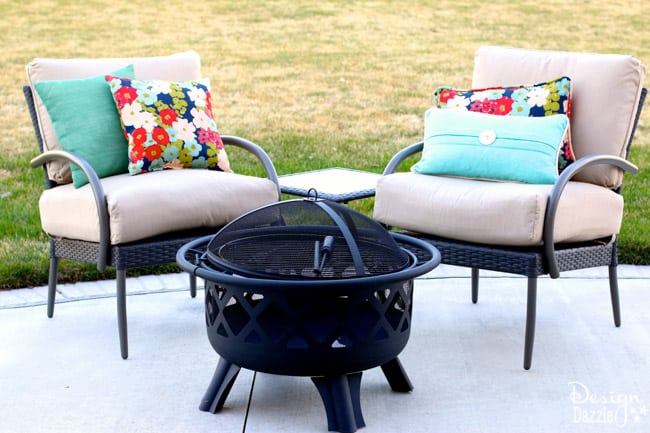 I was offered the Posada Lounge Chair Chat Set with the Hampton Bay Posada Patio Side Table. I ordered the Sunbrella weather-resistant slipcover set in sand color that matches the cushions from my outdoor lounge chairs that I've had for many years. I love neutral cushions. They provide the perfect backdrop for any throw pillows or colorful accessories. Also, with neutral cushions, I can change out the colors on my patio easily any time just by changing out a few accessories like throw pillows, a rug, or melamine outdoor dinnerware.
And, what else goes with a beautiful seating area? How about a fire pit??? Yep, I was really hoping to have a fire pit in this backyard. I've had a fire pit before in my yard. It's such a great opportunity to gather friends around the fire for a fun evening of socializing and friendship!
How I created my outdoor retreat: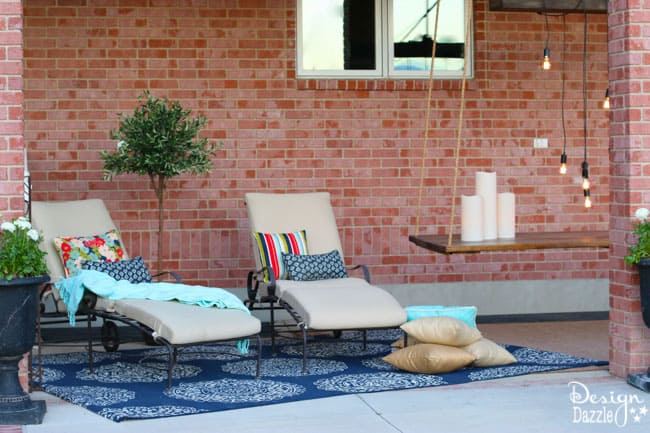 Space Planning:
Up first, I created a floor plan incorporating the outdoor furniture I already owned and the pieces Home Depot was sending my way. Once I figured this part out, I was delighted to find that I had enough room to make an outdoor hanging table! Ever since I laid my eyes on a hanging table I have wanted to have one.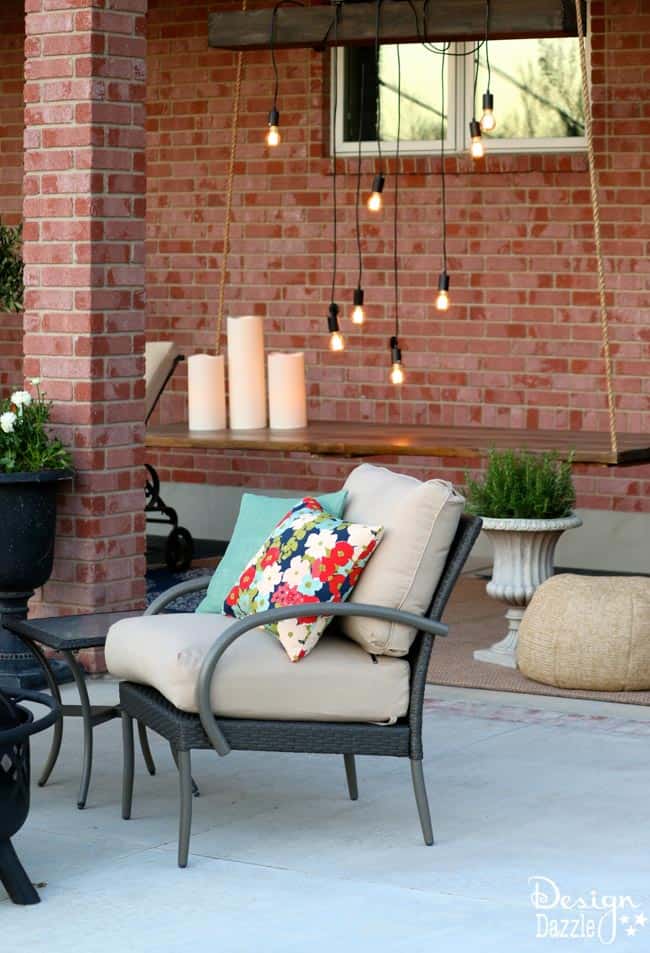 My patio was a perfect spot to hang the wood table with the high ceilings and sturdy covered patio ceiling. I purchased some really cool metal chairs online from Home Depot. They were backordered so I'll have to post an update to show the chairs around the hanging table. Creating the hanging table is not as hard as it looks! I'll be sharing the post soon.
The smoker/grill was placed near the table. Along, with a patio plant and some fun décor like this pouf purchased at Home Depot.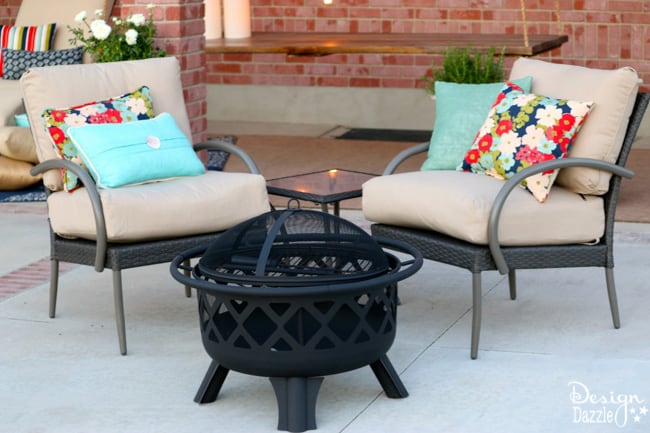 Creating a seating area around the fire pit is a must! This is where the family and friends come in. Can't wait to get the fire pit going for some S'mores or cooking hot dogs around the fire.
Outdoor rugs:
Also on my agenda was to cover part of the concrete with an outdoor rug. Rugs bring warmth, texture and sometimes color to an area! I chose two rugs – one is a neutral basic rug -the second rug is a pretty navy color with white, large medallions. I layered the navy partially over the neutral. I love the look!
Pillows:
Home Depot had a selection of pillows in various colors and prints to add pops of color and texture to my sand colored cushions. The majority of the pillows were purchased at Home Depot. Some of them I've had from years past. I love the color the pillows added to my patio. Most of my home is very neutral. So, it's fun to see some color on my outdoor room.
Lighting:
Home Depot has a great selection of outdoor battery-operated candles. Love the large sizes! I also added a fun DIY beam chandelier that I will share in an upcoming post.
Plants:
Container plants are great for adding "landscaping" to a patio space. I purchased some Ranunculus that are supposedly deer resistant. (We'll see how long they last.) Rosemary was planted in one of my urns. I also got a vine for the back patio corner. Succulents were planted in a galvanized chicken feeder and placed on the table.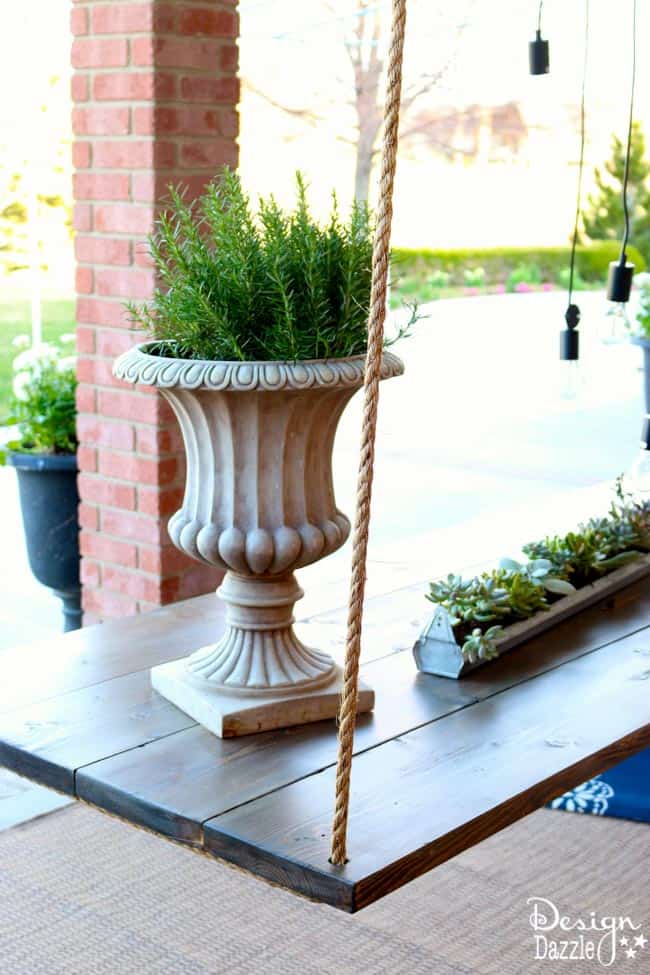 I hope you've enjoyed seeing my patio style challenge. To sit outside and enjoy the beauty of the outdoors in such a lovely patio area is very gratifying. We can't wait to entertain friends and family in our new outdoor retreat!
Thank you Home Depot for working with me on this patio. I appreciate the help in beautifying my space.
Here are a few other posts I've featured on Design Dazzle using Home Depot products:
The Benefits of a Farm House Sink


Save