This post may contain affiliate links that, at no additional cost to you, I may earn a small commission. Read our Disclosure Policy.
Thanks to the rapid advance of technology, being able to help your vacations go smoothly is a breeze with all these handy websites and apps. From booking flights, finding transportation, suggesting things to do, and even helping break down language barriers, there really is an app for just about everything you need for a perfect trip!
Take a look at a few of my favorite go-t0 sites and apps that I use whenever travel is involved!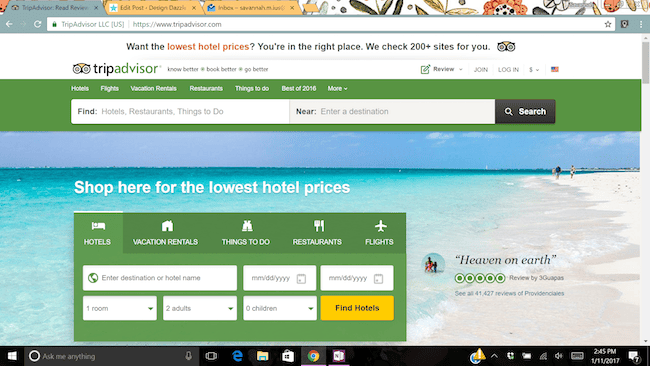 I use TripAdvisor every time I'm planning on going somewhere. It's so easy to use, has lots of fantastic features, and it's free!
Simply type in the destination that you're looking at and instantly see your options for hotels, restaurants, and local things to do. They also have a flights section, so it's entirely possible to plan your entire trip from just one site, how awesome is that?
One of the best things about TripAdvisor is all the reviews that users post. I find that reviews from real people are a lot more trustworthy than the ones you find in a magazine or from a professional who was paid to review a place.
TripAdvisor makes it easy to see what people liked and disliked about a hotel, restaurant, or tourist attraction by offering the ability to filter those reviews based on what matters to you. Whether it's the view from your window, the type of food available, or if the hotel has a swimming pool, you can use the filters to find exactly what you're looking for and make sure that you have the perfect trip with everything you need!
Kayak is an amazing tool to finding the best prices possible on everything from flights and hotels to trains and cruises. It's a fantastic place to compare prices from a variety of companies, see what deals are currently being offered, and see what all your options are in order to get the best bang for your buck. Kayak also shows you amazing deals on complete vacation packages, offering you a wide selection of trip options!
One of the nice things about Kayak is that you can save the best deals you find and track them to see if the prices change. The site will also let you know when deals are about to expire so that you can lock in your special.
Instead of having to check multiple websites, Kayak allows you to do it all from one page with their "compare" tool. Just select that websites that you want to cross reference, like Priceline or Expedia, and that website will pull up already loaded with the travel information that you searched on Kayak! It makes finding deals on transportation and lodging super easy with just the click of a button!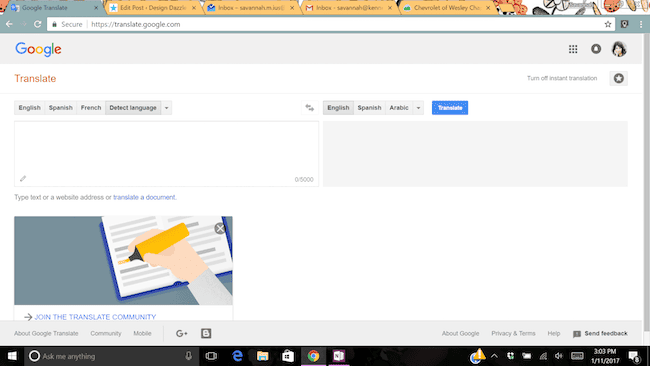 Available as a website and as a handy app on both IOS and Google Play, Google Translate gets a bad reputation but can actually be very helpful in a pinch!
One of the biggest fears of international travel are language barriers. It's tough being so far away from home, and not being able to speak the language can be very nerve wracking. Google Translate has come a long way in the last few years. Even though it isn't perfect, it's still a great resource for being able to figure out directions on a map or convey what it is that you're looking for. It can also help you with basic phrases and questions, which can be one of the scariest things about not sharing a common language.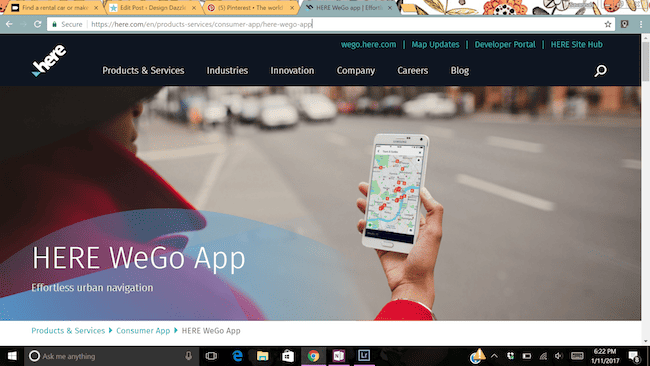 HERE WeGo is an amazing app that will help you avoid getting lost on your journey! It's essentially a navigation app with maps, GPS, and local attractions built in. What makes it special, though, is the fact that you can download and use the maps offline!
This is perfect for finding your way on road trips, or even just exploring a city for the first time. The best part is that, since the maps are downloaded, you won't have to worry about racking up international data charges or having to have access to wi-fi in order to use the app.
The GPS still works without data or wi-fi as well, since your phone doesn't use those features to find your location. That means that you can type in a specific address or attraction and still get step-by-step directions with no extra charge!
You've probably heard of Airbnb, which is the perfect way to find a great deal on a unique vacation rental. But have you heard of Turo?
It's basically the same concept as Airbnb – rent from real people – but for cars! Type in your destination (more are always being added), dates, and any specific requests you might have, and a list of cars to choose from will pop up! You can often find better deals (and nicer cars) than from a rental company, and without all the extra fees.
Everyone loves Lonely Planet guidebooks because of their accurate information, easy to read format, and portability. Last year the company launched their Guides app, which is essentially a mini-version of their books.
Just type in your destination and the app will pull up everything you might need while there. A phrasebook, maps, and even a currency converter are all at your fingertips! You don't have to buy a lot of books or search tons of websites to get an idea of where you're going since this app does it for you!
This is a great resource to use before your trip to plan things out, and during the trip to help out while you're there. You have the best of one of the world's biggest travel resources at your fingertips – and it's entirely FREE!
I hope you enjoyed seeing some of my favorite travel and trip-planning resources! There are so many great tools out there to help you have the best trip possible. Do you use any of these? I'd love to hear what some of your favorites are!
Also, in case you missed it, check out my recent post on finding Cheap Airfair!