This post may contain affiliate links that, at no additional cost to you, I may earn a small commission. Read our Disclosure Policy.
To see Epcot in one day would have to account for many levels of exploration, from permanent attractions to seasonal festivals.
When you travel to Walt Disney World on a vacation, the dream trip can come in all shapes and sizes. It can take the form of a one day four park challenge or you can have weeks to explore the parks and other attractions over many days. When budget or time keeps you from doing that, you may choose to experience each park in a day. Given the enormous size of most of the Disney World theme parks confining these places to only a one day visit can be a challenge unto itself. Epcot is a perfect example because the size, layout, and types of experiences suggest a multiple-day visit just to see the whole thing from all of the intended angles. To see Epcot in one day would have to account for many levels of exploration, from permanent attractions to seasonal festivals.
Types of Experiences Waiting at Epcot
To visit Epcot in one day it's crucial that you budget your time. There are a variety of experience types to explore and you will have to pick and choose the way in which you want to explore the park. For example, there are two kid-friendly ways to tour the World Showcase. Kidcot is the little craft station located in every World Showcase pavilion. It is a fun way to introduce kids to different cultures and a good learning opportunity that can make a neat souvenir of your day at Epcot. Agent P's World Showcase Adventure is an interactive scavenger hunt bigger kids will enjoy. The World Showcase pavilions offer cultural immersion into 11 different countries. in addition to shopping and dining the pavilions usually have some type of show or attraction, but not always. Many of them have character meet and greet locations. Some of them have hidden art exhibits.
The Festivals add another layer of complexity and usually, there is a festival overlay of some type in the park. Each one offers a variety of extra experiences in the form of workshops, seminars, tours and interactive play. Not to mention all of the food. In Future World the pavilions contain whole new worlds within and sometimes house multiple attractions and experience. To do everything in one day will require following some of these tips:
Future World Fastpasses
Use Fatpasses in Future World to save time getting on multiple e-ticket rides.
Don't immediately go on Spaceship Earth which is at the front of the park.
Ride Test Track, before there is a line and use standby so you can experience the attraction's vehicle design feature.
Don't be late getting to Epcot. Every second counts.
If you don't have a Fastpass when possible use single-rider lines.
Destinations Discovered
This adults-only tour of the World showcase begins hours before it opens and includes lunch at the Rose and Crown. It's a smart way to save time touring this part of the park.
Quick Service
There is a lot to eat at Epcot and more to explore than your stomach can likely take. quick service counters will save you time on meals and allow you to explore more culinary options at Epcot in one day.
Horseshoe Pattern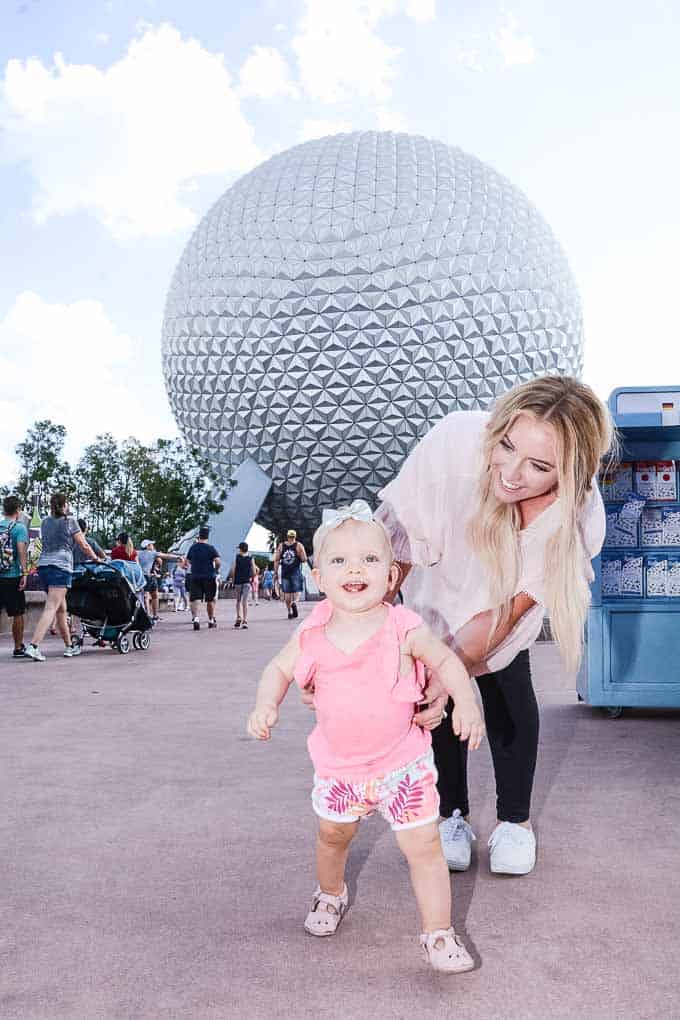 You can efficiently explore Epcot in one day by taking a horseshoe pattern. Start with Future World East (soon to be World Discovery) and take the World Showcase in a counter-clockwise motion finishing the night in Future World West (soon to be World Nature).
You might like some of my other Disney World Posts:
If youre heading to Walt Disney World soon I really hope that this post helps! I would love to hear any of your best Epcot tips in the comments below!