This post may contain affiliate links that, at no additional cost to you, I may earn a small commission. Read our Disclosure Policy.
Are you (or someone in your group) celebrating a birthday during your trip to Disney World? If so, you're entitled to Disney World birthday freebies. Yay! Here are a few to look for and claim.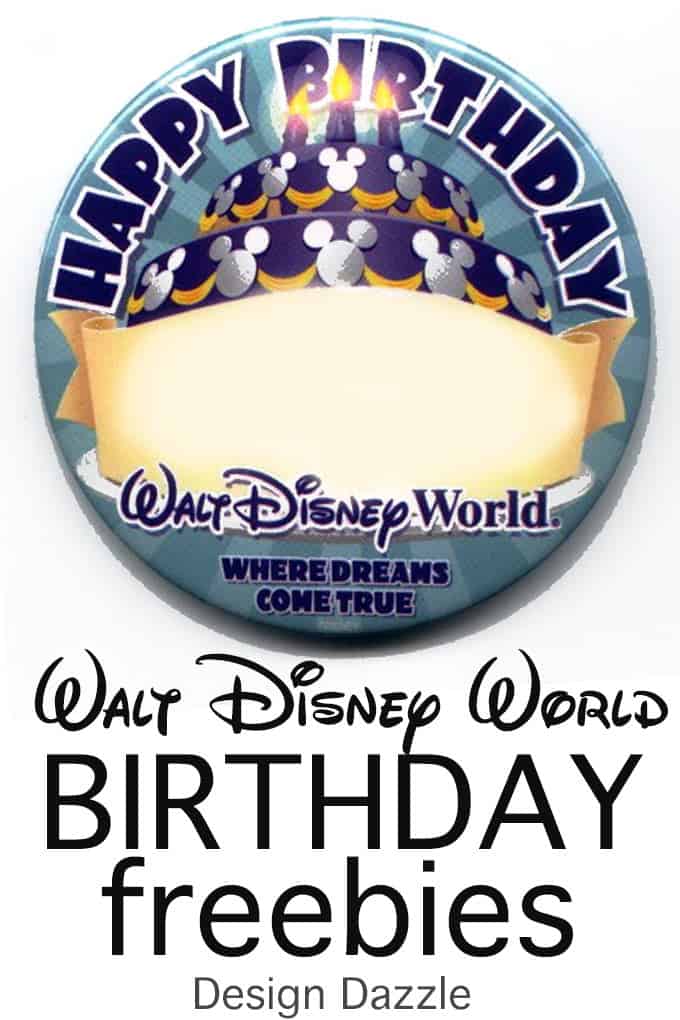 Happy Birthday Button
The first thing you want to do when visiting WDW on your birthday is to snag a free birthday button and wear it everywhere you go! Visit guest services at any of the parks and you'll receive an adorable Happy Birthday button with your name on it to let everyone know it's your special day.
Disney cast members are trained to spot the buttons and give special attention to the recipient. You might even be part of a parade or show! Who knows what could happen? Definitely worth getting! Who doesn't like a little extra birthday love? Pick up the buttons at any guest relations
Free Art Class
The Art of Animation Resort features a short art class for free at 11 am, 2 pm, and 5 pm.
This is for any guest not just a birthday guest. But how fun to try to learn how-to draw Disney characters! At the end of the class, you can keep your drawing as a souvenir or not!
Free Sweets from Goofy's Candy Company
Most of the sweet shops in Disney World offer free samples to their customers. Many of them also give out additional treats to celebrate a birthday.
The Ghirardelli Chocolate shop, for example, doles out a free chocolate during your visit. Goofy's Candy Company and the Ganachery also offers free sweets to birthday boys and girls.
Free ICEE
Visit Club Cool – this "exhibit" is situated near Innoventions West, and offers free samples of soft drinks from around the world, as well as Coca-Cola merchandise. All guests enjoy free soda samples. If you visit the counter, all birthday visitors receive a free ICEE – flavor of your choice.
Starbucks
You're required to sign up for Starbucks Gold Rewards program, about a week before your trip to Disney World to receive this freebie. But, it's definitely worth doing so!
Claim your voucher for a free birthday drink from the Starbucks app that you can download on your phone during your Disney stay and you'll be able to order any drink you can dream up, whether it's on the menu or not. How cool is that?
Free Desserts
Many Disney World restaurants are happy to gift you with a free birthday dessert after your meal. This is by far the most popular birthday freebie, as the type of dessert served is often a complete surprise.
Some of the staff may even amaze you with a little impromptu song and dance, if you're lucky! Just make sure to wear your birthday button during your meal. This way, your server will see it's your special day and alert the staff.
These are just a few birthday freebies waiting for you at Disney World. They're meant to make your birthday and your trip just a little more special and memorable. And, honestly, what could be better than that?
If you're looking for more articles about Disney World, check out the following:
Disney World Photo Opps You Won't Want to Miss
Complete your outfit when you celebrate your birthday in the happiest place on Earth!