This post may contain affiliate links that, at no additional cost to you, I may earn a small commission. Read our Disclosure Policy.
With just a few well-placed accessories, you can transform your space to reflect the seasonal change into autumn. Fall accessories can be neutral shades, which is what you'll find in this collection. Muted golds, oranges, and greens will offer a pleasing change of color without being jarring. Ease into the season with these budget friendly fall decor ideas.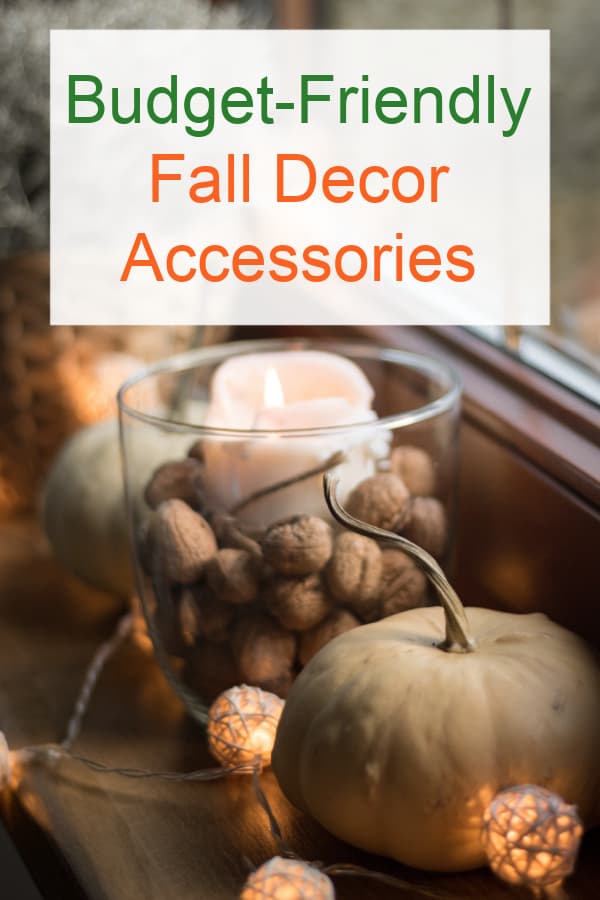 Perfect for tables and mantels, these bowls are vessels that work well for filling with gourds, moss, candles, beads or anything that works with the theme you're creating. This handcrafted bowl is made from wood and can transition to each season, simply by filling it with your different vignette accessories.
Add greenery that will always look fresh with this 5 foot long vine of man-made eucalyptus. Perfect for winding through your fall accessories, it's a green filler that will act as a neutral background color for other seasonal colors to take center stage.
These LED candles emit a soft glow through their gold glass containers for a lovely autumn shade of light. The remote control offers the ability to program them to come on at night for a stunning display with their moving flame which looks like the real deal.
Nothing says autumn like wheat sheaves and here, these natural dried stalks will look stunning in a vase or tucked between your fall vignette accessories. They're a neutral element that helps set the tone for the season.
Whether you use it as an actual serving tray or as a container for a collection of autumn accessories, this copper tray will add a touch of farmhouse chic to your decor. It's an eye-catching piece that will look right at home on a dining table, coffee table or kitchen island.
Group these small velvet pumpkins where they'll make an impact but not overwhelm with size. They're small enough to tuck in on a mantel or be contained in a small tray and their neutral colors will work with any decor.
Get crafty with these lightweight faux acorns that are made from foam and painted in autumnal shades of brown. Use them for filler in bowls and containers or use as table scatter to bring in the feel of the fall season
Wicker woven baskets with handles are available in this balck and beige patterned design. This set of two baskets can nest when not in use. They're perfect for holding a plant, blankets, magazines, books, toys, and more. Use them creatively in your fall decor.
Use this soft autumn-colored blanket on the back of a sofa or drape it over a chair. Here, it's shown in orange, but this throw can go neutral so you can enjoy it year round.
Give your throw pillows in this cozy cable cover that's perfect for sweater weather. Classic cream will go with any decor. Plus it will be a soft place to land during chilly days when you want to warm up and relax.
Take a look at some of these beautiful DIY Fall wreaths and these easy no-sew pumpkins for extra budget friendly fall decor ideas!
This Autumn printable is FREE and available for immediate download by subscribing to Design Dazzle!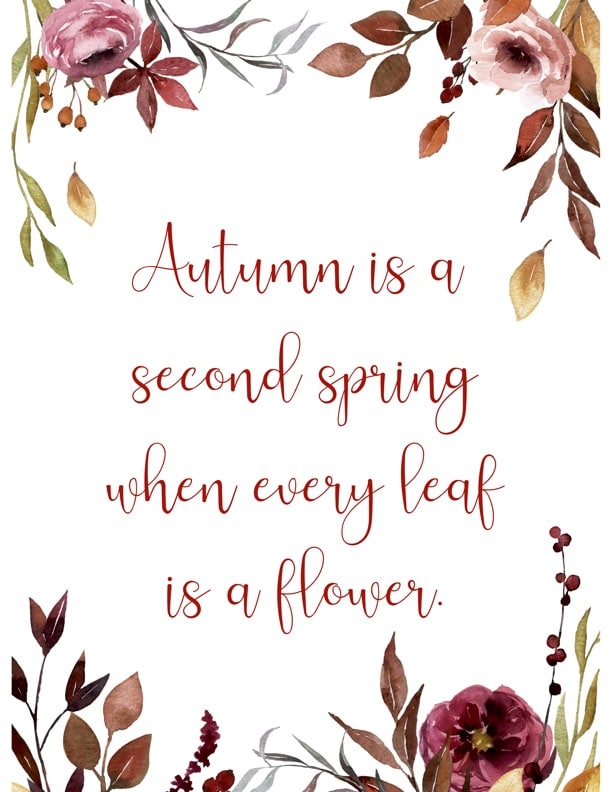 To receive this free printable – enter your email address in the box below and click submit. Make sure to check your inbox for an email from Design Dazzle. You will have access to all of our FREE printables and also will receive an email newsletter filled with lots of great information. Don't worry your email address will never be sold.
Printable files are for personal use only. They are not for commercial use.