This post may contain affiliate links that, at no additional cost to you, I may earn a small commission. Read our Disclosure Policy.
Easy peasy is the name of the game with this no sew pumpkin. This is so simple that kids would enjoy making these pumpkins. I had a few old looking fake pumpkins lying around and I wasn't sure what I would do with them. I didn't want to throw them out but they had seen better days. I decided to cover one with fabric to see how I like it. And boy do I!! This could also easily be made with poly-fil instead of a fake pumpkin.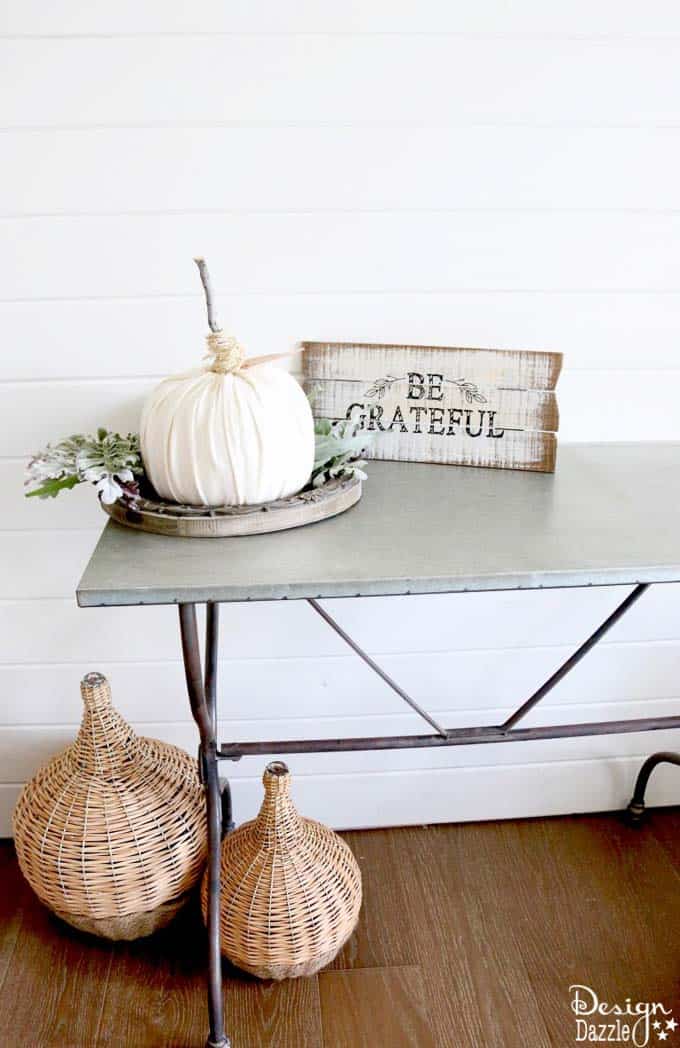 I created a simple welcome piece in my entry, using the supplies I purchased at Michaels. They always have new home decor items. You just might want to go there and check it all out. The Be Grateful wood sign is found in the Fall Decor section. Michaels carries such amazing, fun decorating and crafting items.
Supplies:
Cotton Fabric
Leather tag shape
Fake pumpkin or poly-fil
Twig branch
Twine
Glue gun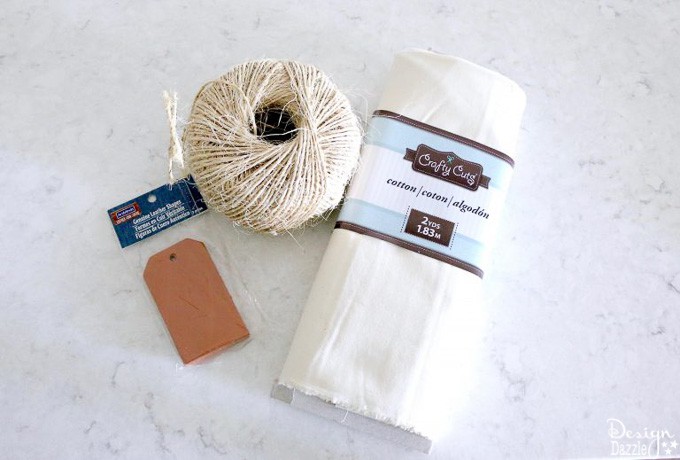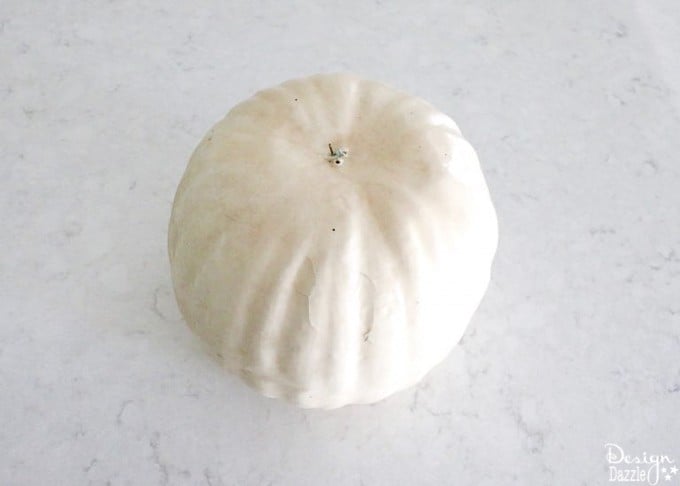 Here's the old, cracked, dirty fake pumpkin I found in my fall decorating storage. I'm happy to repurpose it!
Tutorial
Cut the piece of fabric large enough to cover the pumpkin. Iron fabric to get any creases out.
Place pumpkin on fabric and wrap tightly. Secure the top with an elastic hair band.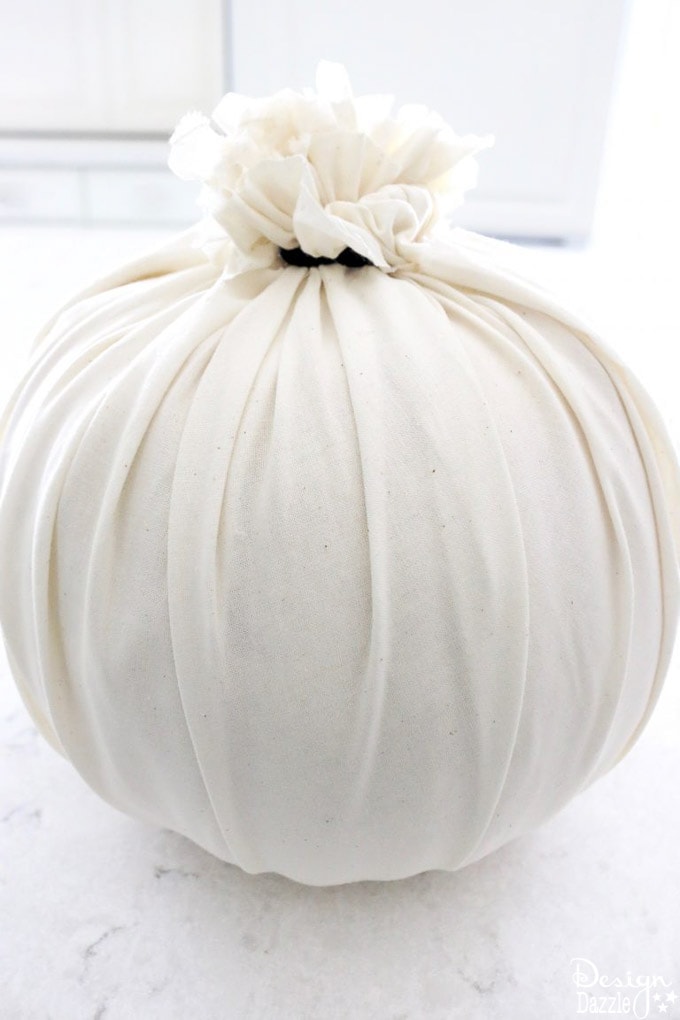 Cut off any extra fabric at the top making sure not to cut the hair band. If you are NOT using a fake pumpkin then use poly-fil and place enough in the middle of the cut fabric to create a pumkin shape. Wrap up the fabric tightly around the poly-fil and secure with hair band.
Cut a twig to fit in the top between the layers of the cut fabric. Wrap twine tightly around the twig. Hot glue to keep in place
For the last step I used a leather tag and cut it into the shape of a leaf. Tie or glue the leather "leaf" onto the top of the pumpkin for the finishing touch!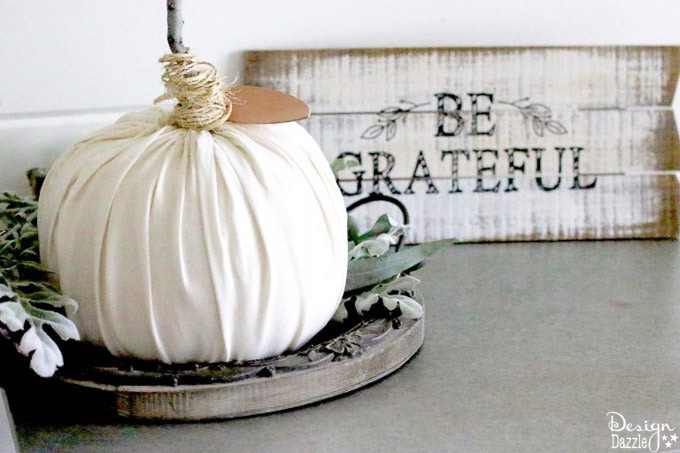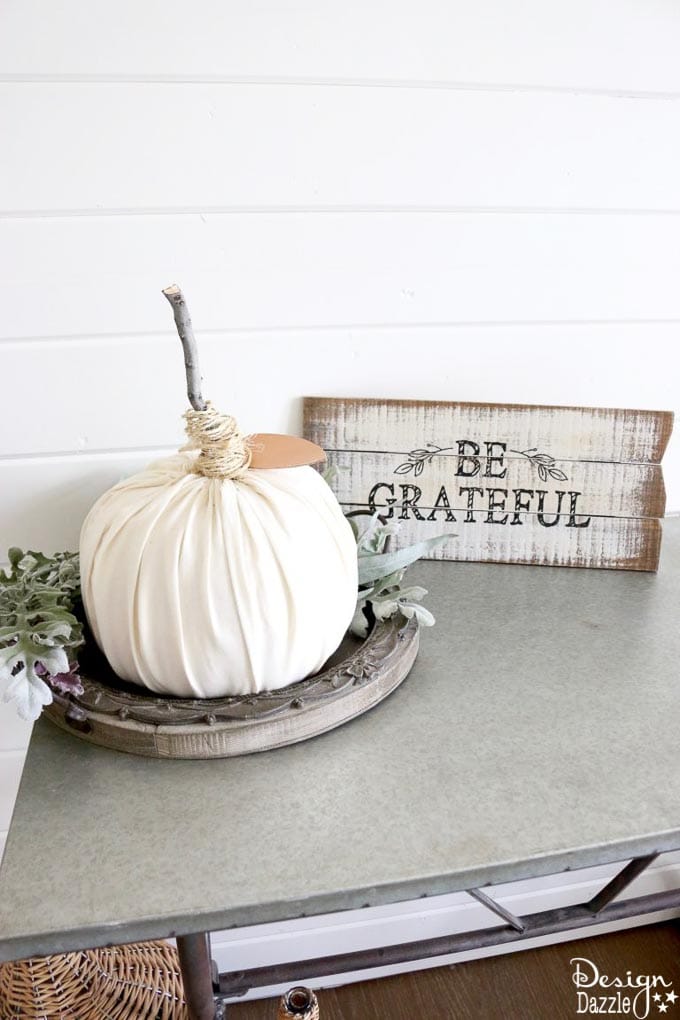 The Fall Harvest Market at Michaels has everything you need to MAKE it Feel Like Fall!
To see all the fabulousness from the Michaels Makers. Check out the hashtag #michaelsmakers on Instagram. Also, follow me on Instagram here . Make sure you visit Michaels' blog, The Glue String, to see the great project ideas.
Go here to find all my Michaels Makers projects.
Disclosure: Michaels Stores has chosen me to be a Michaels Maker. This post is sponsored by Michaels but all opinions are my own.


Save
Save
Save