This post may contain affiliate links that, at no additional cost to you, I may earn a small commission. Read our Disclosure Policy.
Dough bowls have been steadily gaining popularity over the years. I came into contact with one about 12-13 years ago. It was obviously a pretty bowl with a unique shape but I didn't know what it was used for. These bowls are made of wood and were originally used to make bread dough. Now they are mostly used for decoration!
What to fill a dough bowl with?
For fall – pumpkins, acorns, fall leaves, branches, candles (in a glass container) etc. For winter – ornaments, candles ( in a glass container, branches, winter berries, greenery, ribbon and more.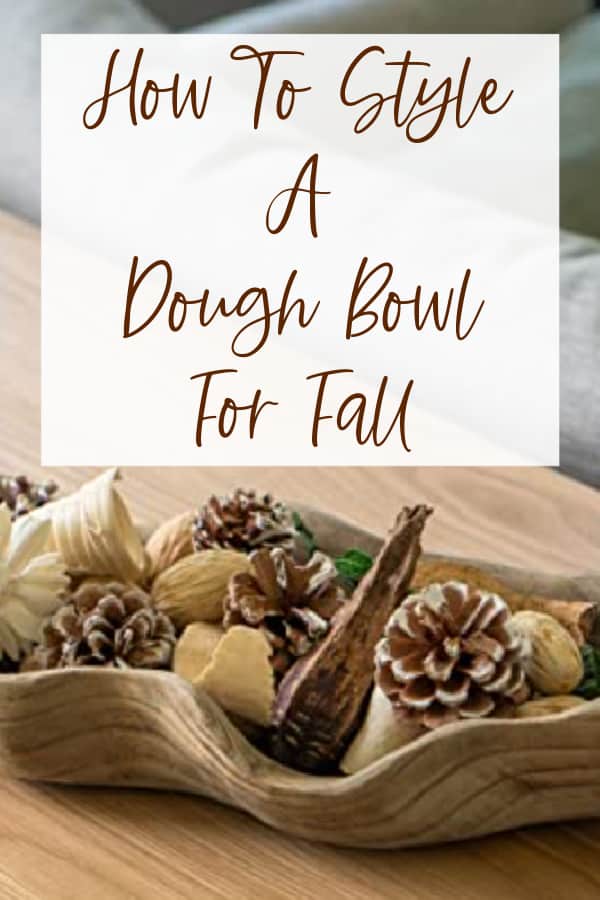 You need the right pieces to style a dough bow. Get inspiration from these products below to help you fill your bowl with seasonal items for that pretty dough bowl decor.
THIS POST CONTAINS AFFILIATE LINKS AT NO ADDITIONAL COST TO YOU. FOR FURTHER INFORMATION, PLEASE SEE OUR DISCLOSURE POLICY.
Rustic Dough Bowl
https://amzn.to/3zyjymX
This natural wood brown dough bowl is handmade with a rough finish for a rustic touch. Knot holes and cracks add to its charm making the perfect vessel for filling with your autumn-inspired design.
Carved Dough Bowl
https://amzn.to/3SvZtEc
If you're looking for something with an irregular shape, this hand-carved dough bowl is it. Perfect for smaller decor vignettes, it will lend a natural touch to your designs. It's a versatile piece that can be used in more functional ways but still lend a stylistic touch.
Natural Wheat Stalks
https://amzn.to/3za79VX
Nothing says autumn like wheat stalks and here, you can tuck them in nooks and crannies or position them horizontally to add texture and ambience to your dough bowl decor.
Wooden Acorns
https://amzn.to/3sqPKEQ
Perfect as a filler for jars, vases, and dough bowls, these brown wooden acorns lend a rustic touch to any fall decor.
Faux Pumpkins
https://amzn.to/3Ft6Bi3
This set of 12 pumpkins in your choice of white or orange, comes in an assortment of sizes for creative styling in a dough bowl. Made from foam, their realistic looks and light weight make them easy to place just where they'll have the most impact.
Wood Bead Garland
https://amzn.to/3gAaTtm
A garland made of cream-colored wooden balls measures 58 inches long, making it perfect to drape or weave into a dough bowl design.
Lambs Ear Artificial Stems
https://amzn.to/3W0i1Q7
Muted tones of a silver green in these faux lamb's ear stems makes a realistic addition to any autumn styling vignette. They're bendable, making them easy to conform to your design ideas.
Moss Balls
https://amzn.to/3zcbBUd
Add a touch of green with round moss balls that will bring a natural accent to your dough bowl stylings. They're made from lightweight foam and artificial moss.
Gourds
https://amzn.to/3DrRLXm
With all shapes, sizes and colors of gourds, you can't go wrong with this classic filler for a dough bowl. Orange, green, and cream variations of pumpkins are made of lightweight foam, making them easy to work with and position for just the right look.
Cotton Stems
https://amzn.to/3D2pQvY
These rustic yet natural cotton stems are perfect for your autumn styling efforts. No matter the
arrangement, you can find a way to use the bendable stems to enhance dough bowl decor.
Assorted Filler
https://amzn.to/3FfFXsC
Choose your shade of filler with this set of assorted orbs and balls made from various natural looking materials. They're perfect for tucking in at just the right place in your dough bowl to help fill out your design.
Pinecones
https://amzn.to/3z8ZVRS 
Seasonal items such as pine cones will add the appropriate natural element for a styled doughbowl. This set of 24 includes various sizes for just the right look.
Below are 15 Instagram accounts that share 15 Ways to Style a Dough Bowl For Fall! Look them up for some fabulous ideas. You can also follow me on Instagram @Designdazzle
Pumpkin Bounty @citylifeinthecountry
Lanterns And Pumpkins @crystal_tara
Bright Leaves And Rattan @rochellehdz24
Velvet Pumpkins @our_beautifuldestination
Pumpkins And Pinecones @mygreenalbum
Neutral Color Palette @athomewithjamiejo
Bottles And Moss Accents @alicemcginnis82
Green And Cream Pumpkins And Foliage @craftymomandco
Harvest With Corn And Gourds @grubnwhereabouts
Metallic Pumpkins @lesliesinteriors
Pumpkin Patch With White And Orange Accents @citylifeinthecountry
Coastal Tones Of Pumpkins And Pinecones @fancyfarmgirls
Rustic Fall @nona_ruths
Pumpkins, Lantern And Candle @dorothyjeandecor
Fall Apples @leannsimsrealtor