This post may contain affiliate links that, at no additional cost to you, I may earn a small commission. Read our Disclosure Policy.
I'm sure you know about the miracles of a skillet dinner, where everything cooks together in one sizzling pan. Which makes cleanup a breeze. As it turns out, the same principle applies to skillet desserts. You get all the good stuff without any of the hassle. Here are 38 of our favorite fall skillet desserts!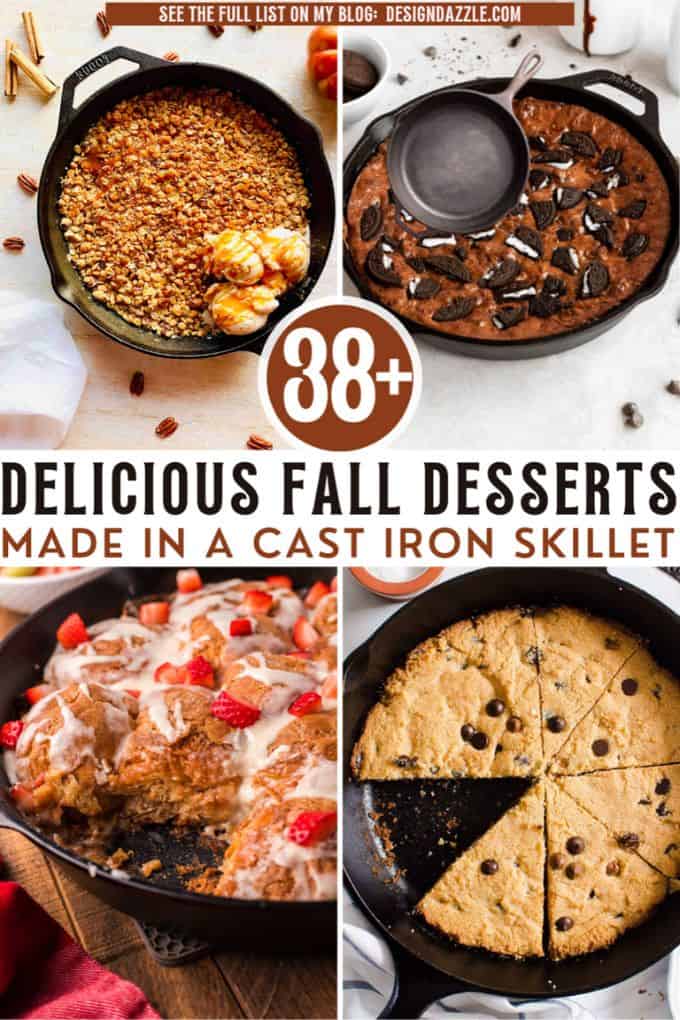 This skillet apple crisp baked in a cast iron skillet is easy, delicious and the perfect holiday dessert to serve for Thanksgiving or Christmas! Cozy up by the fire with this winner.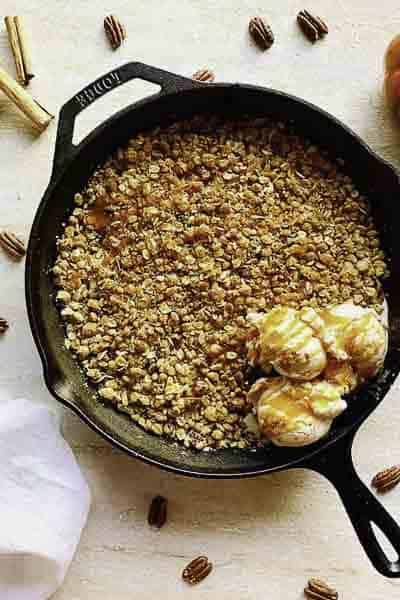 Using canned biscuits as the base makes this Pillsbury French toast bake super quick and easy to make. After all, who wants to cook a complicated recipe first thing in the morning?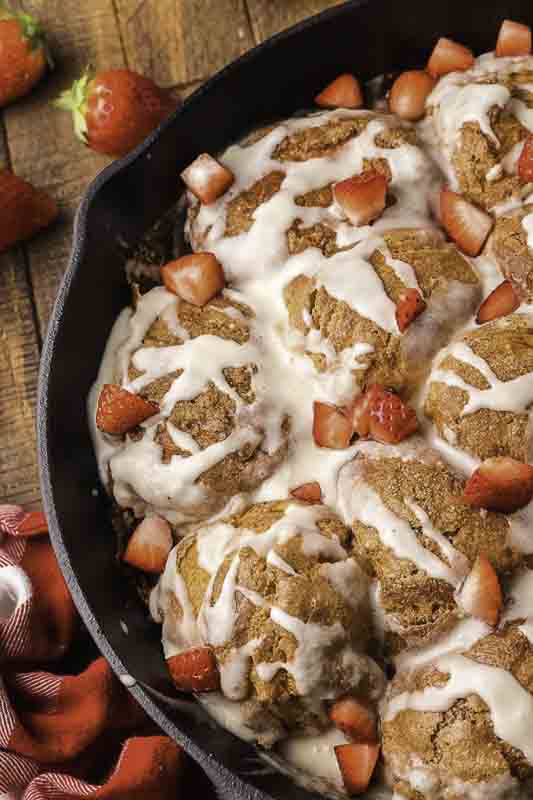 Go all out and top this apple-bacon pancake with a scoop of vanilla ice cream. This sharing pancake is beautifully baked in the oven, made with nutty buckwheat flour, golden apples, crispy bacon, warm cinnamon, and raisins.
S'mores dip is made with golden toasted marshmallows atop milk chocolate chips baked in a cast-iron skillet to gooey, dippable perfection!
It's an apple season favorite. This Easy Cast Iron Apple Crisp is one of the simplest apple desserts that you can make with all of the classic apple crisp flavors!
This Cast Iron Chocolate Chip Cookie With Oreos is a super fun and tasty dessert! An amazing chocolate chip cookie packed with Oreo cookies, this is way better than anything you could find at a store!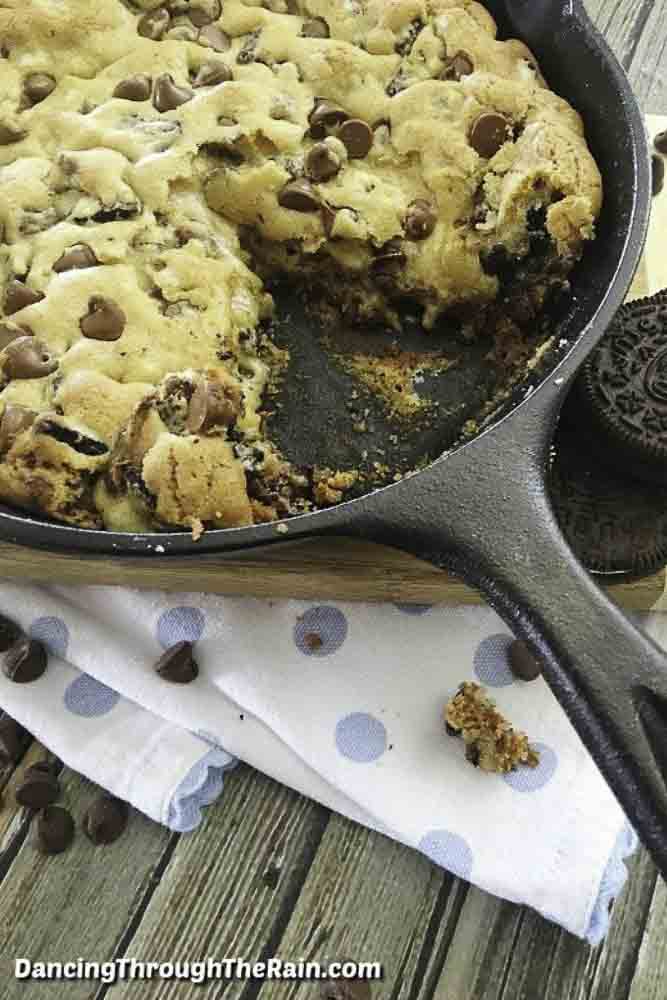 Giant Healthy Skillet Cookie with almond flour, chocolate chips, reduced sugar, and less butter! Made fresh right in your cast iron skillet, the results are a rich and gooey classic dessert that's chewy, soft, and irresistible.
Easy Fried Apples Recipe made with four delicious and simple ingredients and ready in just 20 minutes! Gluten-free and vegetarian, learn how easy it is to make these cinnamon-spiced fried apples and enjoy as is, with your favorite ice cream, or mixed with your morning oatmeal.
A warm Skillet Cookie, also known as a Pizookie, topped with cool and creamy ice cream is a dessert that everyone will love! Pick your favorite cookie flavor and combine it with your favorite ice cream for a spectacular yet easy chocolate chip pizza cookie!
The flavors of fall explode in this delicious apple crisp dessert! Caramelized apples are topped with a brown sugar and oat topping, then baked in a cast iron skillet. Comforting and delicious!
This is one of the best peach cobbler recipes you'll ever find. Made simply and easily using canned peaches and a delicious golden brown crust, it's the perfect comfort food ending to any meal.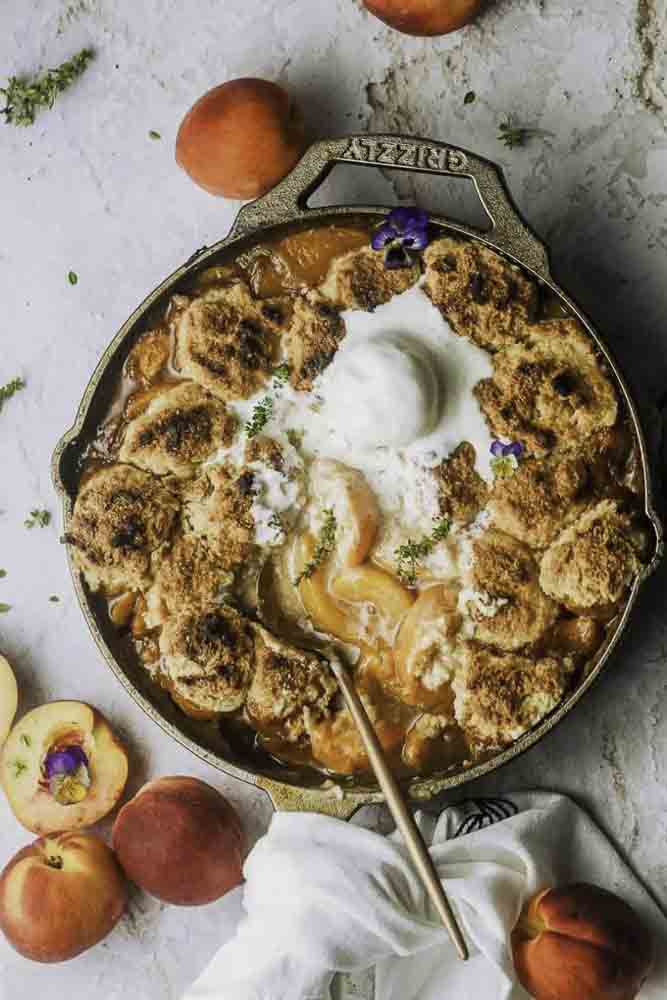 Creamy pumpkin pie filling topped with a crunchy cinnamon sugar streusel topping baked right in a cast iron skillet!
This easy apple crisp is made in a cast iron pan and perfect for fall. Made with almond flour instead of oats for an improved taste and texture.
These fudge Oreo skillet brownies are loaded with Oreo chunks, and chocolate chunks, have a crinkly top, and are ready in under one hour!
Bourbon splashed apple slices and sweet cinnamon sugar bake in a cast iron skillet with an oat pecan crisp for a breakfast that tastes like dessert. Get all the fall feels with this warm and cozy treat that's full of harvest flavors and hearty texture.
This ooey gooey, warm & melty skillet cookie (Pizookie) is completely irresistible. It's like eating warm cookie dough topped with vanilla ice cream, better than any restaurant version you've ever had! Plus it's easy to make & comes together in one bowl in 20 minutes flat!
This gooey s'mores dip is full of melted milk chocolate and marshmallows, all oven baked to toasted perfection. Add some graham crackers, fruit and cookies for dipping and you've got a show stopping dessert that's ready in just 10 minutes.
In this pear custard pie, fresh pears are combined with a rich and creamy 5 minute custard, then baked to perfection for a simple yet elegant dessert.
The most delicious fall cake made right in your cast iron skillet is equal parts delicious and rustic! Apple cinnamon skillet cake is bursting with flavors perfect for cooler weather and is even better topped with a little vanilla ice cream and extra sprinkle of cinnamon!
Enjoy a classic campfire treat at home with no bonfire required. This S'mores Brownie Skillet is warm, fudgy, and gooey, and is a great treat for everyone!
This skillet chocolate chip cookie is crispy on the edges with a soft center and it's loaded with two kinds of chocolate.
Plum Clafoutis (pronounced klah-foo-TEE) is a dessert or breakfast recipe full of egg custard, fruit and vanilla. Think of a cross between a quiche and a Dutch Baby pancake–yum!
With sweet pears and spicy gingerbread, this Pear Gingerbread Upside-Down Cake is a perfect holiday, or any day, dessert. Serve it plain or with ice cream and caramel!
Pumpkin crisp has silky pumpkin pie filling topped with a sweet, buttery streusel crisp topping. This dessert is a delicious alternative to pumpkin pie!
Cinnamon roll bites are homemade pull-apart bread bites covered with gooey, buttery cinnamon roll filling and rich icing. Quick cinnamon rolls that are homemade in one hour!
When the mood hits for a dark and decadent dessert, make a Mini Skillet Hot Fudge Pudding Cake. It's a chocolate brownie that makes its own hot fudge sauce. Perfect for Valentine's Day, Date night, or anytime you want a dessert for two!
Can warm fruit bubbling under a crunchy, buttery topping be really dairy-free and made just for two? When it's a Mini Skillet Mixed Berry Crisp…yes!
This old-fashioned Easy Apple Crisp Recipe is packed with delicious apples and amazing spices. The aroma of baking apple crisp in a cast iron skillet on a cool autumn day is heavenly.
Easy gooey chocolate chip cookie in a cast iron skillet is a warm and delicious dessert. It's made in just one bowl and is ready in 30 minutes!
This Skillet Cookie, also known as Pizookie – is chewy with golden crispy edges, a soft center and loaded with chocolate chips!
This classic Coconut Cream Pie starts with a buttery flaky pie crust filled with creamy coconut pudding topped with oodles of homemade whipped cream and toasted coconut. For all you coconut lovers this is the ultimate dessert!
This cherry pie is easy to made and super flavorful. Smoked to perfection on the pellet smoker.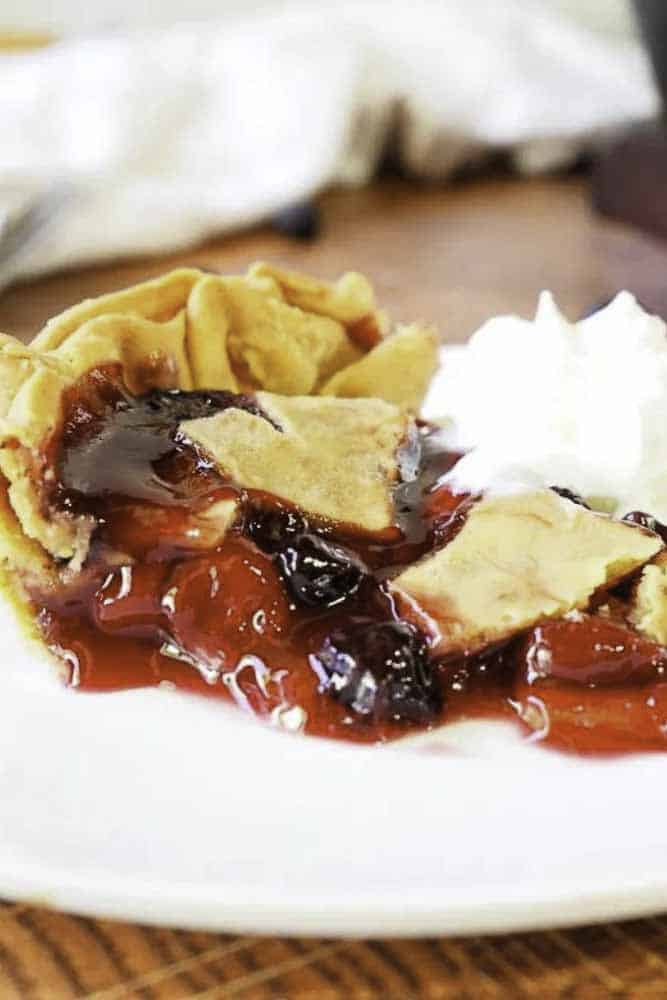 The amazing thing about a cast iron, is that the cookie bakes right inside it. SO when it bakes, all the chocolate chippy goodness slowly melts and then you sink your spoon in with bits of chocolate touching the skillet.
Skillet Brownies with Pretzel Crust – a super fun dessert that will be a hit at any party!
These made from scratch salted caramel apple blondies cooked up in a cast-iron skillet celebrate fall flavors and are surprisingly simple to prepare. You are going to love this dessert!
This Sweet Skillet Cornbread Recipe will have them running to the dinner table. It's lightly sweetened & moist on the inside with a crispy & buttery outside – thanks to the cast-iron.
This recipe for Brown Butter Apple Crisp is a simple yet delicious twist on the classic American recipe.
This warm and cozy Brown Butter Pear Pandowdy is a fall dessert that's so simple to make! Pandowdy is similar to a pie or cobbler, only the juices bubble up over the top to create a crackling, crisp shell. Sweet, in-season pears are baked with brown butter, cinnamon and sugar, covered with a buttery, caramelized puff pastry crust.
If a cast Iron Chocolate Chip Cookie with M&M's is what you're after, you've come to the right place!

Which one are you going to try first? Be sure to checkout these Amazing Apple Treats and Caramel Apple Crumble Bars that are also perfect for fall!