This post may contain affiliate links that, at no additional cost to you, I may earn a small commission. Read our Disclosure Policy.
With Autumn in the air, it means that apples are ripe, delicious and the perfect in-season ingredient to take advantage of! Apples are such a versatile ingredient that work in everything from breakfasts to drinks and desserts. Plus, an apple a day will keep that doctor away! Try out these delectable apple based desserts and treats this fall to take advantage of this favorite fall fruit!
Caramel Apple Cinnamon Roles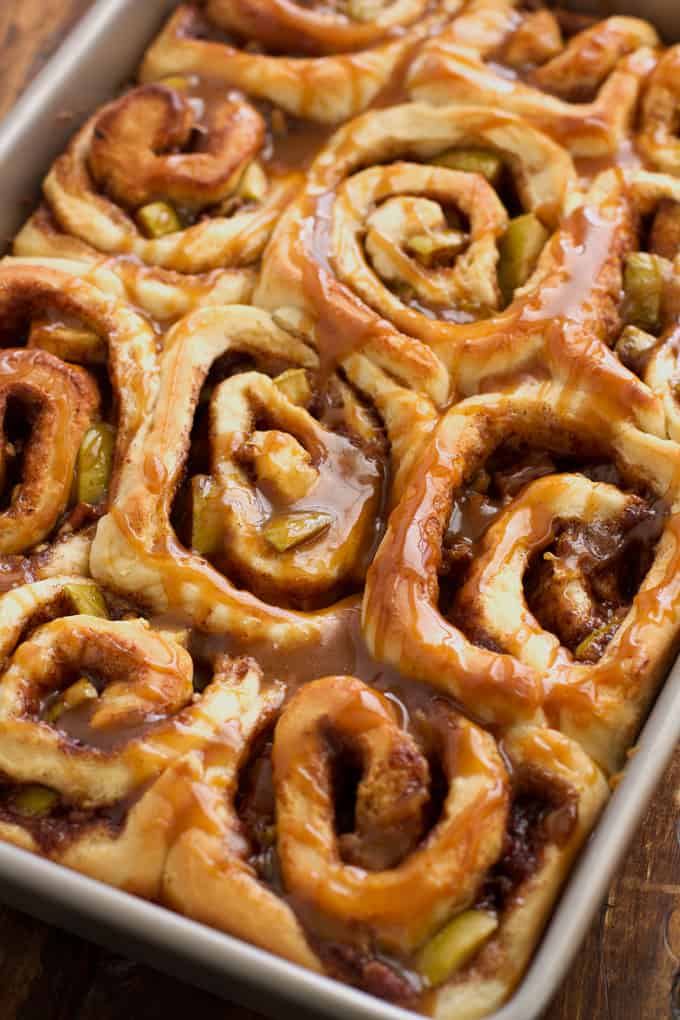 Spice up your average cinnamon roles with this addition of caramel and fresh, juicy apples! This recipe is the perfect way to start off your weekend – or any morning!
2. Apple Pie Bites
Enjoy all the sweetness of a homemade apple pie in a bite sized and handheld friendly form with these apple pie bites! They are the perfect treat to serve at your fall party or game night!
3. Apple Cookies With Cream Cheese Frosting
Turn the perfect fall food into a perfect fall treat with these amazing cookies that have the perfect frosting as an addition. Get the whole recipe here!
4. Caramel Apple Crisp Mini Cheesecake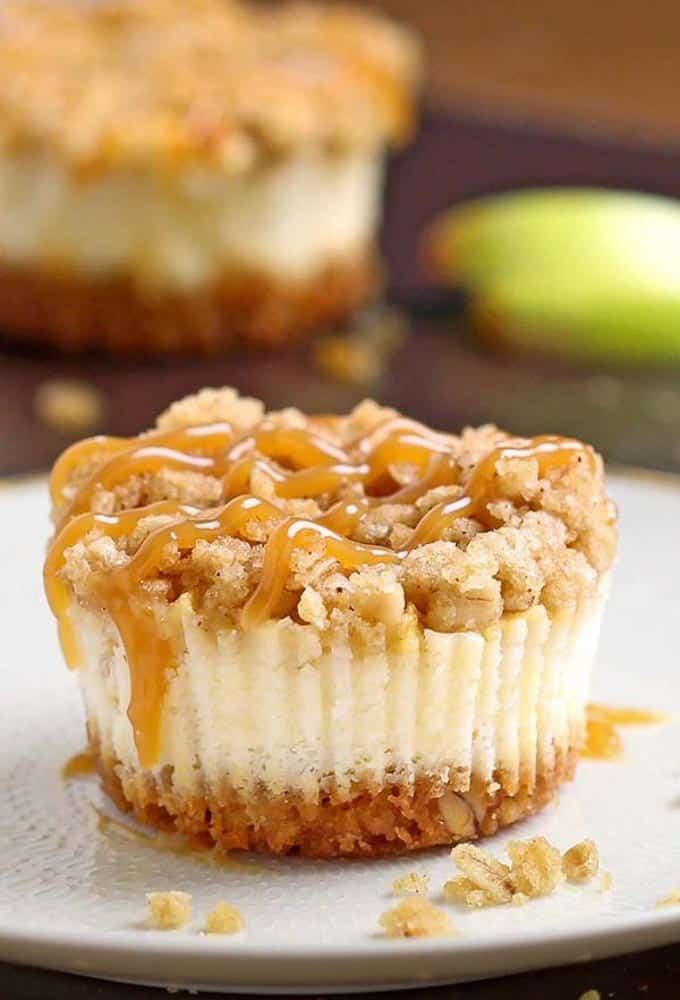 What's better than a cheesecake? Mini cheesecakes that are topped with a perfect apple crisp! These little desserts would be perfect for your next get together! Find the whole recipe here.
5. Apple Fries With Caramel Cream Dip
Try a (somewhat) healthier version of America's favorite side dish with these fantastic apple fries and a indulgent caramel dip instead of ketchup! You might never want to go back to regular fries again!
6. Caramel Apple Fritter Bread
This yummy bread is the perfect baked good to try out this fall and add to your list of favorite recipes. It's sure to be a hit with everyone young and old!
7. Glazed Apple Hand Pies
Creating a treat to enjoy on the go is a great way to use up those autumn apples! These glazed hand pies are a delicious handheld version of a classic pie that are perfectly portable!
8. Baked Apple Donuts
Donuts are always a good idea, and these fantastic baked apple version is certainly no exception! It's the perfect thing to make on a cool, chilly fall evening! Check out the full recipe here.
9. Apple Blondies
Blondies are a popular treat, but this version with apples is a way to spice things up. The apples change up the flavor just enough but leave it as satisfying – if not more – than any other blondie you've tried!
10. Apple Sheet Cake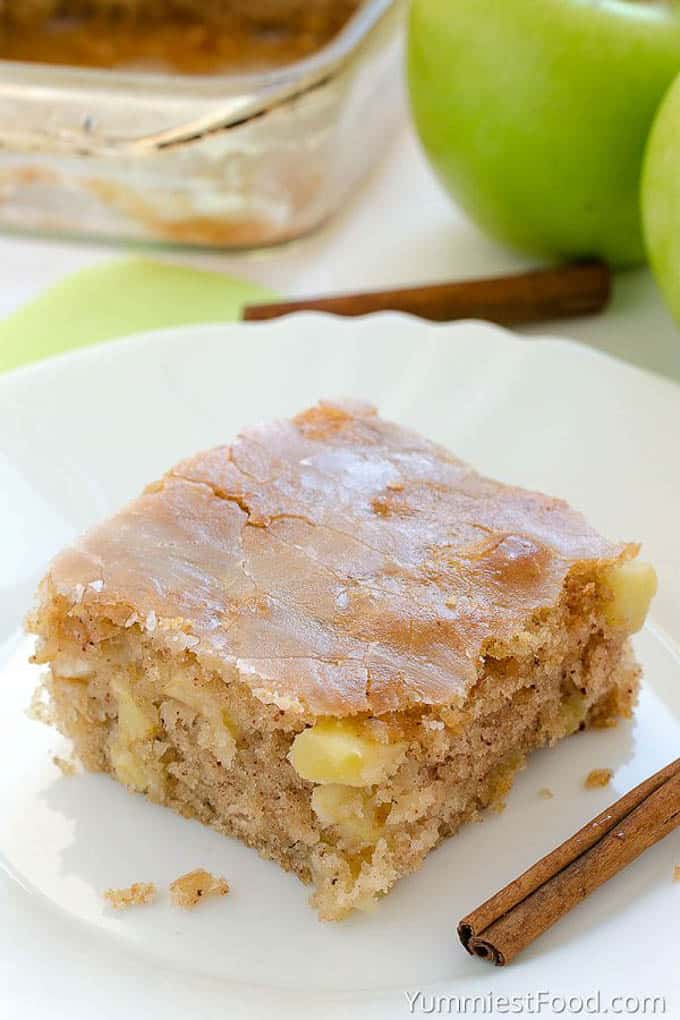 I don't know anyone who doesn't love a good sheet cake, and the apples in this one makes it so moist, delicious and a wonderful dessert for those cooler months. You can find all the instructions here!
11. Apple Pie Egg Rolls
Instead of your normal egg roll fillings, surprise everyone with this sweet apple pie filling instead! It's sweet, crunchy and a yummy treat that's just as fun to eat! Get the recipe here.
12. Caramel Apple Crisp Cheesecake Bars
Cheesecake with apple crisp? There might not be a better match made in heaven! This indulgent treat is a perfect to cozy up with as the leaves start to fall!
13. Apple Cake with Maple Buttercream and Pecan Trim
Take your average apple cake up a notch with this rich, fantastic icing and the crunch of pecans! You might the whole cake to share, but after tasting it you'll be tempted to eat the whole thing by yourself! Find the instructions here.
14. Caramel Apple Slab Pie
This is an awesome, different spin on your traditional apple pie could very possible just become your new go-to. Plus, the caramel adds a sweet twist that will make you smile. Get the directions here!
15. Fried Battered Apple Rings
Instead of normal donuts, go ahead and try these fried apple rings! It's a wonderful way to use all those fall apples and get a treat out of them as well!
16. Kentucky Apple Skillet Cake
Try your hand at this classic recipe cooked in a skillet! It's flaky, tasty and full of that crisp apple flavor. You can find all the ingredients and instructions here!
17. Apple Cinnamon Honey Cake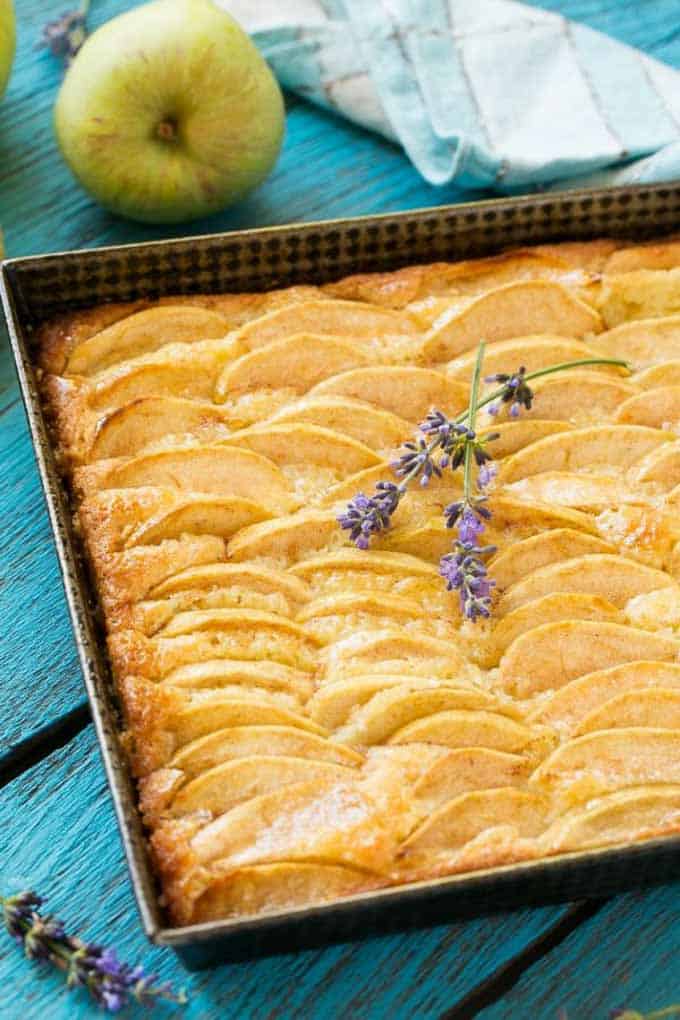 The cinnamon and honey in this recipe bring out the flavor of the apples in the perfect way – plus, it's looks pretty as well as tasting great! Check out the yummy recipe here!
18. Salted Caramel Apple Galette
Galette are already a classy, fancy dessert, but this apple version is indulgent, sweet, and perfect to impress your friends, family and guests during your fall dinner! Find the recipe here!
What's your favorite apple recipe? Do you have a favorite dessert or treat that you love to make? I'd love to hear from you!


SaveSave