This post may contain affiliate links that, at no additional cost to you, I may earn a small commission. Read our Disclosure Policy.
These 12 cast iron skillet recipes will definitely make your meal extra special!
People tend to either love the cast iron skillet or dread the thought of having to cook with one.
It can be a little intimidating sure, but with a little practice and a couple of pointers, it is decidedly a skill than can be mastered.
Plus, when you see the 12 Killer Cast Iron Skillet Recipes we've put together for you, you're going to want to try, that's for sure.
From skillet pizza, to skillet cobbler and even skillet bread, you are definitely going to want to get out that skillet and prepare to amaze your friends and family with any one, or all, of these 12 Killer Cast Iron Skillet Recipes!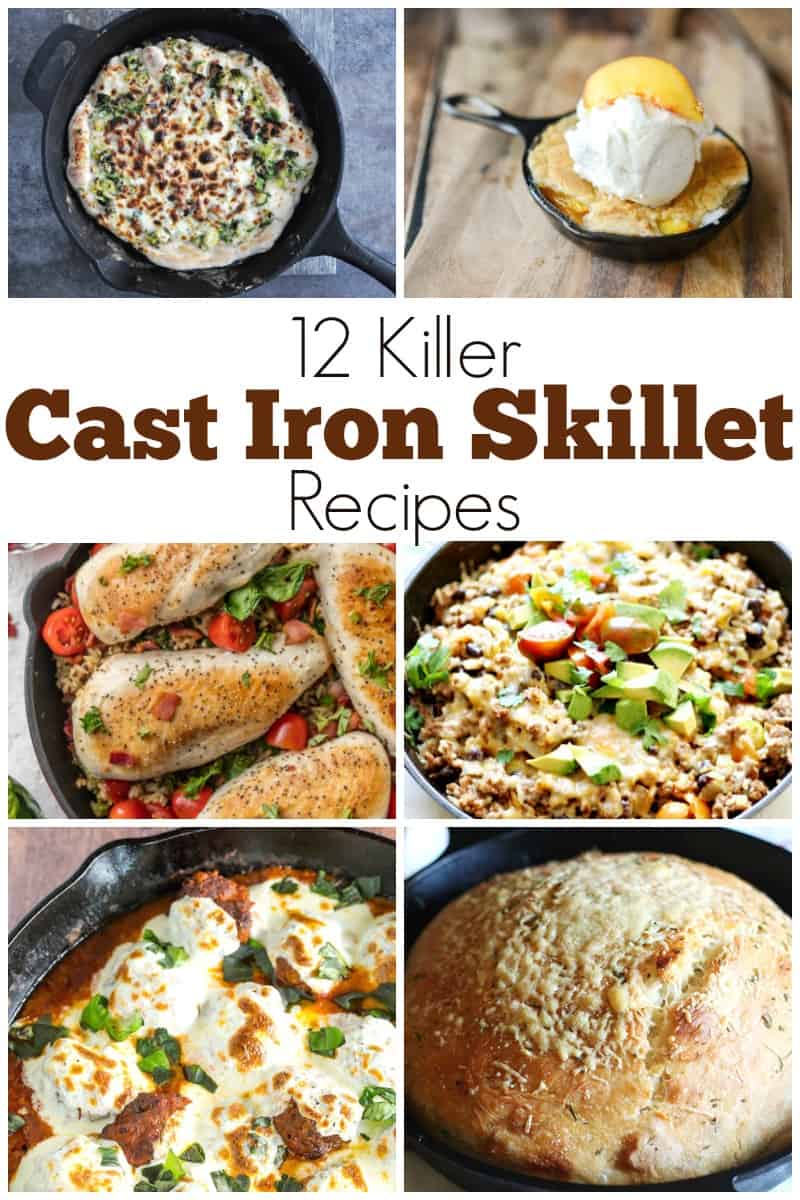 Thai Red Curry Chicken Meatball Skillet by Climbing Grier Mountain
Skillet Meatball Parmesan by Brown Eyed Baker
Skillet Brussel Sprouts Bacon Pizza by How Sweet Eats
Skillet Beef and Broccoli by the Gunny Sack
Skillet BLT Chicken and Rice by the Cookie Rookie
Honey Apple Pork Skillet by Dinner then Dessert
Peach Cobbler Skillet by Tikkido
Beef Taco Skillet by Restless Chipotle
Mexican Skillet Dinner by Well Floured
Smoked Sausage Zucchini Skillet by Yellow Bliss Road
S'Mores Dip Skillet by Five Heart Home
Rosemary Parmesan Skillet Bread by Handle the Heat
The one thing I know about cast iron skillet cooking is seasoning the pan correctly is important. I believe an old wives tales is not using soap on a cast iron skillet. But I've heard of cooks using a mild soap to clean with and then they properly oil the pan.
Which among these cast iron skillet recipes is your favorite?
Do you have any cast iron skillet recipes that that you have mastered? Make some delicious recipes for your loved ones tonight! 🙂
Check out more recipes ideas with our mouthwatering meatball recipes.
Click on the above images for inexpensive cast iron skillet prices.