This post was sponsored by Cost Plus World Market. This is a store I love to shop and see all the unique items. All opinions are my own 100%. #WorldMarket
I've been eating Aussie Meat Pies since I was little kid. Having lived in Australia as a child, meat pies were just a normal part of eating and are perfect for breakfast, lunch, dinner, picnics, and parties, or quite frankly, anytime! If you haven't had a meat pie, you've really got to try one. Aussie meat pies are individually portioned, savory and made with a flaky crust. There are many varieties of pies – pork, lamb, steak, mushroom, veggie, meatless and any combination you can think of. I would love for you to try out these delicious pies.
I'm working with World Market in sharing recipes from around the world. Are you familiar with World Market? If not, you are in for a treat! They carry so many different items – furniture , rugs, decor, kitchen and dining items, lighting, international foods and much more. You can shop online or go to their many retail locations. Shopping at World Market made it easy to purchase a few things to help out with this recipe. I purchased a cast iron biscuit pan and I'm loving it! Can you believe this is my first time baking with cast iron? I loved how my Aussie meat pies turned out. This versatile pan is also great for making cornbread muffins and individual desserts like cupcakes.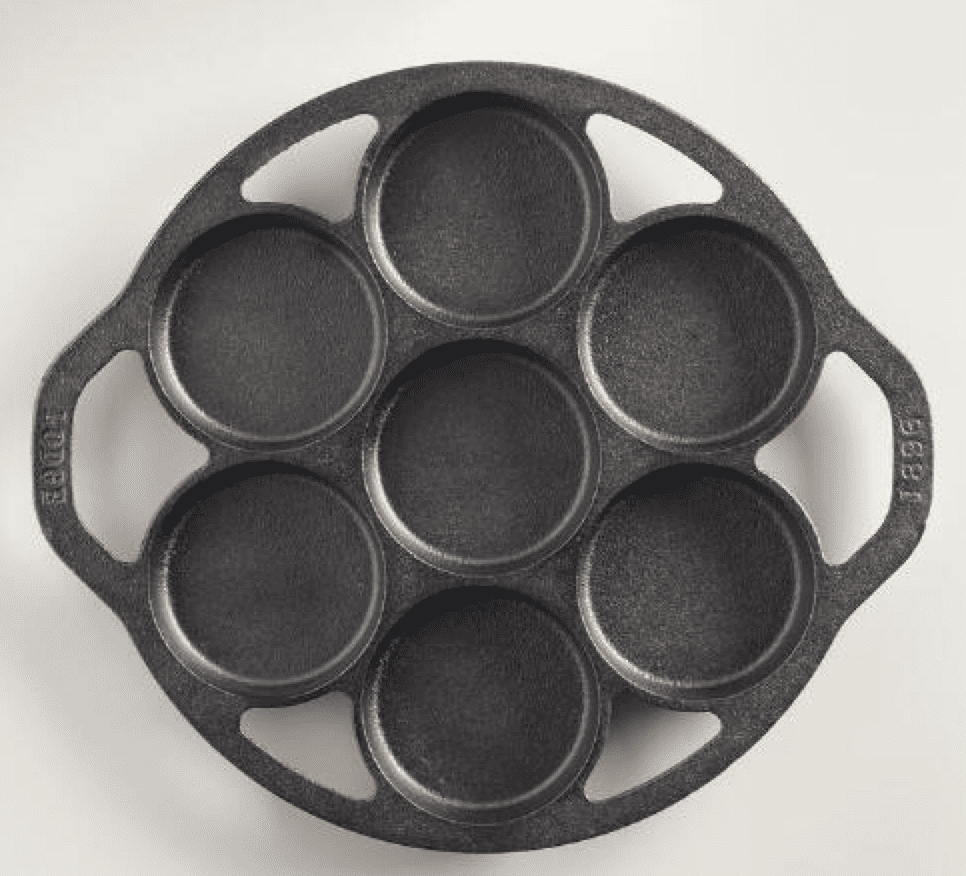 The brand Lodge is celebrated for cast iron bakeware that lasts for decades with proper care. Things to know:
Cast-iron drop biscuit pan with seven 3-1/4-inch-diameter impressions

Pre-seasoned with vegetable oil formula and ready for immediate use

Cast-iron construction heats slowly and evenly

Nonstick, rustproof finish releases foods cleanly; hand wash only

make sure to pre-heat the pan before baking
I love shopping at World Market for the many International food brands you can choose from. The items I purchased at World Market to make Aussie Meat Pies:
Beef Bourguignon – package by Colman's
Vegemite– if you are a real Aussie you love Vegemite!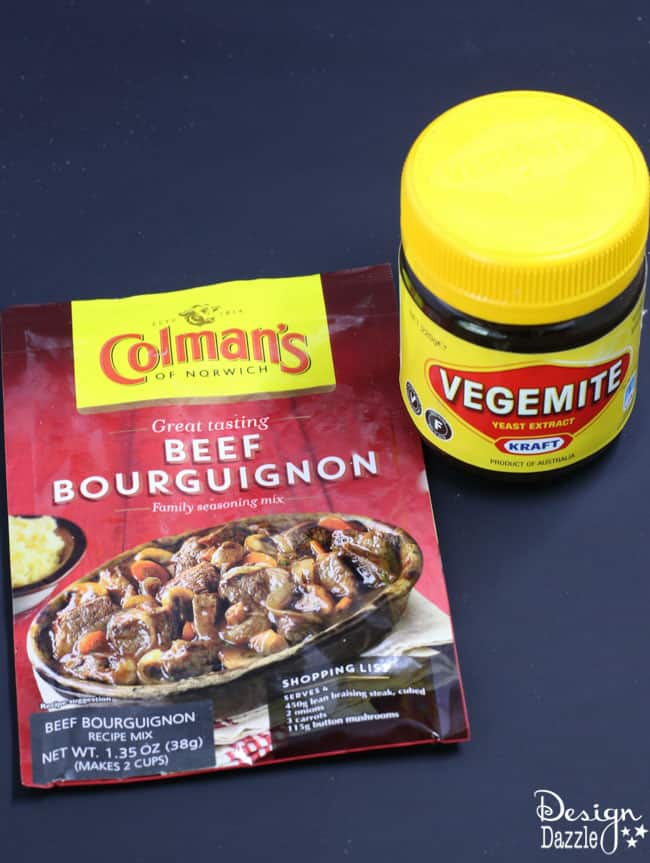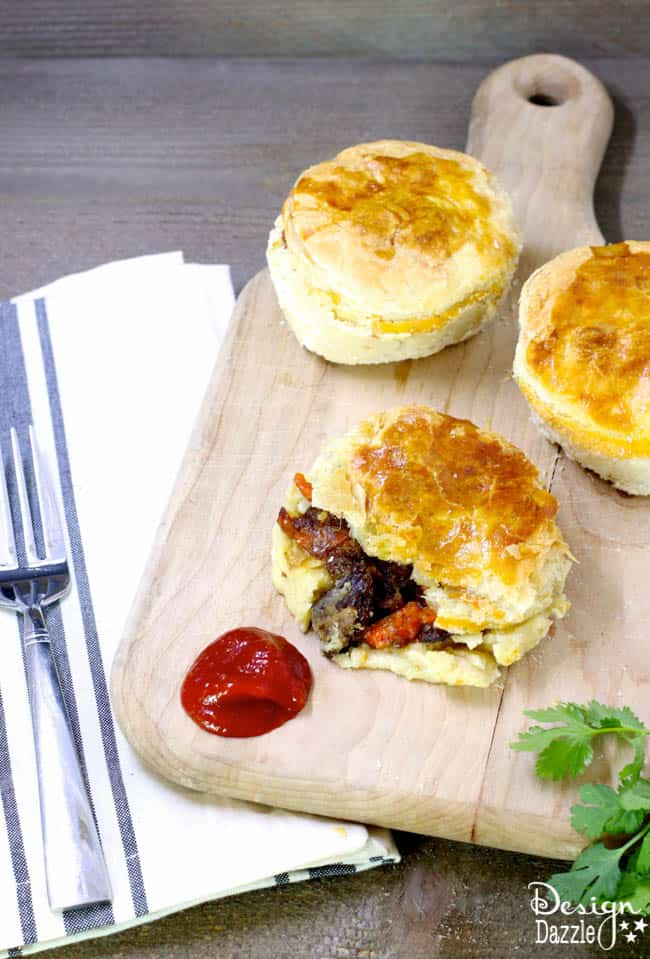 I found these striped napkins at World Market. Love their simplicity. World Market has a great selection of cutting boards. Did you know World Market is the chef's secret for finding fabulous International Favorites?
Onto making of the meat pies…

Puff pastry added to the top of the meat pie.
Aussie Meat Pie Recipe:
1 – 1.5 lbs beef (chuck steak) cut into bite sized pieces
1/2 teaspoon Vegemite (optional)
Colman's Beef Bourguignoon package
2 cups yellow onion diced
2 cups carrots diced
1.5 cup water
pre-made pie dough (found in the refrigerator section near cookie dough)
3-4 sheets of frozen puff pastry (found in the freezer section)
1 egg, beaten
oil
ketchup/cocktail sauce
Heat oil in saucepan over high heat. Add beef -sear until outside is browned. Lower the heat to medium add onions. Saute until onions are translucent.
Mix Beef Bourguignon package with 1.5 cups water and 1/2 teaspoon Vegemite. Place in casserole dish (make sure casserole dish has a lid). Add the cooked beef/onion mixture and raw carrots. Spoon the mixture over the ingredients. Add lid to the casserole dish. Bake for about 30-40 minutes at 375 degrees.
Oil the biscuit pan. I made my own crust which is pretty simple or you can purchase pre-made pie dough sheets. I just added the dough to the biscuit pan – just dropped it in and smoothed out the sides and bottom. I didn't roll out my crust. When I was reading tips on baking with cast iron – I learned you need to heat the cast iron pan before using. I pre-heated it for about 10 minutes before placing the dough in.
I par-baked the crust for 6-7 minutes at 400 degrees.
Add the beef bourguignon cooked filling into the par-baked crust.
Take the puff pastry out of the freezer at least 10 minutes before you need it. I didn't roll it out -the sheets come flat. I used a round cookie cutter to cut out the dough. Place the round dough topper on top of the filling and gently press to seal. Make little slits in the dough topper and brush with egg wash. This will make it golden brown when baked.
Bake 20-22 minutes at 400 degrees. Cool enough to turn over and pop the little pies out.
Yummy!!!
IMPORTANT: Aussie Meat Pies need ketchup or cocktail sauce. I mix half ketchup and half cocktail sauce to dip my pie into. This is a must for this recipe.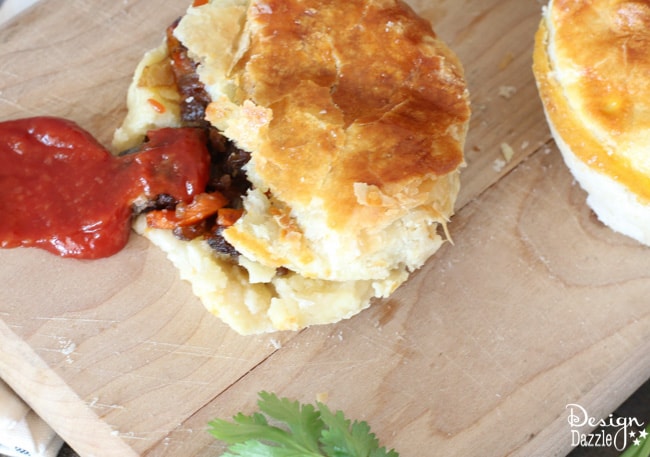 These pies are easy to freeze for an easy breakfast, lunch, dinner or snack.
World Market Sweepstakes: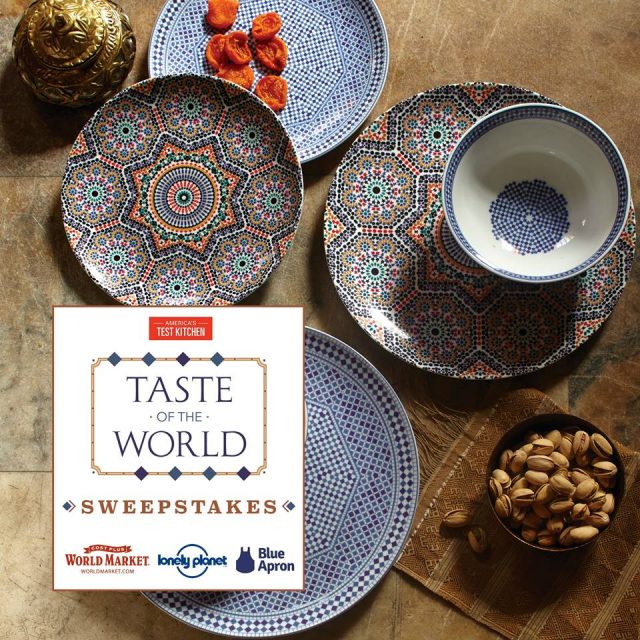 Bring a Taste of the world home! Enter America's Test Kitchen's Taste of the World Sweepstakes for a chance to win $5,000+ Grand Prize including a gift card from Cost Plus World Market. Enter now! https://bit.ly/29AO2eY
World Market has an incredible selection of all types of items. My favorites from World Market are: kitchen supplies, home decor items, Vegemite, Limoncellino Sorrento-Style Soda, black licorice, all types of candy from around the world, Torani syrup and much more. Do you have a favorite from World Market?


Save
Save
Save
Save
Save
Save