This post may contain affiliate links that, at no additional cost to you, I may earn a small commission. Read our Disclosure Policy.
Trolls Shirt
Summer is the best time for messy fun. For our summer camp project we made Trolls t-shirts. Diana and I have girls who are 5 years old (plus her son) who absolutely loved the Trolls movie. The girls especially love pink and Princess Poppy. At first we planned to tie dye but then decided we didn't want that 70s look, so we applied dye directly.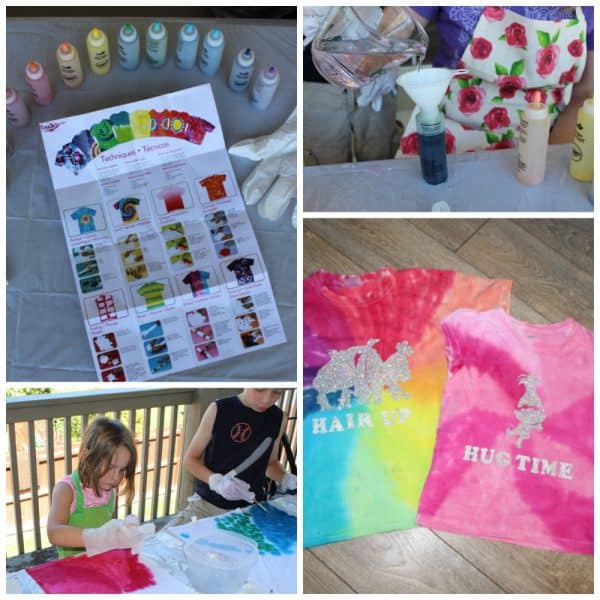 Here are the steps we took. We recommend you start this project on the grass or a table covered with plastic that you can toss. Wear clothes that can get ruined and gloves (the Dollar store has them).
Supplies Needed to Make Your Own Troll Shirt
100% cotton shirts – you can get basic ones at a craft store but I liked the ones we found at Old Navy because they're more fitted. Just be sure they are 100% cotton or the dye won't hold as well.
Dye – we wanted all the rainbow colors. The Tulip tie dye set came with 18 colors of dye, disposable gloves, a table cloth and rubber bands. The kit makes it 10x easier and less messy than trying to mix your own (like dealing with RIT Dye) since the powder gets EVERYWHERE.
Small funnel and pitcher of water. The kit comes with pre filled squeeze bottles with powdered dye. Just add water and shake. Make sure you tighten the lids well!
Iron on transfer image and letters. We used this glitter iron on paper, printed off the design and traced the outline with an exacto knife. Honestly I wish we'd just purchase it on Etsy. You can also use a Cricut or Silhouette.
Note: affiliate links 😉
IMPORTANT You do not need to pre-soak fabrics in soda ash before dying. Everything you need is there.  Too bad we read that AFTER buying soda ash! It was a pain to find locally and we could've skipped a long step.
Here's our inspiration:
Start with a 100% cotton t-shirt (not a blend)
Shortcut: buy a colored shirt. For the girls, we could've started with a light pink t-shirt and just laid darker pink over it to deepen the color. We ran out of pink with just 2 shirts and we could've used half as much if we started with a pink shirt. Also, the base color won't bleed at all so you'll get more distinct lines.
This is a red shirt we used to practice (but we ended up loving). We used black and a tan color because that's what we had a lot of and didn't plan to use on the other shirts. So we didn't try to match anything or do a good job.
Mix the Dye and Practice on Paper Towels or Rags
We had the kids practice on paper towels so they could get used to how the dye comes out. Starting at the wider end and pulling up to the center worked best.
Draw the Design on your Shirt with a Pencil
This is critical. We looked at the Trolls design and saw that it has a slight swirl but it's not the snail look of tie dye. We didn't use rubber bands. If you prepare it's like paint by number – you just fill in the areas. Ours was like a pie chart design with a bit of curve at the end (like the movie poster).
Start Dyeing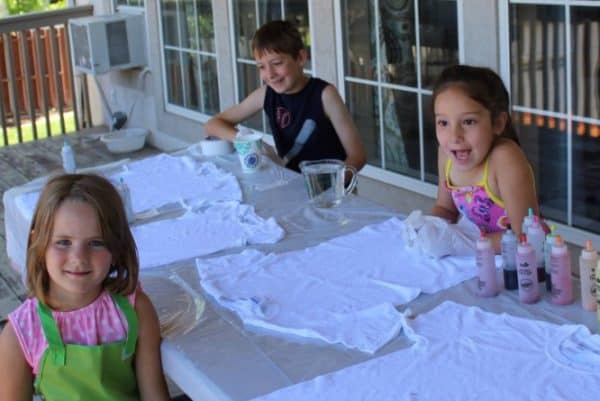 Hudson wanted a Cloud Guy shirt.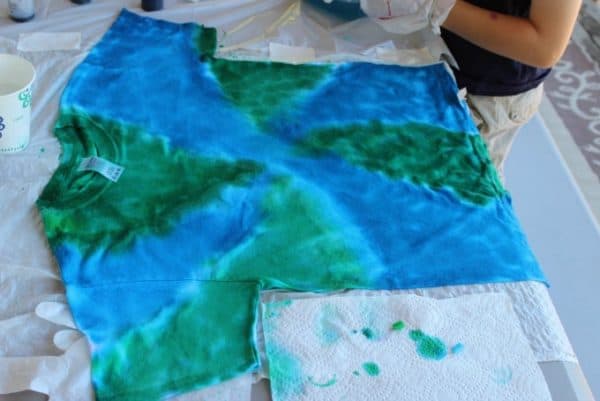 Blend Lines with a Paintbrush 
If you want the colors to blend or to make an ombre effect, use a paintbrush dipped in water to blend, lighten and spread colors. You start with a darker color and bring it into the lighter one. We didn't do any blending on the test shirt and a lot on the Hug Time one. You can see dots or lines. Those can be blended with a paintbrush to make the color more uniform.
Here are the shirts before we ironed them and put on transfers. The one at the end already had a design on it.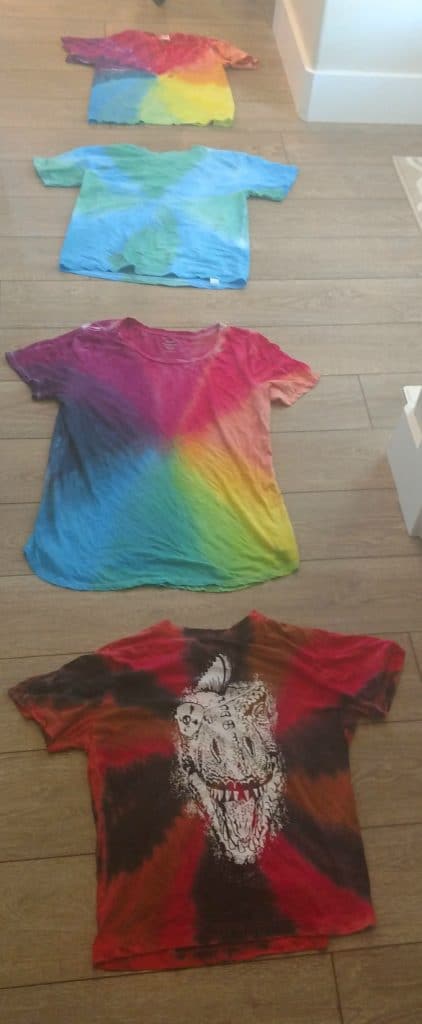 Put Shirt into a Plastic Bag, Rinse
Use kitchen trash bags to put the shirts in. Lie them flat (so the colors won't run) and keep them damp for at least 6 hours or overnight. Rinse out the shirts in the sink using both hot and cold water. This will save your washing machine from getting dye on it. Wear gloves to save your hands. Then wash with a little detergent.
Dry shirts and iron.
Once the shirts are dry, iron them.
Prepare Iron On Transfers and Iron them Onto your Shirt
We printed off the designs we wanted and cut them out with an exacto knife. It took forever. If you have a Cricut it would help. Next time I'd make the images larger and less detailed. There's already a lot going on with the colors.
Wear and Smile – you made your own Troll tshirt!!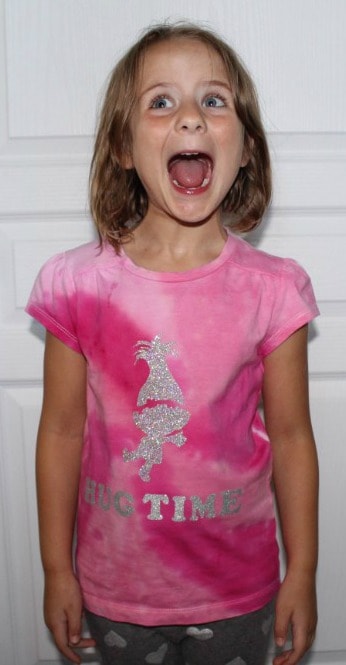 Want to see the Troll shirts in the making? Watch our DIY Trolls tshirt video on YouTube.
Two Moms Review are Janet and Diana. Our blog and YouTube channel is all about a clean home, happy kids, good sleep and more. We're two moms who love family time and life. Please follow us on YouTube and Facebook for more fun projects!
________________________________________________________________
Thanks so much to Janet and Diana for sharing this adorable and fun shirt idea with us! Be sure to check out their 
blog
for some more fun ideas and cool reviews!
_______________________________________________________________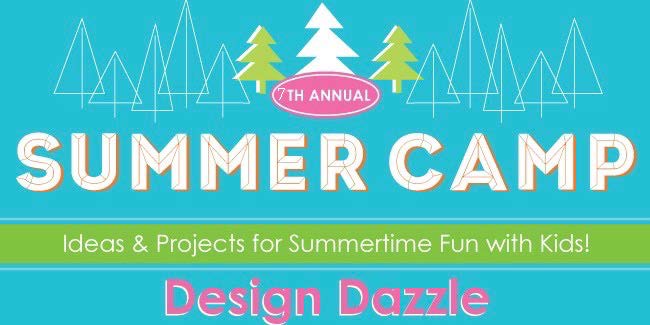 Make sure to check out all of our fabulous past summer camp posts!
Save