This post may contain affiliate links that, at no additional cost to you, I may earn a small commission. Read our Disclosure Policy.
Looking to amp up your fun while at the pool? Look no further, because I've compiled a list of the best water toys that will be a hit during your next pool day!
How cool is a waterproof car? And it's ready to do some impressive tricks poolside! Kids will love to spin the wheels in the water.
This splashproof poolside basketball hoop is going to be a slam dunk with everyone this year.
Add a challenge to the pool for older kids with this swim through ring set! You can suspend the rings in the water to create a new element of fun.
Ring toss is fun on land, but in the water? Talk about a splish splashing good time for kids of all ages.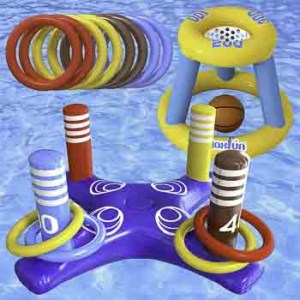 Sometimes a cool seat is all you need for some fun in the sun. These comfy floating chairs really elevate things!
This is basically a hamster wheel, for humans, in the pool. That sounds like a great time for all who try to run in it!
This set is awesome for night time swims because it is color changing and really adds a great touch to the pool in the evenings!
This pool float is nothing like what you would expect! It has a water gun attached for some epic water battles!
This is such a fun option for the pool! If you ever wanted to have a tank fight with a friend, now is your chance to do it on the water!
Watermelon ball is perfect for diving games in the pool, or use it to play underwater catch if you feel up to it!
Toss a floating bag into the mouth of this inflatable shark, if you dare!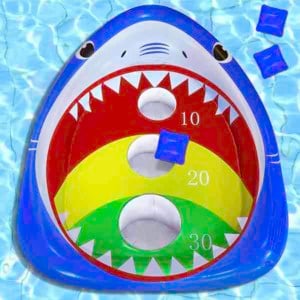 This game is great for anyone who loves a game of catch. It adds a challenging and fun element to such a simple passtime.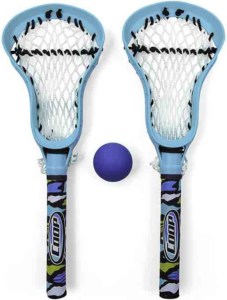 Four square meets volleyball and water with this really fun way to get your game on in the pool!
This 2 pack of 42" inflatable floats is adorable and awesome for adults! They will appreciate the larger size for a fun floating experience.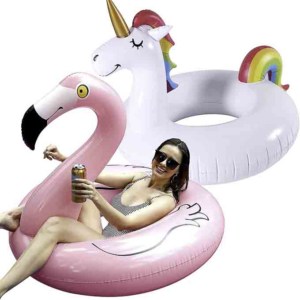 This kit has a tail and fin so you can swim like a real mermaid! This is perfect for teens!
Pong meets pool with this floating game. It is fun and challenging as it is always moving!
This water gun has a supply of water to go with it for epic water fights all summer long!
These high bounce water balls are even better than water balloons because they are waste free for lots of fun water fights!
These dive gems are great to toss in, and race a friend to retrieve.
With 6 blasters, there are enough to go around so everyone can have a little splish, splashing fun in the pool this year!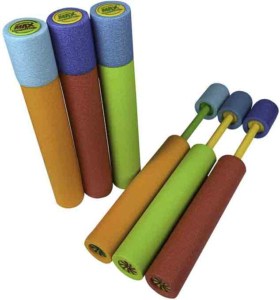 Be sure to check out my list of fun outdoor summer games for the days your not at the pool!