This post may contain affiliate links that, at no additional cost to you, I may earn a small commission. Read our Disclosure Policy.
There is something magical about the beaches in North Carolina. It could be the laid back southern vibe, friendly locals or the three hundred miles of barrier islands that make this a favorite destination for people all over the country. They all retreat here for a chance to relax, unwind and dip their toes in the warm, southern water.
North Carolina beaches are diverse. From the rugged beauty of the outer banks, to the boardwalk at Carolina beach, there is something there for everyone. Ask any North Carolinian what their favorite beach is and the responses will vary. It's usually the beach where they made memories as they were growing up or where there family now has a home.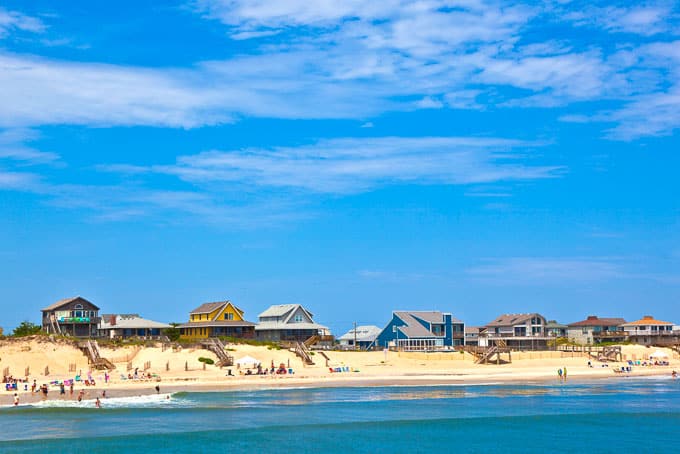 Although we have never been to a beach in North Carolina we didn't fall in love with, here are some of our hand-picked favorite beach destinations.
Topsail Island/Surf City
You won't find big box stores or sprawling strip malls on this island. What you will find are beautiful, quiet beaches, world-class surf fishing and boating and quaint island eateries and shops. Topsail Island, which also includes Surf City and North Topsail, is an affordable place to bring the family for a low-key beach vacation. There is no shortage of cheap rentals on the island and you will love the friendly locals, many of whom live in the Raleigh metro and fly their NC State, Duke and UNC flags proudly.
What to do while you are there:
Visit the Surf City Pier (don't worry, you can rent some poles from the shop if you want to fish), drive your 4×4 on the beach in North Topsail Island or just relax on the beach with the locals. You may meet some military families from nearby Camp LeJeune while you are there. Explore the many different cuisines on the island from gourmet hot dogs (Hot Diggity Dogz) to seafood (Shuckin' Shack) to Mexican (Camino Real).
Carolina Beach
If your family likes a more lively beach destination, Carolina Beach is the place to be. You can walk the boardwalk, shop the shops or take the quick drive to downtown Wilmington which oozes with Southern Charm and history. Take a step back into time with the Victorian-era mansions or tour a real battleship. There are tons of activities to keep every member of the family busy between the beaches and attractions with Carolina Beach as the epicenter for family fun.
What to do while you are there:
After you enjoy a day on the beach, be sure to take a walk on the vintage boardwalk and see exactly why the Carolina Beach boardwalk was named one of the top 10 Boardwalks in the United States by Food and Wine magazine. Take the short drive to Wilmington and visit the Battleship North Carolina, take a trolley ride through the historic district or head to Fort Fisher, home of the largest land to sea battle of the Civil War and the North Carolina Aquarium.
Emerald Isle
This is the perfect beach for an active family. Be sure to bring your bikes along (or you can rent one at Highway 58 Bicycles) as the island has 11 miles of paved bike and walking trails that take you from beach to shopping and back to your vacation rental. There is no shortage of quirky shops and restaurants to visit and it's in close proximity to Fort Macon, and other amazing beaches.
What to do while you are there:
Bike around the island and visit some of the world-class shops and restaurants. If your family is looking for a fun activity to break up your beach time, head to Fun World Motorsports to race go-karts or the Salty Pirate Water Park. Looking for a big adventure? Take your family on a deep sea fishing trip on one of the many private charter boats.
Kill Devil Hills (Outer Banks)
Kill Devil Hills is one of the more populated towns in the Outer Banks strand. The Outer Banks are known for their rugged, small town charm even though they are a popular vacation spot in the summer for people all over the country (and the world). Kill Devil Hills is steeped in history and home to the Wright Brothers, the pioneers of flight. The beaches are pristine and for those who crave adventure, there is no shortage of outdoor activities like kite surfing, paddle boarding or camping. In Kill Devil Hills and the surrounding towns, there is a little something for everyone.
What to do while you are there:
Start your day with a stop at Duck Donuts and chat with the locals and other visitors. Once you are fueled up, take a ride to the Wright Brothers National Memorial. It's filled with tons of activities for the family and will be a chance to introduce some history into your family vacation.
The Wright Brothers visitor center is temporarily closed but the grounds are open. Please visit this website for more information.
Atlantic Beach
Atlantic Beach is a fun destination for the family. The beaches are pristine and inviting. The locals are friendly and if you are into fishing, this is the place for you. For those wanting to explore, private boats and a ferry can take you to Shackleford Beach where you can collect seashell while cohabitating with the island's wild horses, whose ancestors have been roaming free on the island for centuries.
What to do while you are there:
After spending the day on the beach or going on an adventure to Shackelford Beach, you can take a drive to Fort Macon, a restored civil war-era fort with beautiful grounds you can explore. If you want to get a sweeping view of the waterfront and some destinations like historic Beaufort (named Coolest Small Town in USA by Budget Travel Magazine), Morehead City and Piver's Island, you can take a sunset cruise.
These are just a few of our favorite spots. Our recommendation? Take a week (or two) and skip from town to town, starting at the Outer Banks and head down the Crystal Coast and down to Wilmington. There are so many beach towns to visit and see and each one has their own unique charm. While you are exploring the coast, be sure to hit the "Inner Banks" as well and stop by towns like Bath (summer home to Blackbeard the Pirate), Edenton and Washington to name a few.
Because of the climate, you can comfortably visit the North Carolina beaches into November (although you wouldn't want to swim in the ocean at that time). You can take advantage of off-season rates for most rentals after Labor Day. Even though it is off-season, most of the businesses and shops will still be open in the early fall and you can enjoy empty beaches. You will get to live like a local.
The Cape Lookout Lighthouse is open for climbing during certain months. Three miles off-shore is the barrier islands of Cape Lookout National Seashore. You can get there by boat. With over 250 species of birds to be found, birding is a year-round activity at the seashore. More details can be found to plan your visit.
What's your favorite North Carolina beach destination? Share in the comments or join the conversation over on our Facebook page!
Check out some of our other fun travel posts!


Save