This post may contain affiliate links that, at no additional cost to you, I may earn a small commission. Read our Disclosure Policy.
Just before going for our family vacation in Anaheim, my husband and I took our own little getaway to San Diego! Originally I am from California and have visited San Diego many times over the years. A few years back we rented a home on the beach (VRBO) during the month of January and had a wonderful visit. The weather was great considering it was winter there. This San Diego vacationwas in October when the weather is just about perfect – mid 70's to low 80's (perfect for my taste). San Diego is a beautiful California city that is known for its gorgeous beaches, lovely parks, sight-seeing, tours, things to-do and the incredible weather! I wish I could go back right now and escape back to perfection!
We stayed at the Marriott Marquis San Diego Marina which is just a few minutes drive from the San Diego airport. We paid extra to have a water front room with incredible views of the Marina and out to the ocean. This hotel was the nicest Marriott we have stayed in. The pool was beautiful and I took advantage of the warm weather. – sitting by the pool, sitting on the balcony reading and enjoying the views. The location was convenient to many areas in San Diego – walking distance to Gaslamp Quarter, Seaport Village, the Convention Center,  Petco Park and more.

The view from our balcony at the Marriott Marquis Marina.
Another view from our balcony. The San Diego-Coronado bridge is in the background. The marina area is very clean with beautiful weather! San Diego is known for its great walks and views, and they sure don't disappoint! I loved being able to walk around the water with my husband and enjoy the sun and view. Plus, it's a great way to get some exercise!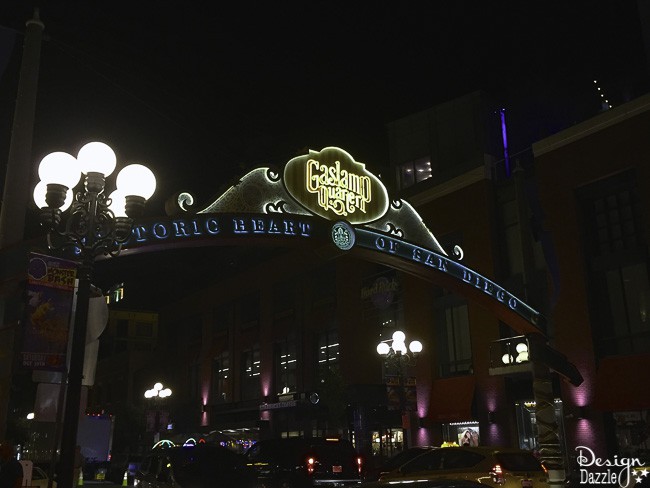 A famous part of San Diego is its Gaslamp Quarter. It's a historical district 16 blocks large in the downtown of San Diego. Not only does this area have fabulous cuisine, it has great shopping, night life, and culture – with events all year round. It's a fantastic place to walk around and explore because you're sure to find something that interests you! The restaurants are really fabulous. We had a hard time choosing which one to go to. Our hotel was a 10 minutes walk to the Gaslamp district.
Most evenings we walked to the Gaslamp Quarter district and ate some delicious meals. One of our favorites places to eat is an authentic Irish Pub called The Field. My husband had the Lamb Shepherd's Pie and I had the Fish & Chips – both were delicious and the service was great! The Field was an old pub shipped piece by piece from Ireland. Pretty amazing place. It is a fun spot to check out not only for the decor but also the eats. I don't drink so couldn't tell you about the alcohol. The city is known for having some of the best food in California, and this place certainly didn't disappoint! We would go back in a heartbeat! One night, we also went to Little Italy for some yummy pasta and dessert.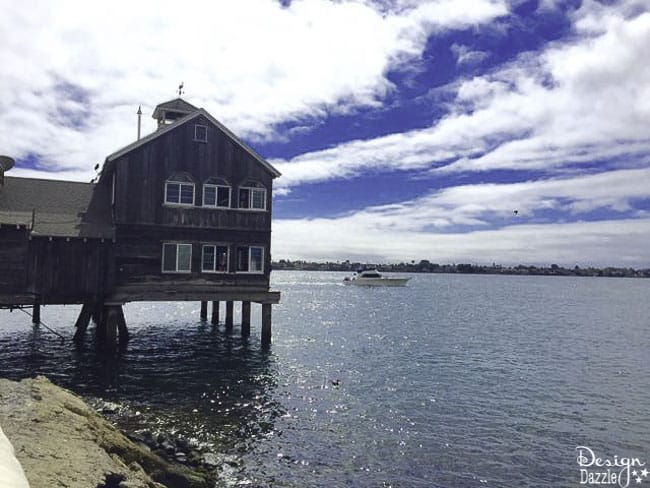 Clam chowder in a bread bowl is a must for me when I go to restaurants in beach communities. San Diego Pier Cafe restaurant is right on the water with superb views! You can't find a better location or place to spend the afternoon with some good food! The food wasn't outstanding but it was good. I would go back just for the views.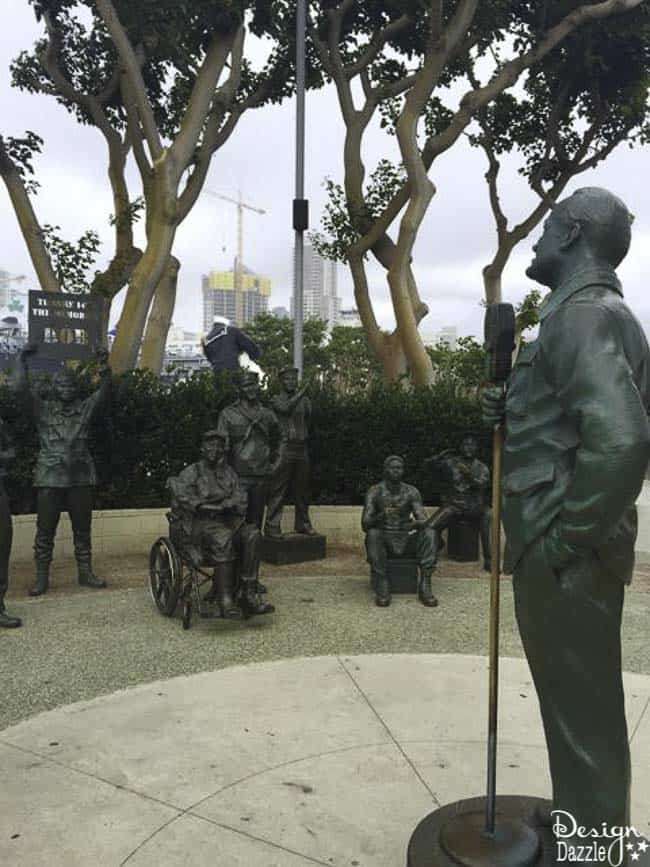 While walking around, we found a memorial tribute to Bob Hope and the Military that are bronze statues. A sound tract of Bob Hope telling stories and jokes can be heard at this memorial. I think it is motion activated. We sat and listened for a bit. Very fun to hear Bob Hope give laughter to the troops. I love finding great things like this just by accident while exploring a new place. That's why walking-friendly cities are my favorite!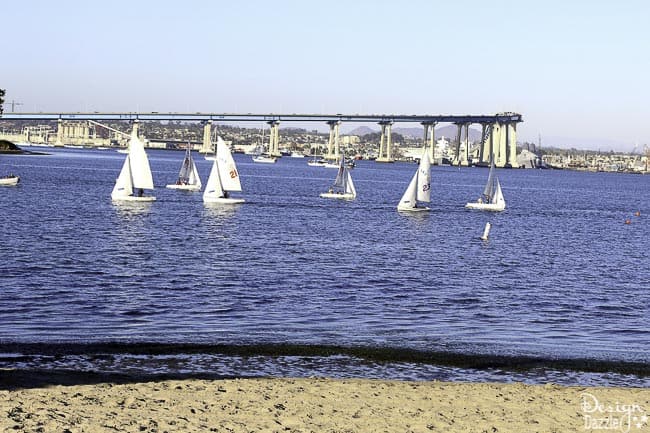 The City of Coronado is a small beach community with the Pacific Ocean on one side and  San Diego Bay on the other. We took an Uber there and back from our hotel (10-15 minutes depending on traffic). There is also the option to take the ferry. The Coronado Ferry leaves from downtown San Diego at the Broadway Pier and the SD Convention Center and travels to and from the Coronado Ferry Landing. It takes about 15 minutes to get there by ferry. $4.75 fee for one way. For more information visit the website.
The Uber driver dropped us off at a bike rental shop. My hubby and I rented bikes and rode all along the bike paths – there is a 16-mile bike path in Coronado. Such a great bike ride to see some of Southern California's best beaches. You can do all the typical beach activities such as swimming, surfing, sailing, etc. here.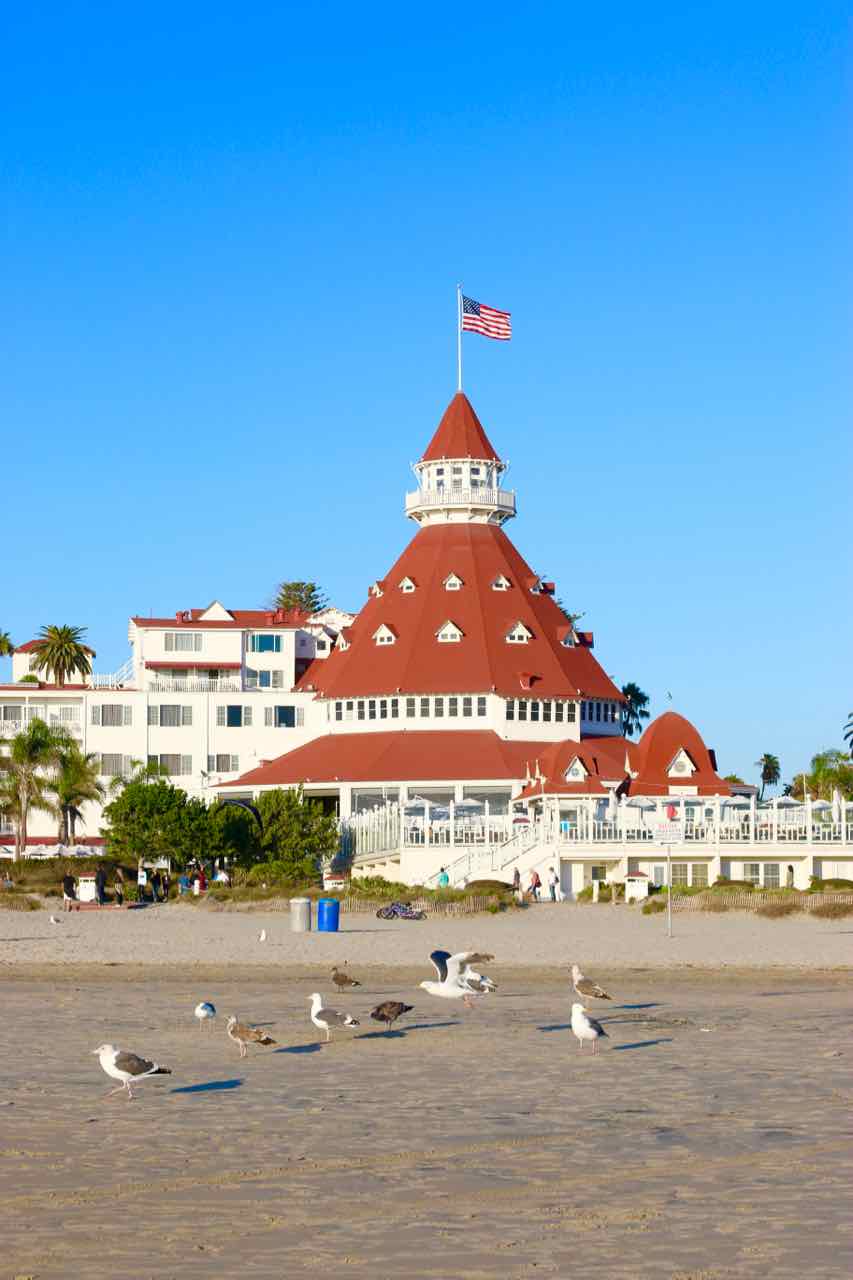 Visiting the iconic Hotel del Coronado is always a good idea. The hotel was built in the late 1800's and sits right on Coronado beach with stunning views. Many celebrities back in the day have stayed there. Some Like It Hot was shot at the hotel starring Marilyn Monroe, Tony Curtis, and Jack Lemmon. It's not a cheap place to stay especially with the history, resort features and location on the beach. We spent an afternoon walking around the hotel, sitting on the beach and enjoying the beautiful scenery. Dessert was on our minds since it was between lunch and dinner. And I can never get enough dessert! Sheerwater is a causal outdoor restaurant at the hotel with beach views. We ordered Banana Foster with vanilla bean ice cream and pineapple upside down cake with a scoop of ice cream – all quite delicious.
If you're in the area, don't miss seeing this famous place – Hotel del Coronado!
Is there anything better than a beautiful sunset over the ocean? While on our bike ride we enjoyed the weather and the views. It was starting to get late, so we finished up our ride, turned in our bikes, and went to dinner at the Burger Lounge in Coronado. Very good burgers and fires.
On our way home we stopped by the LDS San Diego temple. You can't go inside if you aren't a member of the LDS church, but it's still a gorgeous building to walk around. The grounds are beautiful, too, and it's always nice to get out of the main city!
We loved our San Diego vacation! It is a favorite Southern California place to visit!

Save
Save
Save
Save
Title:
San Diego Vacation
Mentions:
california vacation, getaway, tips and tricks, travel, travel tips and tricks, vacation
Keywords:
San Diego Vacation
Last Updated:
February 16, 2018