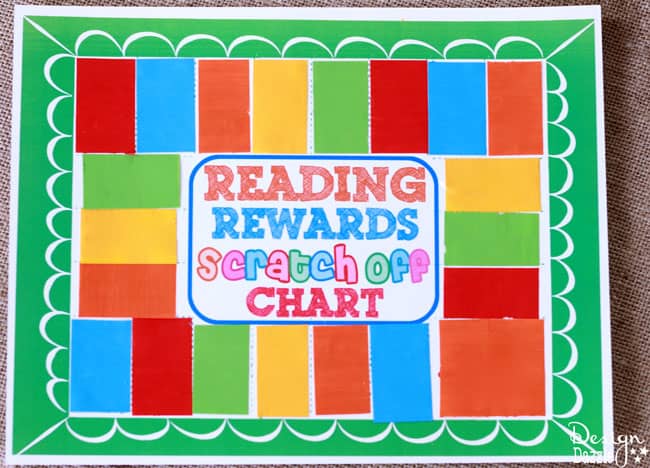 Keep kids reading all summer long with this reading rewards scratch off chart. Several years ago I featured how to make scratch off stickers for a free printable Father's Day Card. I figured this would also be a fun idea to create a scratch off reading rewards chart to give kids incentives to read books during the summer. Most likely a lot of activities on the rewards chart you would do anyways! So why not hit two birds with one stone and encourage your kids to read and have a fun, amazing summer! Have your child write their name on the back of the chart and keep a list of each book read. Your child's school teacher will be impressed with all the books read over the summer!
To learn how to make the reading rewards scratch off chart with free printable see below. Maybe your kids will want to help make the scratch off stickers…
Supplies:
Packaging/shipping tape (make sure it's shiny) or laminating sheets
dishwashing soap
craft paint
foam brush
Cut the packing tape in several strips and place on wax paper or parchment paper. Mix craft paint with dish washing liquid – 2 parts paint to 1 part dish washing liquid. Paint the clear packing tape (or whichever clear sticky paper) with your paint mixture – you might need to paint three – four coats. Let dry.
Cut into strips to fit the reading rewards chart printable. Leave backing on until ready to place on chart.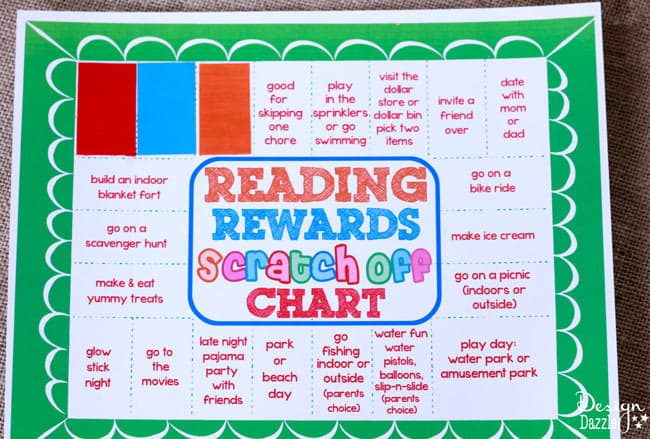 Place scratch off stickers on each box of the reward chart.
After reading a book (or two) have your child scratch off the box of their choosing.
This is the reading rewards printable. I've added rewards to this chart. The bottom row rewards require a little more effort or $$ so maybe this line they need to read two or three books before they can scratch off?? The bottom right corner is a double size box. This one was specifically designed for whatever you choose. For instance – this could be the square that is scratched off when all the other boxes have been scratched off or maybe this is the box that once they reach the goal of so many books they scratch it off, etc. Make your own rules and have fun!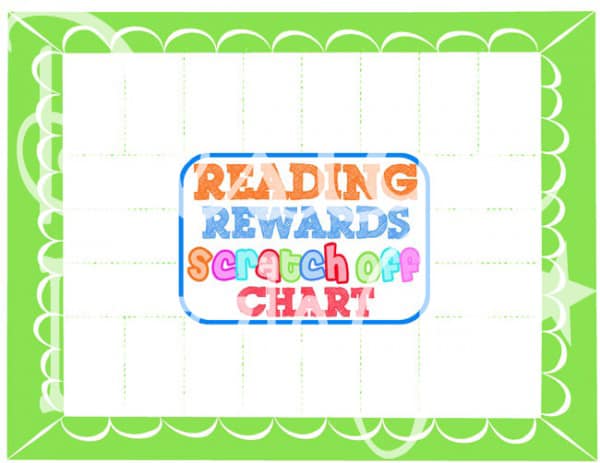 Here is the blank version. Decide to use the one that works best for you!
Printable files are for personal use only. They are not for commercial use. Since I love our schools, students and TEACHERS the reading reward printable can be used for the classroom!
The Reading Rewards Scratch-Off Chart printable is FREE and available for immediate download by subscribing to Design Dazzle!
To receive this free printable – enter your email address in the box below and click submit. Make sure to check your inbox for an email from Design Dazzle. You will have access to all of our FREE printables and also will receive an email newsletter filled with lots of great information. Don't worry your email address will never be sold.
Printable files are for personal use only. They are not for commercial use.


Title:
Reading Rewards Scratch Off Chart {FREE Printable}
Mentions:
summer reading rewards chart
Keywords:
Reading Rewards Scratch Off Chart
Last Updated:
August 18, 2020