This post may contain affiliate links that, at no additional cost to you, I may earn a small commission. Read our Disclosure Policy.
Front porches come in various styles and all shapes and sizes. It's such a nice welcome when arriving to a clean, friendly-looking, and welcoming porch! I decorated my front porch with a 4th of July summer porch essentials theme but you can use these tips all summer to help create a sanctuary where you can unwind, relax and enjoy the summer season!
The front porch sets the tone for your house! Here are fun ideas on front porch essentials!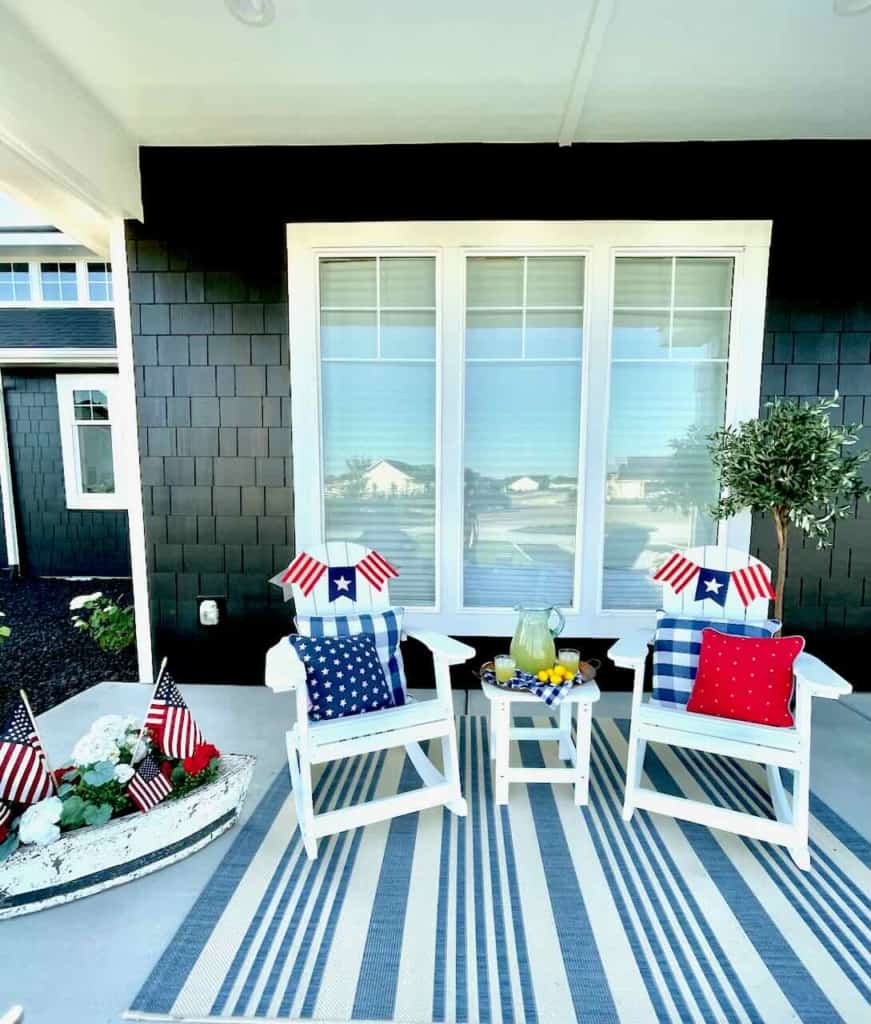 Front Porch Essentials 4th of July theme
Clean-up your porch
Does your front porch need new life? Items that might need to be worked on – peeling paint, the floor needs cleaning or refinishing, lighting needs improvement. These are a few things to make sure you create a more inviting porch and a place to sit and visit with your family, neighbors, and friends.
Match the front porch decor to your home architecture style.
Figure out your style for decorating the front porch. Placing extremely modern furniture on a farmhouse or cottage-style house porch doesn't work. Create a design that works with the architecture of your home.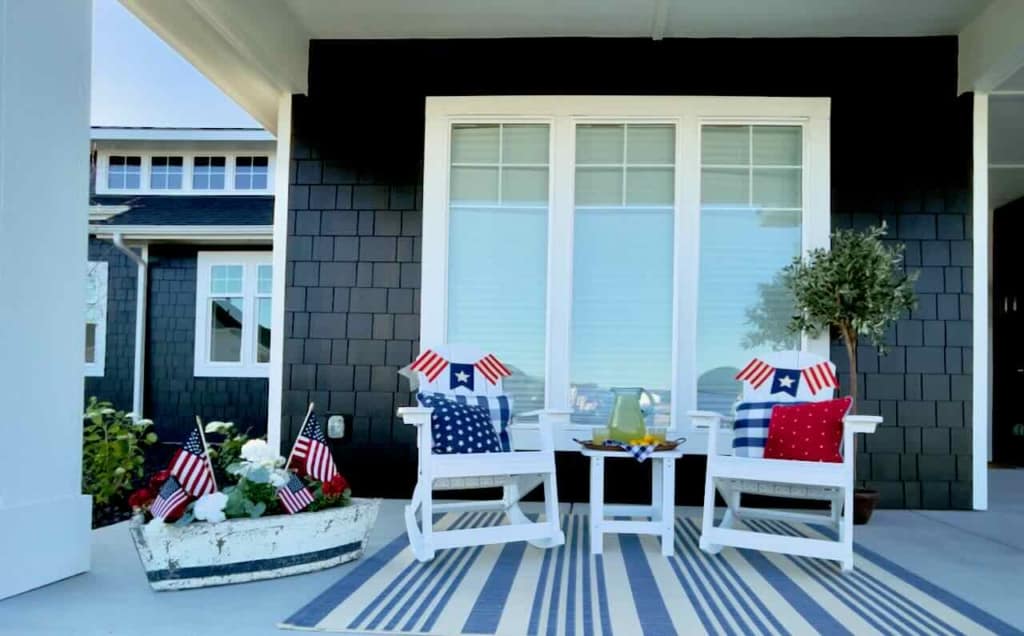 Add a rug to the front porch
A rug placed on the porch adds a stylish element. It can add a pop of color and carry out your color scheme. It adds a bit of warmth to bare concrete or other hard surfaces and a rug pulls it all together for the designer look for front porch essentials. Here is a bright blue rug that I used for my front porch essentials 4th of July theme.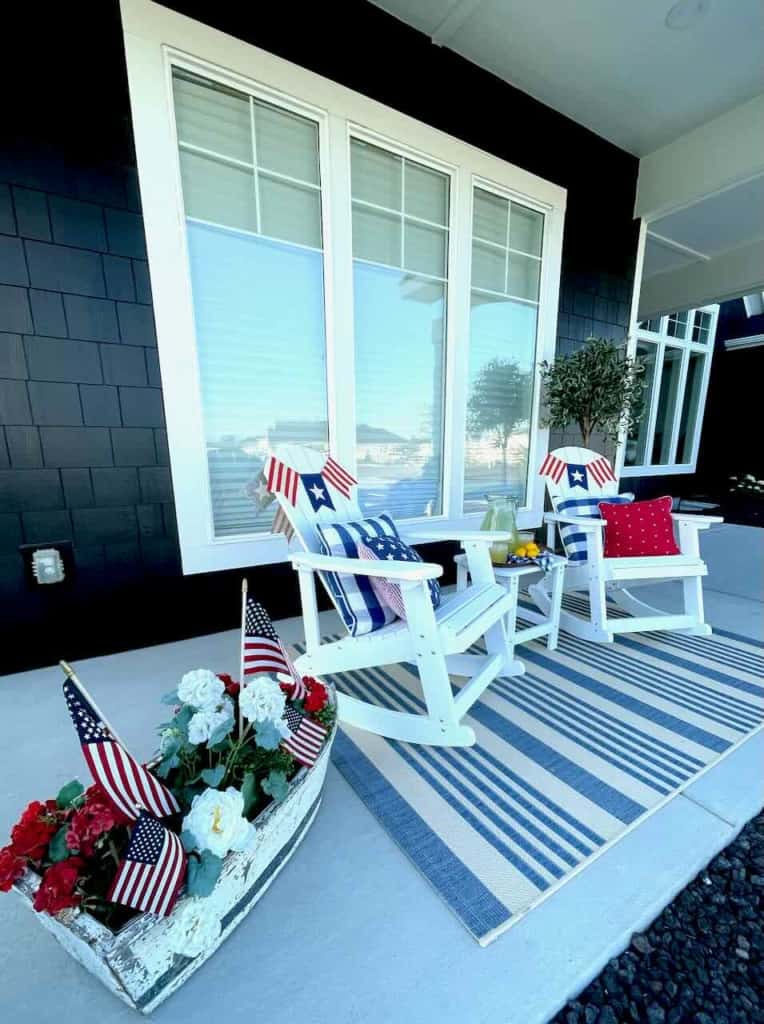 Comfortable outdoor furniture that is made to last
It's important to optimize outdoor sitting by choosing comfortable furniture. Otherwise, you will not want to spend much time on the porch.
I've always wanted rocking chairs for my porch. When I found the Adirondack rocking chairs and side table that would create a perfect seating area – I was hooked. It's a great look for my home and nothing screams summer more than an Adirondack chair! The rocking part is great.
The huge bonus is the side table! A side table is always needed between chairs. Placing a drink on the ground is a disaster waiting to happen. The chairs and side table I chose are commercial grade all-weather white poly resin wood Adirondack rocking chairs The furniture mimics the look of wood but doesn't chip or peel. Perfect for outdoors and front porch essentials. Flash Furniture provided me with the rocking chair set on this post. All opinions are my own. For further information, please see our disclosure policy.
Incorporate charming decor
One thing I always mention when decorating is to shop your home first. See what you might have that will work with the area you are decorating. I've used this cute little wooden boat before for my 4th of July decor and wanted to use it again for this 4th of July front porch.
The blue buffalo check pillows I've had for a while and thought they would work great for this color scheme. Adding greenery such as a potted plant or small tree is a wonderful natural look. A pop of color with some bright seasonal flowers always works.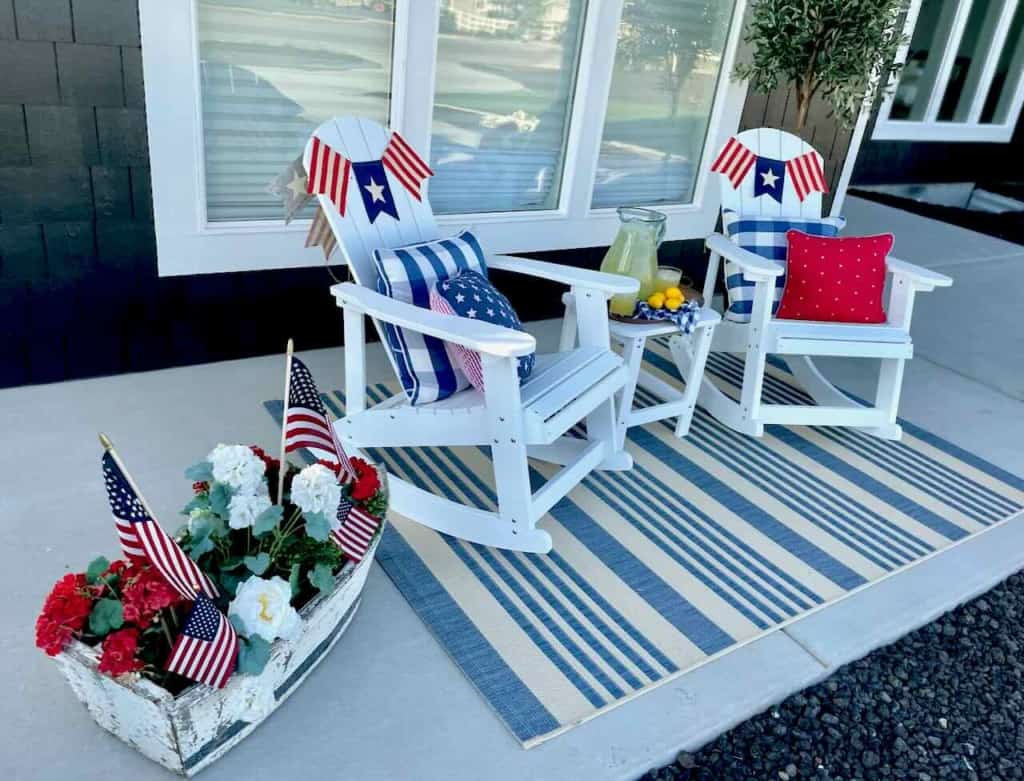 Make your front porch picturesque with fun fabric!
This is a great opportunity to use fun fabric that you might not use indoors. Incorporate boldly patterned fabrics and fun pillows! Vibrant and bright colors work well outside. It certainly adds a bit of fab and cheeriness to your welcoming porch.
Make sure to use outdoor fabric that is protected from the sun. I purchased a UV sunblock spray. This can be used on fabric, pillows, rugs, etc. It is safe to use on all types of materials and will not change the texture of the fabric.
Use outdoor dinnerware
When outdoors limit glass and ceramic for drinking and eating. Find sturdy acrylic ware that is unbreakable and shatterproof. Nothing better than sitting on your porch with a cold lemonade and not having to worry about breakage when entertaining is an added bonus.
Savor the joys of summer by styling a 4th of July front porch essentials!