This post may contain affiliate links that, at no additional cost to you, I may earn a small commission. Read our Disclosure Policy.
In this blog post, we'll explore creative and eye-catching ideas to help you transform your front porch into a patriotic haven. What better way to showcase your love for the USA than by adorning your front porch with festive decorations that evoke the spirit of this special day?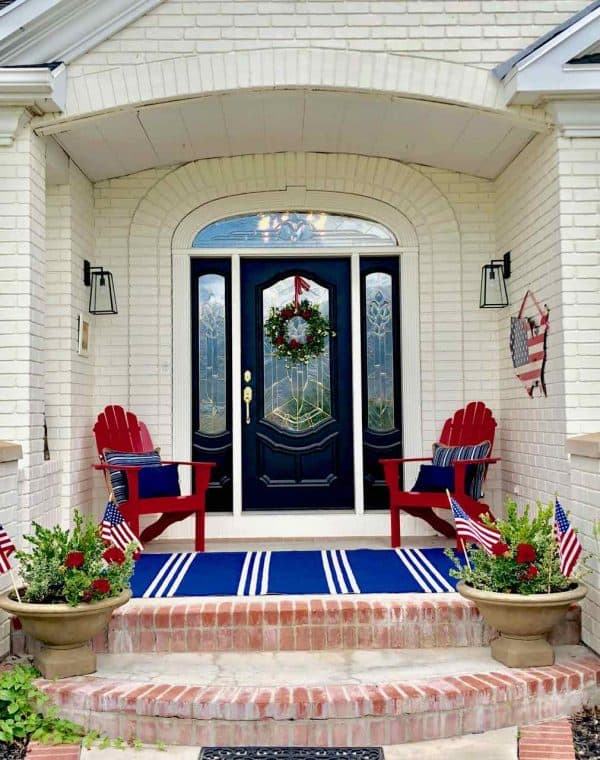 My 4th of July Porch
Fourth of July is coming soon! I really enjoy decorating my home. And, of course, my front porch gets decorated for the seasons. Last years 4th of July front porch (you can see my front doors before I painted them black) and my late spring/early summer front porch from this year
I am especially thrilled with this blue indoor/outdoor rug– it's not only hand-tufted but it's quality!! This rug is so comfortable with our bare feet and feels more like a hooked wool rug than an outdoor rug. It's also UV protected and fade resistance – which is a must on my outdoor front porch. We get morning sun until the sun goes over the roof – so a good 5-6 hours of sun. So it's important to find a rug that is fade resistant.
And the chairs. LOVING the adirondack chairs. I wanted red to pop against the white brick. I kept debating if I wanted the natural wood color or the red. Glad I went with the red. I purchased these at World Market. They were on sale and hubby put them together. The back came assembled together and just needed the rest of it completed.
I found some red adirondack chairs online that also has a slew of other colors. If you are looking for 13+ colors of adirondack chairs here they are!
I have a few more items to put out to finish my 4th of July porch. But for now this will do. I have a few plants and metal glass lanterns also.
Let your porch become a beacon of celebration, capturing the essence of this special day and welcoming all who pass by. Embrace the spirit of the Fourth of July and let your front porch proudly display your love for the red, white, and blue!
SaveSave
SaveSave