This post may contain affiliate links that, at no additional cost to you, I may earn a small commission. Read our Disclosure Policy.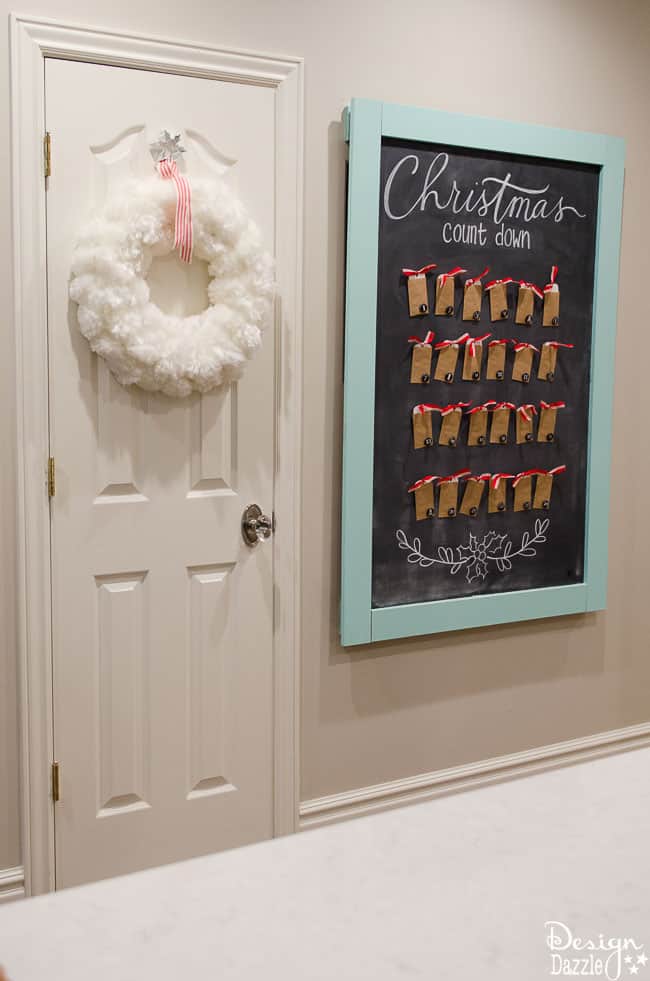 This Christmas Advent calendar was definitely the easiest one I've put together. My chalkboard is magnetized so it is great for decorations and crafts like this.
What is a Christmas Advent calendar? It's a fun way to count down the days to Christmas. There are so many varities of advent calendars to countdown. I have a bright colorful Christmas countdown using SOCKS I made many years ago! I also have an advent Christmas countdown using lunch bags that was hung on the fireplace mantel. The one I'm sharing on this post was certainly the easiest to make.
Decide what activities your family would like to do. The key is figuring out your family schedule in December and doing activities that don't require a lot of time on certain days (i.e. make Hot Chocolate, write a letter to Santa or draw a Christmas picture).
If you plan ahead, activities like getting a Christmas tree, attending a holiday play can be the "activity" for the day and placed inside the bag for that corresponding day. The weekends work best for more time consuming activities i.e. decorating a Gingerbread house, Christmas shopping, sledding, etc.
I've included several "read a Christmas story" or "read a Christmas book" because it's an easy, quick Christmas activity. Check out how we do our Christmas books with Christmas book bags. We have several books and so we will include the book reading into our 24 day count down. For example one night we will roast marshmallows and read a Christmas book. Another night we will set up the Nativity and read a Christmas book. These activities don't take too much time and can be done together.
Instructions:
I purchased mini brown bags about 2.5″" x 3.5″ and hot glued a magnet onto the back of the bag. The numbers on front of the bag (to countdown) were little metal buttons purchased at the craft store. These were also hot glued onto the bags. Numbered stickers or writing numbers on the bag would work. I then printed out a list of my free advent calendar ideas/activities
I decided which activities we were planning for our month of Christmas and placed those inside the bags with a strip of Christmas ribbon.
No need to countdown the entire month if you are an extremely busy family. Maybe countdown 2 weeks before or 1 week before?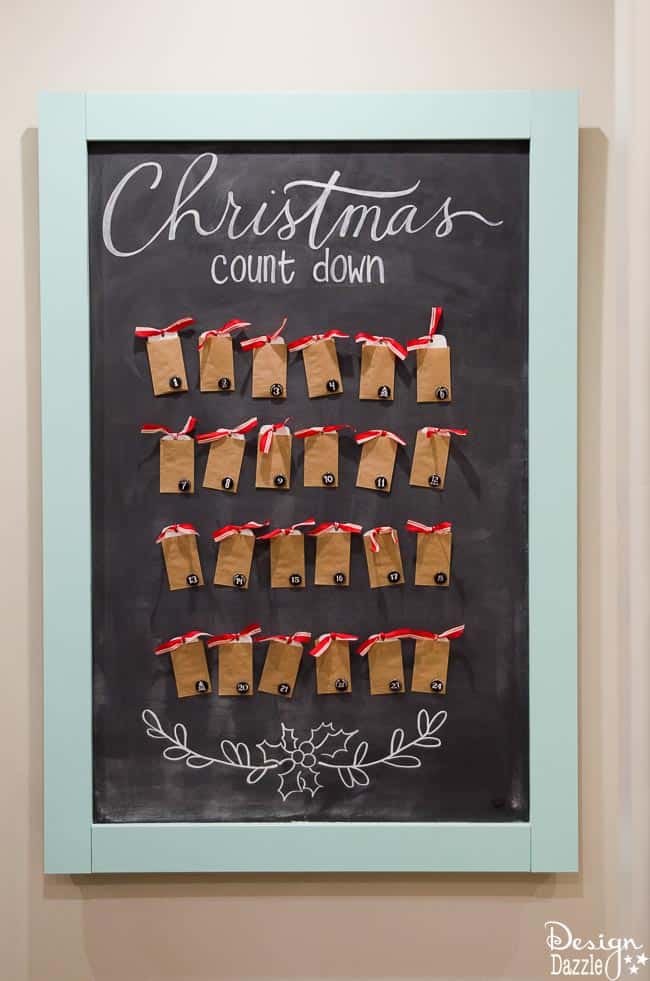 The pretty white text and art was drawn on with a chalk pen.
Do you have any ideas of what is behind my chalkboard?? The chalkboard slides to the right. Any guesses?
Well, it's a TV in the wall behind the chalkboard! Yep, we turn on the TV while cooking and it's fabulous!
Check out my hidden TV chalkboard that I did during my kitchen remodel? It's so useful and I love how the advent calendar looks on it!
The Christmas Advent Calendar is the perfect finishing touch to my kitchen that I decorat for Christmas. Check out my darling Christmas Kitchen decor. I love it!