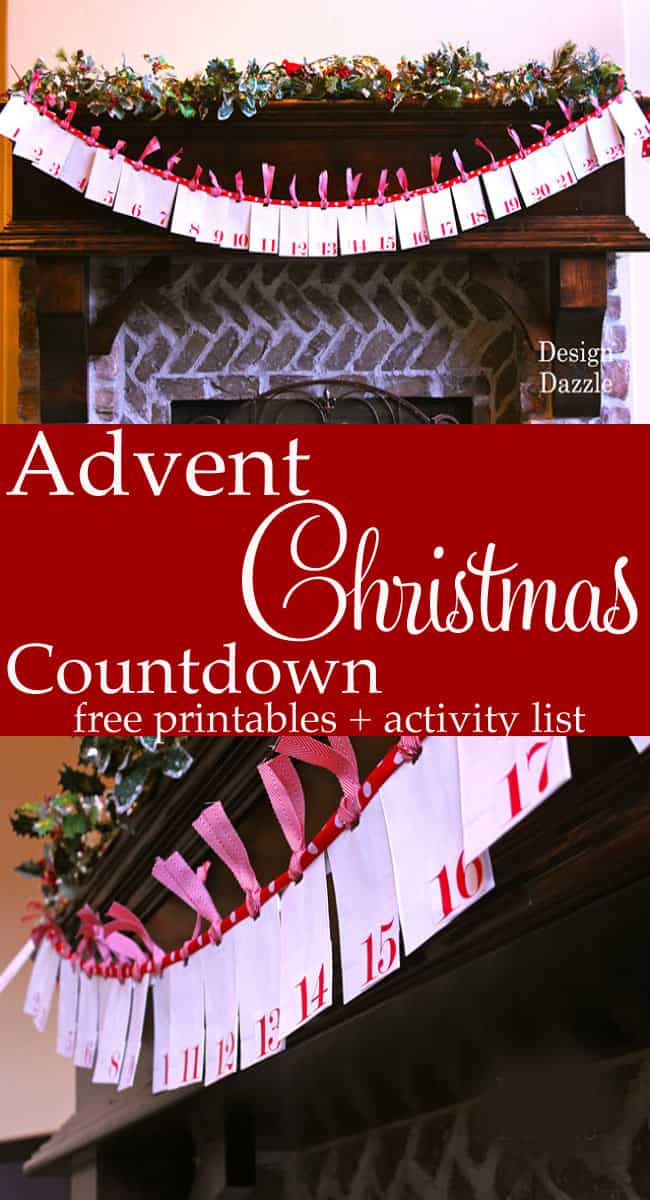 If you're in need of a great advent calendar idea for Christmas, this is inexpensive and simple to make with kids! This DIY calendar with (free) printables is easy to assemble and will look great on your mantel. You can play this calendar up with funky colors and bright decorations, or keep it classic with warm tones and festive palettes. Whatever you decide, these printables (there are five color choices!) give you tons of options and not only are fun for your kids, but spruce up your home as well! This project is simple and inexpensive, which we all love!
What you'll need:
Small white paper bags

Printable numbers. There are 5 colors to choose from!
Festive ribbon cut into 24, 8-inch-long pieces
1 three-yard roll of sturdy, festive ribbon
Hand-held hole punch
Glue stick
Step 1: Print and cut out printable numbers into small squares. Use a glue stick to glue them onto the bottom right hand corner of the white paper bags. Fill your bags with whatever you like.
Last year I shared 100 Advent Activities printables. There are so many ideas to choose from and a few blanks to add your own ideas. Print out the ones you want and place one in each bag to open daily with your countdown Advent Calendar.
Step 2: Cut out 24, 8-inch long pieces of festive ribbon. Take your 9 ft. piece of ribbon and tie a knot at each end (to determine spacing for tying on advent bags), leaving a few inches at the ends.




Step 3: Fold down the tops of the paper bags about 1 inch.
Step 4: Whole punch a hole large enough to get your ribbon through in the middle top of the bag (making sure to have the folded down part of the bag punched).
Step 5
: Fold each 8-inch ribbon in half and string the ends through the whole punches in each bag, going back to front. This should make a loop at the front.
Step 6: Lay the 9 ft. ribbon (or the length you need for where you are hanging the advent) on the ground, and line up your bags accordingly to fit evenly between the ends of the ribbon.
Step 7:
Attach the bags to the long piece of ribbon by taking the ends of your 8-inch ribbon pieces and placing them behind the long ribbon and then back over the long ribbon, and then under and through the loop at the front of the bag, to make a knot around the big ribbon. Make sure to hold the knot while pulling taut (otherwise you will rip the bag). I do know this! Repeat with each bag until all are attached. (See photos for visual aid)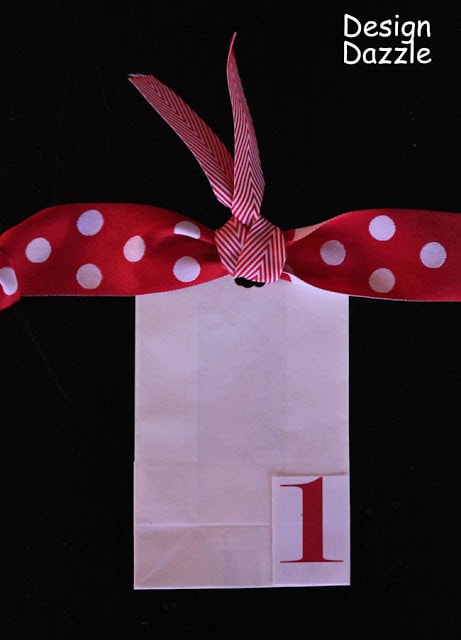 Step 8: Hang your advent calendar on your mantel and enjoy!
Depending on your Christmas decor and because we love you all so much, we have several Advent printable colors to choose from…
Robin's Egg Blue
Black
Gray
Rainbow Colored
The "Advent Calendar Numbers" printables are FREE and available for immediate download by subscribing to Design Dazzle!
To receive this free printable – enter your email address in the box below and click submit. Make sure to check your inbox for an email from Design Dazzle. You will have access to all of our FREE printables and also will receive an email newsletter filled with lots of great information. Don't worry your email address will never be sold.
Printable files are for personal use only. They are not for commercial use.