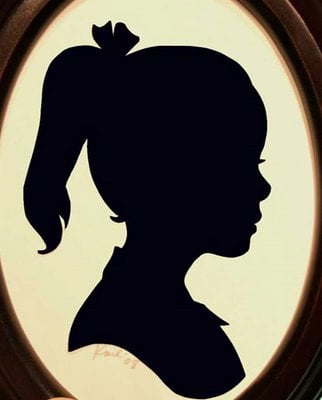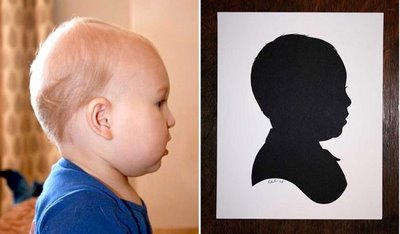 I I remember going to Disneyland and seeing the silhouette artist cutting out these fine, detailed profiles with small sharp scissors. I wish I would have had my kids silhouettes done when they were little.
Silhouettes were very popular in the 1800's and was an inexpensive way to have a loved ones portrait done. The invention of the camera ended the popularity of them. But they have been making a comeback in the last few years.
I've included instructions below on how to make your own silhouette. This art is perfect for a child's room or makes a great gift.With the light behind your child – have them stand at a 45 degree angle to you. Have someone stand in front of them looking at the child – so that you can take a photo of the child from their side profile. Take several photos – the nose, lips, hair and chin are important – you can also include the top of the shoulders.
Print your photos onto paper and adjust the contrast – you want a good outline. If you are needing an oversized silhouette for a focal point on a wall, Kinko's is a great place for having oversized pieces printed on blueprint paper. These copies are 36" in size and are a little pricey – but would be a really cool project for a wall in a playroom or kids room.Instructions to make a fabric silhouette:
Choose suede, felt or a fabric that does not ravel for the silhouette. Iron Heat N' Bond fusible adhesive fabric onto the fabric that you will be using for the silhouette.
Do not remove the paper backing from the Heat N' Bond. Place photo on top of Heat N' Bond paper backing and trace the profile of the subject with a pencil or pen.
Cut the traced silhouette – it's easier to move the fabric, not the scissors, as you cut. Peel off the paper backing from the Heat N' Bond.
Voila, you have your silhouette! Carefully place the silhouette to where you would like it positioned on your background fabric. Spray adhesive works great to temporarily affix it to the position you prefer. With fabric side up press silhouette with a dry hot iron, fusing the silhouette to the fabric. Heat N' Bond can be purchased at most fabric or craft stores.
Instructions to make a paper silhouette:
Trace the profile onto black paper or for a different effect use wallpaper. Cut out the traced silhouette – it's easier to move the paper, not the scissors, as you cut.. Position the cut out onto the background paper, most use white as the background. Apply glue to the back of the silhouette, cover the entire back surface to the edge.
Not interested in doing this yourself? Cutouts by Karl does fabulous custom silhouettes from your photos. Photo images by Cutouts by Karl.
Title:
DIY project – How to make a silhouette of your child
Mentions:
child art, child silhouette, children's room artwork, childrens room art, creative ideas, DIY projects, diy silhouette, how to make a silhouette
Last Updated:
July 15, 2020