This post may contain affiliate links that, at no additional cost to you, I may earn a small commission. Read our Disclosure Policy.
It is important to maximize your closet with a good layout and great storage elements for all your wardrobe needs. I was able to use a free design service by Modular Closets for a DIY closet storage system for my walk-in closet. I'm sharing tip on how to design your best closet online: the final reveal.
The design process included speaking with professional designers over the phone (or you can email) to go over the details of the walk-in closet.
The closet is finished. This closet project is one of my favorite spaces in our home to walk into! Anyone can be a closet planner with this system! Design you best closet online is easy to do with Modular Closets. Read how to do this below.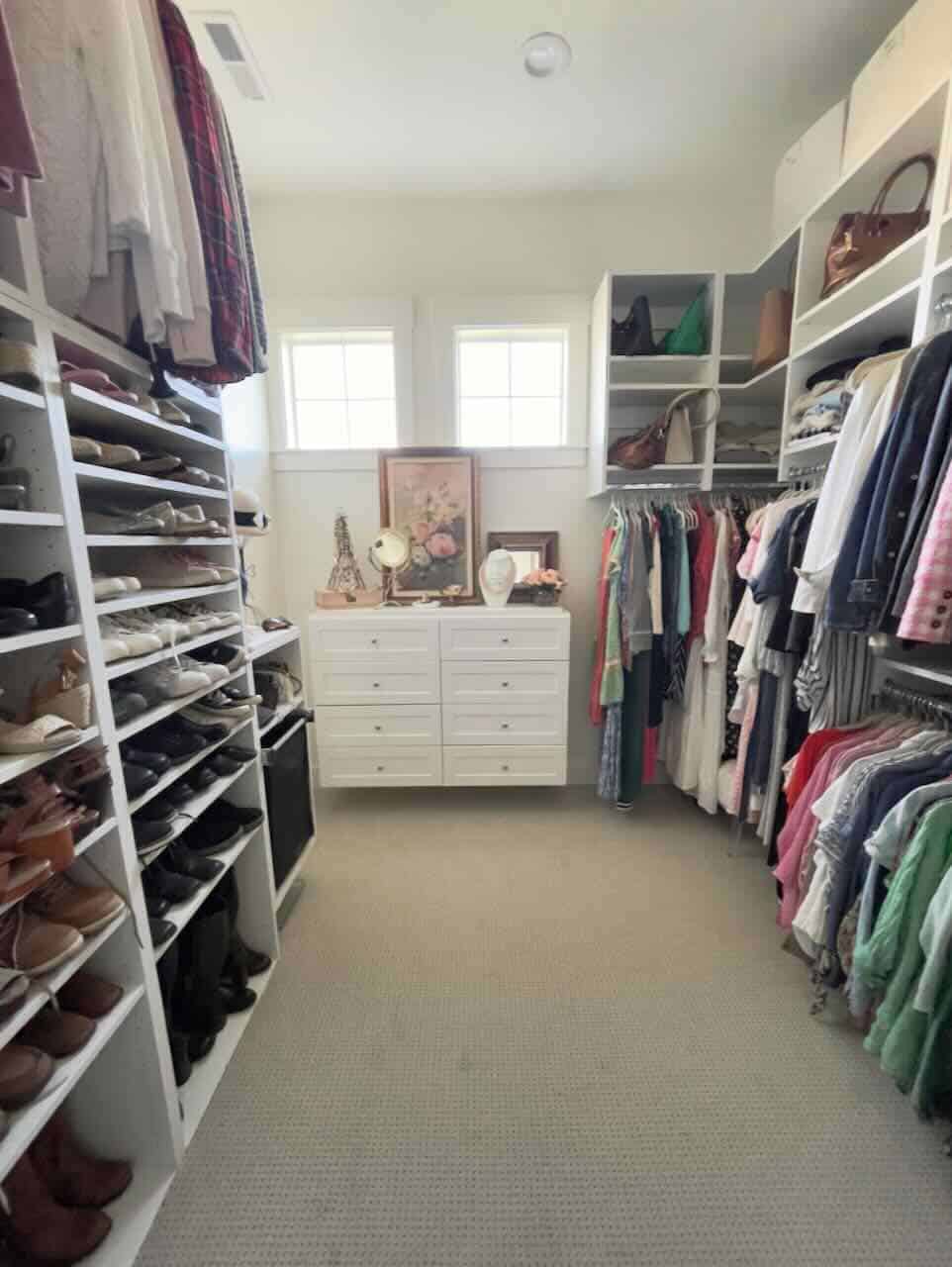 Design Your Best Closet Online: The Final Reveal
There was a lot of planning, measuring, and figuring out details on how to create and design the best closet for me. I really love how my closet turned out. I worked with Modular Closets! For a fully customizable closet on this sponsored post. All opinions are my own.
The online closet design tool makes it very easy to complete the process of designing your best closet online. I was so happy that I got to design my very own closet system.
This modular closet system has great closet accessories and hardware that allow for a flexible design that is easy to assemble. In fact, you can assemble modular units in simple steps using a screwdriver.
When our home was being built, our contractor hired a subcontractor to put together the closet for me (we lived out of state at the time of our new construction).
I did speak with the contractor who assembled the closet. He said, "It was easy and the installation process went together very well". An impact driver was one of the power tools that was used (along with a level). Although it is possible to just use a screwdriver, it would be a lot more work.
So here is the final reveal with lots of tips on how to design your best closet for you with an easy DIY installation.
Optimize Every Inch
Before speaking with the closet designer, I measured my closet and figured out the modular closet systems I wanted for the storage space I had available. I shared on a blog post how I planned and came up with a list of wants and needs for a custom closet system.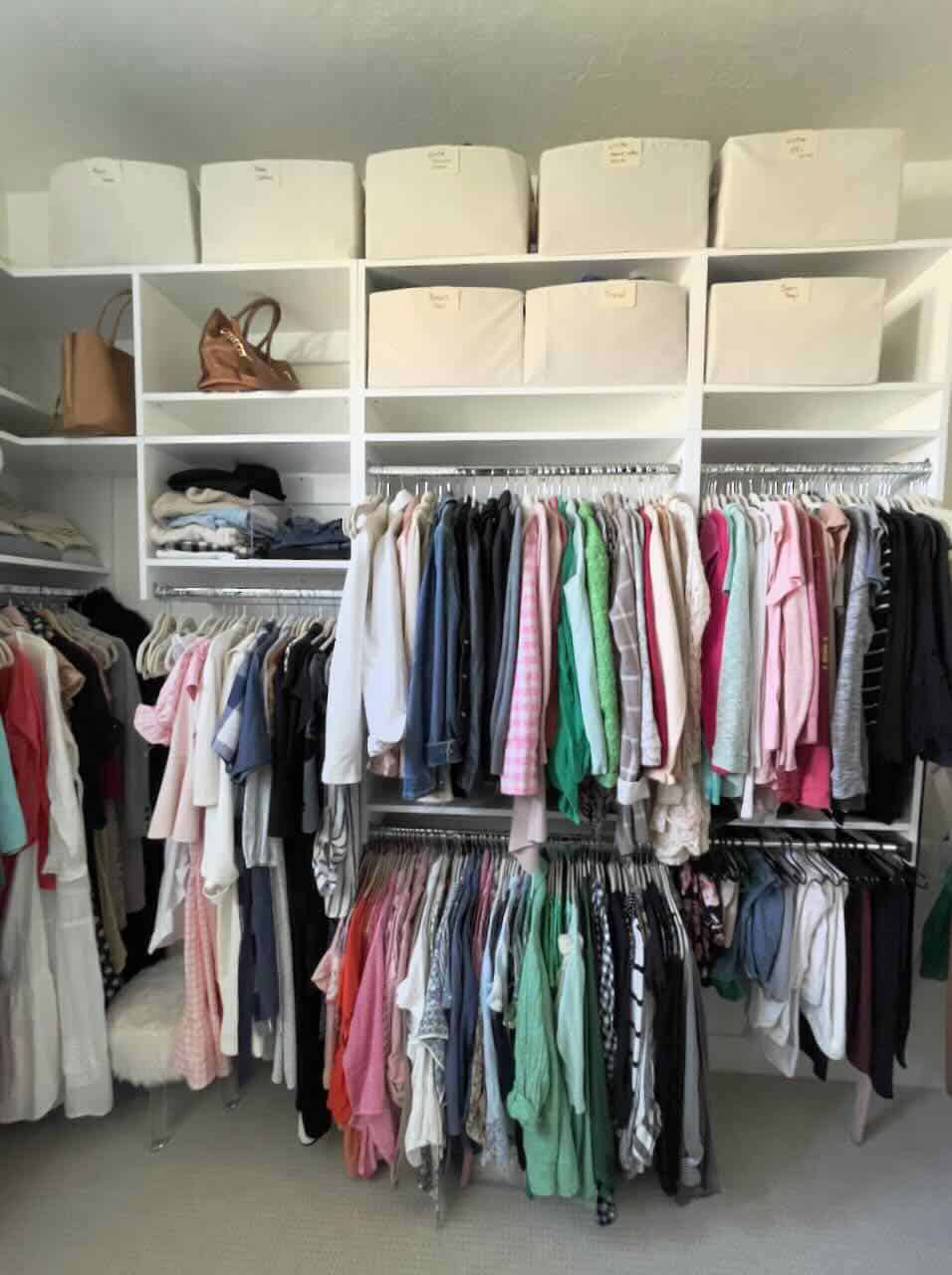 I multiplied the storage in my closet with many hanging rods. We added an extra clothing rod to double the amount of hanging space for short clothes. Storage baskets were labeled to not only hide clutter but also keep everything in a spot that is labeled and easy to find. Storage opportunities go to the ceiling. Modular Closets has fabulous closet organizer systems to optimize every inch of your closet whether it is a walk-in closet design or a reach-in closet design. There is also a system that helps with tricky corners.
Different Ways to Organize
It's important to keep your clothes accessible and visible. I wanted to keep my walk-in closet tidy with no clutter. Hanging clothes rods were installed for short and long clothes, a pull-out pants rack (for skirts and pants), storage bins, and adjustable shelving for all my shoes.
A favorite way to organize pants and skirts is with the pants pull-out rack which is retractable and pulls out easily. I can look down at the top of my hanging pants – which I prefer hanging instead of stacking folded items. I can't believe how much I love it.
Between the pants pull-out rack and pull-out hamper drawer, it makes for an amazing well-designed closet. I'm so glad the closet designer mentioned this feature.

Planning Aspect of Your Closet Space
I worked with Sara Fischer a design consultant with Modular Closets to get my dream closet. I was able to figure out how to get a fully customized closet with Modular Closets closet design service.
The free design review and the entire process were streamlined. When I received the email from the closet designer with the free design plans, I made several adjustments.
I was able to email back and forth a couple of times to get the closet solution perfect for my needs. You also don't need to work with their designer.
They also have free closet design software on Modular Closets website so you can create your own plan. It seems like an intuitive online design tool but I chose to work with the designer. Both are free services.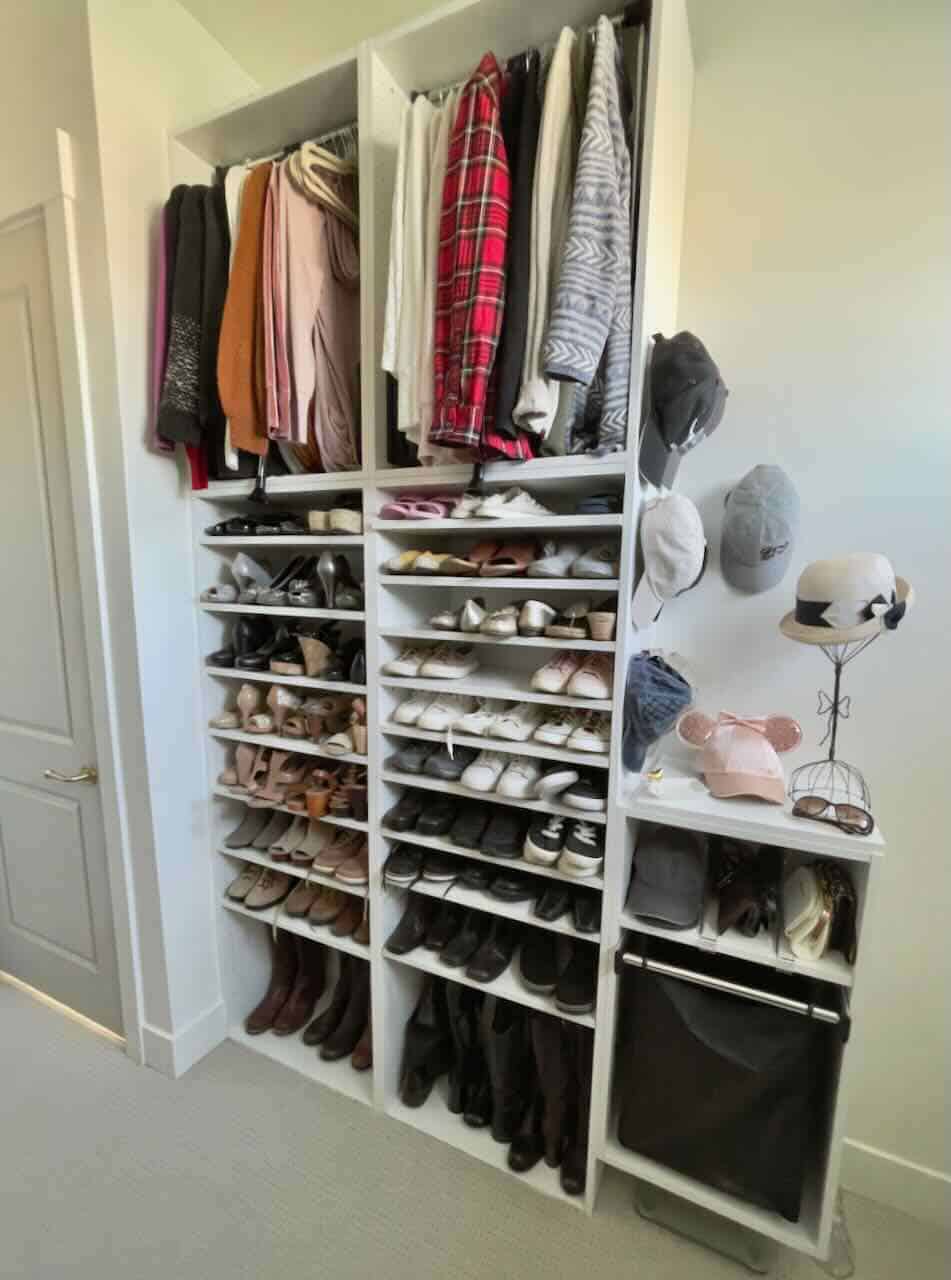 I shared all the details of planning my closet in my previous post. Most of the closet is open clothes storage, with several storage bins at the top of the shelves, open shoe shelves, and drawers under the windows.
In my last home, I repurposed an entertainment center to create shoe storage. I knew I had to have a lot of shelving for way too many shoes! I especially love the adjustable shelving for my shoes.
This is a must when planning for shoe storage. I have some tall boots that I wanted to place at the bottom of my shelving unit. I have flats, flip-flops, walking shoes, heels, and more. It was important to be able to adjust to the various heights of my shoes.
Going Vertical in The Closet
I have tall ceilings in my closet. They are 10 feet to be exact. So I knew that I needed to go vertical and maximize all the space I could in my closet.
Double hanging rods for my clothes achieve more usable space. Don't let any space go to waste. For items that are seasonal – pool items for summer, winter clothing for winter, etc. I have storage bin closet organizers.
These are items that aren't used too frequently (except in the season). I placed these bins at the top of the closet and I pull them down when needed because I rotate seasonal clothing.
Hamper for Dirty Clothes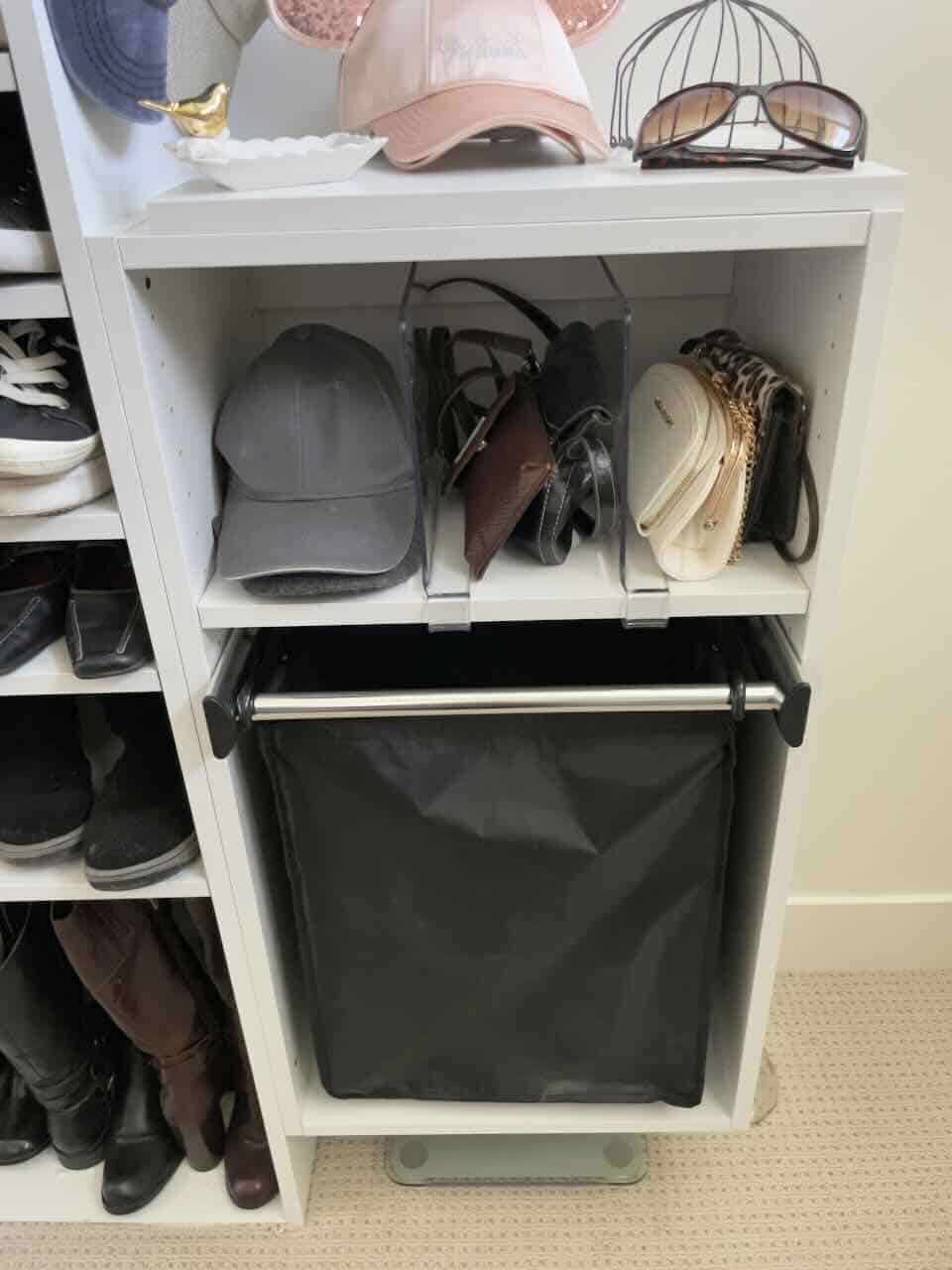 The organizational system for this walk-in closet is so cool. This is a perfect example of how to design your best closet online. Figuring out details online and coming to life is so fun. I love this hamper for my dirty clothes.
The hamper slides out and then the laundry bag is removable so I can just pull it out and take it to the laundry room. Such a fabulous feature and makes laundry washing day so much easier.
I get dressed in the morning and change into my pajamas in my closet in the evening. It makes sense my hamper is located in my closet to place dirty clothes in there. See the video below on how the hamper works. Loving it!
Plan For Accessories
Do you have lots of accessories such as jewelry, hats, scarves, purses, belts, and more? I have a few ways to store accessories.
First up is a ladder.
A ladder? Yes, a pink ladder that is wrapped in lace that I had in my old closet. I purchased this at a store years ago and I hang belts, scarves, hats, and more on this ladder. It also can be used to get the storage bins down that are located too high for me to reach.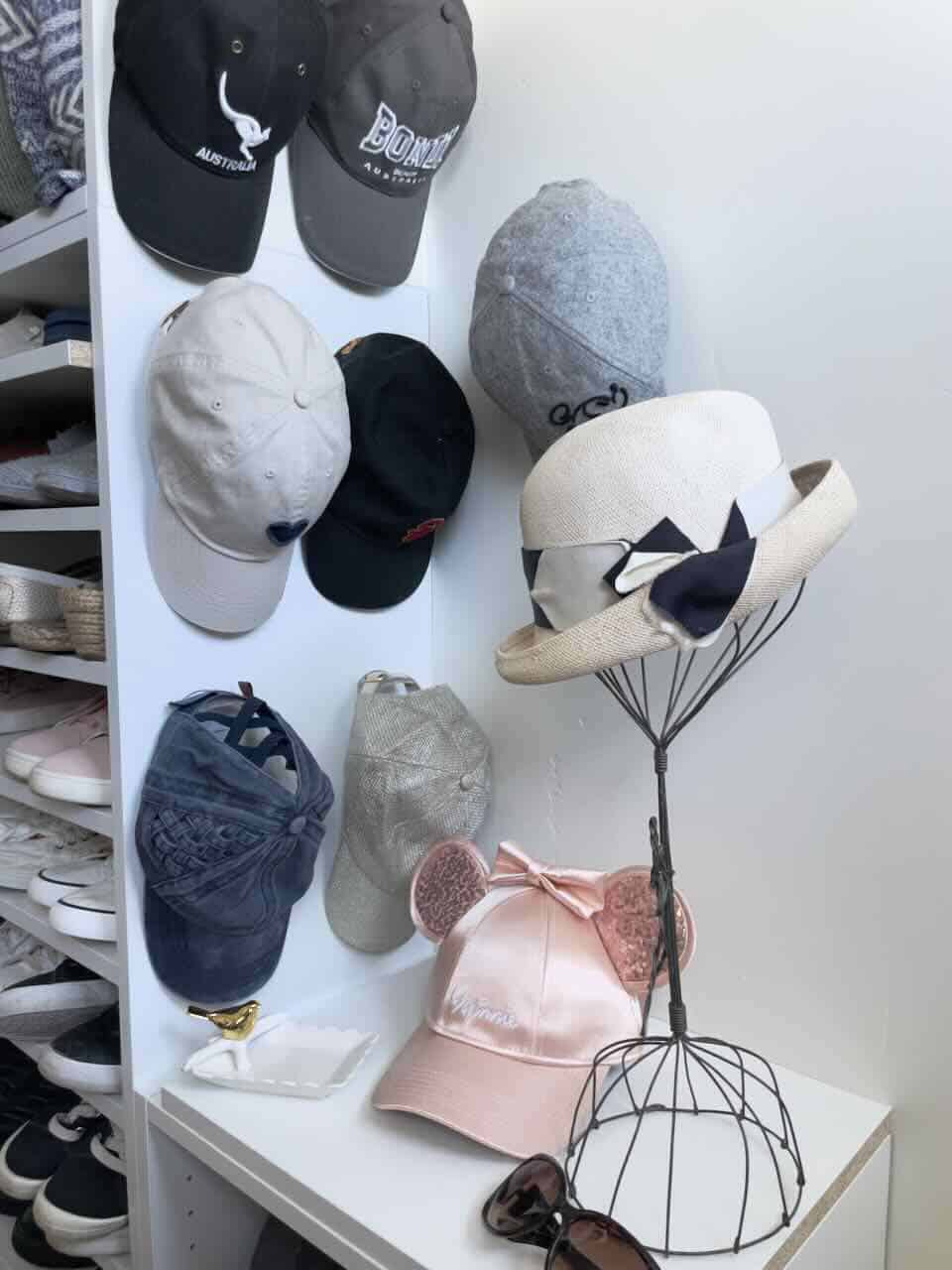 For my other hats – baseball-style hats, I adhered hooks onto the side cabinet to hang the hats. It's worked out fabulous for an area that wouldn't be used otherwise.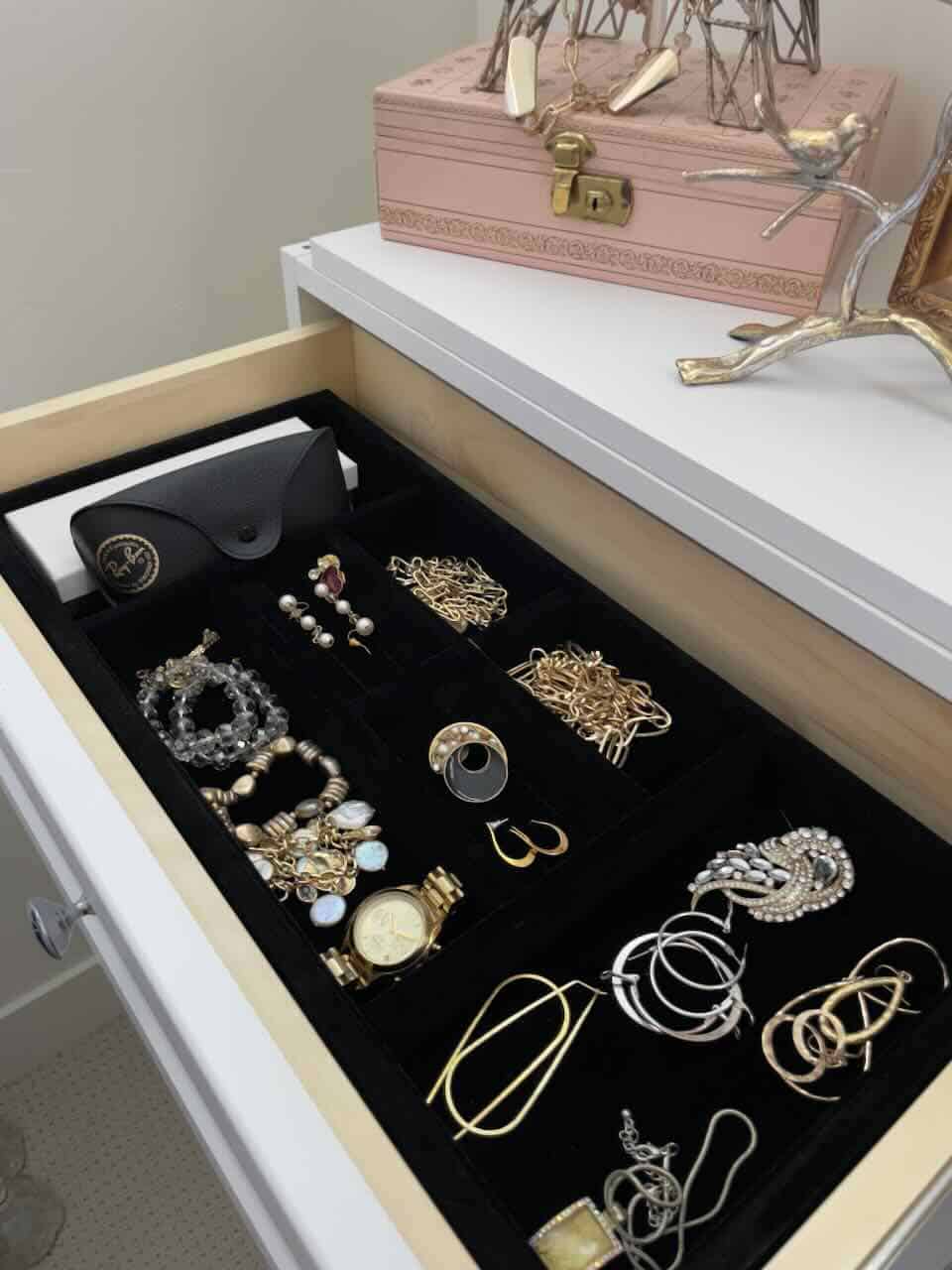 For my jewelry, I used the Modular Closets jewelry tray. It is covered with a soft material and has two trays designed to maximize space in the drawer. I really dislike having my jewelry unorganized.
This system is a keeper for me to have it look nice. It also eases the morning routine of getting ready and if I'm wearing jewelry that day it sure makes it easier.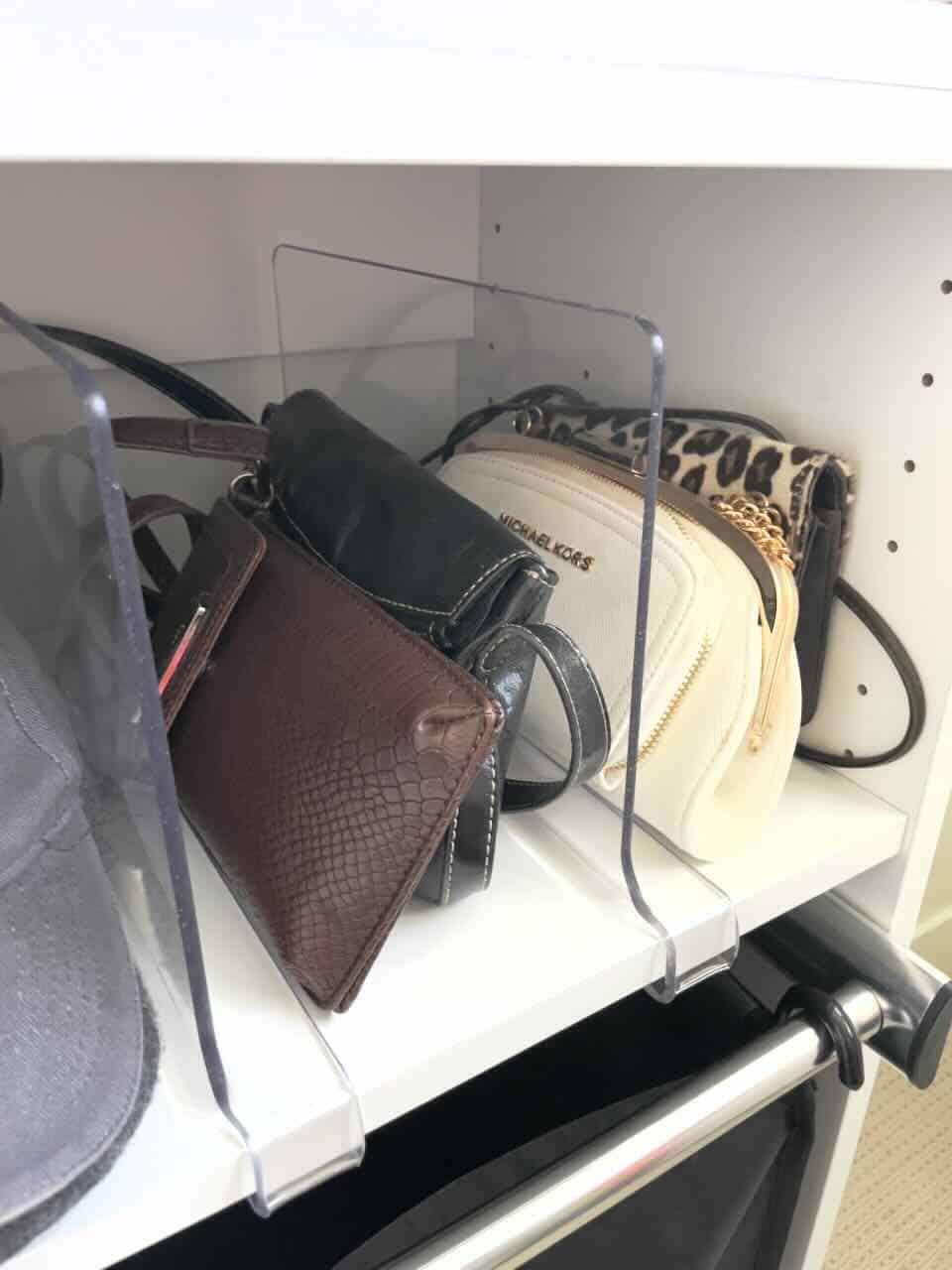 Acrylic shelf dividers also make shelf storage better organized. I have some sweaters, pants, and purses that are separated by shelf dividers. I placed each purse within its designated section, making sure to place them in a way that allows you to easily see and access each one. I love that my little clutch purses are arranged and easily sorted. Acrylic closet dividers are a simple and effective way to keep your purses (sweaters, etc) organized and easily accessible.
Drawers in The Closet
I used two of the Vista Short Tower drawers in the closet. This worked out to 8 drawers and I use every one of them. One drawer is for my jewelry and the other drawers store – socks, undergarments, workout clothes, etc. For me, drawers are an essential part of your closet if you don't have a dresser outside the closet. My husband and I don't have any dressers/chest drawers besides what is inside our walk-in closet.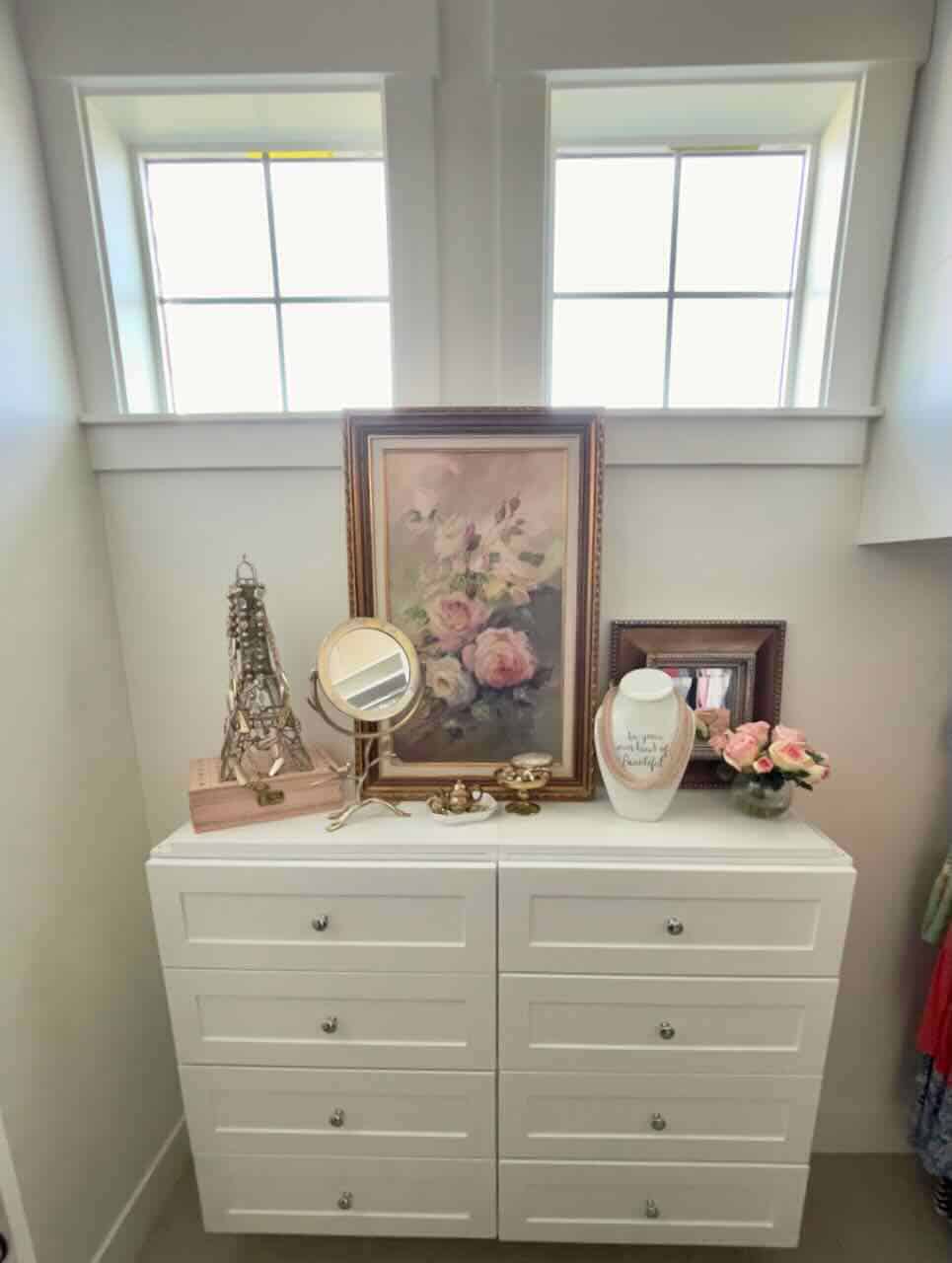 Create a Spot For Clothes Care
I have created a spot for items that help with clothes and shoe care. What does this look like? Items such as:
lint roller
sweater shaver
fabric brush
stain remover
sewing kit
extra shoelaces
heel protectors
clothes steamer (although I have a full-standing steamer)
Group Items By Category
Split your clothing items into various categories to keep them organized. I sorted my casual clothes, hang-around-the-house clothes, church clothes, etc into different areas sorted by color.
This really has helped me when getting ready every day. I dress each day depending on my activity for that day. Grouping items by category is a wonderful way to keep me coordinated and everything orderly.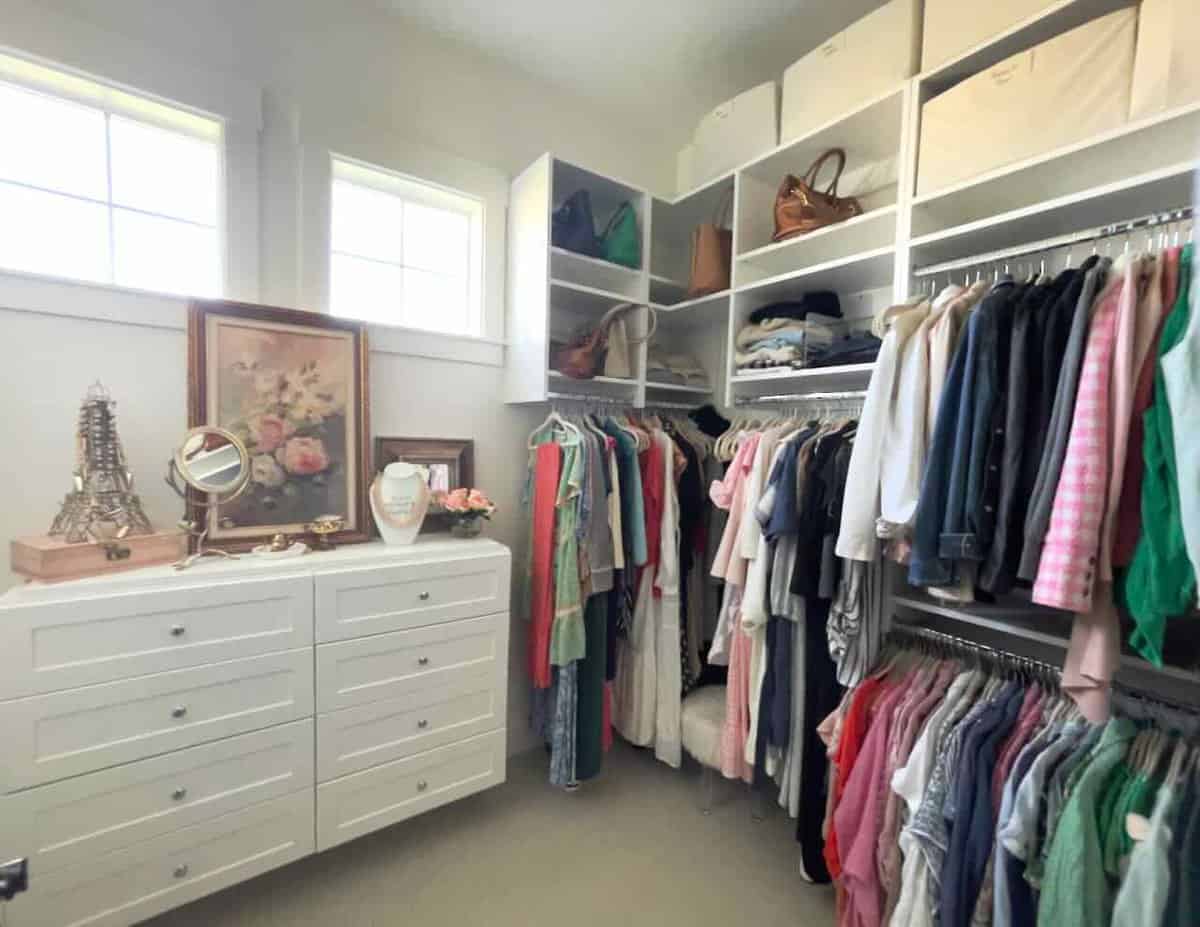 My Closet is a Dressing Room
Because my walk-in closet is also my dressing room this has helped eliminate bedroom clutter. It has also expanded my clothing storage options. I really enjoy the privacy I have in my dressing room.
My husband has his own closet and it's just nice to have my own spot! It has become my own sanctuary and reflects my own style and tastes. I really love walking into my closet dressing room! Not only is it pretty, it's organized and I know where everything is. It is a dream closet for me!
The Prettiness Factor
Making my walk-in closet pretty and my personal style is important to me. The only carpet in our home is in our bedroom and our walk-in closets. A warm carpet under our feet was needed for our closets. I made sure to pick a neutral color carpet with texture.
This walk-in closet will be designed with a French Country Cottage feel. I can't wait to get started on the color palette of pink, creams, and taupes. Adding a touch of Parisian, a tad shabby chic, and maybe some wallpaper. I love having a dress form to put together outfits – this might be a future option.
I purchased fabric when I was in Belgium I'm not sure if I will use it to make curtains above the windows or maybe use it as a drape to hide my sauna. Lots of options with lots of decisions to be made for my next project of decorating the closet.
Future Plans for My Walk-In Closet
I thought about adding a sit-down pink vanity like the one that I sold when we moved. I need to measure and figure out if I have enough space to do this properly. I have a small comfortable stool that I sit down on but might change that out for a taller stool or chair. It is nice to sit down in my dressing area to put on certain shoes.
Items that I will be adding in the future – a full-length mirror, an ironing board, a valet rod, and possibly a sauna.
I do have a spot in my closet for a one-person sauna and I will eventually get one. Not sure if it will go in my closet or not. What I did do was add a small area for a stacked washer/dryer complete with all the outlets and drains.
If we ever sell our home, some people love to have a washer/dryer in their closet. I, however, planned on this area for my single-person sauna. I measured it to make sure it would work and it is about the same size as a stacked washer/dryer.
Another item I will be adding is an ironing board. I have an ironing board that is inside a cabinet that mounts to the wall. I just need to get it installed. I do have a pullout ironing board in my laundry room. But I want one in my closet to iron as needed.
Design Your Best Closet Online
I hope you like the final reveal that I have shared – design your best closet online! I designed everything online for my walk-in closet system. Modular Closets is one of the best closet design companies that make this easy to do closet planning and assembling
Do you have any tips to design your best closet online?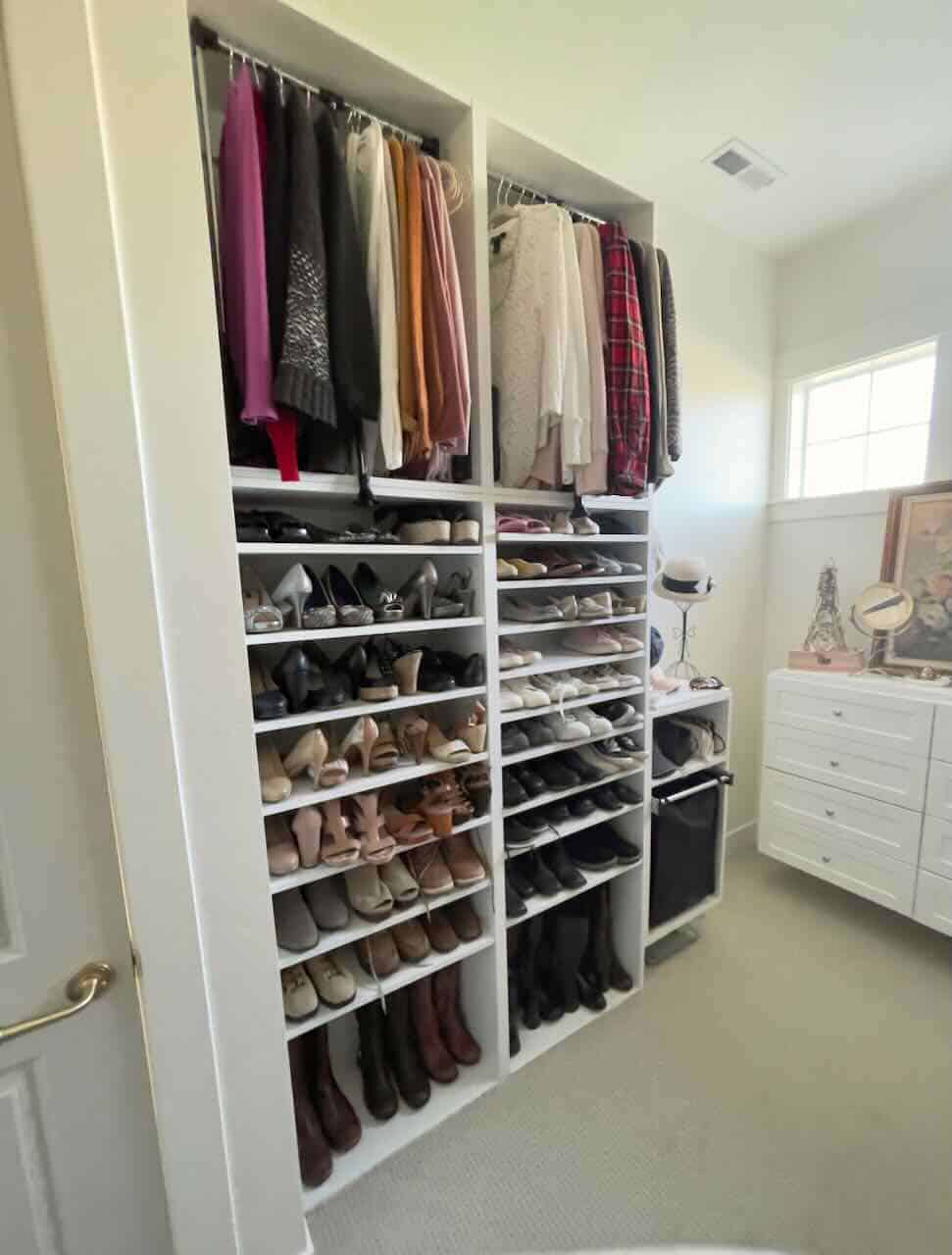 Try Modular Closets! They are fully customizable, made in the USA, and have fast and free shipping with a lifetime warranty. It is a great option for your custom closet layout. Thanks to Modular Closets for an easy process that I highly recommend.