This post may contain affiliate links that, at no additional cost to you, I may earn a small commission. Read our Disclosure Policy.
How would you like to plan and design your walk-in closet? It is an exciting endeavor that allows you to create a personalized haven that reflects your unique taste and caters to your storage needs. I sure enjoyed unleashing my inner fashionista and figuring out spatial optimization, creative solutions, and closet luxuries.
Planning:
Few things are as satisfying for me as having an organized home! A closet that is organized is a big bonus. What is HUGE for me is knowing where everything is.
With our new home build, I wrote a list of everything I wanted in my closet. I share how to plan and design your walk-in closet in this post. If you are planning a closet, you've come to the right place.
Modular Closets:
I've known about Modular Closets for several years as an online closet company. I knew I wanted to work with them on our new home build. Modular Closets creates reasonably priced systems and you can put them together yourself! With Modular Closets, the only tool required for assembly Is a Phillips screwdriver.
How easy is that? You can always hire someone to assemble them if you want (and install them). They also provide a FREE design for your closet system. Just provide measurements and fill out the questionnaire and you'll get it emailed to you. If you're handy on the computer you can create your own closet design with their free software.
I am working with Shop Modular Closets! Choose Sections For Your Custom Wood Closet | Fully customizable | Designed for maximum strength | Made in the USA | Fast & Free Shipping | Lifetime Warranty Modular Closets for my dream closet. All opinions are my own.
My personal walk-in closet:
Below is a picture of my walk-in closet in the drywall stage. Trim, painting, and carpeting will be done fairly soon.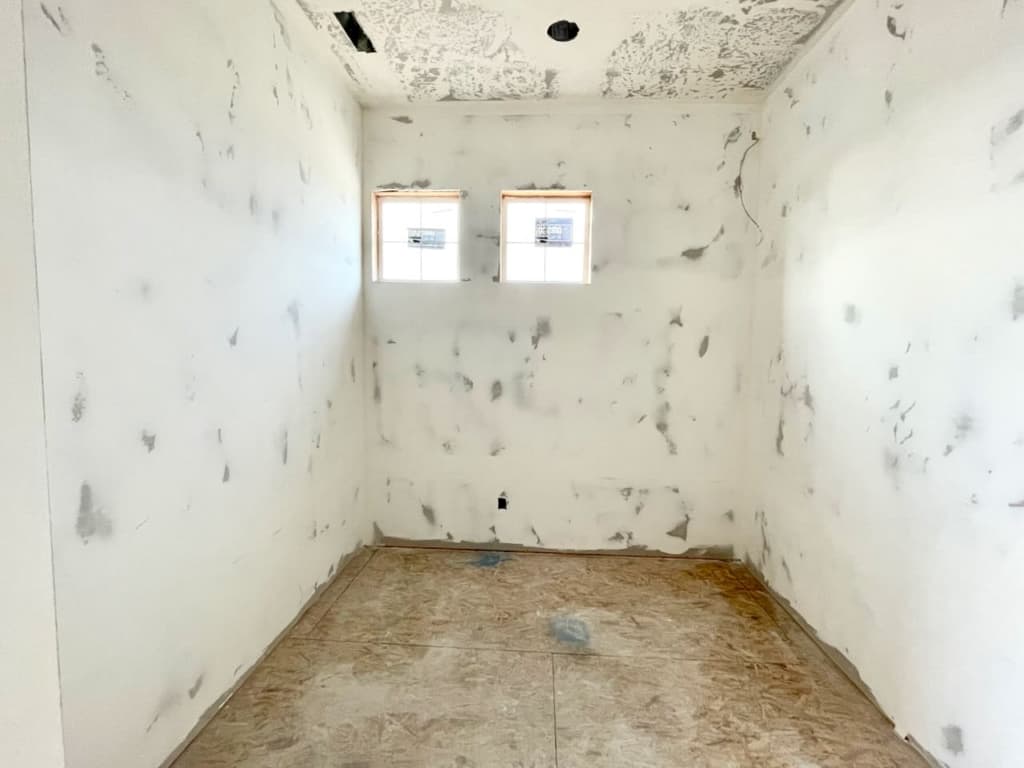 For closet planning, take inventory and make a list of all that you have that will take up space in your closet (clothes, accessories, shoes, hats, coats, etc.) This helped determine what type of closet system I needed.
This is where Modular Closets saved the day. You can design the closet yourself or have them help design what you need! With their reasonable pricing, free shipping, and online ordering – it's easy! Plus there is a big discount…
I came up with a list of my wants and needs for closet planning:
Large walk-in closet
A place for everything in its own spot
Windows in the closet
Seating or window seat
Make-up vanity
Lighting
Dress form
Wall-mounted Ironing board cabinet
Standing garment steamer
Mirrors
Sauna
Decorating it French country/shabby chic
First up I wanted my very own large walk-in closet. No sharing with my hubby. My husband is very organized – but I wanted to decorate it over the top and make it a very girly closet. That would be a big "no" from him and something he wouldn't be thrilled about. So I get my own closet.
A place for everything – organization at its finest.
Windows in the closet:
I like the idea of natural light without the windows being too large (the sun isn't the best for clothes). Our windows sit up higher so there is privacy.
Seating and make-up vanity:
I will be placing a vanity either under the windows or in the middle of the closet. It will be narrow and an outlet would be added to the floor to plug in a make-up light. Some sort of chair will be placed to sit at the vanity. I might even get a window seat if I can fit it in.
Dress form:
I like the idea of having a Parisian type of dress form. We'll see if there is enough space to make this happen
Iron/steamer:
In my last home, I had a pull-out ironing board in our laundry room. I will have that again in this home and also a wall-mounted ironing board in my closet. It will be nice to have it close by. My standing steamer will be in my closet too
Mirrors:
A full-length mirror is a must. Maybe some smaller mirrors too.
Sauna:
I've wanted a sauna for a very long time. I thought about putting it in our basement. But it will fit in the "washer/dryer" nook.
French country/shabby chic:
This closet will eventually be decorated very girly, Parisian, pink, creams, taupe and more. I can't wait to get in there and start decorating.
Measurements:
Accurate measurements are vital to getting your closet system to fit perfectly. Measure every nook and measure window placements, electrical, etc.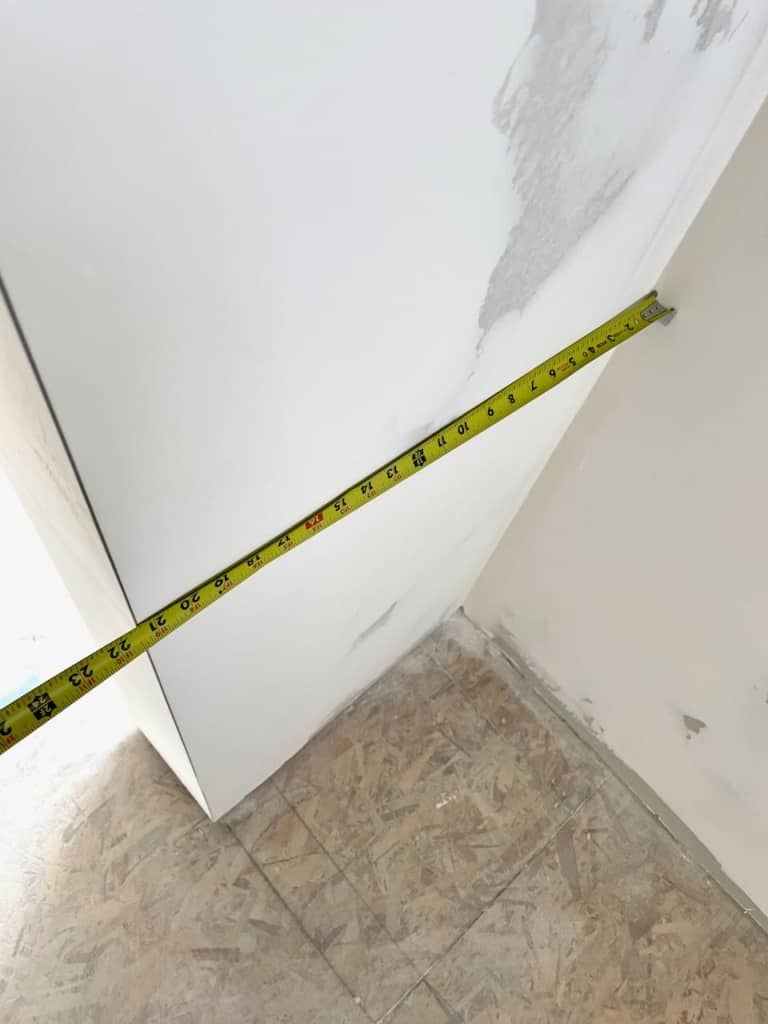 Organizational Closet Elements:
Shelves for shoes, purses, hats, etc
Hanging rods for short and long clothing
Drawers for PJs, swimsuits, undies, etc
A spot for jewelry
Ladder/hooks for scarves/belts/small purses
Containers for seasonal clothing – winter/summer etc.
Luggage
Modular closets
Once you figure out the organizational elements. Start putting together which towers/drawers/hanging systems you need. Our closets are 10 feet tall. Modular closet towers are six feet tall but are hung at 7 feet. We are placing 3' towers above each six-foot closet tower so that will make 9 feet tall in total.
The 3' tower at the top will be used to place containers for seasonal clothing. Maximizing my closet to the utmost and having complete order in my closet was important to me – no wasted space.
I worked with Sara on my design. Here's our first draft – a bird's eye view and some 3d images. It's looking fabulous.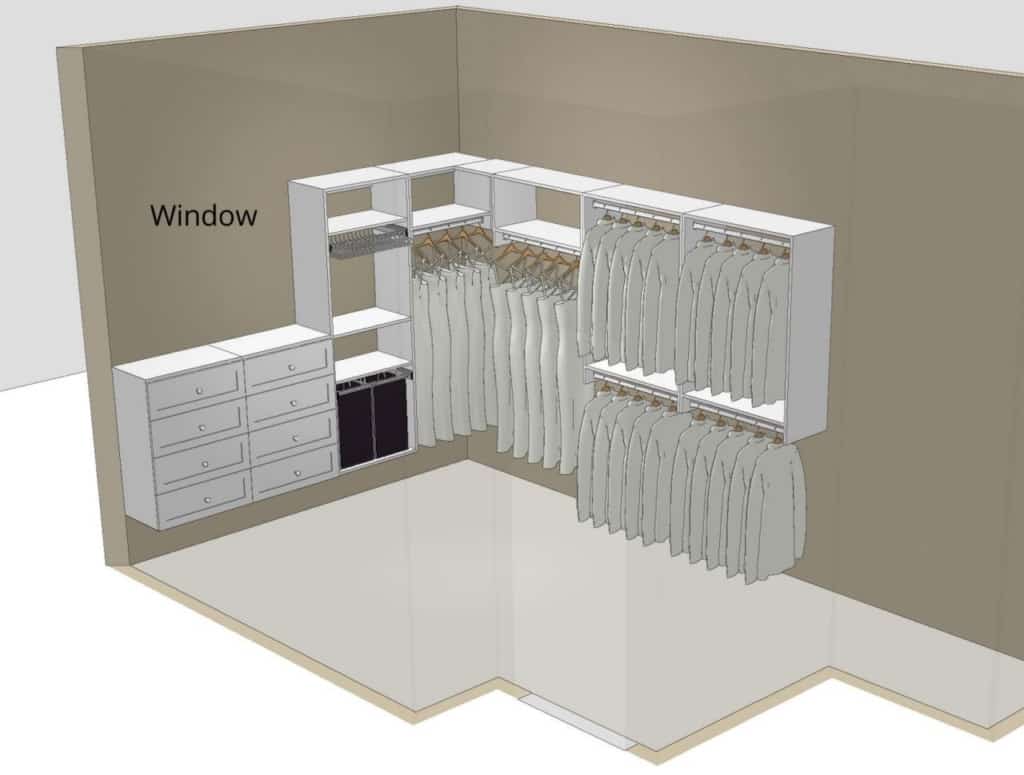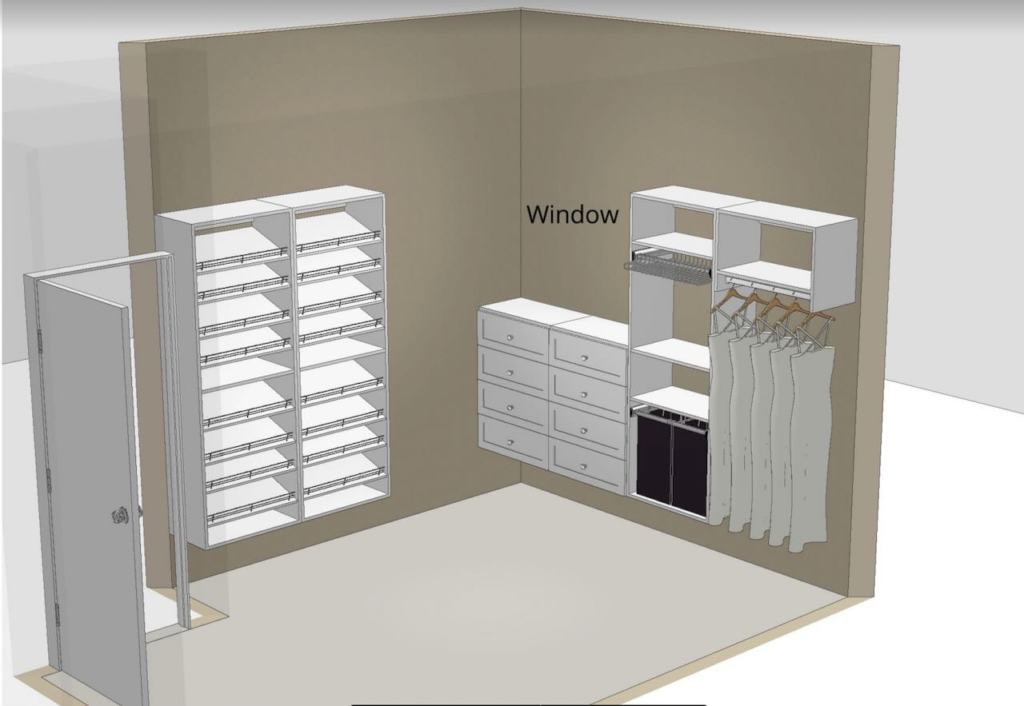 Seeing my closet plan in 3d really helps to visualize. I will be making some simple changes to the plan. Sara will email me back the design until we get it perfect. Pretty awesome! I can't wait to share with you the final reveal.
Below are the shoe shelves and side view of drawers.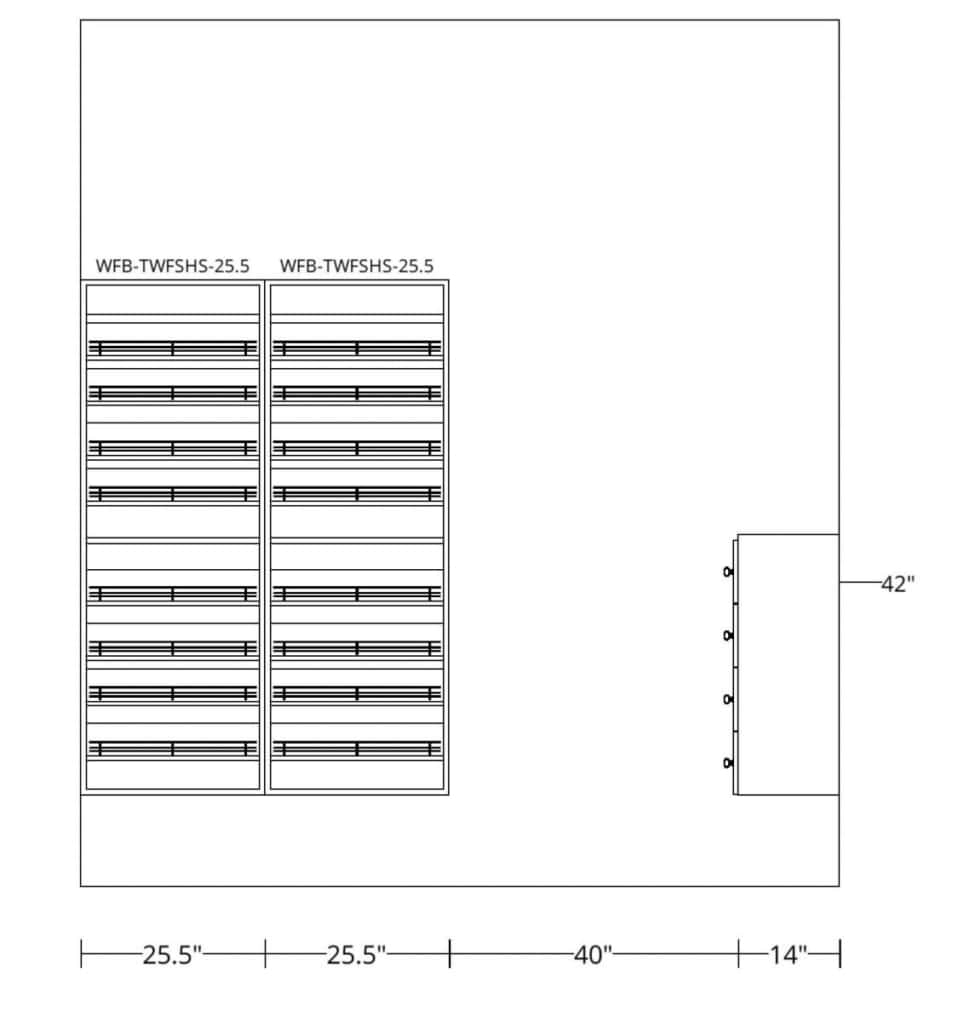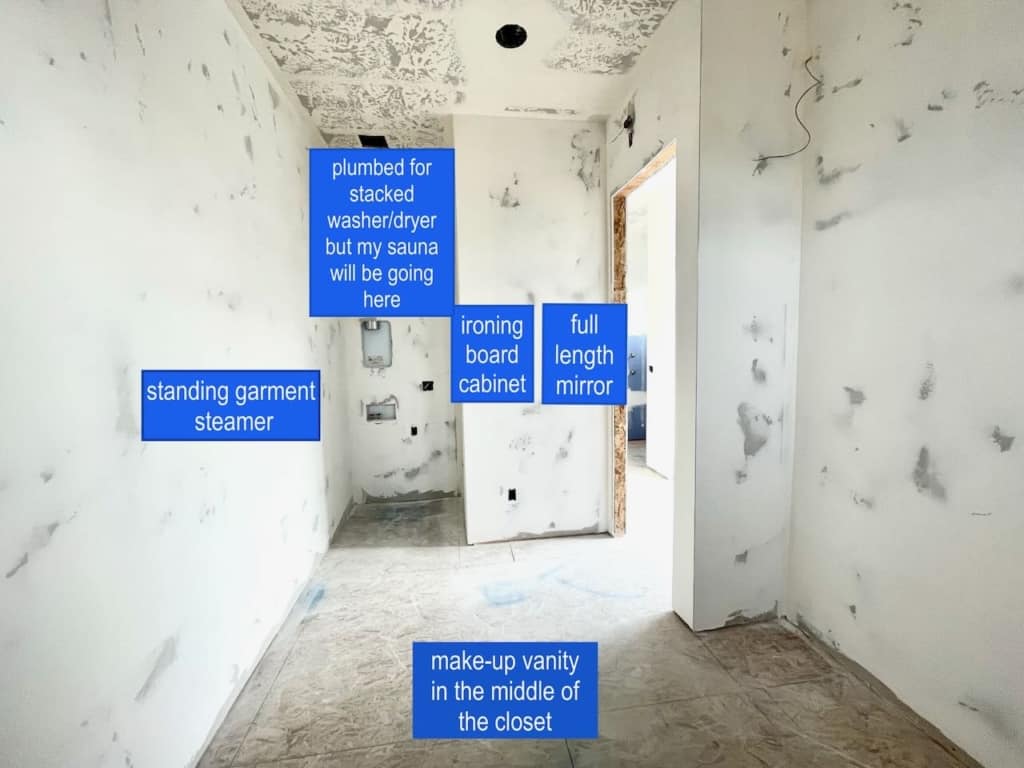 Above is the other side of the closet and what I'm doing there.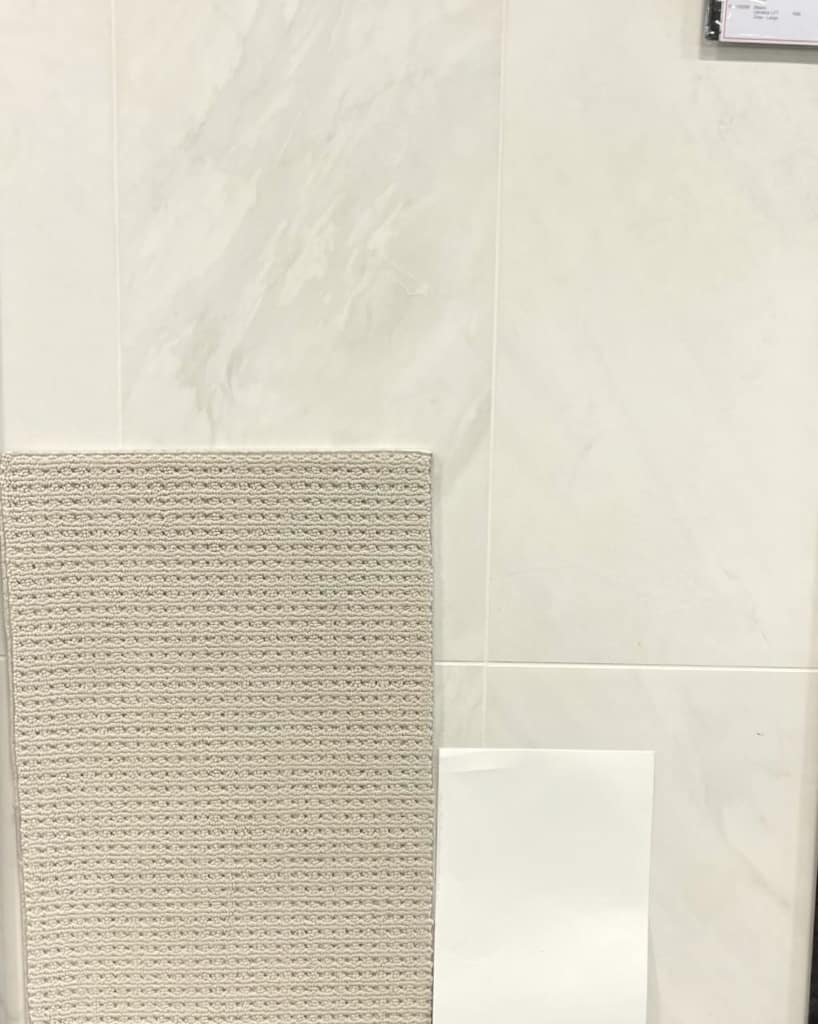 The prettiness factor is important. Here is a sample of the carpet for my closet and the tile that will go in the bathroom and also in the washer/dryer/sauna area inside my closet. It doesn't hurt to add the paint sample so you can see it all together.
What are your must haves in a closet?