This post may contain affiliate links that, at no additional cost to you, I may earn a small commission. Read our Disclosure Policy.
I don't know what it is about a New Year but I LOVE getting organized in all aspects of my life at the beginning of the year! I set new goals (hello, New Year's Resolutions) in my personal life, for my finances, my health, and of course for my home organization and decor! I am not only a big fan of getting organized I'm a big fan of getting organized while making my home look beautiful! I love all things esthetically pleasing and I don't think any part of your home is past the point of making it pretty! These 25 fabulous linen closet organization products are just as practical as they are pretty! Your linen closet will be organized and ready to go in no time with these products.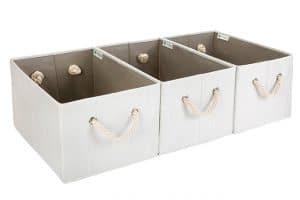 Polyester Storage Bin With Rope Handles- I love the rope handles on these! They add a pretty touch and also look like they are very sturdy.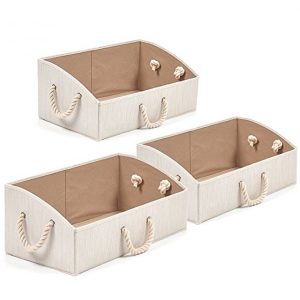 Bamboo Fabric Storage Container
Corner Laundry Hamper- I love the idea of having a hamper that fits in the corner, what a perfect way to use up that space!
Gray and Cream Striped Storage Container
5 Drawer Storage Organizer/Container- I know that this is typically for a mud room but I love the idea of having this in a linen closet to keep things organized. It's much prettier and easier to work around than a dresser.
Natural Linen Collapsible Container
Rectangular Large Resin Container
Foldable Storage Bins With Lids- I love the idea of having lids on the containers! What a great way to be able to stack your bins and create even more space in your linen closet.
5 Piece Utility Storage Basket Set
Label Fabric Storage Container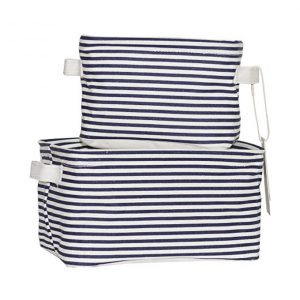 Navy Blue Striped Storage Container
Trapezoid Foldable Storage Containers
"Stuff" Storage Container- because every one has some items in their linen closet that are just considered "stuff"!
If you liked this post then you might like some of our other home organization posts!