This post may contain affiliate links that, at no additional cost to you, I may earn a small commission. Read our Disclosure Policy.
With just a few supplies you can take a store-bought plain dessert and make it into the perfect, beautiful, dessert for Easter! It will look like you spent hours on it- but your secret is safe with me :).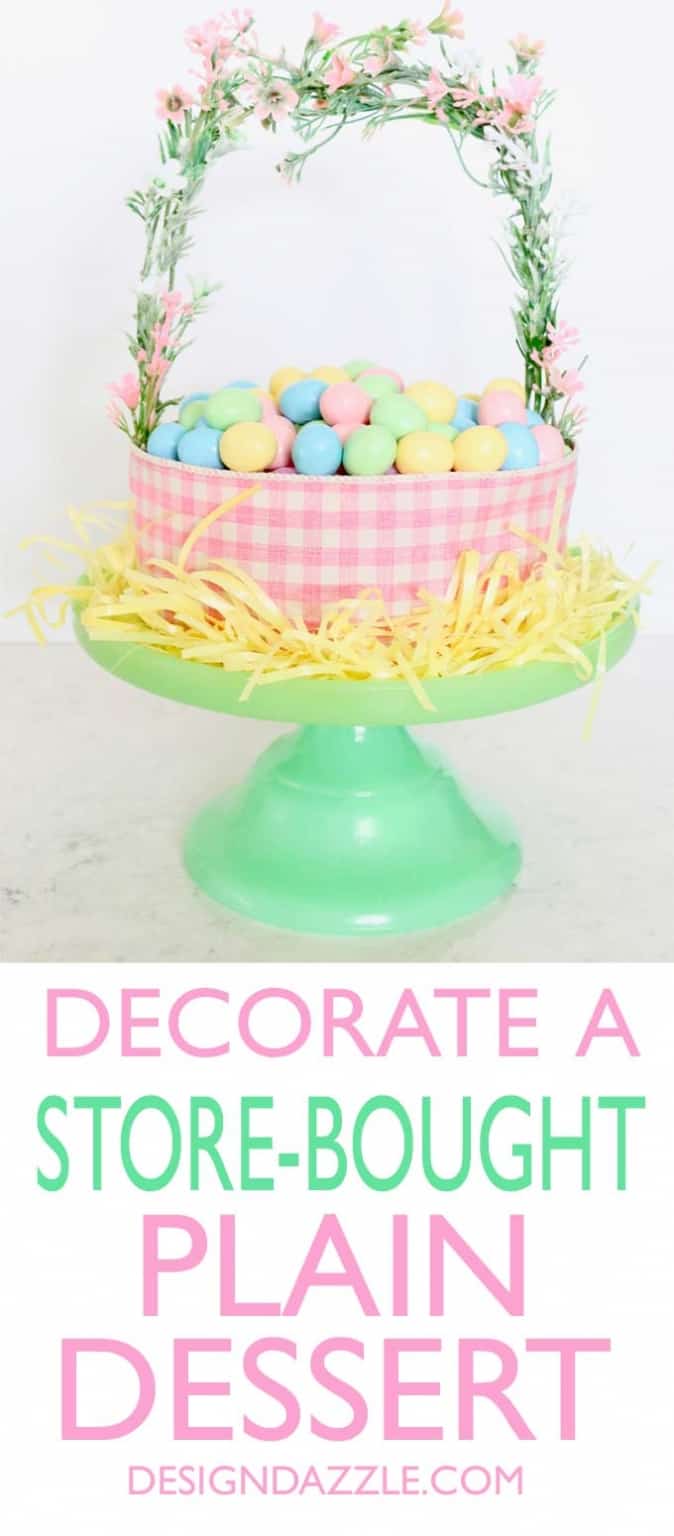 I really enjoy making plain items into a prettier or more fancy version. And that is exactly what I did here. I took a store-bought cheesecake and decorated it with candy eggs, ribbon and florals to create an adorable Easter dessert. This took less than 30 minutes and turned out so cute!! It's like using a blank canvas (plain dessert) such as a cheesecake or undecorated cake and getting creative. You can always make your own dessert but in this instance I used store-bought.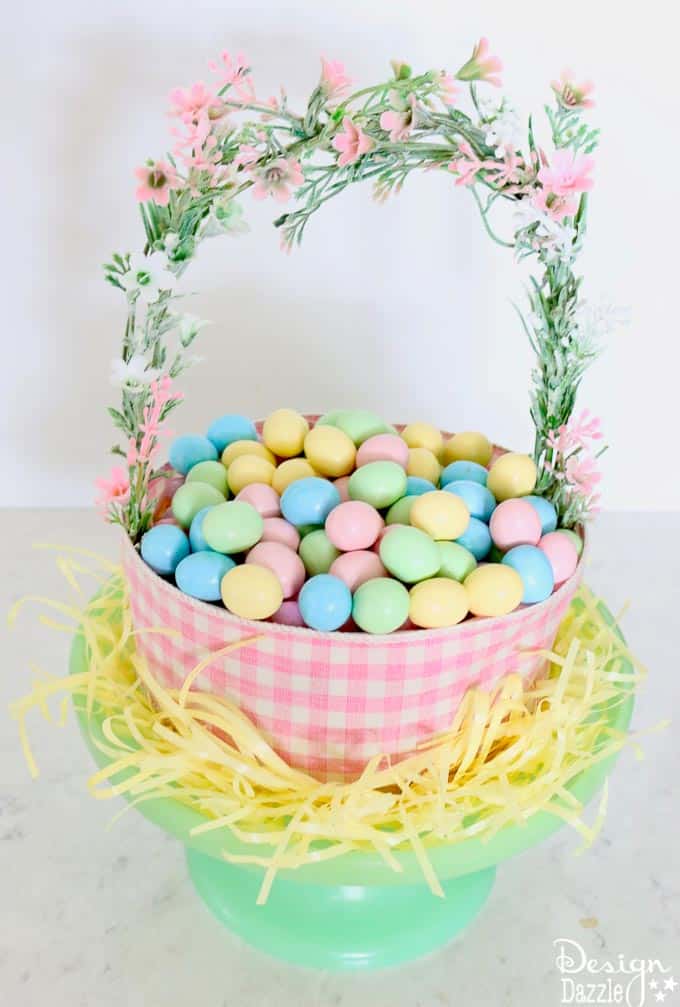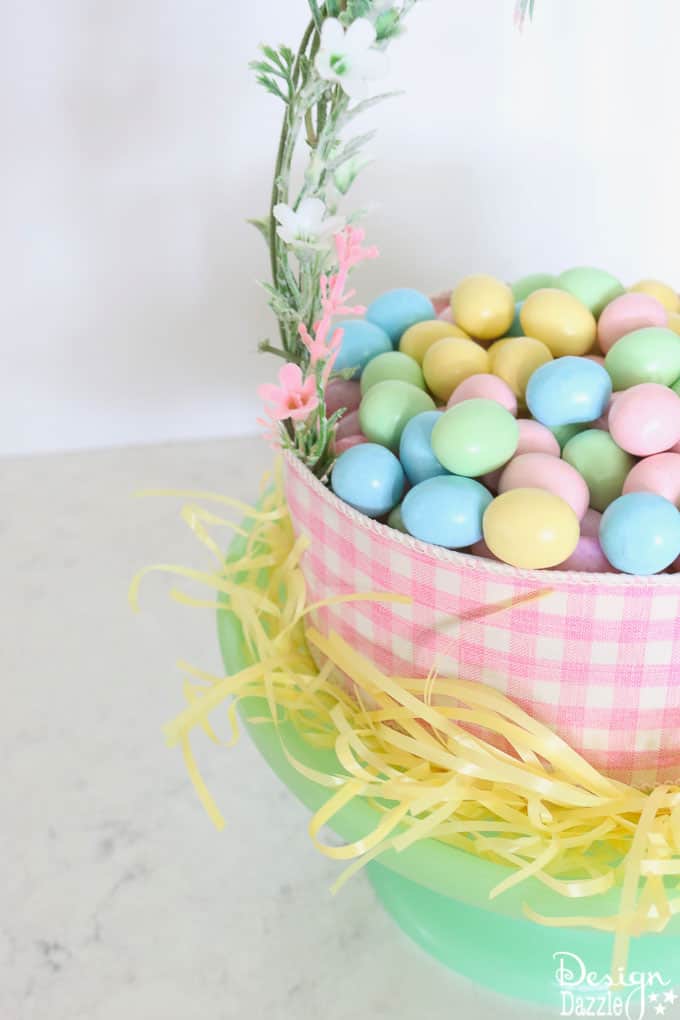 Sharing the details below on how-to decorate a store-bought plain dessert for Easter
Most of these items I already had at home. I purchased the cheesecake and candy.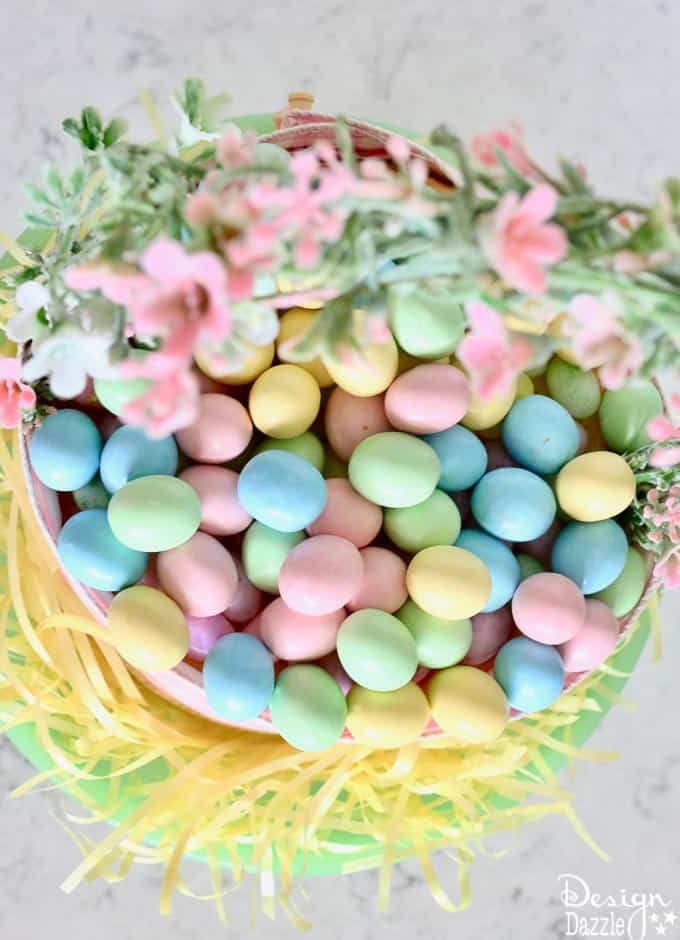 Supplies:
store-bought cheesecake or something similar cake, etc (or make your own)
candy – I used 1 Hershey's Candy Coated Chocolate Eggs – Pastel colored. You might need two bags if you have a average size dessert.
piece of ribbon
small florals
The cheesecake I purchased was not very tall. So I took the clear lid that it came packaged with and using scissors cut it to the exact height to use it as a base to place the cheesecake on top of. Trimming the plastic made it ideal for the base of the cheesecake which allowed for the ribbon to go around it at the height I needed. Otherwise wrapping the ribbon just around the cheesecake – the cheesecake wasn't high enough for the ribbon I already had in my craft room.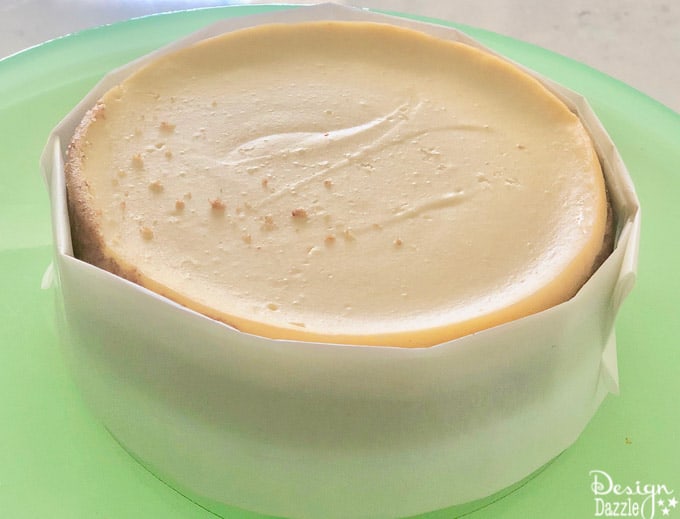 I cut and trimmed parchment paper and placed around the edges of the cheesecake. It prevents the ribbon from getting soiled and greasy. You could used foil, wax paper or whatever you have on hand.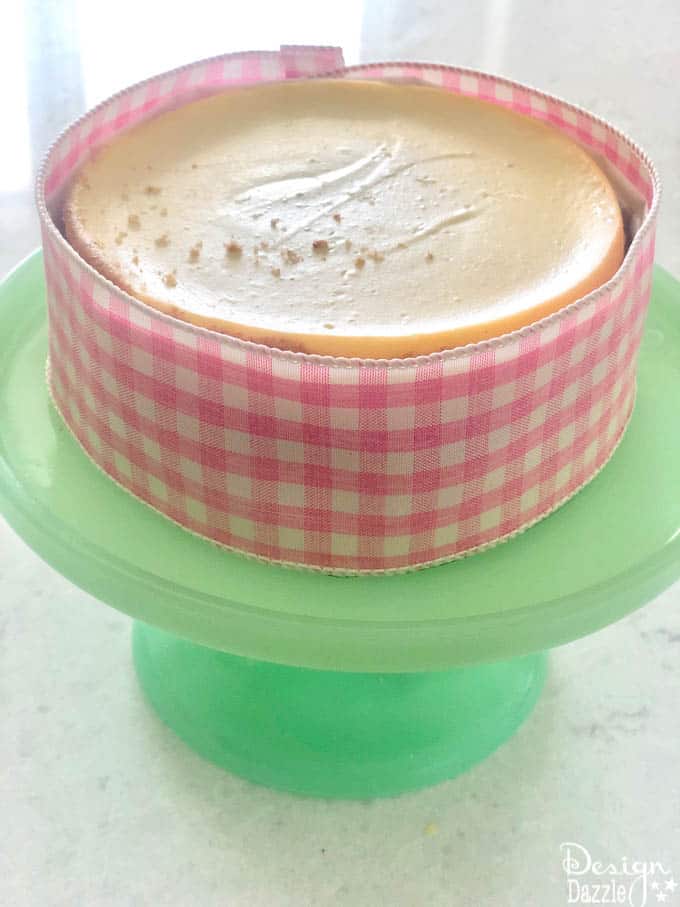 Cut the ribbon to the correct length (around the perimeter of the dessert). Fold the end of the ribbon over about 1/2 inch so that there is no cut ribbon showing. Wrapping the ribbon tightly I used push pins (that's all I had) to hold into place. Quilting pins would have been better. The cheesecake held the push pins and ribbon perfectly in place. Just when serving you will be removing the pins anyway to remove the ribbon. Make sure to use something big and bulky to hold the ribbon on place so you don't forget the pins are there.They need to be removed for sure.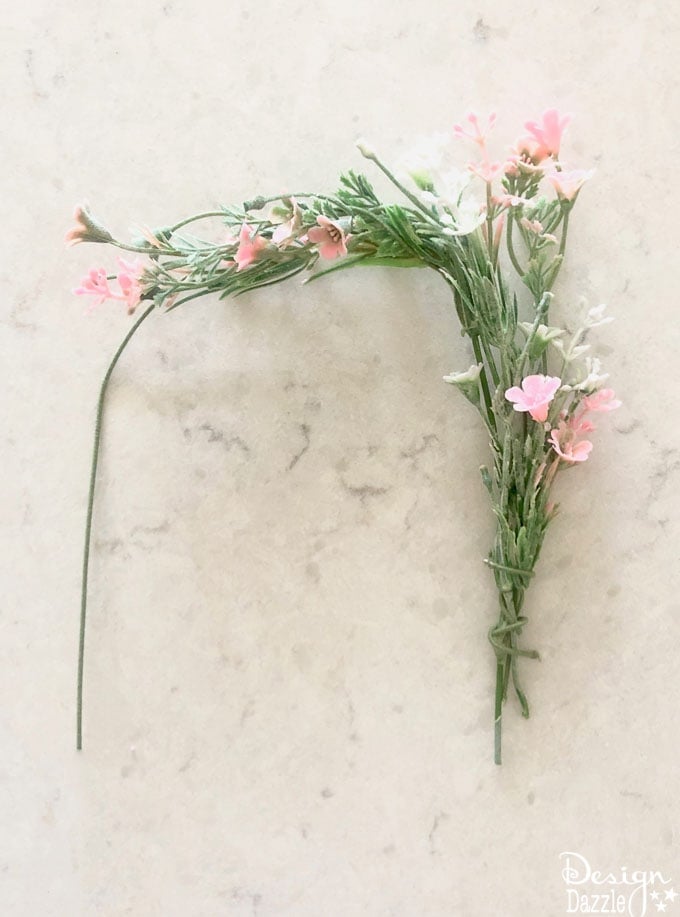 How to make the floral handle:
I used a long piece of wrapped floral wire to create a "handle" – shape into a U-shape. Use small flowers and wrap around the floral wire. Cut little piece of the floral wire to tie flowers onto the wire. Leave enough wire at the bottom to stick into the side of the dessert. This is very easy to create.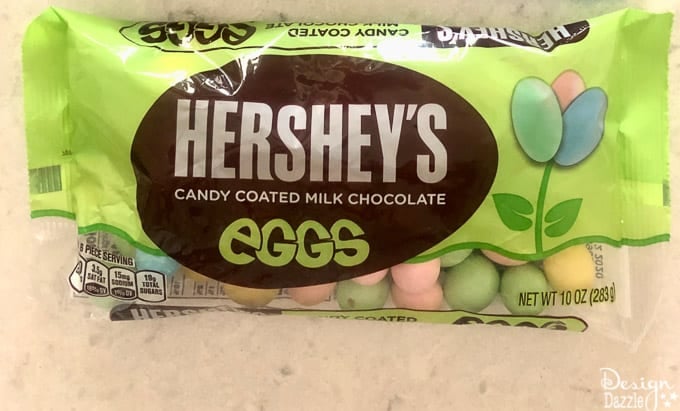 At this point, you should have the ribbon and floral handle done. All you need now is to pour the chocolate candies on top of the cheesecake. I used 1 bag for a small mini cheesecake. If you have a regular size dessert you might want two bags of chocolate candies.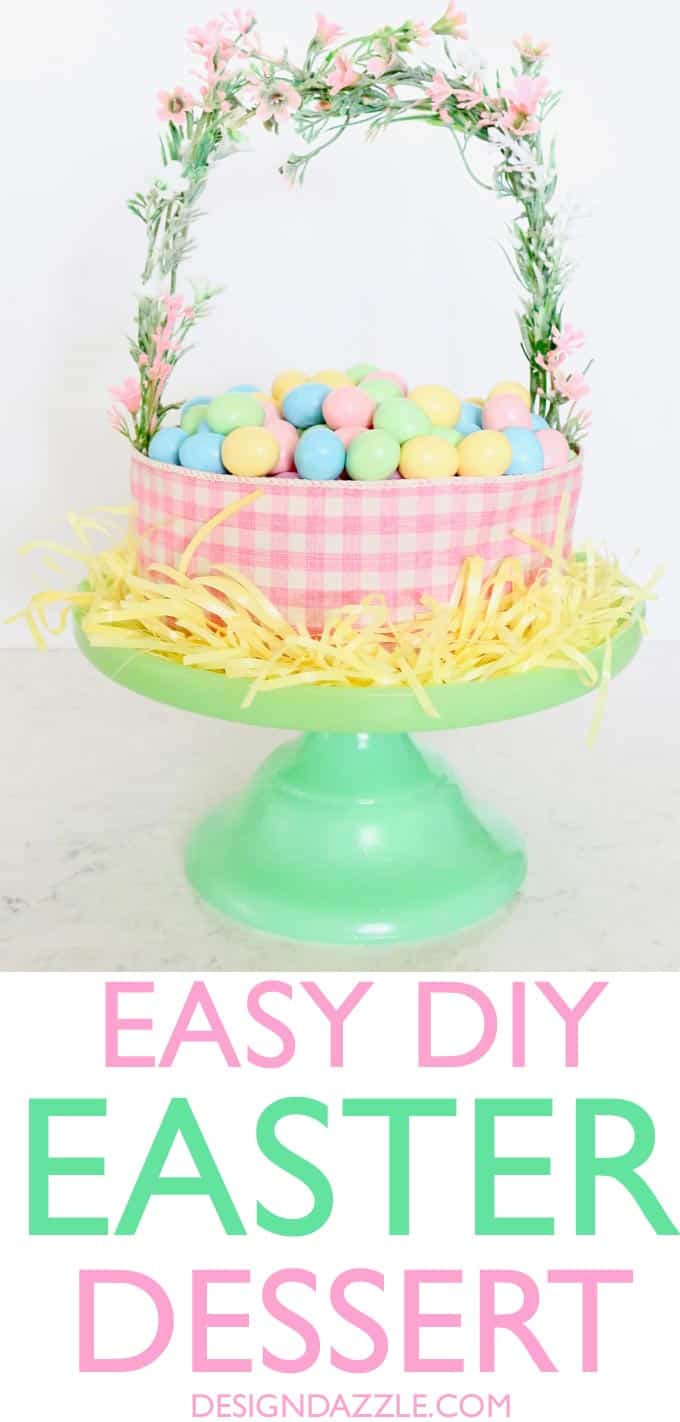 Refrigerate dessert if needed. In less than 30 minutes you've got a pretty cute dessert! Be creative to make something nice for Easter.
You can also leave off the handle as shown below and not make a handle. Without a handle this is a 10 minute creation. I hope you enjoy creating and serving a unique dessert.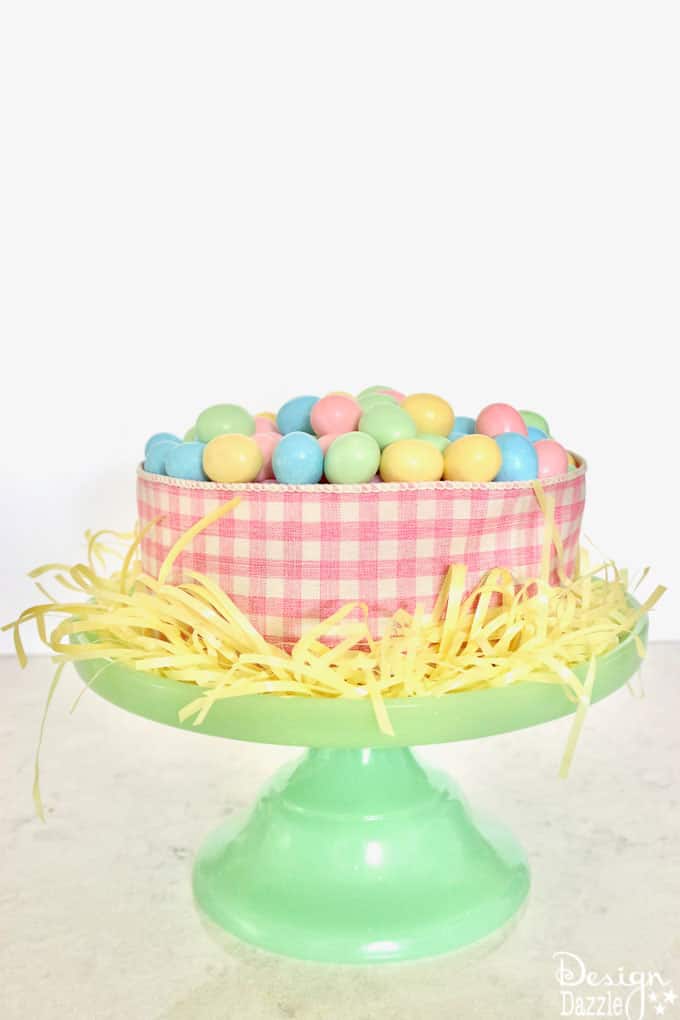 What is your favorite Easter dessert?
Here are some other Easter Dessert Ideas that you might like: