This post may contain affiliate links that, at no additional cost to you, I may earn a small commission. Read our Disclosure Policy.
I enjoy seeing before and after pictures. It's amazing how items can be transformed with paint! We moved into a home a few months back that had a few built-ins. The one thing I couldn't wait to get my hands on was the built-in China Cabinet and desk. This China Cabinet Makeover turned out beautiful. I share the details below.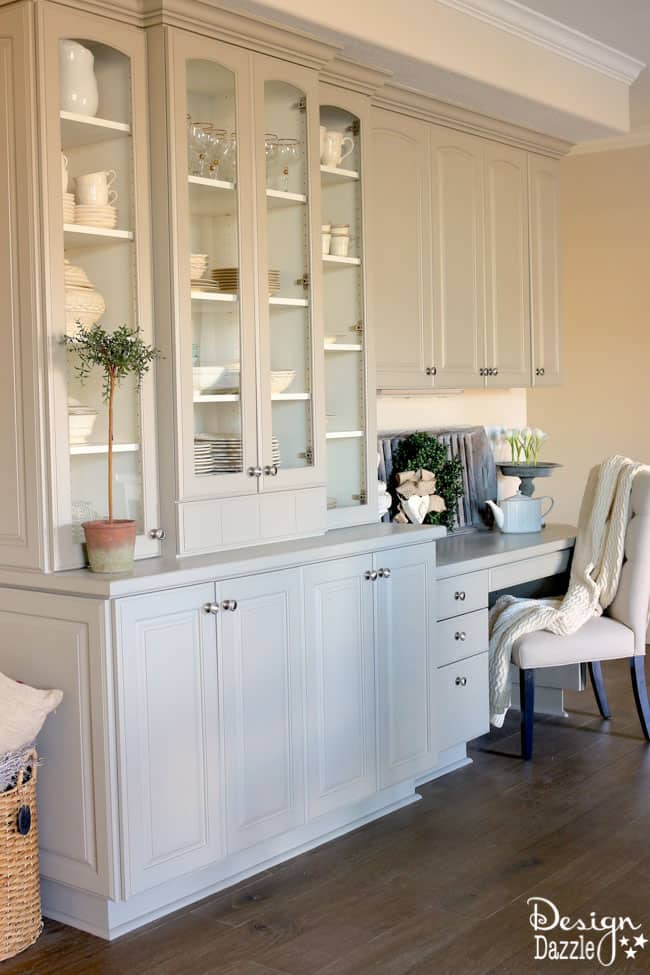 I LOVE, LOVE, LOVE how it turned out. In our home, every single piece of wood that was stained was made out of maple. ALL the wood flooring, kitchen cabinets, laundry room cabinets, office cabinets, china cabinet and desk cabinets – were all maple wood. I'm not a huge maple wood lover – especially with the entire house showing it. But one thing I know for sure – it paints really well!! I love painted wood furniture. Staining was out of the question for me. It's not the look I was going for. Check out the image below for the before: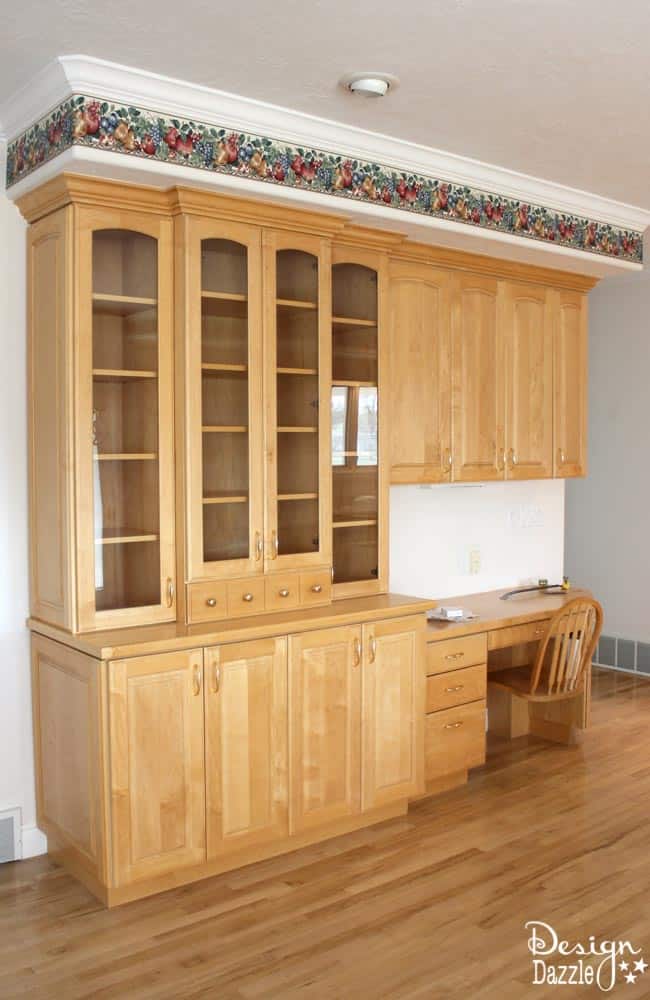 This is just one part of the house that is showing all the maple wood. The chair that is shown is one of those swivel-attached-to-the-desk-chairs. We removed it and gave it away – just wasn't my style.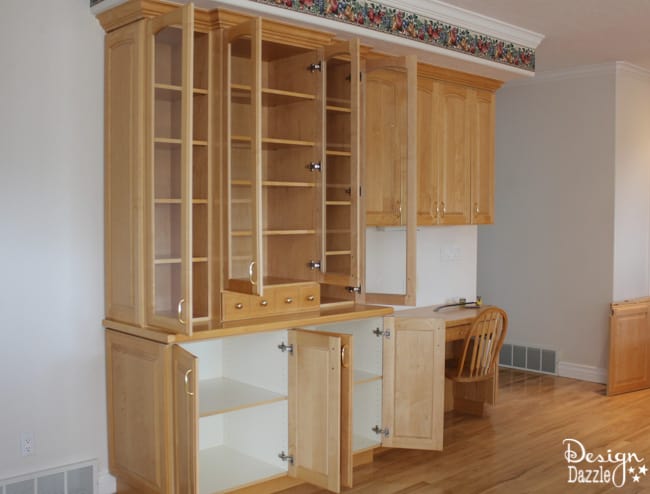 The hardware and cabinet doors were removed. The cabinet and doors were cleaned, lightly sanded, putty filler for the holes (where the handles were) and sprayed with an acrylic enamel paint with a satin finish. You can also see the lovely wallpaper border was removed. The inside of the upper china cabinets were sprayed a lighter color than the exterior. I'm so glad I did this.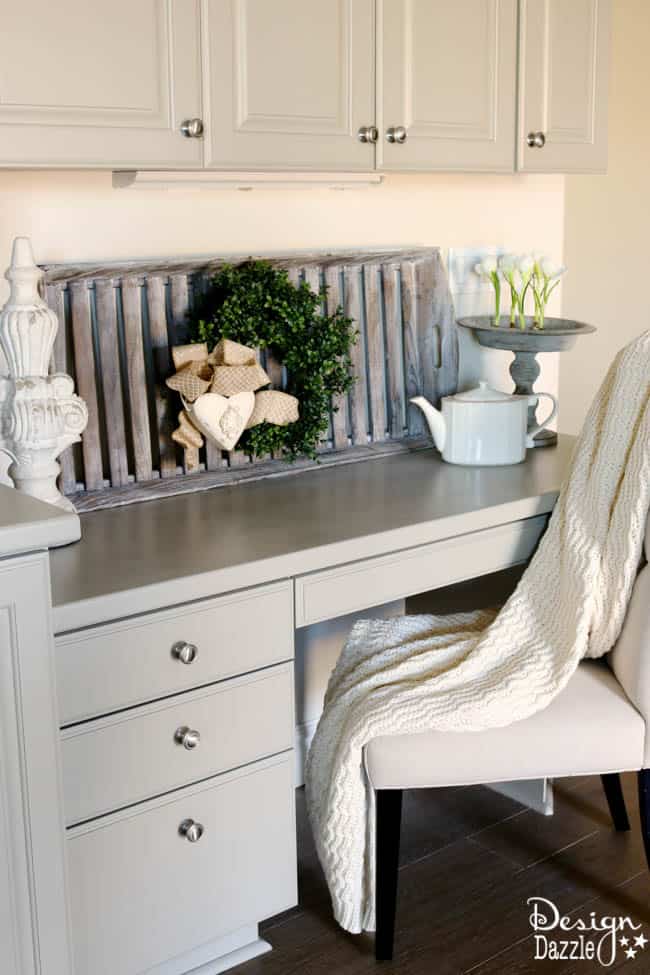 Close-up details of the desk. I love pretty decor. And this just makes me happy. Of course, this can be a spot that gathers junk but when it looks pretty I really don't like to place all the typical items that can just start gathering e.g. junk mail, keys, packages, purses, etc. I find what works for me is making spots in my home look beautiful, warm, inviting and organized and then it's harder for me to make it unorganized ; ) .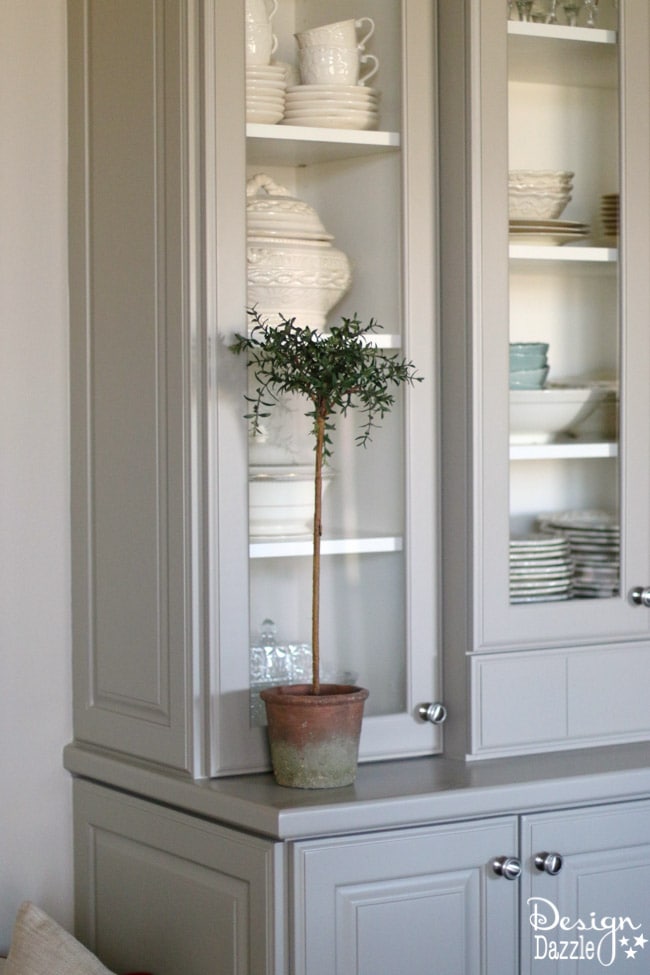 The majority of my dishes are a cream/ivory color. Some of these dishes I've had for a very long time. I like neutral colors for my dishes.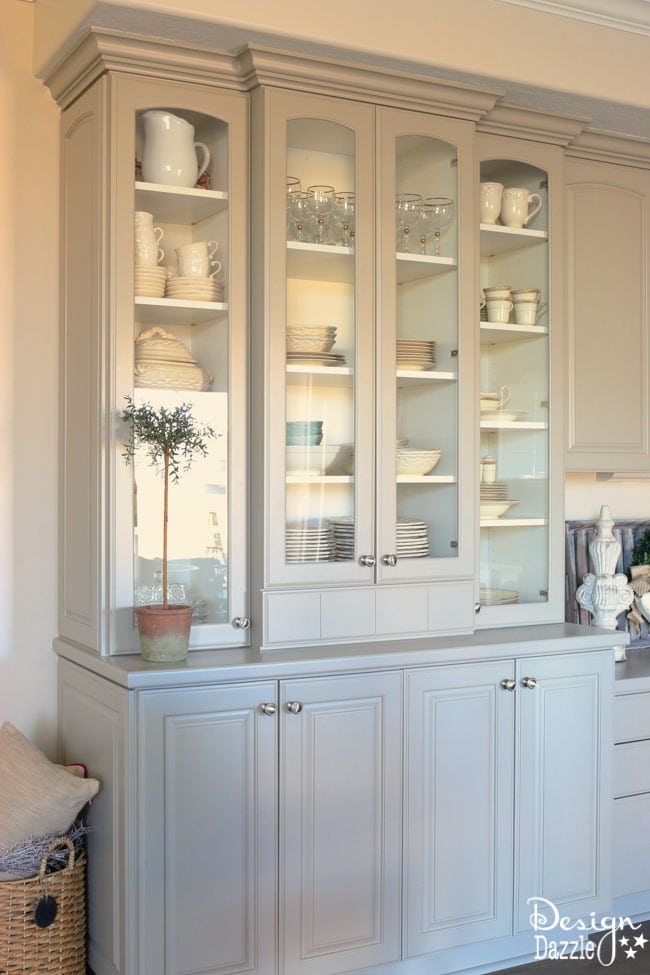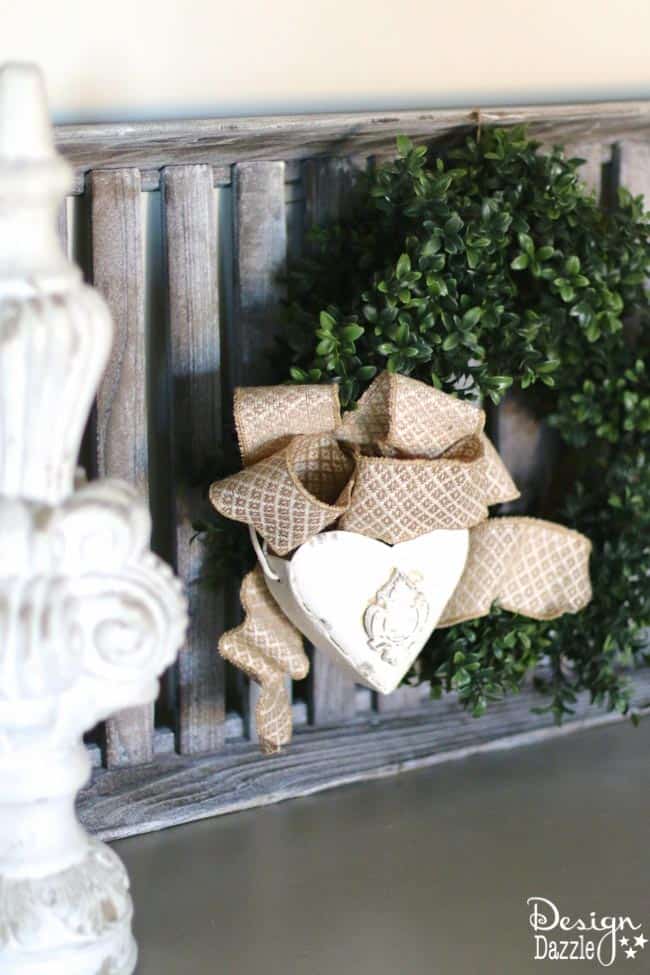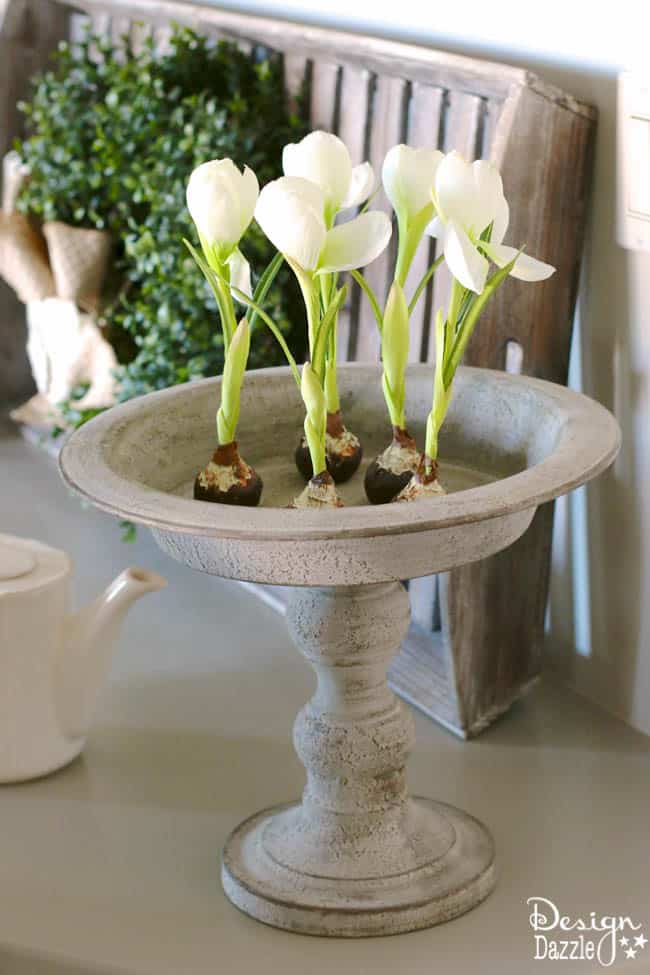 Greenery and flowers are such great details that add texture and pops of color to a spot.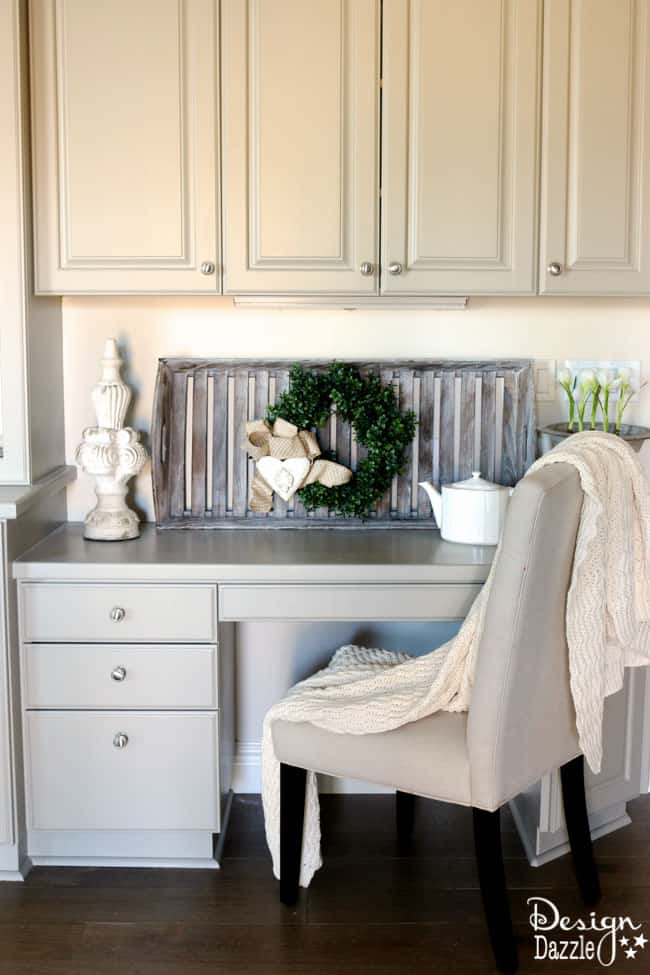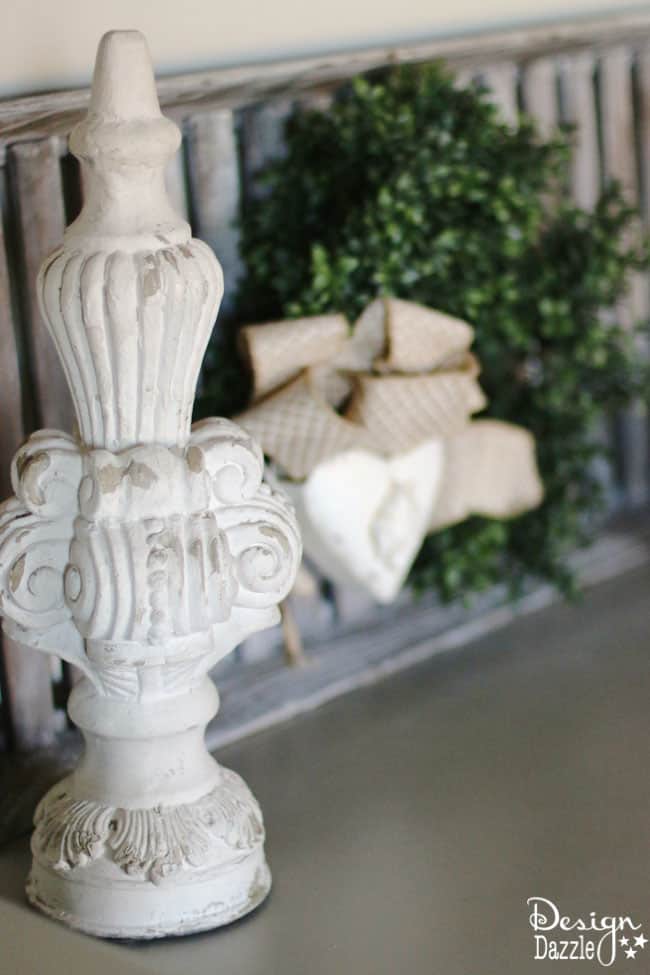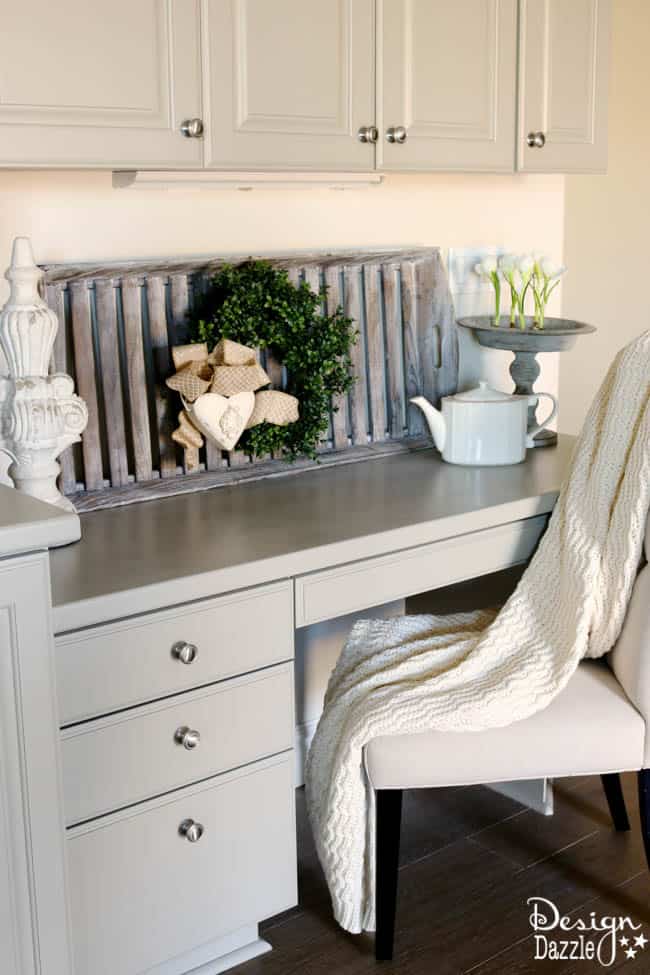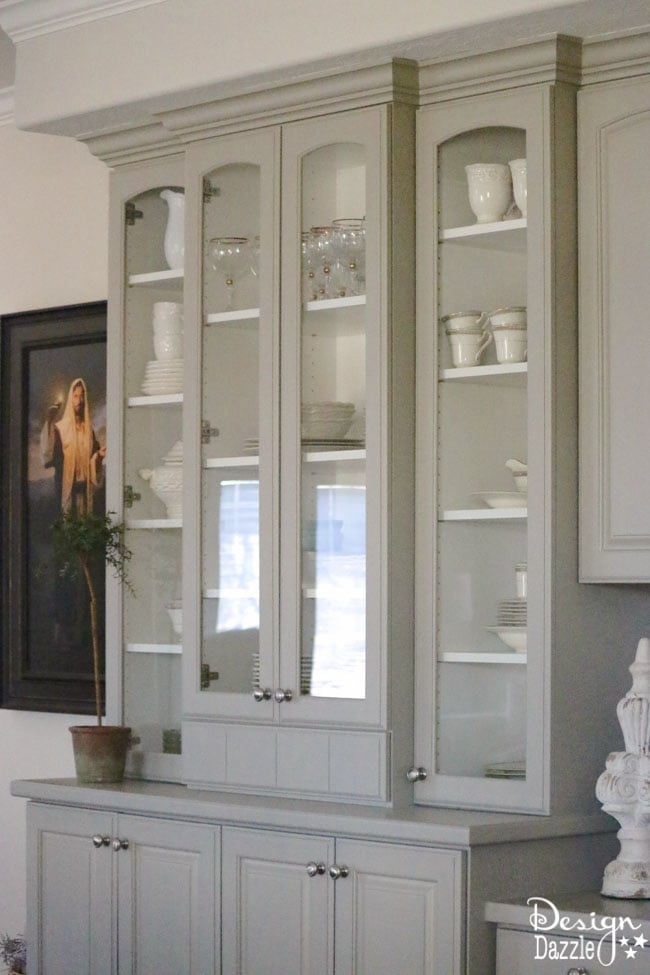 My husband gave me this picture of Christ for my birthday. It's beautiful and I get lots of compliments on it. See bottom of post for more details on this picture.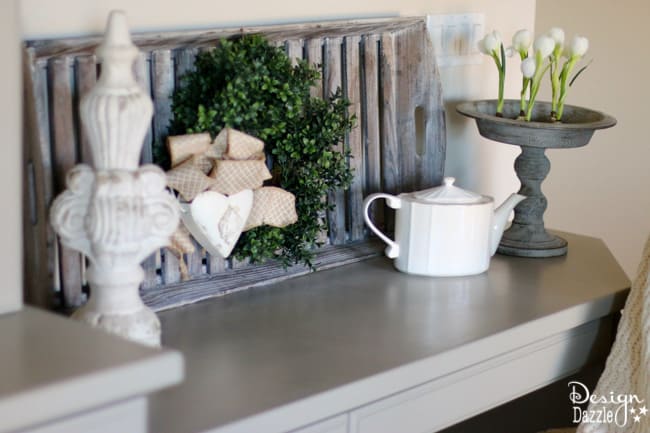 This post contains affiliate links at no additional cost to you. For further information, please see our disclosure policy.
PAINT COLORS:
China Cabinet Exterior – Rockport Gray – Benjamin Moore– acrylic enamel satin finish
China Cabinet Interior – White Dove – Benjamin Moore– acrylic enamel satin finish
SHOP similar decor items:
Most of the decor items shows in my pictures I've had for a long time and are not available to purchase anymore. Some of the items came from online purchases, Home Goods, Rod Works etc. I've included some links for similar decor:
Lead Kindly Light – picture of Christ (this one is just a canvas there is no frame)
Wood Vintage-look Tray
Boxwood Wreath
Galvanized Stand
White Teapot
Cable Knit Throw Blanket
More fun ideas I've shared on my blog: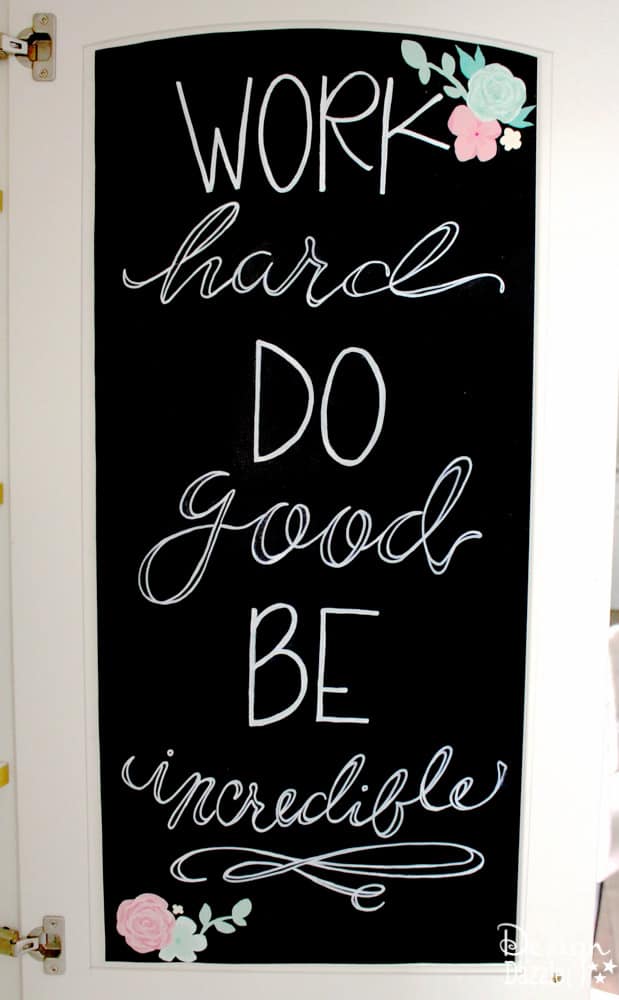 My kitchen cabinet surprise! A great idea for the inside of a cabinet.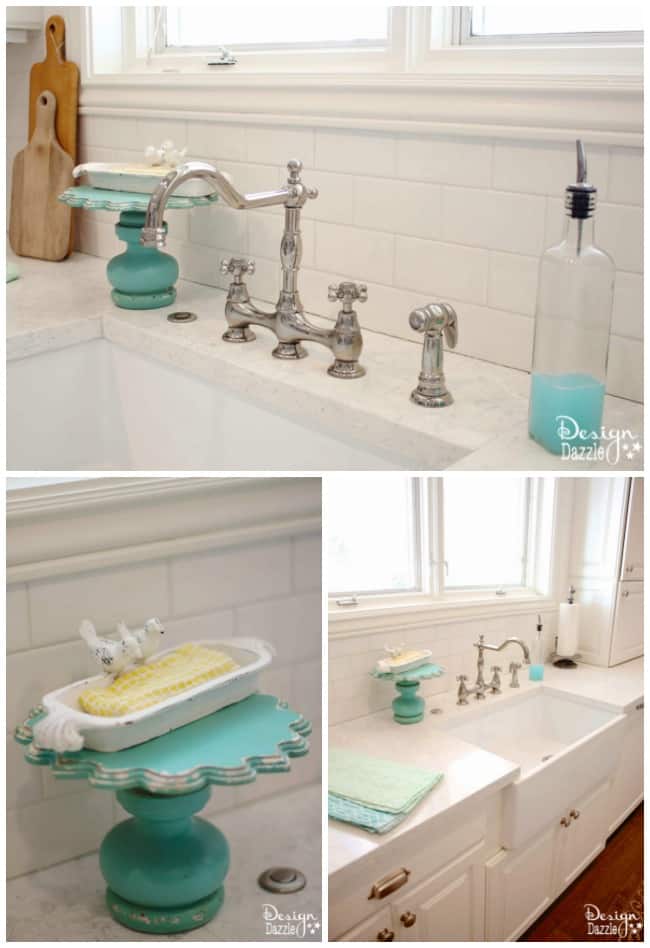 The benefits of a farm house sink.


Save
Save
Save