This post may contain affiliate links that, at no additional cost to you, I may earn a small commission. Read our Disclosure Policy.
Pizza makes a perfect meal any time of the year, and one of the best things about it is that you can update the toppings with great seasonal ingredients for a fresh take every time you decide to make one! The crust makes a perfect base for just about anything. So I found 12 of the most perfect, mouth watering, pizza recipes out there that will have you drooling just thinking about them!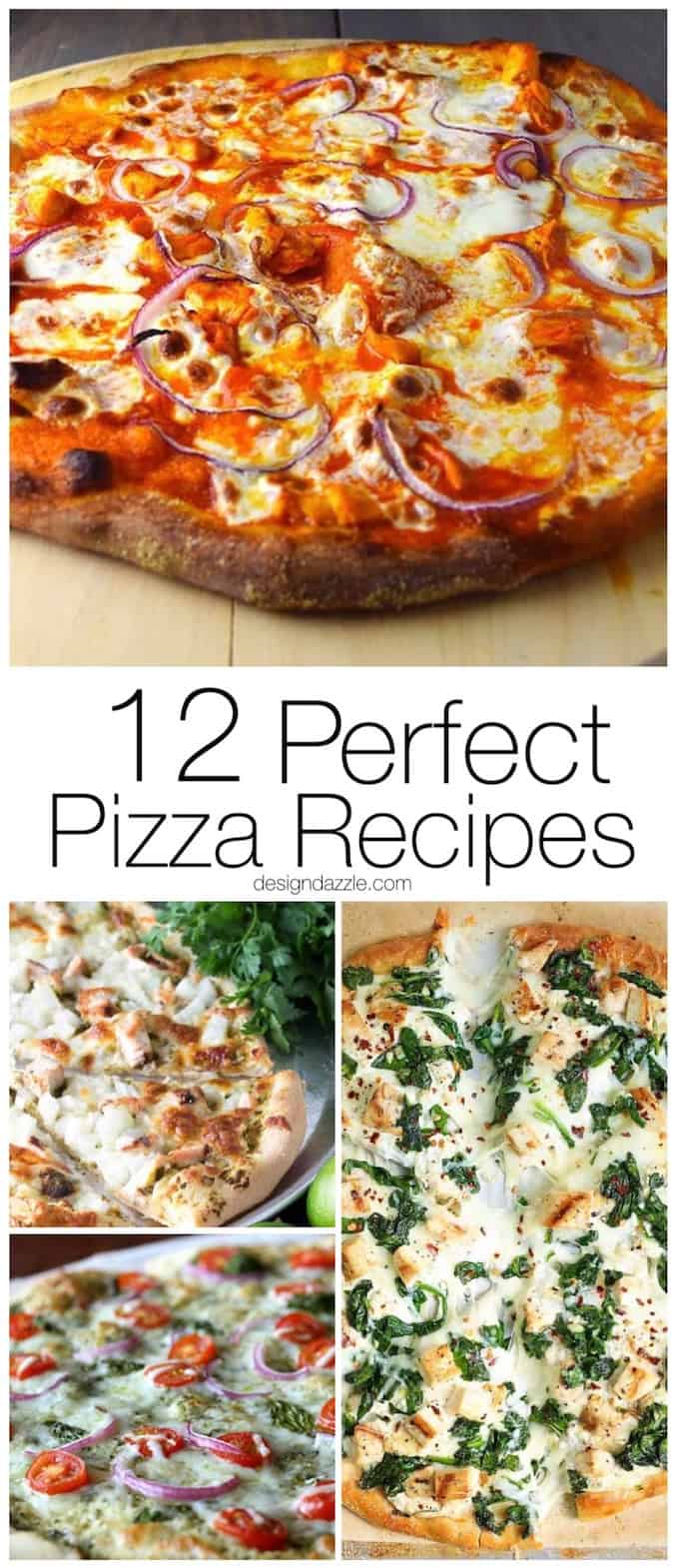 Roasted Garlic, Chicken and Spinach Pizza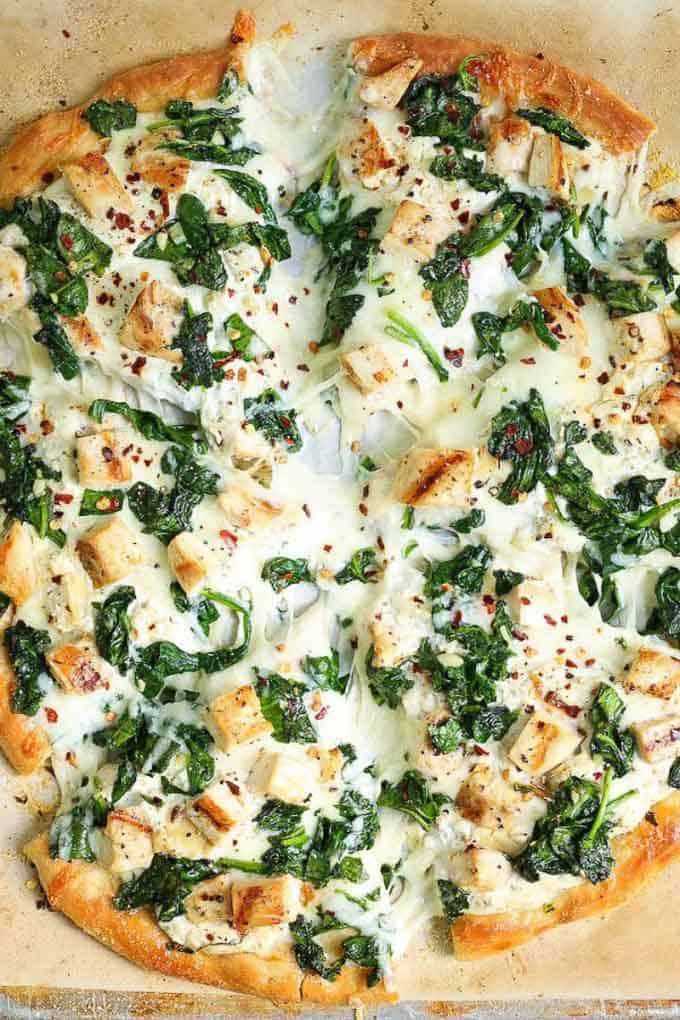 Garlic, chicken and spinach are a classic pairing that works wonderfully on top of a pizza. It's fresh, rich and most importantly – delicious! Get the recipe here. 
2. Margherita Pizza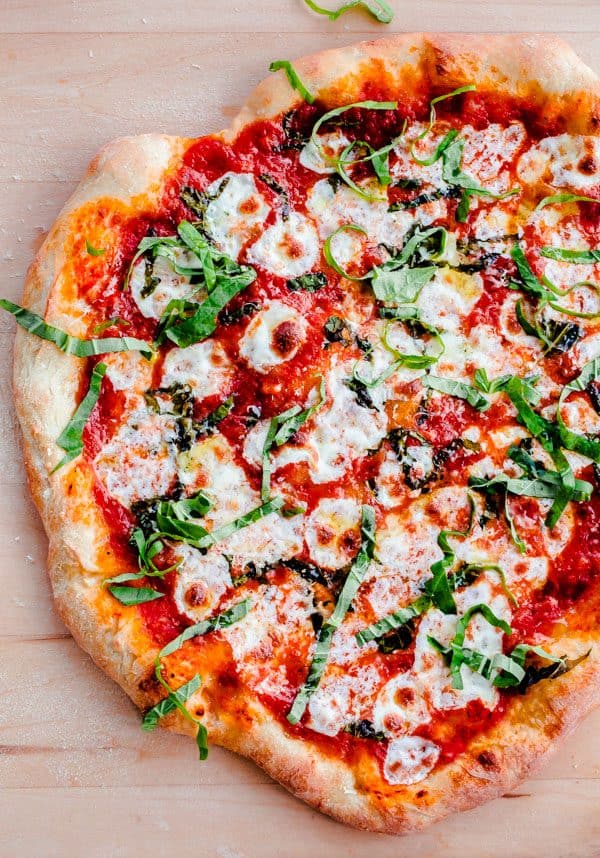 Nothing says "classic" like a delicious margherita pizza! The simple ingredients make a fantastic flavor combination that you just can't go wrong with! I love this recipe with its straightforward ingredients and instructions.
3. Buffalo Chicken Pizza
There may be some debate about where buffalo chicken originated, but there's no debate about how perfect this pizza recipe is! You can find all the instructions here.
4. Caprese Salad Pizza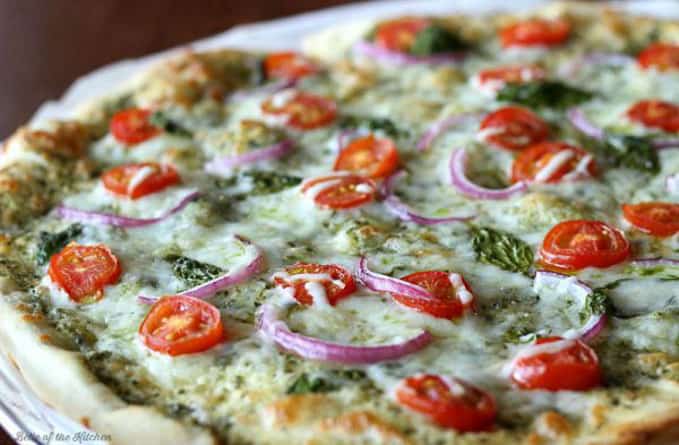 Take your favorite sandwich and salad combination and turn it into this wonderful, fresh tasting pizza! You can't beat a handheld version of a great food! Get the recipe here.
5. Ricotta Spinach Pizza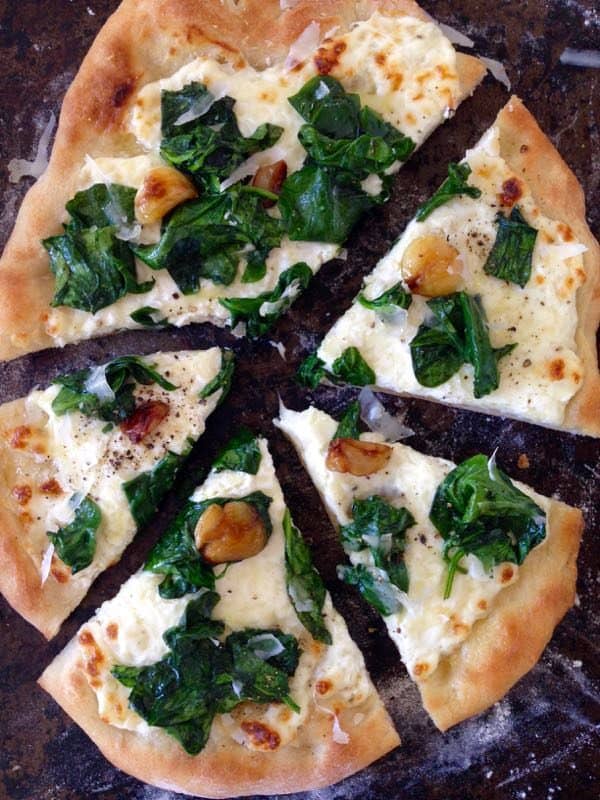 Even though tomato sauce is classic, there's nothing like a good white sauce base to make your pizzas a little classier. This version with rich ricotta cheese and creamy spinach is the perfect meal for when you want to have pizza and still feel fancy!
6. BBQ Pulled Pork Pizza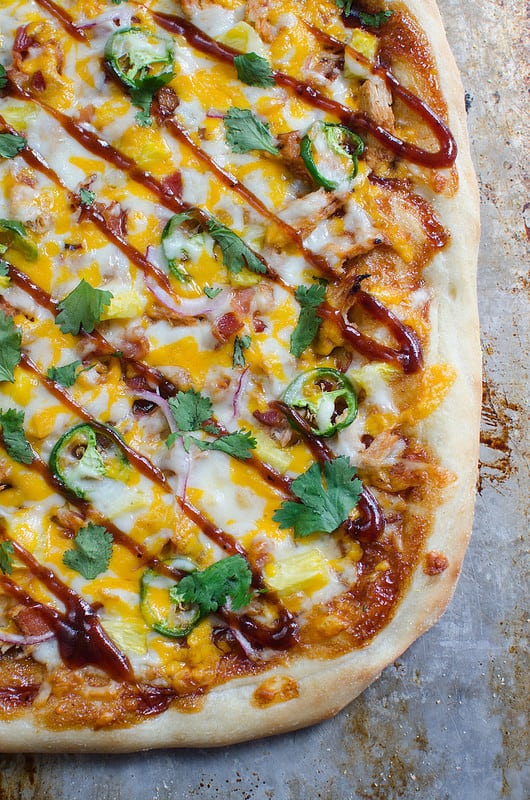 This pie is about as All American as you can get with it's sweet pulled pork, barbecue sauce, and lots of cheese! A great recipe for an indulgent, barbecue filled meal!
7. Cilantro Lime Chicken Pizza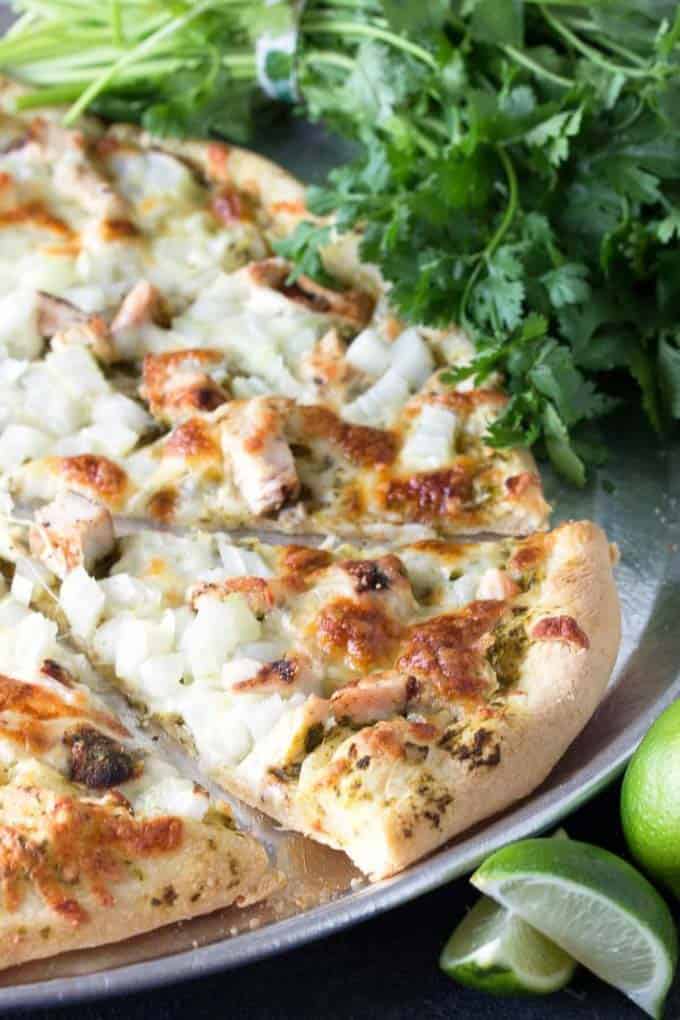 The fresh, citrus spin on this pizza takes the flavor game to a whole new level. I love the chicken infused with the lime and cilantro combination! You can find all the instructions here. 
8. Philly Cheesesteak Pizza
Nothing beats a good, melty philly cheesesteak…except maybe all those yummy toppings put on tops of a layer of pizza dough! Try this awesome recipe for an update to a classic sandwich!
9. Vegetarian Black Bean Pizza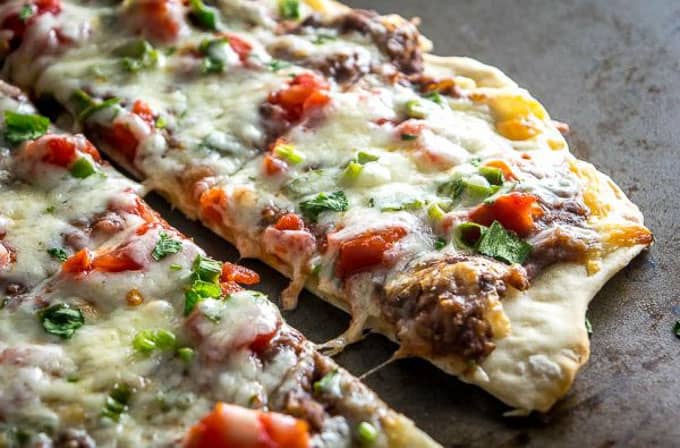 Whoever said that a vegetarian meal can't be filling definitely hasn't tried this pizza creation! It's full of fantastic flavor and a crispy thin crust! Try it for your next Meatless Monday meal!
10. Spicy Sausage Pizza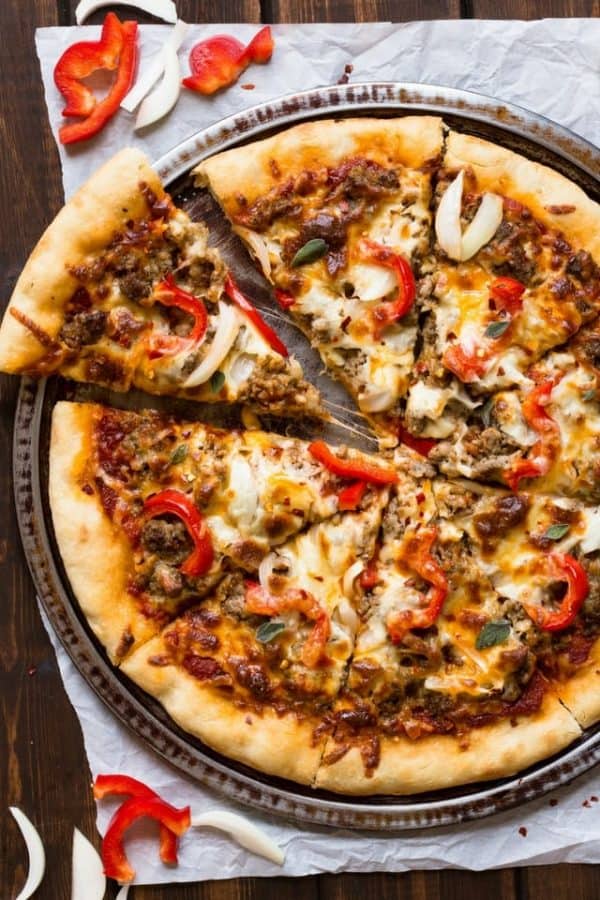 If you like a little more heat with your meat, then this spicy meat lover's pizza is right up your alley! The peppers and spicy sausage add a nice kick to an already tasty recipe. Find the recipe here. 
11. Mac N Cheese Pizza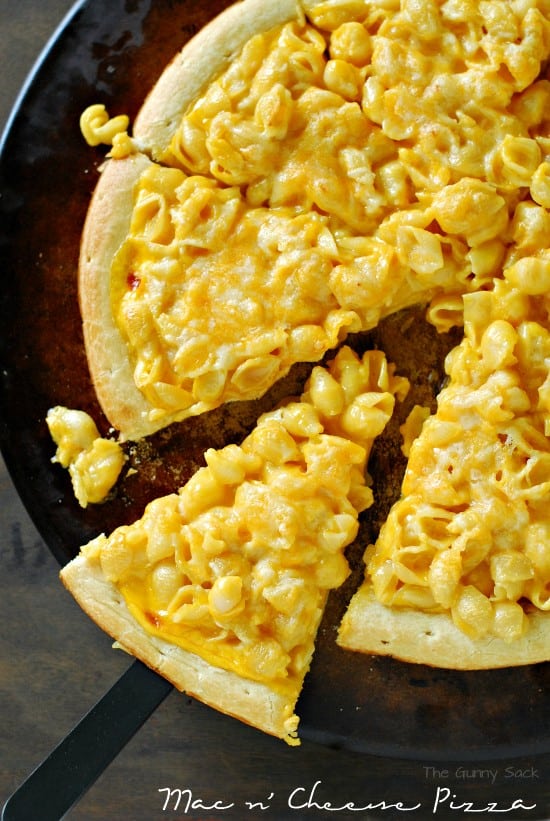 Who would've thought that adding a favorite comfort food on top of another comfort food could create such a masterpiece? I love the uniqueness of this recipe and how perfect the end creation is! Try it out at your next pizza party with the recipe here. 
12. Breakfast Pizza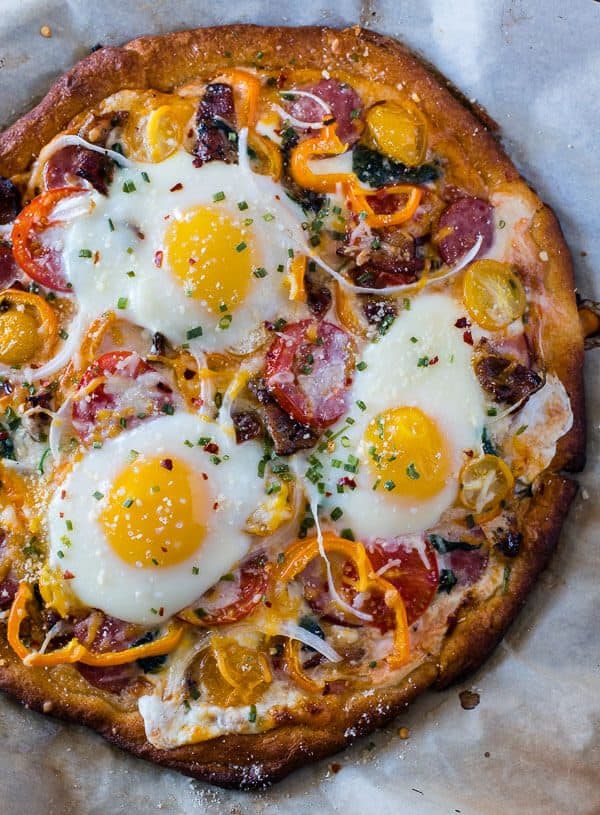 Pizza for breakfast? With this amazing recipe, you bet it's possible! The eggs, peppers and tomatoes compliment the dough perfectly, and you don't have to feel guilty about having a favorite food first thing in the morning!
What are your favorite pizza toppings? Do you have a recipe that I should try out? Let me know in the comments!
Want some more yummy recipe ideas? Check these out!