This post may contain affiliate links that, at no additional cost to you, I may earn a small commission. Read our Disclosure Policy.
I love the Central Coast in California. I grew up there as a kid, graduated high school, purchased a condo with a friend and lived there in my early adult years. The central coast is between Los Angeles and San Francisco and nothing like either big city.
Monterey Bay, San Luis Obispo, Santa Barbara and Ventura regions make up the central coast. Personally, I have lived in Oxnard and Ventura and most of us that lived there would consider that area So Cal.
The Central Coast is known for its beautiful beaches, panoramic views, beach cliffs, mountains, and farmland. It's also known for surfing, the arts, wineries, shopping and the best little beach towns. At times the beach communities can be foggy, sunny and somewhere in between. One of the towns I lived in and LOVE is San Luis Obispo known as SLO (called slow).
How To Get There
The map above shows Ventura (which is 1 1/2 hours north of Los Angeles) and the approximate route of towns along the way headed north- Santa Barbara, Solvang, Pismo Beach, Avila Beach (not shown), SLO, Morro Bay, Cayucos (not shown), Cambria and San Simeon. The red marks are an approximate showing of a route the yellow lines are the actual freeways.
To get to the middle part of the central coast (SLO). It is a 3.5 – 4 hour drive from LA and guess what? It is also a 3.5 – 4 hour drive from San Francisco. Flying into either city to get to the Central Coast works. But if you can, Santa Barbara and SLO both have airports. If you are short on time, that would be a great way to visit. By the way, for Southwest fans, SW now flies into Santa Barbara. Flying into SF and driving down Highway 1 you're in for some gorgeous rocky sea cliffs.
For those driving, it is a beautiful drive from either direction. However, I feel the drive from northern to central coast is a favorite. Highway 1 along the coastline is the way to go. The 101 is a typical freeway with not much more than lots of land and for most of the time – no ocean to see.
What Towns to Visit?
Santa Barbara
Santa Barbara is a charming beach town. Known for its Spanish architecture, Santa Barbara Zoo, Stearns Wharf, SB County Courthouse, SB Sea Center, State Street shopping and more. It's a 2 hour drive north of LA.
The above image is Stearns Wharf. You can actually drive out on the wharf to park and walk around. The first 90 minutes is free. It's also a nice walk out on the pier.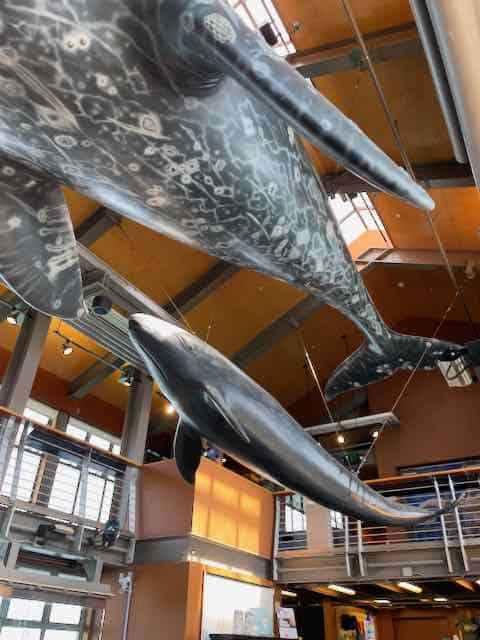 The inside of the Santa Barbara Museum of Natural History Sea Center is located on Stearns Wharf. This interactive regional aquarium offers you close encounters with marine animals from the Santa Barbara Channel. Kids will love this place.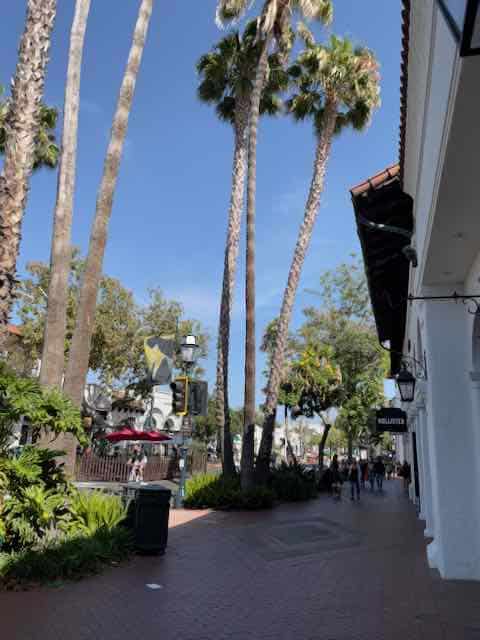 Downtown State Street is great for shopping. Part of State street has been closed to cars. It's a nice walk to shop, eat, and people watch. They use to have a Farmers Market in this area. Check to see if that is still going on.
Pismo Beach
Driving from Santa Barbara to Pismo is abut 1 1/2 hours of scenic driving. Pismo is definitely worth a stop if not for a day or several days. It is a very family-friendly place. There are many places to rent a place on the beach. There is also an RV park on the beach. The historic pier which stretches over 1300 feet into the Pacific Ocean is well-known in Pismo. Many shops and restaurants are within walking distance to the beach. A small area with playground whales to climb on and kid slides is on the beach. Pismo State Beach is great spot to watch surfers.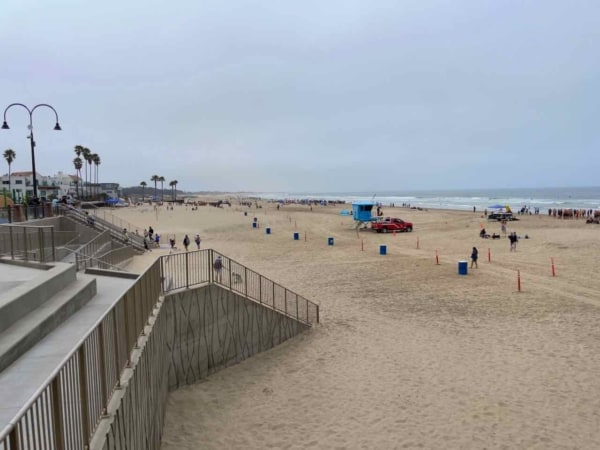 Pismo Beach is also known for its outlet mall. Name brand stores (32 of them) make for some terrific shopping.

Oceano Dunes are close to Pismo. You can drive on the dunes in a 4-wheel drive vehicle. Some drive their own vehicle up and down on the flat beach and some explore the sand dunes on an ATV. If you are up for adventure it's a great activity.

If you want to taste a world famous cinnamon roll, Old West Cinnamon Rolls are delicious. Located just 5 minutes from the pier, it's a must for a Pismo Beach visit.
Avila Beach
Avila Beach is just off Highway 1 and is a personal favorite of mine. Driving through the lush oak trees and valley is such a serene setting. I use to work nearby and drove through here Monday – Friday for years. I have fond memories of hanging on the beach. It is a pretty beach and it is FABULOUS visit!! There are many hotels and home rentals if you would like to stay here. There are a few local shops and restaurants all along the beach front.
Such a cute area at Avila.
The Avila Beach Golf Resort is a very well-known Central Coast Golf Course. Cant beat the golf course views.

Another thing to do is the Avila Hot Springs. The natural hot springs are for those who want to take a soak in 104 degree water.
Morro Bay
Morro Bay is off Highway 1 and sits on the bay. Their BIG famous landmark is a rock and it is spectacular! Morro Bay has some pretty beaches. Sometimes it can be hard to find sunny days to go in the ocean. If you are looking for a sunny beach day to play in the surf and sand or get a tan, Pismo or Avila are more my choices. However, Morro Bay is beautiful to walk around, bird watch, kayak, hike, bike, sail, fish, shop and more. Not to mention famous fish and chips are available at most restaurants.
Love wildlife? Visit the Morro Bay National Estuary. There is a boardwalk to walk on at the end of their parking lot. Bring binoculars or a camera and definitely a sweater as it can get quite windy. Be prepared to see otters!!
For those who camp, Morro Bay state park campground is across the road from the beach.
Cayucos/Cambria/San Simeon
These beach communities – Cayucos, Cambria and San Simeon are within a few miles of each other.
Cayucos is about 10 minutes north of Morro Bay. Very small little beach town with a pier. You can fish off this pier. North of the pier are tide pools, rock and bluffs. Some restaurants are close to the beach for some good eats.
Cambria (20 minutes north of Cayucos) is known for Moonstone beach and antique shops. Drive inland to find antique shops, restaurants and some art galleries. We had a delicious lunch in town.
Moonstone beach has always been windy, overcast and more pebbles than sand. You will see lots of driftwood, kelp and rocks. After a big storm it is easier to find moonstones and jade. Unique beach with lots of beauty, fresh salt air and a boardwalk for walking along the top of the beach.
San Simeon is known for Hearst Castle and Piedras Blancas Rookery (Elephant Seal Vista Point). Hearst Castle needs planning with tickets purchased. It is a magnificent castle if you enjoy architecture and history. However, stopping by to see the elephant seals was free and magical. So glad we drove the extra distance of about 12 minutes from Cambria to view the elephant seals. We visited in July. There were probably about 60 elephant seals laying in the sand around the various areas of the beach near the parking lot. A must stop!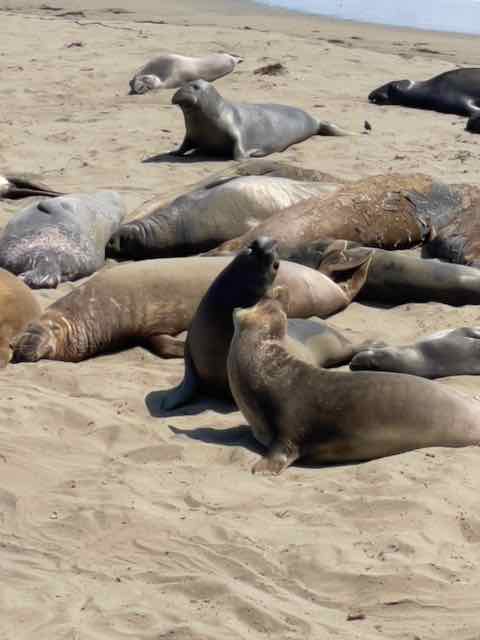 Monterey Bay

Monterey Bay is one of my favorite spots with easy access and a 2 hour drive south of San Francisco. Rocky shorelines are abundant north and south of Monterey. I wrote a blog post about one of my visits there. The city is located on the bay with much to see and do there.
The Monterey Bay Aquarium is one of the BEST in the world. It is a must if visit Monterey. There is a stretch of road called the 17-mile drive. It is a two-lane road that has majestic views, landmarks, million dollar ocean views, cypress trees, ocean breezes, stunning coastline, golf courses and much more! It costs to get in.