For the past 5 summers, my family has been hosting backyard movies. It is a great way to have fun with your kids, friends and neighbors. At first, I borrowed a projector and sound system from some friends but we soon got tired of moving all of the equipment. I found a projector deal on Circuit City.com that came with a free screen but you can easily make your own screen instead of buying one. Our sound system is a Fender Equalizer PA that I found on ebay. You might be able to find a projector rental at your local library or a party rental company.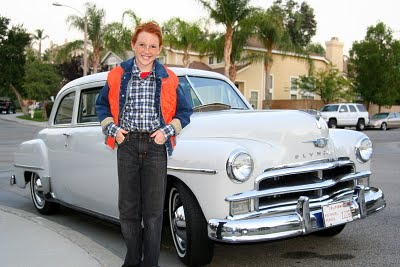 In May, I send our movie schedules through emails, print flyers and post on Facebook. The kids help pick out the selections and we keep them "family friendly" and have a mix of old and new titles. 2 years ago, we showed "Swiss Family Robinson" and one little guest told me it was the best movie he ever saw! I also like to end our movie season with an 80's classic. 2 years ago, we showed "Back to the Future" and we had guests come in a classic car from the 50's and my son dressed up as Marty McFly.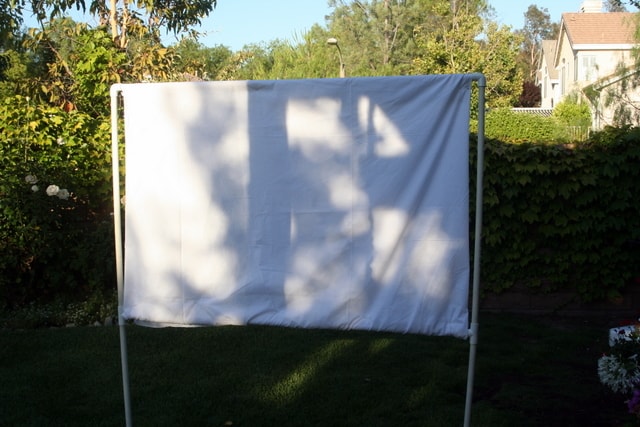 Please excuse the wrinkled screen. It is just pinned for a visual. 🙂
Here is how you can make your own inexpensive movie screen.
25' of 1" PVC pipe
pipe cutter
2   1" PVC pipe elbows
4   1" PVC pipe T's
Drapery black out fabric (the rubbery kind) I saw some at JoAnn's Fabrics for $6.99/yd.
Sewing machine
This screen frame is 5′ wide and 69″ tall. I cut two 5″ lengths for the horizontal bars. These will hold the "screen". I cut two 40″ lengths and two 24″ lengths for the vertical poles. One 40″ piece and one 24″ piece are joined together with the "T".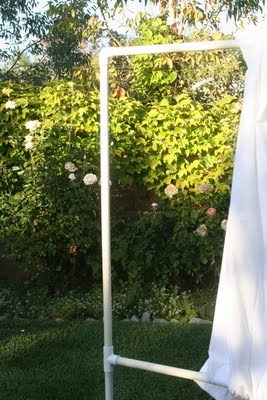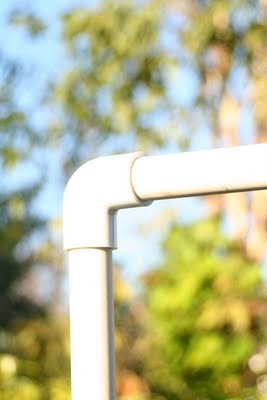 The top 5′ pole has an elbow on each side. Attach the joined vertical pieces to the elbows. The lower 5′ pole gets attached to the "T" brackets. Cut four 14″ lengths for the feet of the frame. Each 14″ length is inserted to the end to end part of the "T"  and the vertical poles fit in the bottom of the "T".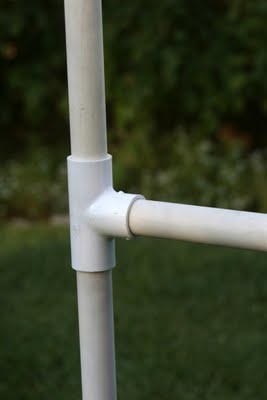 Make 2 rod pockets with the drapery liner to fit the upper and lower poles. There you have your own movie screen. I highly suggest using the drapery liner because it will reflect the projected picture much better than a sheet or cotton muslin.
When we host our movies, fun starts at 7:30 pm and the movie starts at 8:30 pm (when it is dark enough) We provide fixin's for s'mores and a fire pit to toast the marshmallows and this year we got a new popcorn machine. We have the guests bring their own blankets, beach chairs and drinks. We also invite our guests to bring pantry items to donate to a local food pantry. For every item that they donate, they get one raffle ticket for a chance to win movie theater size candy to eat during the movie. My kids are in charge of collecting the items, passing out tickets and drawing the winner. I buy the candy at the Dollar Tree or WalMart.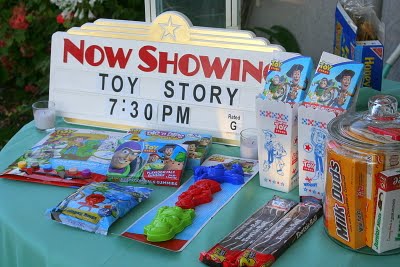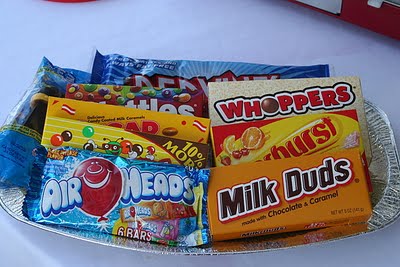 I love to decorate the table to match the theme of the movie. It really gets the guests in the mood for the movie and sparks conversation.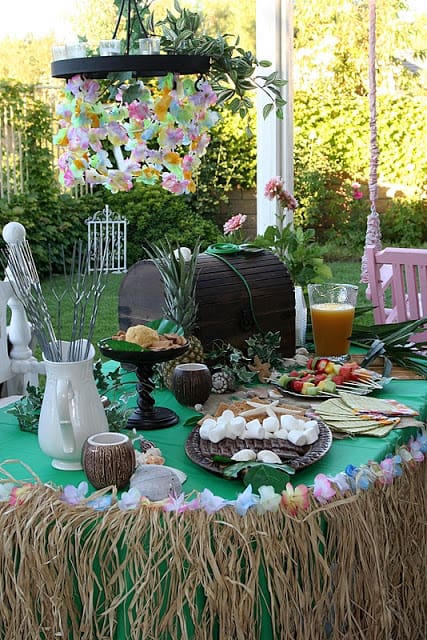 Swiss Family Robinson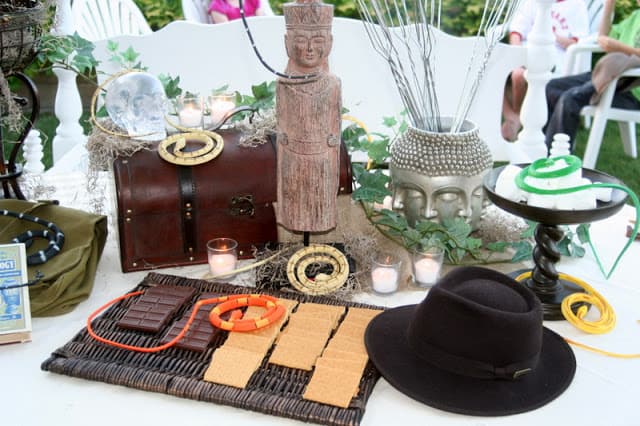 Indiana Jones- Raiders of the Lost Ark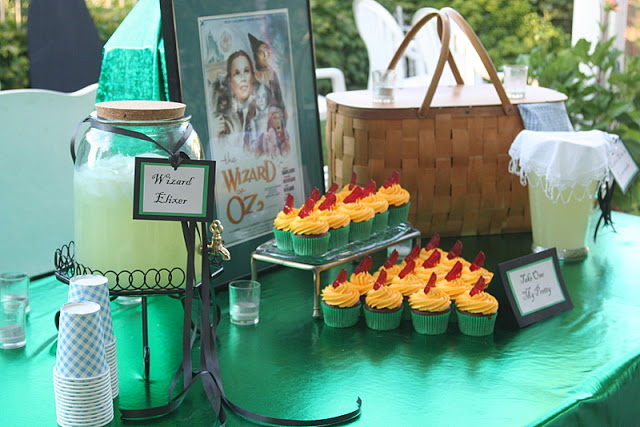 Wizard of Oz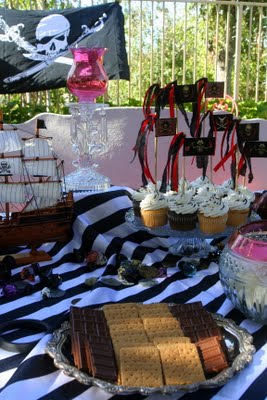 Curse of the Black Pearl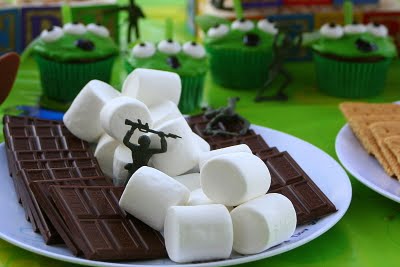 I had a little fun with the Army Men for Toy Story. I also made Little Green Alien cupcakes (I got the idea from Disney).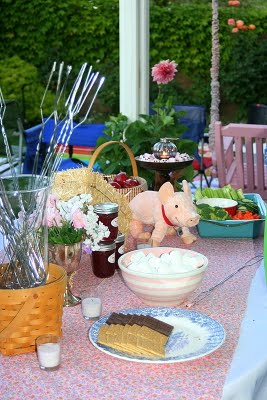 Sometimes we have the kids operate a ticket booth and greet guests at the back gate or we pass out glow in the dark bracelets from Michael's (20 for $1). For the movie "Babe" and "How to Train your Dragon", we stuffed animals from my business Party Wishes. For "Toy Story" and "Cars", we raffled movie items from the Dollar Tree. We also hosted sing-a-longs for "Sound of Music" and "Grease". One of our movie goers, Joseph, plays his guitar while people toast their marshmallows. Backyard movies are budget friendly, family friendly and can help others in your community.
Donna Collins is the owner of Party Wishes SCV in the Los Angeles area. Party Wishes is a children's party planning service that provides table decor, games, favors and costumes and has over 25 themes. You can also check out her blog.