This post may contain affiliate links that, at no additional cost to you, I may earn a small commission. Read our Disclosure Policy.
There's something about spring that makes me want all things fruity and fresh! This Strawberry French toast bake is fruity, fresh, simple to put together, and absolutely delicious. Find the full recipe below.
Are you a fruit person all year round or just when the fruits are at their peak season? I like fruit all year round but definitely even more when they're at their peak season! Well you're in luck- right now berries, including strawberries are in season and they taste better than ever in this strawberry French toast bake!
Ingredients:
4 teaspoons butter 
1 lb loaf of brioche 
8 eggs 
2 cups milk 
1 cup heavy cream 
2 teaspoons vanilla extract 
1 teaspoon cinnamon 
8 oz fresh strawberries, washed, tops off, halved or quartered 
2 tablespoons brown sugar 
Powdered sugar – if desired for serving
Syrup – if desired for serving 
Preparation Instructions:
Butter 13×9 baking dish
Cut or tear the brioche into chunks and place evenly in dish 
In a large bowl whisk together eggs, milk, cream, vanilla, and cinnamon until well combined 
Pour egg mixture over the bread, making sure all is coated 
Cover the dish and cool in fridge overnight 
Preheat oven to 400 degrees 
Tuck cut berries into the bread 
Sprinkle on brown sugar 
Bake for about 25 minutes or until golden brown and done in center 
Serve with powdered sugar and/or syrup if desired 
Enjoy this yummy strawberry French toast bake!
Are you a breakfast person? I definitely am. I especially love to have breakfast for dinner and this strawberry french toast bake is something you can never go wrong with! Check out some of my other favorite breakfast recipes here.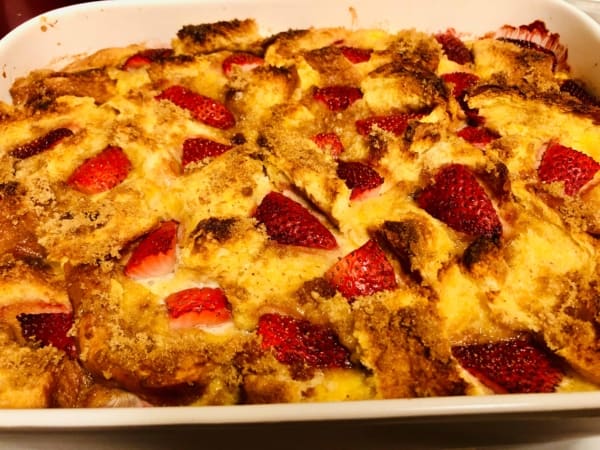 If you try this recipe I would love to know how you liked it in the comments!
Title:
Strawberry French Toast Bake
Mentions:
breakfast for dinner, breakfast recipe, French toast, French toast bake, strawberry French toast
Keywords:
strawberry French toast bake
Last Updated:
April 14, 2021