This post may contain affiliate links that, at no additional cost to you, I may earn a small commission. Read our Disclosure Policy.
Who doesn't love chocolate? We all know that I do! That's why on our road trip through Pennsylvania, we made a stop in the town of Hershey (the town that smells like warm melted chocolate). I shared a post on Tips for Visiting Hershey, Pennsylvania. When visiting the town of Hershey, a definite must stop is  Chocolate World. There are several tips to visiting this place which I share below. I would love to go back. After visiting Hershey's Chocolate World, I'm convinced this is definitely the sweetest place on earth.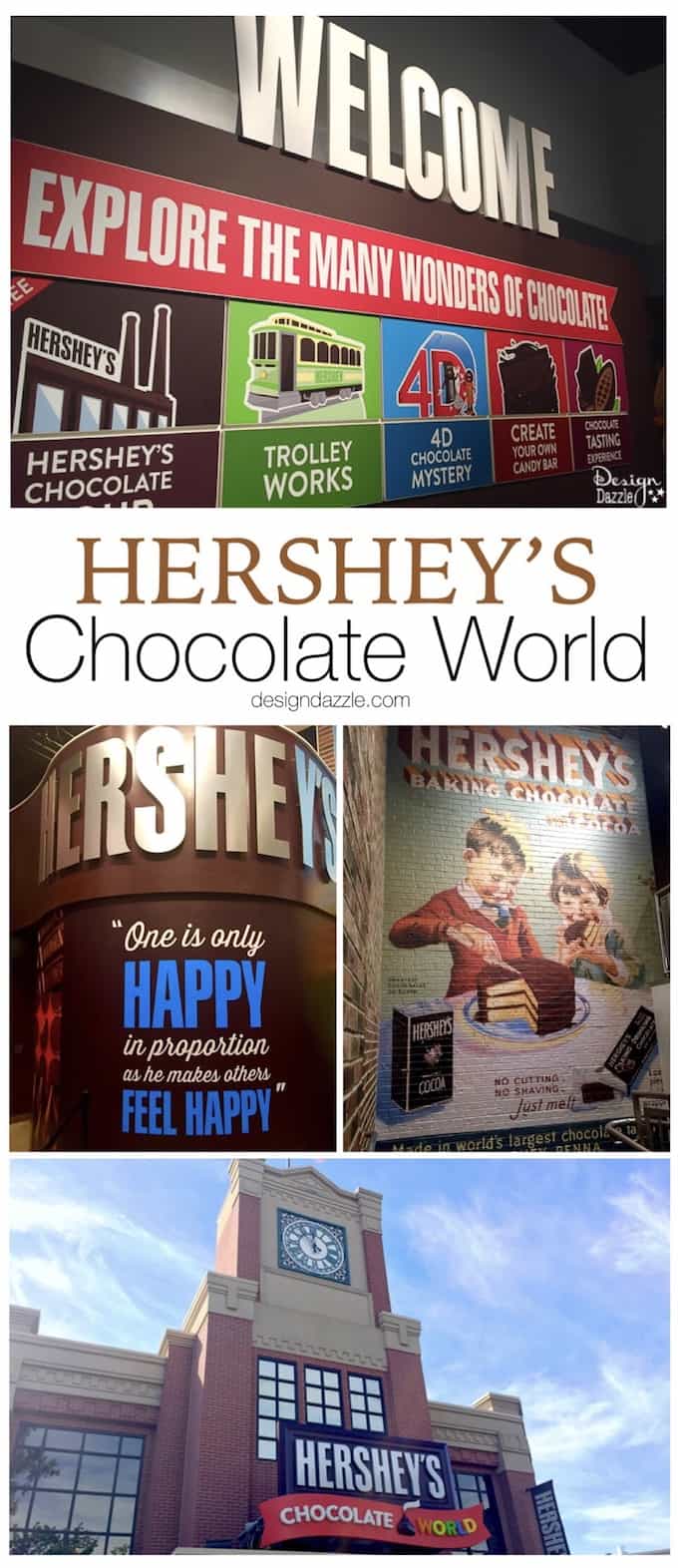 Chocolate World has a few different attractions you can choose from. You can take the Hershey's Chocolate Tour, create your own candy bar, solve a mystery in 4D and hop aboard the Hershey Trolley Works. There are also plenty of places to eat or snack. You can grab a coffee or hot cocoa at the Hershey's Cocoa and Coffee Shop, grab a bite to eat at the Food Hall or just indulge in some chocolate infused treats at the Bakery and the Hershey's Milk Shake and Ice Cream Shop. You've never seen so much candy in one place.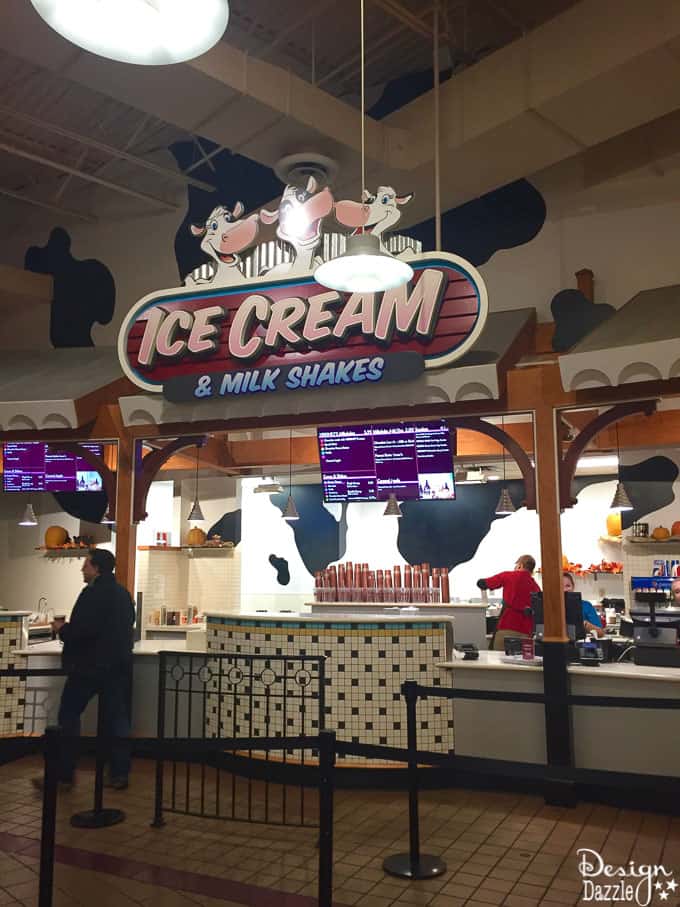 Be prepared for a long day of chocolate and fun!
The Hershey's Chocolate Tour is the original attraction at Chocolate World and is free to the public. Since 1973, it has taken millions of visitors on a ride through a replica of a Hershey's Chocolate factory. As you go through each station, you will get a peek at how chocolate is made, see the machines that do the job and you will also get to meet these three singing cows which have been entertaining visitors since 2016.
After loading the tram-style cars, we were taken through the whole chocolate making process from procuring the cocoa beans to wrapping up the final product and getting it ready to ship.
On the tour, we were taken through the holding tanks of the liquid chocolate. Don't you just want to dive in there?…
We even got a peek of how the Hershey Kisses are made.
It is an amazing process of following the delicious journey from cocoa beans to Hershey's Kisses in this immersive and FREE chocolate making tour. The tour takes 30 minutes and runs continuously during operating hours. It's also wheelchair accessible. At the end of the tour you'll receive a small chocolate sample!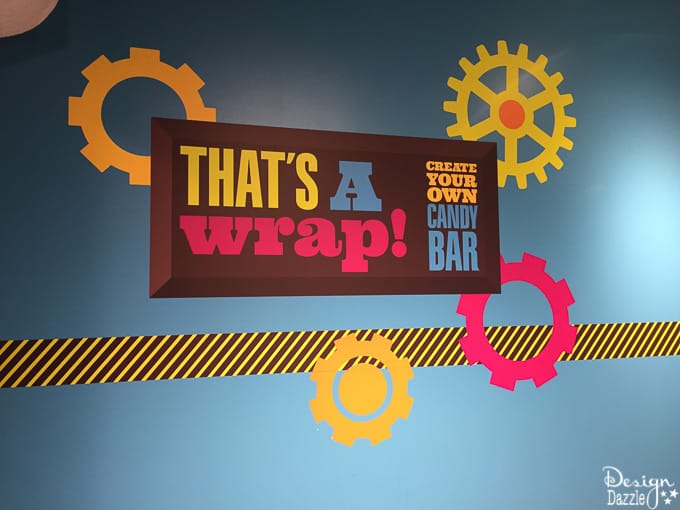 This next attraction is a favorite at Chocolate World. It's the Create Your Own Candy Bar Station. Just enter into the computer what type of chocolate you want and then you can choose an inclusion and create your packaging. It's a tough decision as you get to choose between milk or white chocolate and inclusions like toffee chips, pretzels and rice crisps.
At the time we went, it was $20 per person to make the candy bar. Of course, it was the most expensive candy bar I ever purchased. But the experience of it was for me worth it! It took about 30 minutes (start to finish) because it was near closing time and not many were in line.
So what type of candy bar did I make? You can see it being created on the assembly line in this video:
And this guy loved his job as a Chocolatier! Although you are not handling any food items you still have the wear the beloved hair net while choosing all the choices of making your very own candy bar and til the very end of the hands-on tour.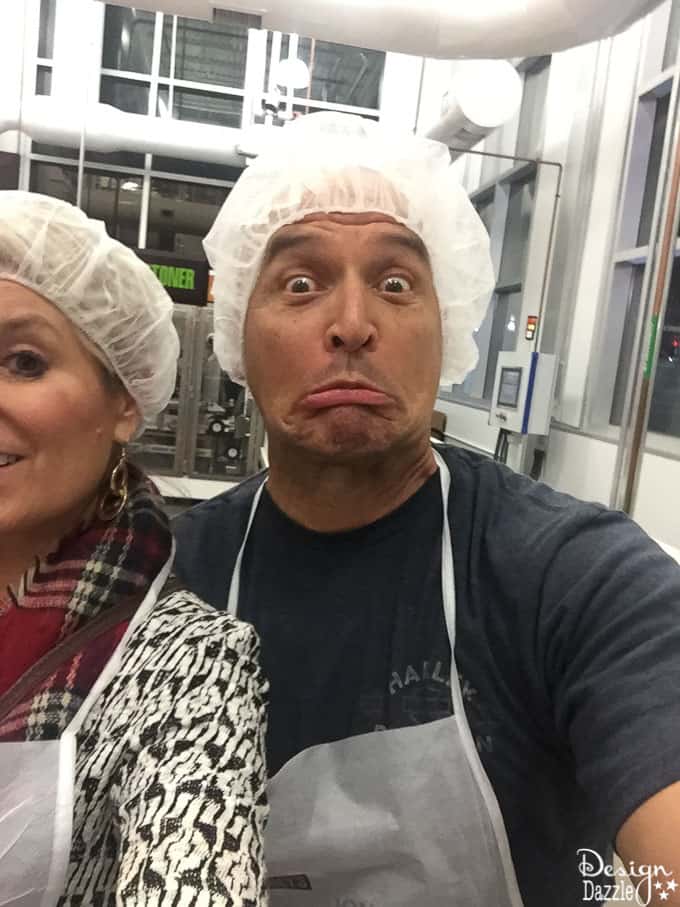 The "Toni" bar was a milk chocolate bar with pretzel bits and toffee chips. The packagin was easy to create. So cool to make your won milk chocolate candy bar.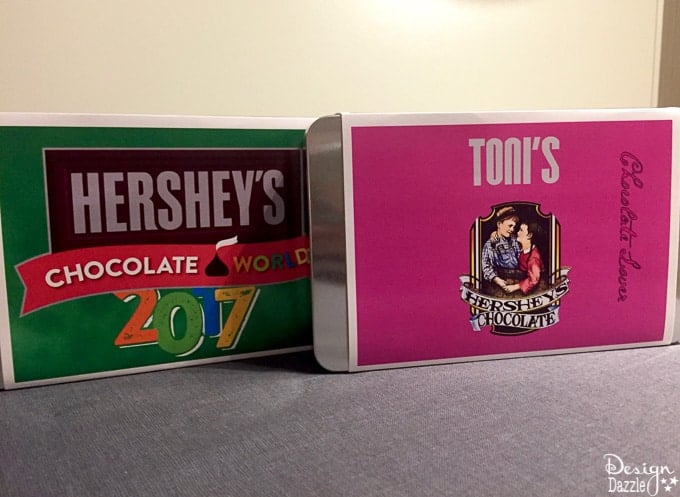 You can continue the fun (and take a break from a chocolate binge) on the Hershey Trolley Works Tour. It has singing conductors who point out little pieces of history and fun facts as you are taken throughout the town on this old-fashioned trolley. During the off season the tour guides offer a great tour but no singing. This hour-long year round tour changes up after Labor Day to the "Christmas Adventure" for the holiday season. We received some sweet treats – caramel and chocolates during the ride. After hopping off the trolley we were given a Hershey's bar.
Hershey's Chocolate Tasting Group Experience
Did you know there is an "art" to chocolate tasting? This fun (and tasty) attraction lets you sample a wide variety of chocolate from milk to dark chocolate and everything in between! You'll even get a gift when you leave. My husband and I really enjoyed this and glad we were a part of it. There is a lot to learn about chocolate. Half of the attendees were kids and the other half were adults.
Hershey's Great Chocolate Factory Mystery 4D
This 4D interactive experience is fun for all ages. Through animation and digital effects, you are transported into a mystery that you try to help the Hershey's characters solve. There are hundreds of different scenarios, so no two experiences are alike. Kids will especially love seeing their favorite characters come to life! We were running out of time. So we opted not to do this one.
The great thing about Chocolate World is you can pick and choose which attractions you want to do. We opted to do the following tours:
Hershey Chocolate  Tour (free)
Create Your Own Candy Bar ($20)
Chocolate Tasting Experience ($11)
Trolley Tour ($13)
Or purchase tickets as a bundle for $38 (adults). Go here for pricing.
The Chocolate 4D movie we decided not to do but tickets are included in the bundle price.
Of course, if you just want to visit one, you can. There is also an enormous chocolate shop where you can buy items not widely released, and premium chocolate brands.
The town of Hershey is small, charming and I'm so glad we went. How can you not fall in love with street lights that are shaped like chocolate kisses? You see the street lights as you drive to Hershey's Chocolate World!
We absolutely loved our trip to Chocolate World! Have you ever been? What was your favorite attraction? Share with me in the comments!


Save
Save
Save
Save
Save