This post may contain affiliate links that, at no additional cost to you, I may earn a small commission. Read our Disclosure Policy.
This fall we took an amazing trip through Pennsylvania starting in Philadelphia and driving to Skytop Lodge Resort in the Poconos and winding through the pretty countryside. Along the way, we decided to take a detour through the town of Hershey. Hershey is named after Milton Hershey, the famous entrepreneur, philanthropist and chocolatier. From its Hershey Kiss lamp posts to the old-fashioned Trolley that you see throughout the town, Hershey is a town rich in history, charm and chocolate! After our visit, it was easy to see why they call Hershey "the sweetest place on earth" (the town even smells like chocolate). I'm sharing a few of the fun places we visited while we were there.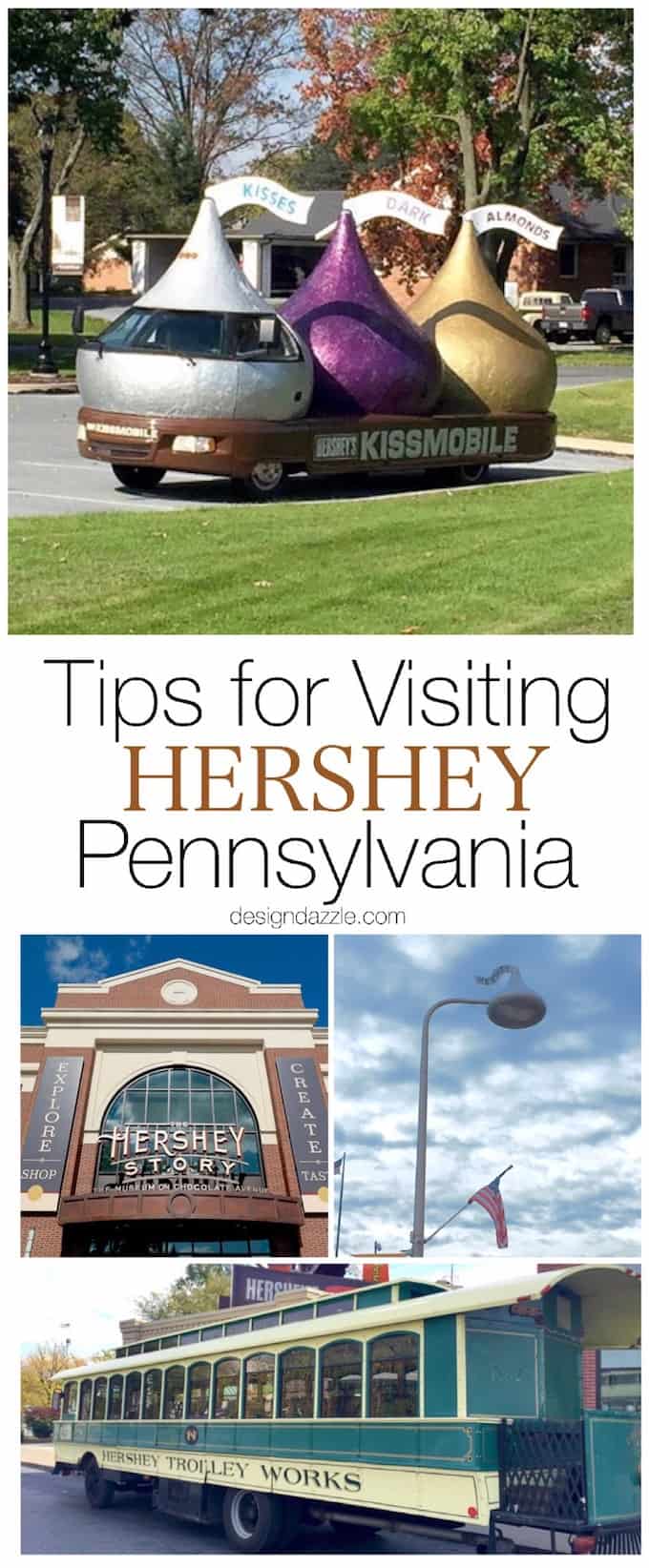 Where to Visit
Located on Chocolate Avenue, this museum is dedicated to Milton S. Hershey, Hershey's impact on the chocolate industry and his legacy in this small town. There are exhibits, interactive displays, tastings, a chocolate lab, and so much more. This is a great place to take the whole family.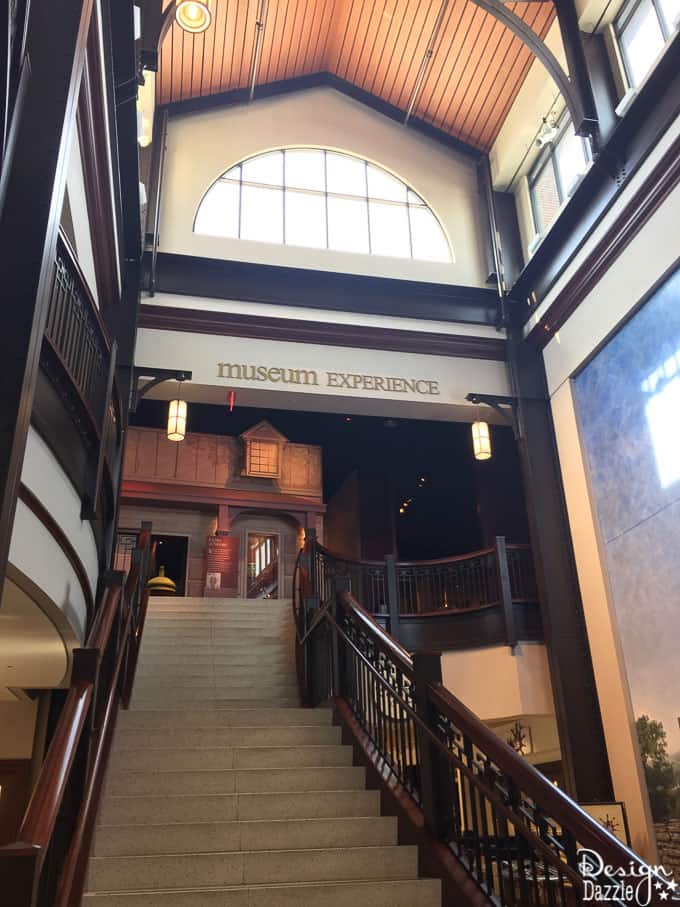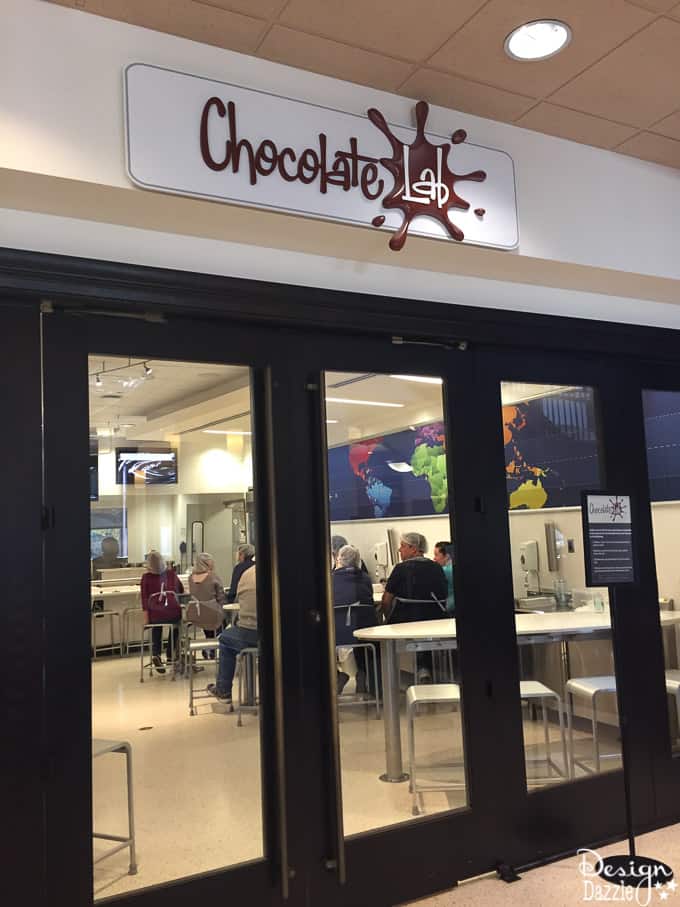 The exhibits take you from the early beginnings of the Hershey's Chocolate empire through the present day. Did you know that Hershey used copper bathtubs on wheels to transport materials from one area of the factory to the other and that they still do to this day? Here's one of them: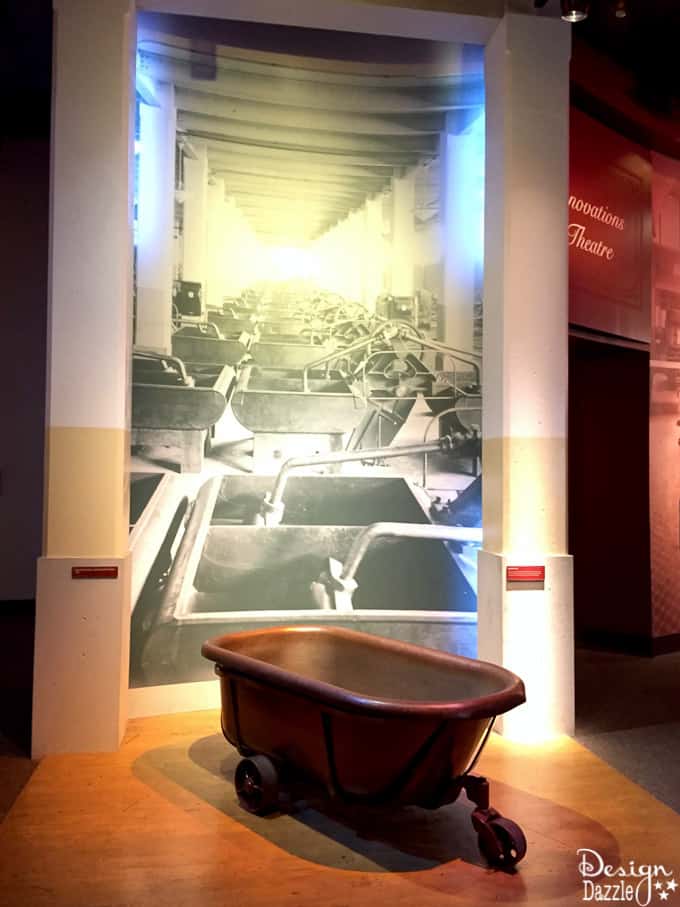 Walking through the exhibits you are introduced to some of the machines that Hershey used to revolutionize the way that chocolate was made.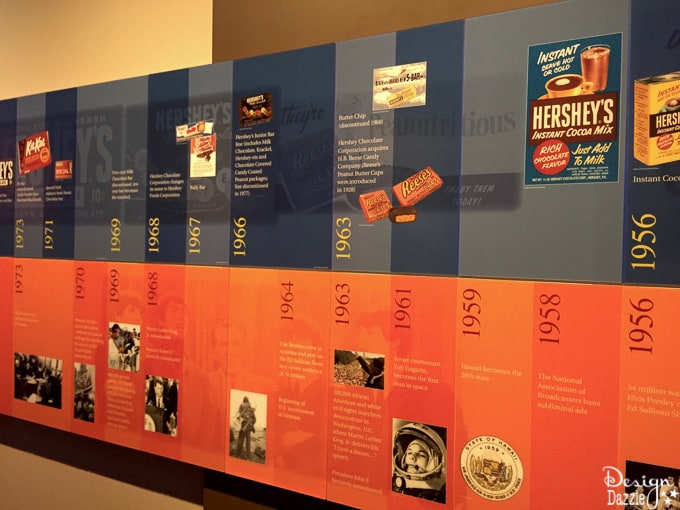 If all that talk of chocolate makes you hungry, you can grab a bite at The Pantry Cafe where they serve light fare and decadent desserts. Get ready to have fun at Hershey's sweetest hands-on activity — the Chocolate Lab. My husband and I already did a different chocolate class at the Hershey's Chocolate World. As much as we joyed that class, I think this class at The Hershey Story looked more fun.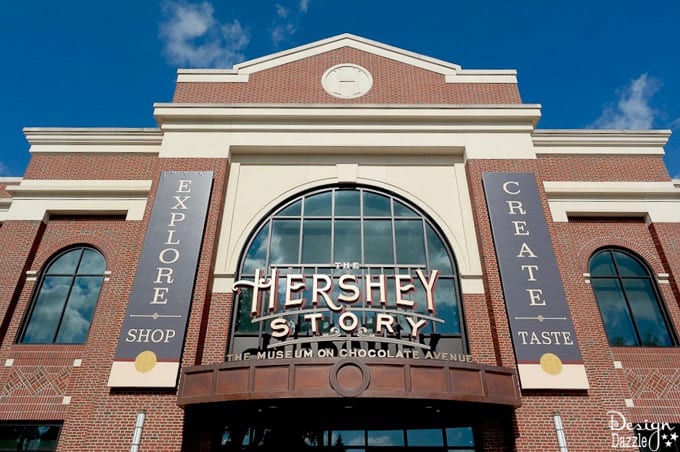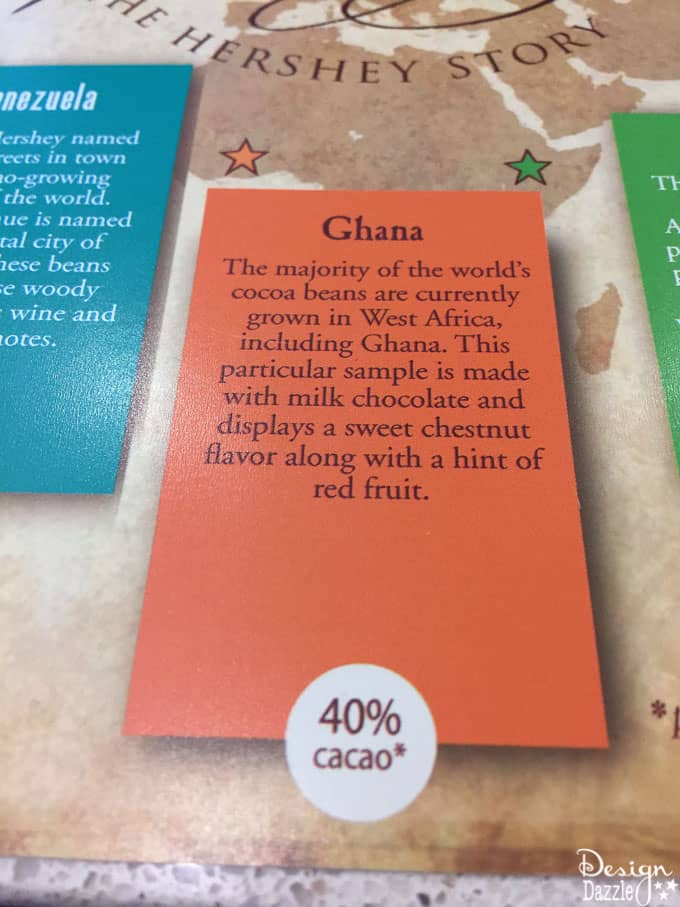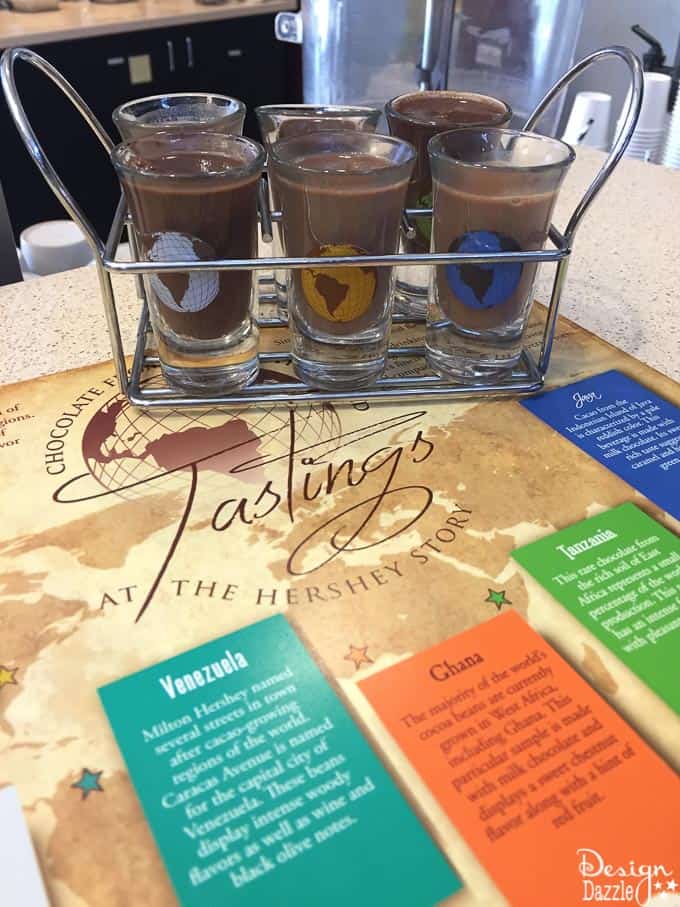 If you are there strictly for anything and everything chocolate (guilty!), you can do a chocolate tasting where you sample warm drinking chocolates from around the world. If you end up going to the Hershey Story (the musuem), sharing a tasting and getting to enjoy various warm drinking chocolates was interesting and surprising. Some of the various countries we tried – Java, Ghana, Venezuela, Tanzania and more! I was especially surprised that my husband and I enjoyed the Ghana Hot Chocolate the most! Visit Hershey Chocolate Tasting for information.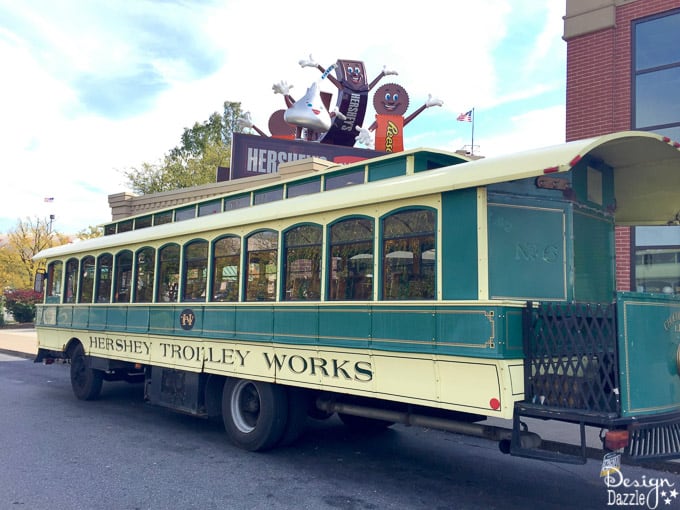 We loved our experience at Chocolate World! This attraction has a little something for everyone and a whole lot of chocolate! You can ride the Hershey's Trolley through town, create your own chocolate bar or watch a 4D movie. While you are there, be sure to stock up on your favorite snacks with a visit to the world's largest chocolate store. Check out my post all about Chocolate World for all of the sweet details coming soon!
Although we did not visit Hershey Park, it was easy to see why millions of people visit the park each year. They have towering roller coasters, thrill rides and fun for all ages. If you are visiting off-season, check out the Halloween Haunts and in the winter, Christmas attractions like Candy Cane Lane or the amazing Hershey's Sweet Lights, a drive-thru holiday light display.
Even the street lights are made to look like a Hershey's Kiss!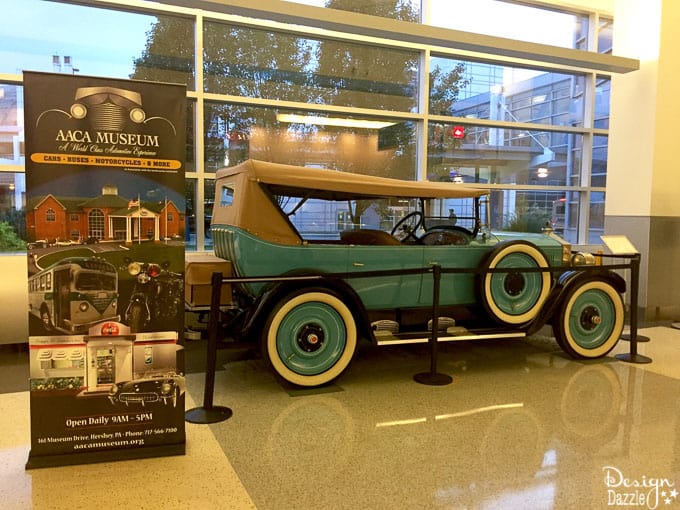 For those of you who love antique cars, like us, this museum would have been great to visit but we were running out of time!I took this photo at the airport when it was time to fly home. The AACA museum is great place to escape on rainy, snowy or hot day. There are over 100 vehicles on display and the museum also includes buses, antique cars, artifacts and an interactive train display the kids will love! Relive the ultimate road trip through the Route 66 gallery. You can also experience how Henry Ford changed the way automobiles were made while assembling your own Model T. Filled with history and interactive exhibits, this museum is fun for the whole family. We plan on visiting on our next trip to Pennsylvania.
We also took the Harley Davidson Tour in nearby York about 45 minutes from Hershey. If you are interested in how a Harley-Davidson is built, take a tour. The tour guide was very informative, the facility is very clean, and you actually see bikes being built while on the tour. There is a free and a paid tour. We did the paid Steel Toe Tour. The Steel Toe Tour goes behind-the-scenes through areas previously unseen by the public. You will be required to wear a safety vest, safety glasses, and steel toe protection, all of which are provided. It cost $38 per ticket and the tour is 2 hours long. We weren't allowed to take pictures inside the manufacturing facility.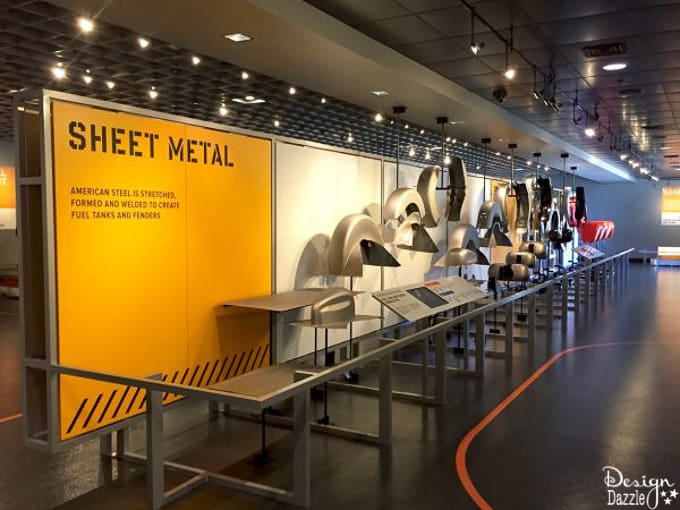 Tips for Visiting Hershey:
Hershey is a great year-round destination, but it's truly amazing in the fall and winter. The fall in Hershey and the surrounding areas is bursting with color. In the winter, the town and attractions are decorated with millions of lights and it makes for a truly magical experience. Fall in Pennsylvania can be a bit unpredictable. When we were on our trip the weather was perfect!! Temperatures can range from 70 degrees during the day to the 30's and 40's at night, so be sure to pack for both warm and cold weather and wear layers.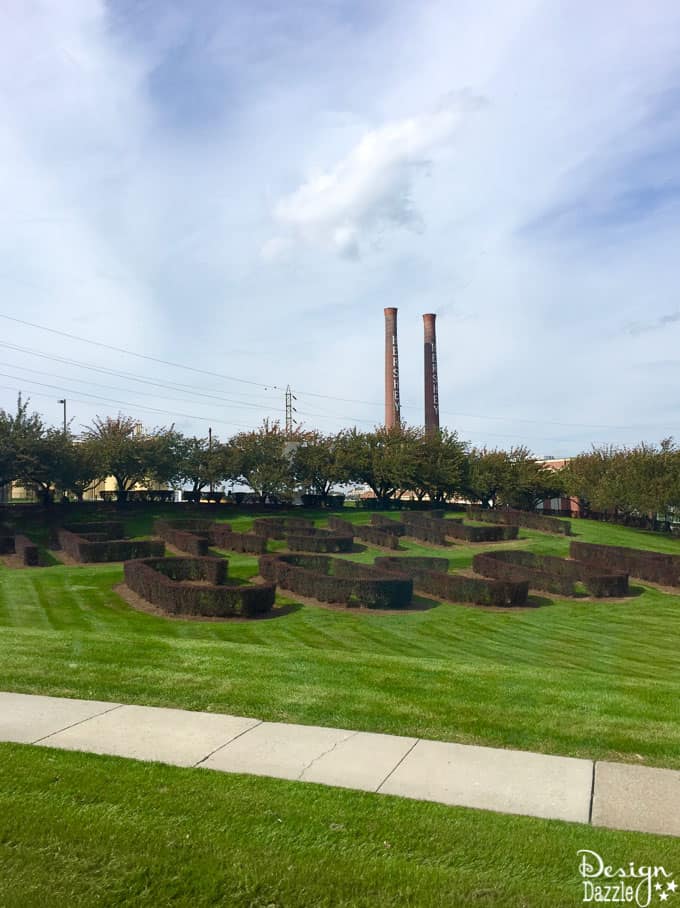 Whenever you get the chance, get off the highways and explore the back roads. You will see some gorgeous scenery, rolling hills and primitive farms as you head closer to Dutch Country. If you have a few extra days, you may want to head to Lancaster where you can learn more about the Amish and Pennsylvania Dutch culture – it's fascinating. A trip to visit Lancaster was a must for us on our last visit to Pennsylvania! We didn't visit this trip because of lack of time but when we were there it was fabulous!! We took a horse and buggy ride and loved it!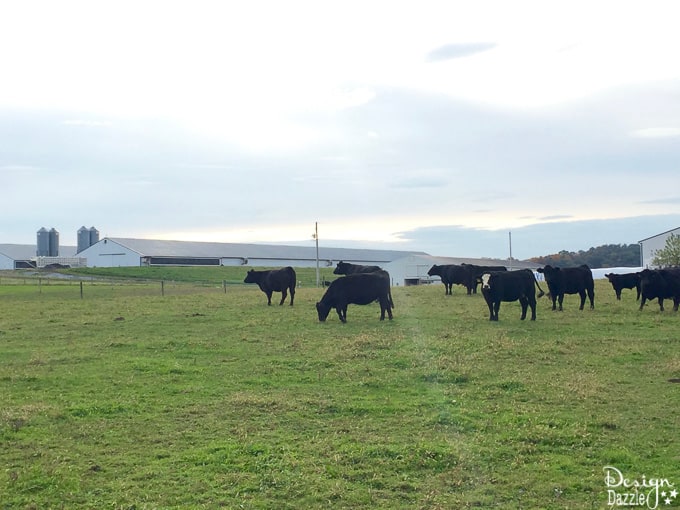 Do you enjoy antique shopping? We do! Crossroads Antique Mall was on our to-do list. It's an old barn filled to the rafters with stuff! We spent an hour or so looking at all the vendors collections. A copper pot, and an actual Hershey chocolate bar mold were just a couple of purchases we made.
Where to Stay
515 East Chocolate Avenue Hershey Pennsylvania 17033 USA
We stayed at the Courtyard by Marriott Hershey Chocolate Avenue on our trip to Hershey and definitely recommend it to anyone travelling there. It was reasonably priced, located in close proximity to the attractions, had clean and spacious rooms and a friendly, professional staff. The hotel is brand new with modern decor and kept meticulous. I especially liked the bathroom with the modern large shower stall with clean lines. A small fridge and coffee pot were included in our room. I really like the fact there were many USB ports and outlets to recharge the electronics easily.
I was so impressed for the pricing of this hotel and what you get in return – comfy bedding, free Wi-Fi and an incredible in-room entertainment package with a large TV; 40 HD channels and internet TV featuring Netflix, YouTube, Hulu, Crackle and Pandora. There is an indoor swimming pool – it's not too large but is great for the kids to get out some energy after a long day touring.
The Bistro at the hotel is a great place to grab a bite to eat before your busy day exploring Hershey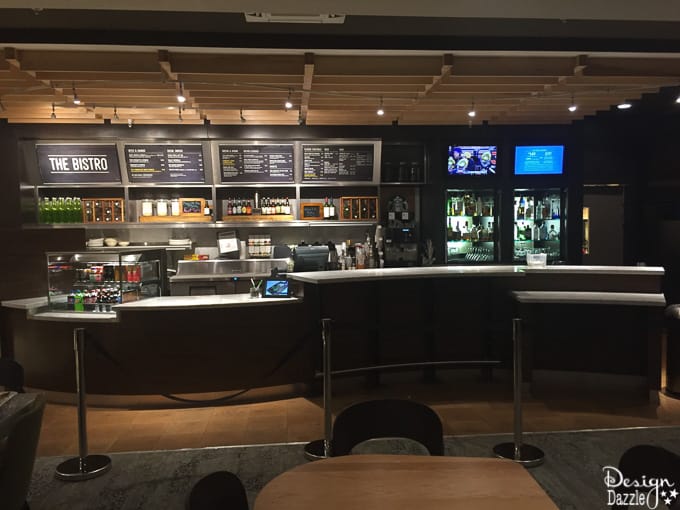 At night, a great place to unwind is by the fire at the outdoor fire pit.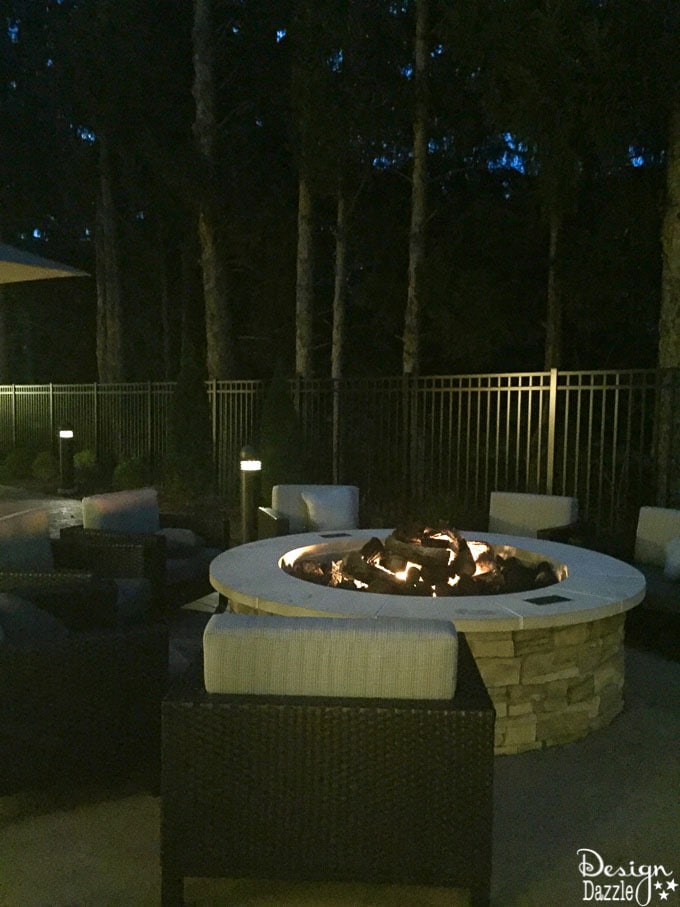 I would definitely stay at the Courtyard Hershey Chocolate Avenue again. In fact, I would love to go back to Pennsylvania and do some more touring of the entire area. It just seems a little magical to stay at a hotel located on Chocolate Avenue!!
Where to Eat
Harvest Restaurant at Hotel Hershey
While visiting Hotel Hershey (an iconic old hotel) we ate at Harvest Restaurant located on the grounds of the hotel. The menu is filled with local and regional ingredients and seasonal fare making it the perfect spot to bring the whole family.
We indulged in some yummy food. Everything we ate was delicious from the soup, salad, appetizers and main dish. I would definitely go back!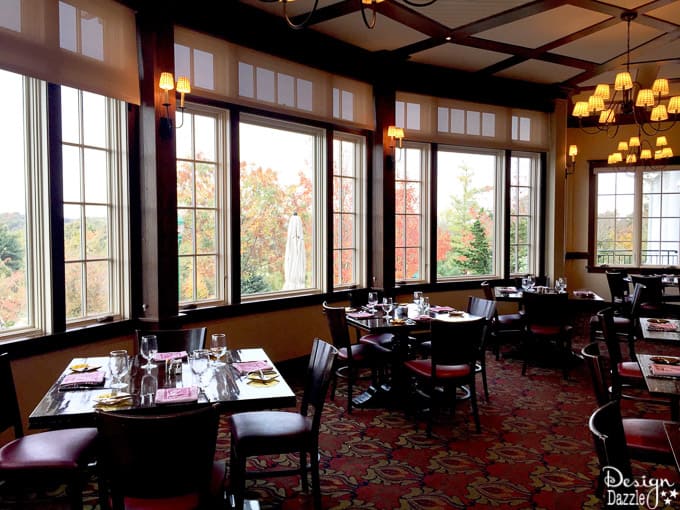 Next time you find yourself in Pennsylvania, be sure to leave a few days to explore all that Hershey has to offer. You will enjoy every (sweet) minute of it.
Have you been to Hershey? What were your favorite places to visit? Share in the comments below!
Many thanks to Courtyard by Marriott Chocolate for hosting me. All opinions, as always, are my own. For further information, please see our disclosure policy.


Save
Save