This post may contain affiliate links that, at no additional cost to you, I may earn a small commission. Read our Disclosure Policy.
Make these easy marble painted ornaments for kids with a few basic craft supplies! Then put them up on the tree, around the house, or use them as gift tags.
Hello! My name is Shani from Sunshine and Munchkins. I'm so excited to be a part of the Christmas Wonderful series again this year! I hope you love this tutorial for how to make marble painted ornaments for kids.
My kids love a good marble painting activity. It's easy to put together, doesn't take long and keeps them entertained for more than a few minutes. This is a great activity for kids ages 2 and up. (Although the younger ones may need some help.) Check out the supply list below and let's get started!
Supplies Needed for Marble Painted Ornaments
white card stock
acrylic paint
shallow plastic bin or box
marbles
scissors
string (optional)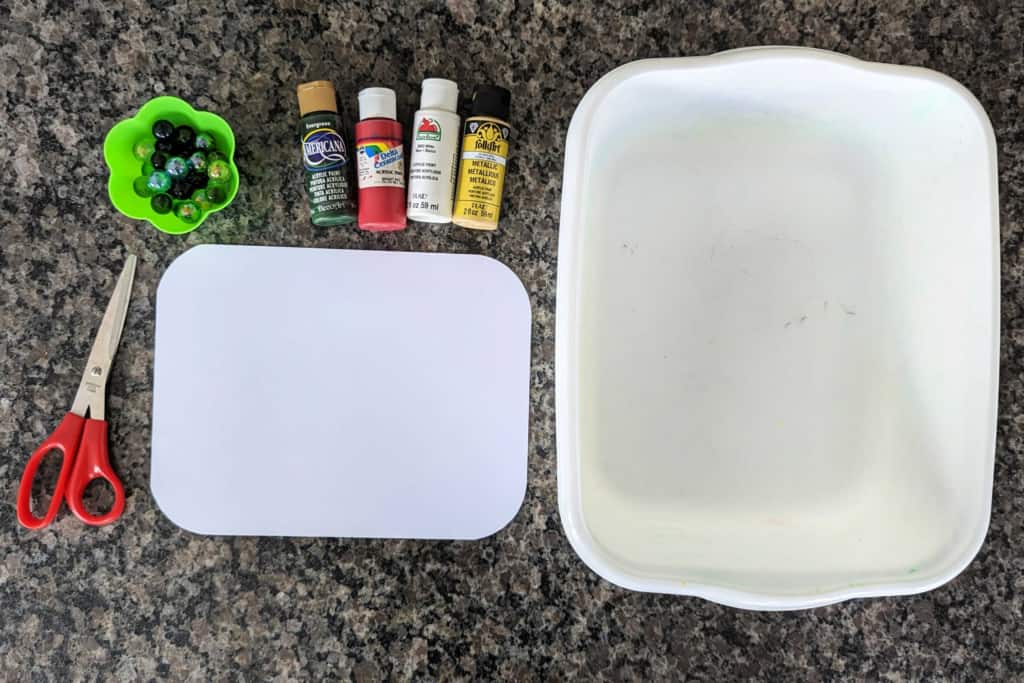 How to Make the Marble Painted Ornaments
First, you'll need to get a bin or box that you can put your paper and paint in. I like using the dishwashing bins from the Dollar Tree because they are inexpensive and can be used for all types of kids activities, such as water beads.
Next, grab your white card stock. I highly recommend card stock because it's thicker and the paint won't soak through. If your bin/box has rounded corners, you can just use a cup or something similar to trace around on the edges. Then use your scissors to trim the paper.
Place the paper in the bin/box. If it is bigger than the paper, you may need to tape it down on each side.
Now you can add the paint! For the colors, we used red, green, white and gold. Squirt drops of paint randomly all over the paper. We used acrylic paint but you could also use poster paint.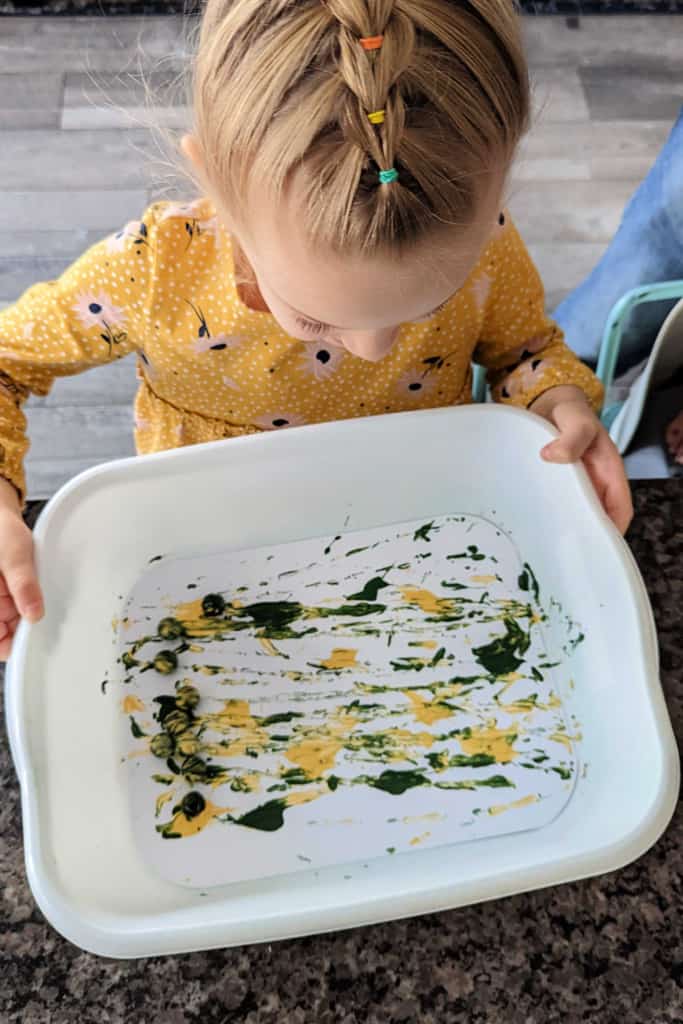 Add the marbles and let your kids roll them around in the bin until they are satisfied with how their painting looks. Then put the marbles in a bowl of water so you can easily rinse them off when you're done painting.
*PRO TIP* The more marbles you put in the bin, the more likely the colors are to get muddy looking. I've found that 4-5 is plenty. Additionally, you don't need to worry about using the same marbles each time (unless you want to). Just grab a few clean ones for each new painting and wash them all at the end.
Set the paintings aside to dry.
Once dry, you can trace circles on the painting and cut them out. I used a plastic cup (about 4″) for the large circles and a smaller cup for the smaller ones. I was able to get 5-6 circles out of each piece of paper.
Option #1: If you want to make the circles look more like ornaments, cut a small rectangular piece of card stock. Stick it to the back of the circle with a little poking out at the top.
Option #2: Punch a hole in the circle and loop some string through, tying a knot.
What can I do with the marble painted ornaments?
Hang them on your tree.
Make a large paper tree you can hang on the wall, then put the ornaments on it. (This is what we did.)
Stick them to the window.
Use them as gift tags.
Play a hiding game with them. (Hide the ornament in a room and let your child find it.)
I hope you love doing this Christmas craft with your kids!
If you want more kid activities and crafts, be sure to follow me on my blog: Sunshine and Munchkins. You can also find me on Instagram, Pinterest and Facebook.
Merry Christmas and happy crafting!