Luxury camping is the best of both worlds and is an awesome, amazing experience.
It's not exactly budget-friendly though. A few of the best luxury camping spots in the US can run you over $500 a night. Yikes! That would break most budgets!
Is it worth it? I think it's probably one of those once-in-a-lifetime experiences. But there are some places that are under $200 a night.
So depending on your budget look around and find a luxury camping spot that works for you. Pampering at its finest in some of the most beautiful outdoor settings in America.
Check out this list of the best luxury camping in the US and start planning your next getaway.
Image from here
Location: Vail, Yellowstone, Sonoma, the Hudson Valley, and the Texas Hill Country outside Austin.
Cost: $500-700 per night
There are 15 luxurious tents set up in each beautiful location. These are all inclusive with gourmet meals, glamping, and fun outdoor activities
image from here.
Location: Cresto Ranch, San Juan Mountains of Southwestern Colorado
Cost: $1,500 per night
When you want to step back into the old west, this 500-acre former cattle ranch fits the bill perfectly.
This luxury ranch offers luxurious glamping. Stay either in a river tent and listen to the water roll gently by or in a forest tent surrounded by white Aspen trees.
image from here
Location: Jackson Hole, Wyoming
Cost: Shoulder Season – $220+ and Season $660+
Sustainably built cabins with a rustic design, yet modern amenities to make your stay relaxing and memorable.
It is hard to get find a better way to enjoy the Teton National Forest where you can stay in a luxurious cabin in a wooded, private campground.
The best of both worlds!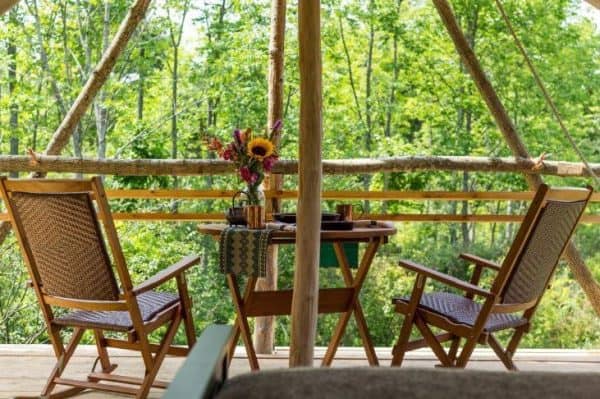 image from here
Location: At the La Tourelle Resort and Spa in Ithaca, New York
Cost: $189+ per night
The tents sit high up on a hardwood floor platform overlooking the woods, complete with luxury linens, a private balcony, and a complimentary bar tasting. You are greeted in the morning with a complimentary, locally-sourced continental breakfast served in their tented lobby.
Enjoy a day at the spa then come back to camp and dive into the homemade smores by the campfire.
Location: Southwestern Montana
Cost: $1,300+ per night
This five-star guest ranch is one of the most luxurious ranches in Montana.
Not only is the lodge gorgeous and welcoming, so are the glamping tents that you can stay in.
Enjoy the stars twinkling at night as there is no light pollution in this part of Montana!
Location: Montana's Blackfoot River, the same place as Robert Redford's film A River Runs Through It
Cost: $1,255 and is an all-inclusive
Enjoy over 37,000 acres of open wilderness where you can go hiking or biking for days.
Each of the luxurious tents comes with its own camp butler, air conditioner, indoor plumbing (rare in glamping), and even heated blankets for the chilly night air.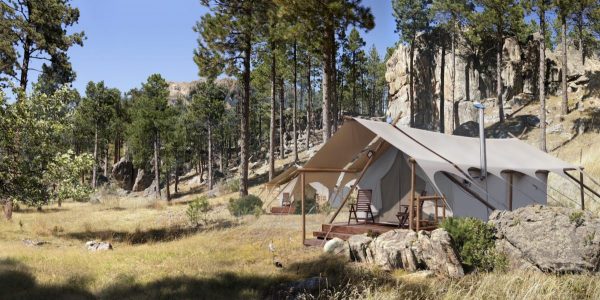 image from here.
Location: Glacier, Grand Canyon, Great Smoky Mountains, Moab, Mount Rushmore, Yellowstone, and Zion
Cost: $159+ per night
Under Canvas began in 2009 with the opening of an all-inclusive glamping adventure package and as since grown to include seven luxury glamping resorts near America's most beautiful national parks. Many different locations as mentioned above.
Discover a touch of luxury in the Old West while glamping under the stars. Experience Mount Rushmore and other national parks like never before! You'll remember this camping for a lifetime!If you can, try staying at a different glamping spot each year. You can't go wrong with being pampered with luxurious accommodation in these beautiful, wilderness settings.
Location: Central Florida
Cost: $200+ per night
This place is a dude ranch located 1 hour south of Orlando. The glamping tents are off the ground on platforms with hardwood floors. There are also teepees, loedge suites, cabins, cottages, RV and tent camping. Each Luxe Teepee features a double-sided stone rock hearth fireplace, screened private patio deck, microwave, mini refrigerator, leather chairs, a king bed, full sleeper sofa, air conditioning and heating, and a private ensuite bathroom with vanity and porcelain cast iron claw bathtub and shower
Sink into the king size bed and enjoy your air-conditioned tent (how nice would that be?) with your very own private bathroom facility.
There is a Glamping Concierge that delivers your breakfast, lights your campfire, and brings you all the fixings for smores.
Does this list of luxury camping make you want to get out and visit our beautiful world and see nature in "luxury"? I'm personally not much of a tent camper but we have an RV for years and I loved seeing the beautiful areas of our country.
Which one of these places is on your bucket list?
Did you know that you can camp inside Disney World? Check out the link to get fun details!