This post may contain affiliate links that, at no additional cost to you, I may earn a small commission. Read our Disclosure Policy.
How about the cutest Hot Chocolate Christmas dessert board to serve your holiday guests? This tray of goodies was so easy to put together.
I love details and visually treats. Taking all the goodies out of the package and arranging on a tray or dessert board is super easy.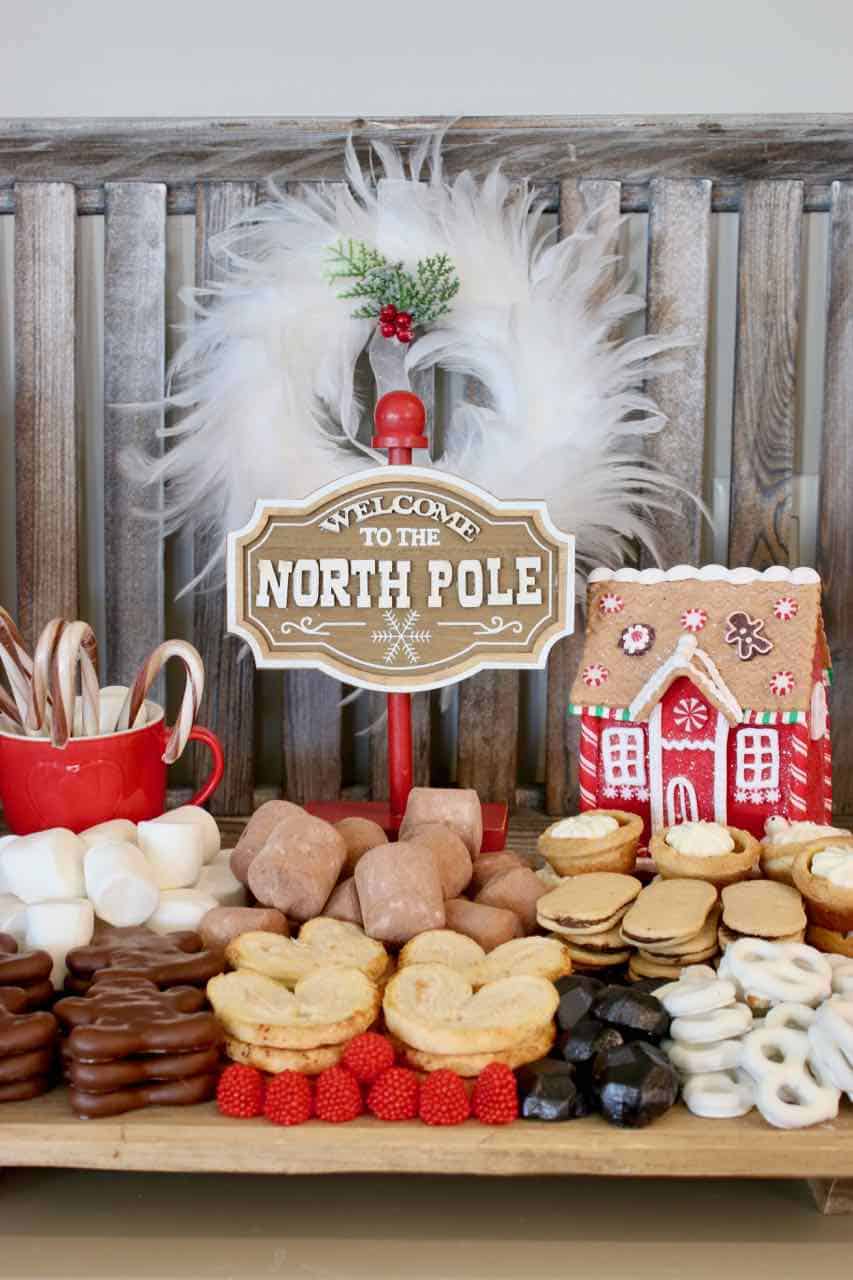 In this blog post, we'll guide you through the steps of crafting a hot chocolate dessert board that will elevate your holiday festivities to a whole new level.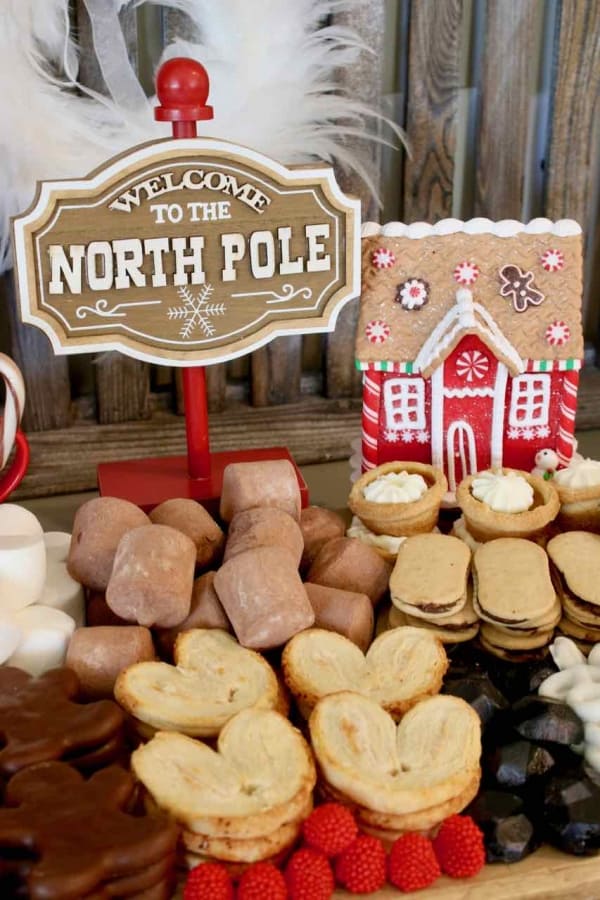 How to Make a Dessert Board:
Choose the Perfect Hot Chocolate Base:
Start by selecting a rich and creamy hot chocolate base. You can opt for classic flavors like milk chocolate, dark chocolate, or white chocolate.
Alternatively, get adventurous and experiment with unique flavors like salted caramel, peppermint, or hazelnut.
Consider offering both dairy and non-dairy options to accommodate different dietary preferences.
Gather an Array of Toppings:
The beauty of a hot chocolate dessert board lies in the tantalizing array of toppings that accompany the velvety drink. Here are some mouthwatering options to consider:
Marshmallows:
Go beyond the traditional white marshmallows and offer an assortment of flavors such as vanilla, chocolate, caramel, or even gourmet marshmallows.
Whipped Cream:
Dollops of fluffy whipped cream add a luxurious touch to the hot chocolate. Consider flavored whipped creams like vanilla, peppermint, or cinnamon for an extra twist.
Chocolate Shavings:
Grate or finely chop different types of chocolate, such as milk, dark, and white chocolate, to sprinkle over the hot chocolate. This adds both flavor and aesthetic appeal.
Candy Canes:
Crushed candy canes bring a festive touch and a hint of minty freshness to the hot chocolate. They can also serve as stirring sticks for an extra burst of flavor.
Caramel or Chocolate Sauce:
Drizzle some luscious caramel or chocolate sauce over the hot chocolate for a decadent touch. Guests can swirl it in or create artistic designs on top.
Cookie Crumbles:
Crumbled cookies, such as chocolate chip, gingerbread, or shortbread, add a delightful crunch and complementary flavors to the hot chocolate.
Nuts and Sprinkles:
Offer a variety of chopped nuts like almonds, walnuts, or hazelnuts for those who enjoy a nutty texture. Colorful sprinkles and edible glitter can also be included to add a touch of sparkle.
Presentation is Key:
Arranging the hot chocolate dessert board in an enticing manner is essential. Consider using a large wooden board, slate, or a festive platter as your base.
Start by placing the hot chocolate in a central position, surrounded by small bowls or jars containing the various toppings.
Add decorative touches like fresh mint leaves, cinnamon sticks, or edible flowers to enhance the aesthetic appeal.
Personalize and Customize:
Make the hot chocolate dessert board unique by including personalized touches. Offer special dietary options such as vegan marshmallows or lactose-free whipped cream for guests with specific requirements.
Consider adding small tags or cards with flavor combinations or recipe suggestions to inspire your guests to create their perfect cup of cocoa.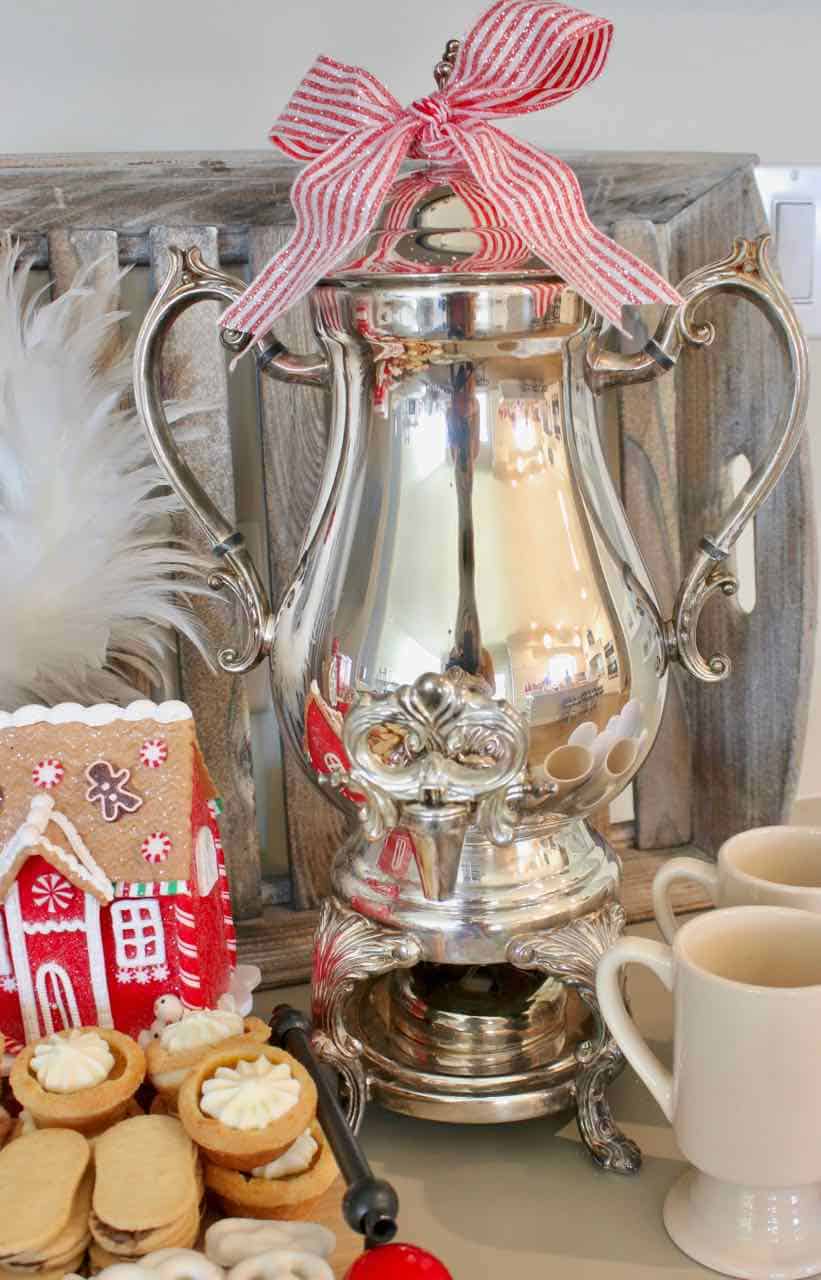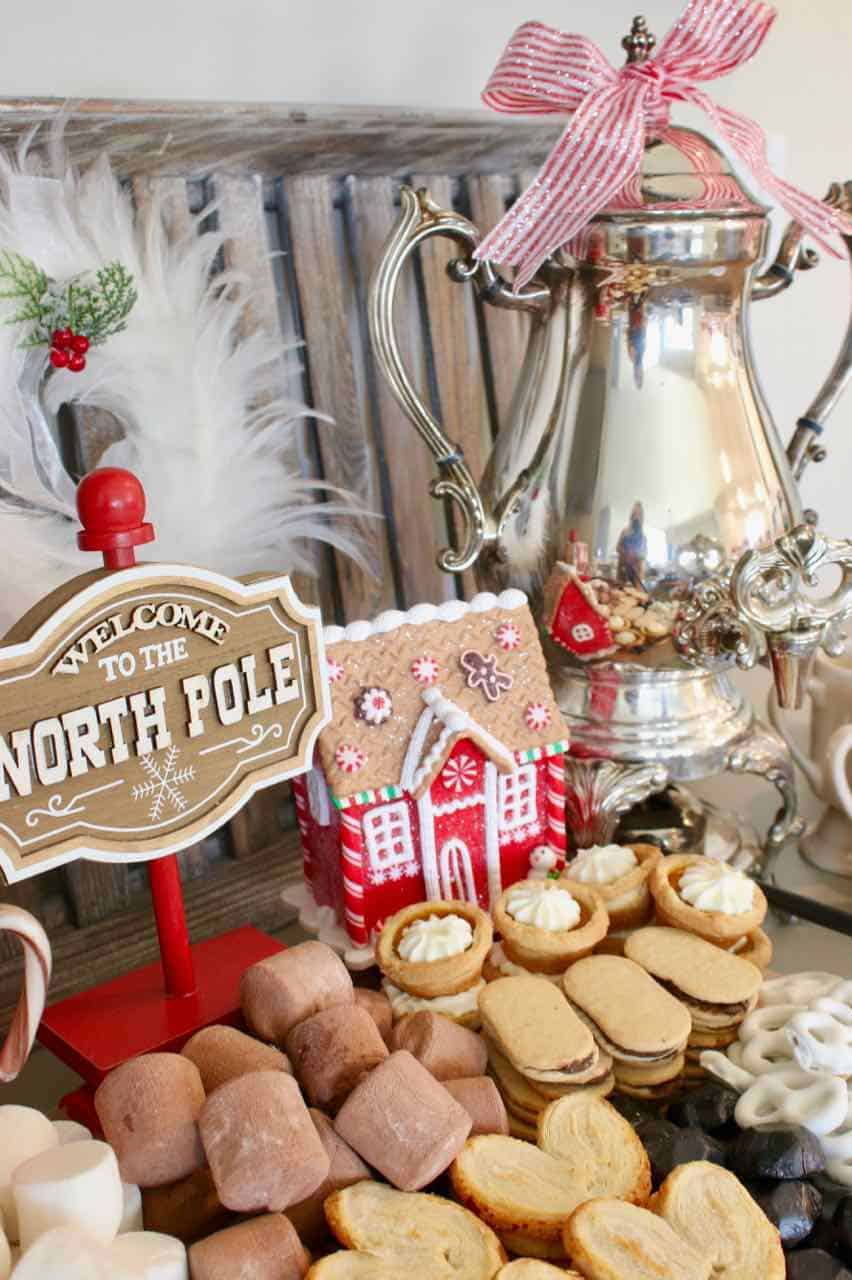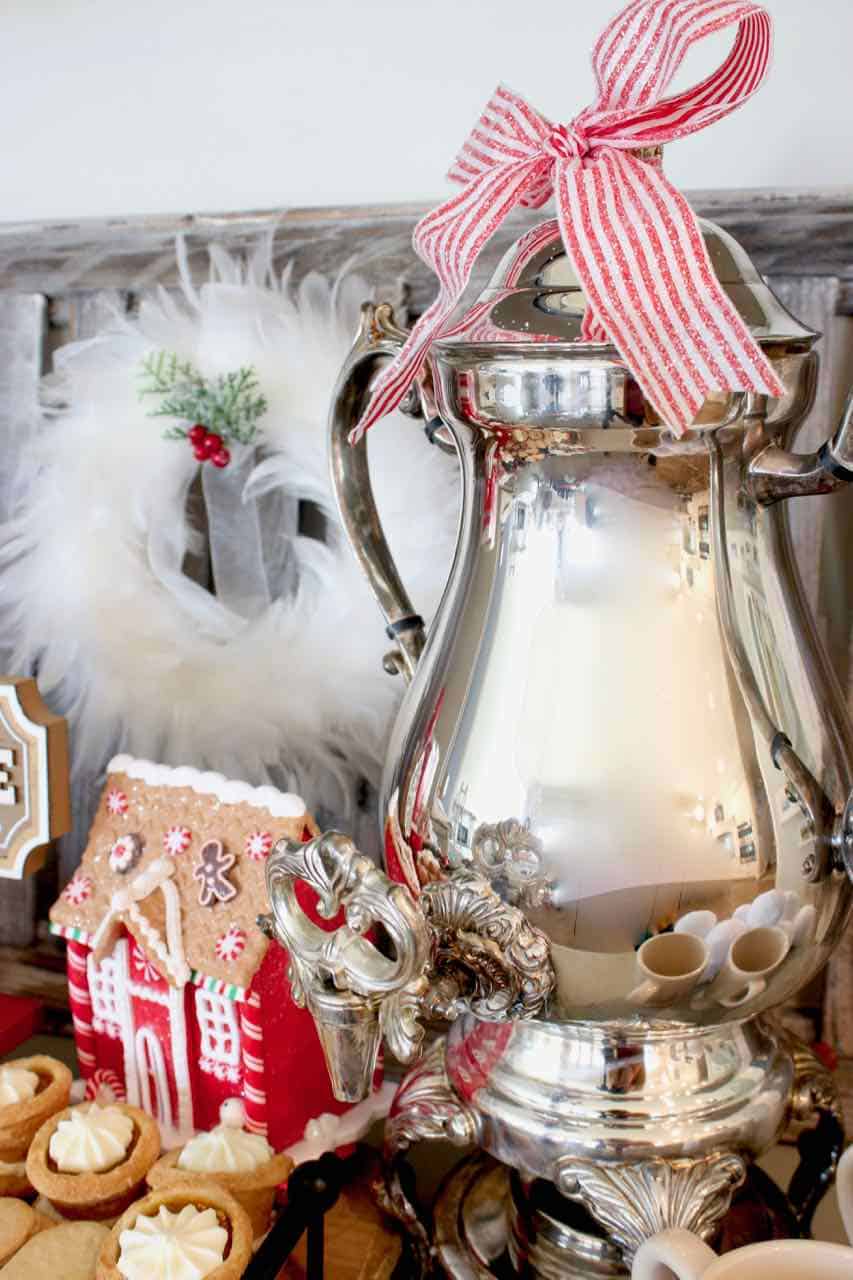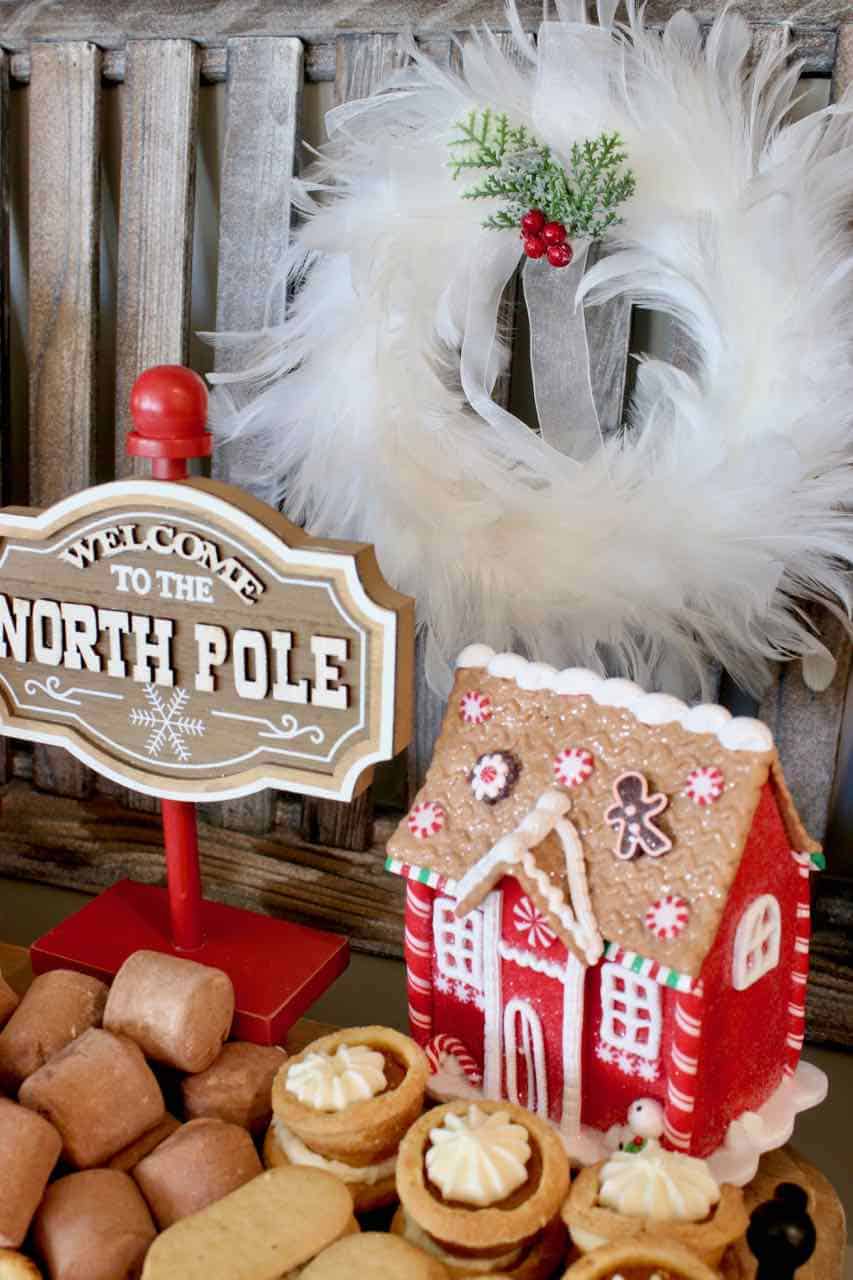 I also created a North Pole Sweets & Treats table that is perfect for little kids. Bright pinks, greens and aquas is just what I image the North Pole sweets shop looking like.
Looking for a healthier holiday snack tray? Check out this Festive Party tray for inspiration.