Now that we've talked all about the buildings, the gardens, and planning your visit in part 1 of The Getty, here's a  look inside at a few pieces from the vast, amazing artwork collection that is housed at there. I even have some interesting facts to share! I hope this post gives you a greater insight into why I think The Getty is a must-see in LA.
My Favorite Paintings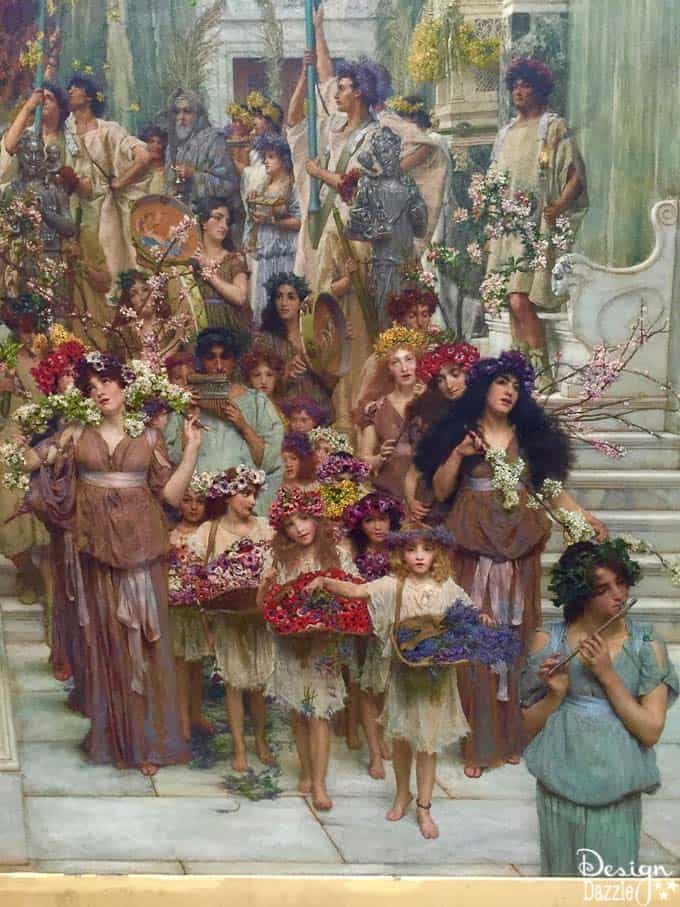 As I mentioned in my previous post, this was one of my absolute favorite pieces. It's called "Spring" by Lawrence Alma-Tadema, from 1894. This painting depicts the Victorian custom of sending children into the country to gather flowers, for an idyllic traditional May Day.
This beauty is La Promenade by Renoir. This romantic piece shows a young couple during their courtship, walking through the woods in summertime. I love the vivid colors and texture from the brushstrokes. It is even more beautiful in person!
Getty Fun Facts
Before we get into some of my other favorite pieces, I have some fun facts for you about The Getty.
The Getty Center attracts 1.3 million visitors per year. It is one of the most visited museums in the United States and the world!
Did you know there are actually two Getty Museums? The main campus in Brentwood/Los Angeles is more well-known that The Getty Villa in the Pacific Palisades/Malibu area.
Originally, the museum started in 1954 in J. Paul Getty's home, to which he added a wing to his house for the extensive art collection. His collection grew, so he built a replica of an Italian Villa to dedicate to his collection. This became The Getty Villa.
The Getty Center holds many famous pieces, one of the most well-known being Van Gogh's Irises.
I love the variety of the art housed at The Getty. There are so many facets and types of art- architecture, sculptures, gardens, paintings, furniture, photographs. There truly is something for everyone.
Don't forget to read signs!
While you can take photos of mostly every piece and room in The Getty, there are some that specifically say otherwise – like this this image that shows no photography or video. Be sure to look out for the No photo logo on the information plaques by all the pieces!
If you look closely to the ground in front of this beautiful painting, you'll notice a blue line. Only some of the artwork has this in front of it. This is to ensure you stay back from the piece behind the line and definitely do not touch!
Amazing Furniture
I'm so glad The Getty offers a variety of art. Not only do they have amazing paintings and sculptures, but they also have a great collection of beautiful, historical furniture.
I love the details on this intricate canopy bed! The carving and ornamentation is just beautiful. This bed is from about 1775-80. While I don't have a photo of the whole bed, you can tell that it is extravagant. This bed belonged in the most important bedroom of a private residence, where visitors were received. I would like to be a visitor received into this bed!
This Turkish bed is so extravagant! It is from about 1750 and would've been in a very grand, large bedroom of a private residence. An interesting fact is that the body of the bed can be pulled out on wheels, while leaving the back attached to the walls. This allowed servants to make the bed easier. What luxury!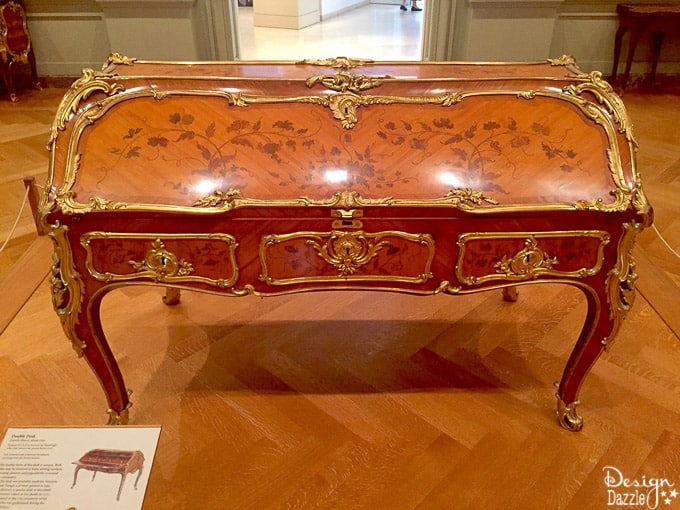 You can't really tell in this photo, but this double desk is unique because both sides can be lowered. Inside there are drawers and pigeonholes, and when the sides are lowered, it creates a spacious writing space. This desk belonged to a tax collector. I'm sure he had plenty to keep track of, so this desk was perfect for the job. Not to mention, it is beautiful!
This paneling was made for the library of a private residence in Paris in 1719. All the panels had been stripped of their paint and gilding except two corner panels. They used those two as models for restoring the rest. Can you spot the difference? I can't!
Before You Leave The Getty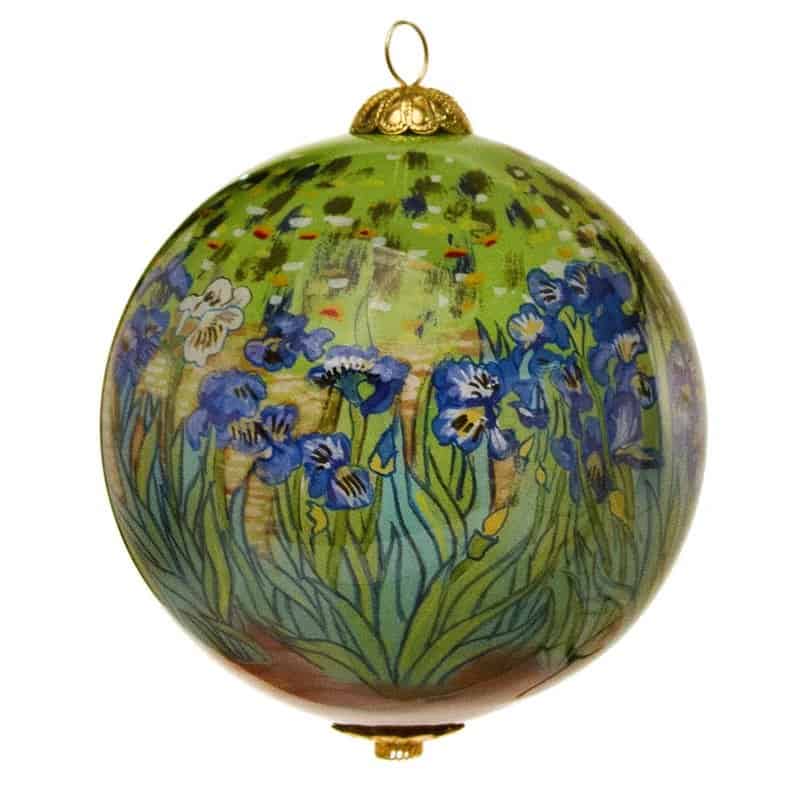 Don't forget a souvenir to remember your visit! Whenever I go somewhere special with my husband, I like to buy a Christmas ornament to add to my Memory Tree. My Memory Tree is full of fun, unique ornaments from all over the world! I'm so glad I got to add a beautiful, glass ornament with Van Gogh's Irises to remember coming to The Getty with my husband. Here is a similar Irises Christmas ornament.
I'm guessing that most of us can't afford a Van Gogh! ; ) Here are some reproduction's of the famous Van Gogh Irises
The National Cemetery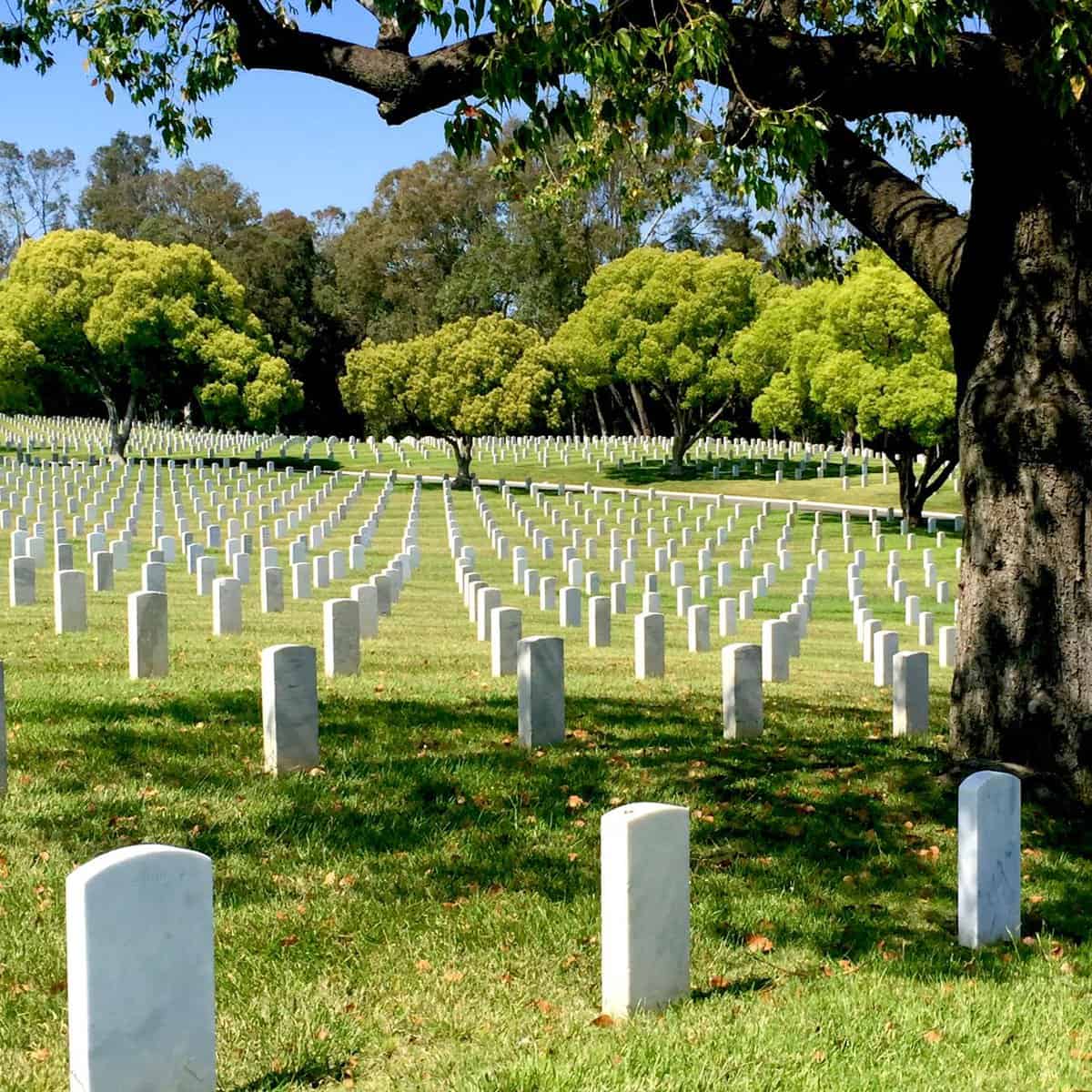 As you're leaving The Getty, I would recommend one more stop. The National Cemetery is on the other side of the 405, about 5 minutes away from The Getty on Sepulveda Blvd. While you're in the area, you might as well go to pay respect to those who died while serving our country.
I have driven by the National Cemetery hundreds of times, but this time we decided to go check it out. It is humbling to see so many headstones in one place. War veterans are interred on its 114 acres which was first dedicated in 1882. The following wars have veterans buried at the cemetery:
Mexican–American War
Civil War
Spanish–American War
World War I
World War II
Korean War
Vietnam War
Iraq War
War in Afghanistan
How amazing are the rows and rows of headstones all lined up perfectly? I'm so glad we went – it's such a special place. As somber and sacred as it is, I have much appreciation for all of those who served and died.
Thanks for coming along for my favorite parts of the tour and guide to The Getty! If you're ever in the area and have an interest in art and gardens- go! You won't regret it.


Save
Save
Save
Mentions:
guide to the getty, the getty, the getty museum
Last Updated:
February 16, 2018