This post may contain affiliate links that, at no additional cost to you, I may earn a small commission. Read our Disclosure Policy.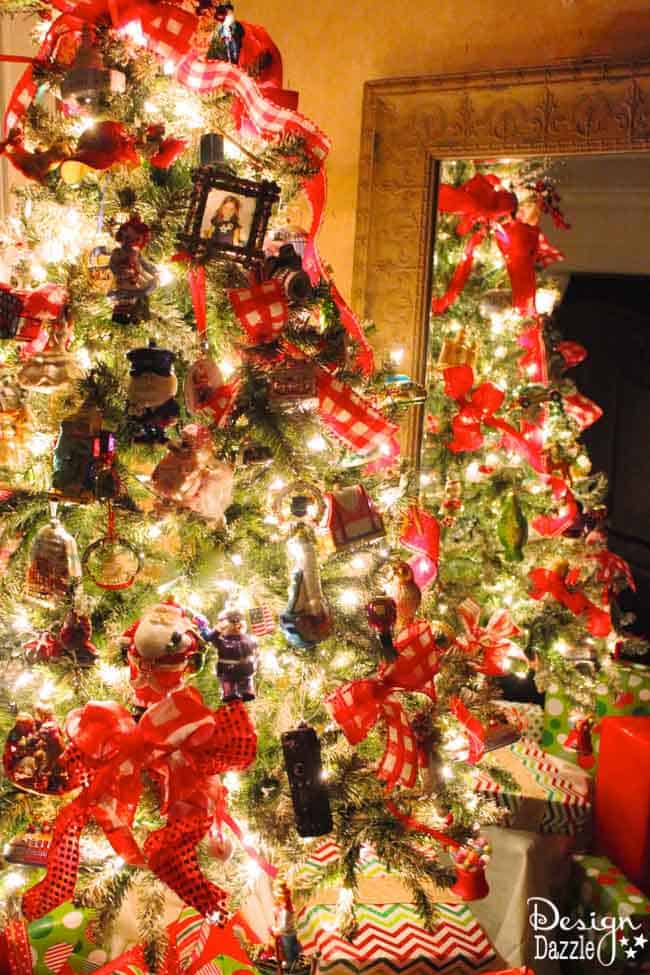 As you can tell from my Michaels dream trees from the last few years 2015, 2014, and more – I absolutely love a gorgeous, glitzy Christmas tree. A well-thought out tree is beautiful and is so fun to make! But what about all of our home-made, sentimental ornaments and memory ornaments? You have to display them! I am definitely all for having not one, but two trees- a pretty one for your front room and a fun, Christmas Ornament Memory Tree for your family room. Our family chooses ornaments that represent sports, hobbies, family vacations, etc. As a kid, it is so fun to have something specifically for you! Each ornament is marked with the family members name, year and what event e.g. Jamie – White House – 2010
Christmas Memory Ornament: military service US Marine Corps
Christmas Memory Ornament: Our ballerina on pointe
Christmas Memory Ornament: Our daughters trip to Peru
Christmas Memory Ornament: Our Santa Sack tradition
Here are a few tips I have found useful in decorating our Christmas Ornament Memory Tree over the years:
Always be on the lookout for ornaments your family would love. You can find unique, novelty ornaments at most stores such as Hobby Lobby, Michaels, Target, or online on Amazon. Sometimes ornaments are purchased while on vacation and other times I find them online or at a local store.
Buy multiples of family vacation or activity ornaments and save them in separate boxes for your kids. That way, when they are all grown up and ready to decorate their own Christmas Memory Trees, they can take these special ornaments with them.
Do your teenagers complain about decorating the Christmas tree? This was the one thing I noticed – there was very little complaining about decorating our memory tree. Each kid has a container with their name on it. When we decorate as a family – these containers are pulled out and the kids start decorating from each of their containers. We also have a container that is the "Family" container where we all get into and decorate from. The kids (even the teenagers) get excited to decorate with their VERY OWN Christmas ornaments.
Once the kids get married – their Christmas ornament memory tree container gets sent with them to start a new tradition with their own family.
Check out this post from a few years ago, where I shared more tips and ideas from our Christmas Memory Tree. We have definitely added to it since then- I love to see our collection grow!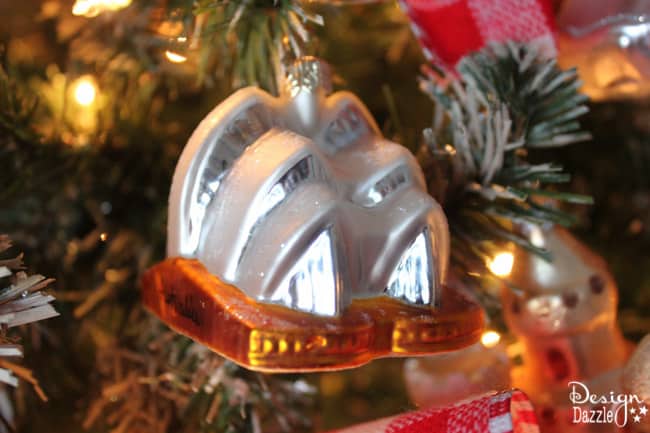 Christmas Memory Ornament: Family trip to Australia
Christmas Memory Ornament: Our Christmas Vacation party – Griswold style
Christmas Memory Ornament: Our son attending his favorite University
 Christmas Memory Ornament: Our daughter dressed up as Raggedy Ann for Halloween
Christmas Memory Ornament: Pink Poodles room decor and tea parties.
Christmas Memory Ornament: Lion King on Broadway
Christmas Memory Ornament: Hubby and I first trip to London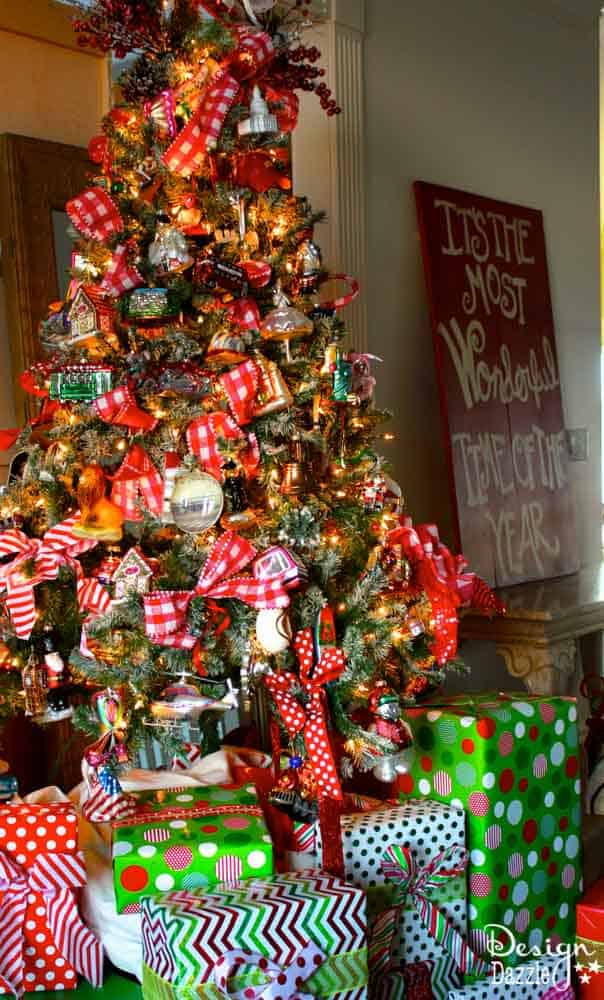 This post contains affiliate links at no additional cost to you. For further information, please see our disclosure policy.
Some fun Christmas ornament ideas:
Travel Christmas Ornaments
Favorite Play Christmas Ornaments
Sports Themed Ornaments
It is so fun to decorate a tree as a family, talking about memories and making memories together. I think that a Christmas Memory Tree is one of those things that definitely makes Christmas magical! What kind of ornaments are on your Christmas Memory Tree?


Title:
Christmas Ornament Memory Tree
Mentions:
Christmas Memory Tree, Christmas traditions, DIY Christmas, family activities
Keywords:
Christmas Ornament Memory Tree
Last Updated:
February 16, 2018