This post may contain affiliate links that, at no additional cost to you, I may earn a small commission. Read our Disclosure Policy.
Remember my Fabulous Fairy Party from last year? I had such a fun time creating such a beautiful party for some cute little fairies! I have shared most of the tutorials from the party, but here is one of my favorites! This glittered fairy branch is so beautiful and will add some magic to your party as the perfect centerpiece!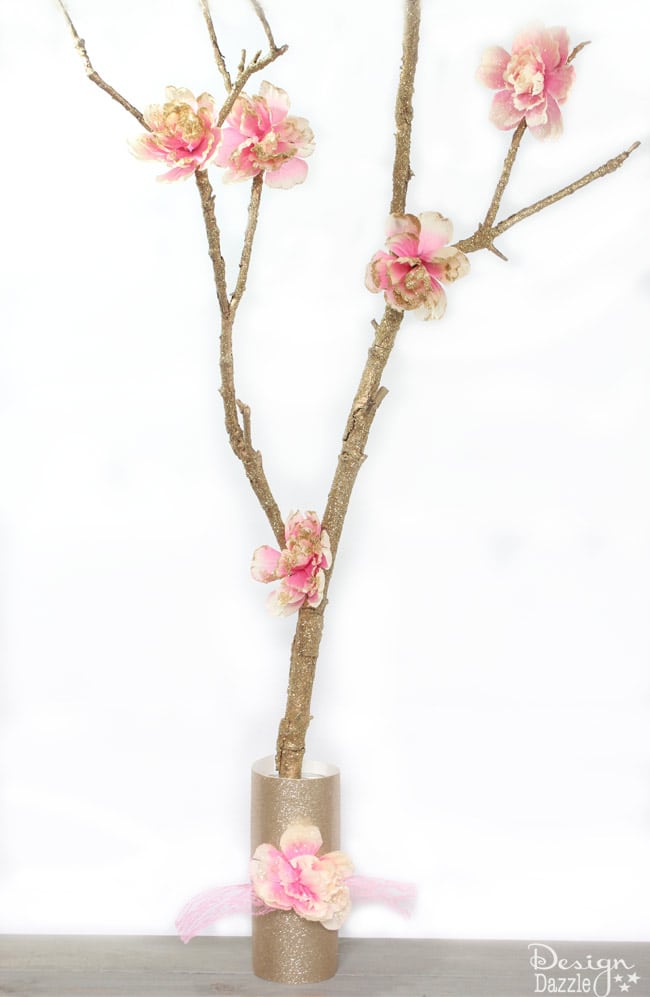 Supplies for Fairy Branch
branch from your yard
gold spray paint
elmers glue or craft glue
hot glue gun
foam paint brush
gold glitter
peonies from the dollar store
vase
Optional:
glittered paper
uncooked rice
Step 1: Find a branch in your yard, or trim your trees 🙂 Look for one with interesting branches that will create a nice shape. Clean it up a bit-  remove leaves, dirt, excess bark, etc.
Step 2: Spray paint the branch gold. Make sure you cover it completely! Let the spray paint dry. Once the spray paint is dry, use a foam brush to "paint" the branches with glue. While the glue is wet, sprinkle glitter all over until the whole branch is covered.
**It might help to do this in a few smaller sections at a time so that the glue doesn't dry before you cover with glitter.**
Step 3: Use a hot glue gun to attach glittered peonies to the branches.
All you need to do now is set it up! Cover the glass jar with the glittered paper (hot glue the edges of the paper onto the jar) and fill the jar with uncooked rice. The rice helps keep the branch standing tall- one of my favorite tips!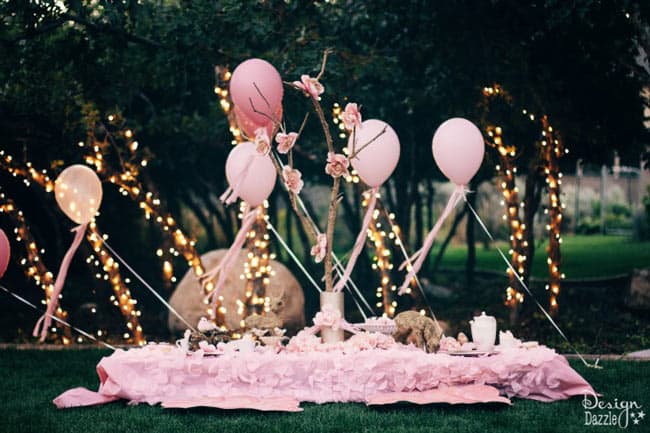 Here is the fairy branch as a centerpiece at the fairy party.