This post may contain affiliate links that, at no additional cost to you, I may earn a small commission. Read our Disclosure Policy.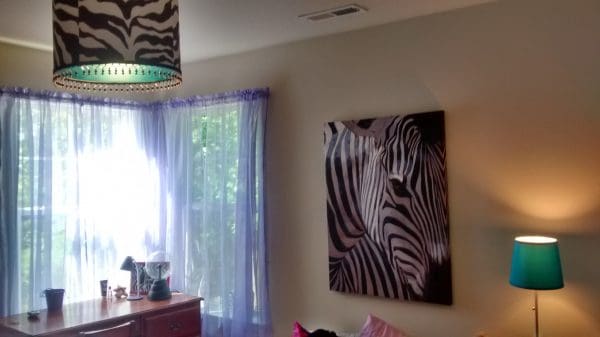 My little lady will be turning ten soon. She and I are on a mission to make her room into a sanctuary that matches her personality…and her personality is bright and fun-loving! She loves animal prints and bold colors which is the complete opposite of my style. Add to that the fact that we're doing this room on a major budget and you can see how this makeover is a slow process. But little by little I am stepping outside my comfort zone and together we are creating a room that she loves.
A few months back I found the most amazing zebra canvas print on clearance. It's a giant statement piece and she adores it!
She also loves that the print matches one of her favorite fuzzy friends.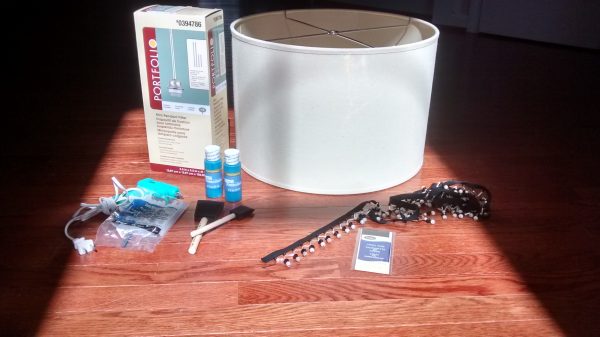 So when I found a drum shade at Good Will, I had a burst of inspiration. I set out to make a zebra drum shade chandelier. I found a basic drum shade chandelier tutorial online and gathered my supplies.
Supplies used:
drum shade
foam brushes
metallic acrylic paint for the inside of the shade (it reflects the light beautifully!)
white semi-gloss paint for the outside of the shade (not shown)
black acrylic paint for the stripes (not shown)
glue gun
beaded trim for the bottom of the shade
mini-pendant conversion kit
SteelStik – Steel reinforced epoxy putty (not shown)
First, I painted the interior of the shade with metallic paint. It took 3 coats to get great coverage.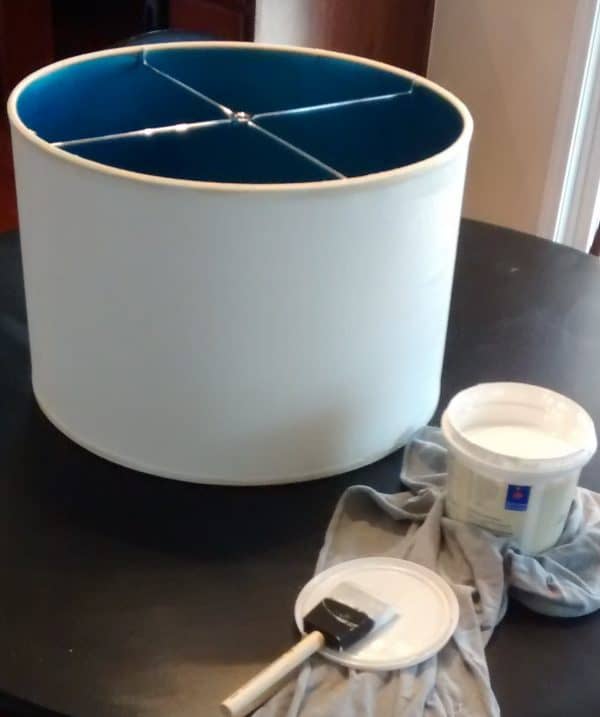 Then I painted the outside of the shade with white semi-gloss paint. Honestly, I knew I wanted the shade white so I just used the white paint that I had here at the house.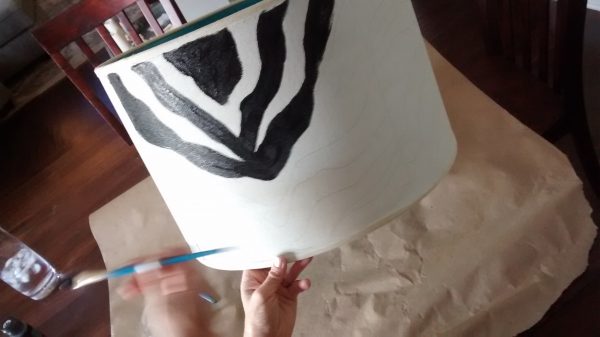 Then I enlisted the help of a good friend and together we sketched the zebra stripes on the shade using a pencil and painted them using black acrylic paint. I was afraid to try this step on my own but now that I've done it, I know that I had nothing to be afraid of…I could have jumped right into this step solo and it still would have turned out great.
When that was dry, I used my hot glue gun to attach the beaded trim to the bottom of the shade.
My husband and I followed the steps that came with the pendant light kit to string up the light. We found that the shade didn't sit quite right on the fixture so we ended up using SteelStik metal epoxy to hold the shade onto the pendant at the proper angle. Basically we glued the shade to the pendant kit. Depending on what your shade looks like you might not have to do this step.
Here is the zebra drum shade chandelier hanging in her room. Now to decide on a wall color….


Title:
Drum Shade Chandelier Tutorial
Mentions:
chandelier, light fixture, zebra
Keywords:
drum shade chandelier
Last Updated:
August 20, 2020