This post may contain affiliate links that, at no additional cost to you, I may earn a small commission. Read our Disclosure Policy.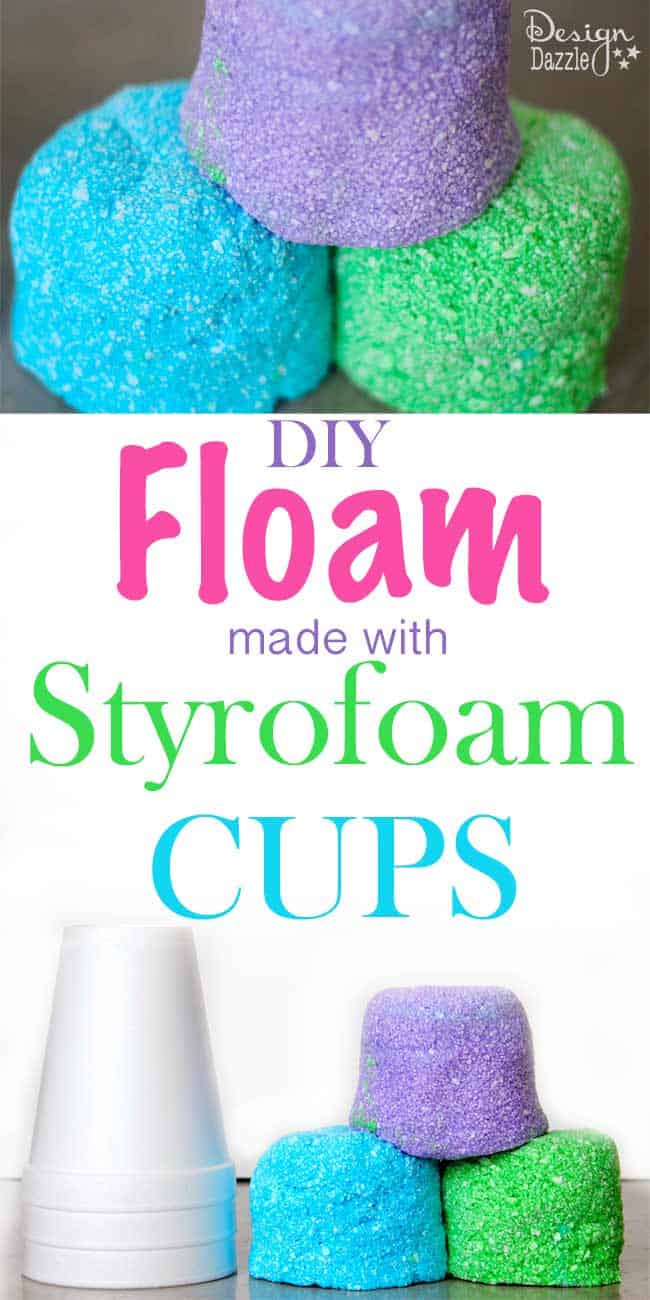 I am so excited for this year's lineup for Summer Camp! It's our first day of Summer Camp. There will be lots of amazing ideas.
Make sure to visit daily for ideas for summer fun! With all these great craftss, activities, etc, your kids will never be bored this summer.
To start things off, I have a fun DIY project for you and your kids!
Floam can be so fun to play with, but it is also expensive.
An afternoon of fun doesn't have to break the bank! Instead, today I'm sharing a simple, inexpensive DIY Floam recipe!
I went to 3 different craft stores to purchase polystyrene beads that most use for this recipe. They were no where to be found. Then I searched on line and they were expensive.
So, I tried to figure out what could I use instead of the beads. Voila! How about Styrofoam cups???
Styrofoam cups can be purchased at most grocery stores, WalMart and the dollar store.
This DIY features using Styrofoam cups rather than polystyrene beads (the little foam beads in a bean bag).
You and your kids will love making and playing with this homemade Floam!
Be sure to subscribe to my YouTube page for some more fun videos, tips, and tricks!
Supplies
2 tsp of borax
1/4 cup of Elmer's Glue or white tacky glue
1/2 cup of very warm water
1/4 cup of warm water
1 package of Styrofoam cups or you can use the real thing Poly-Fil Micro Beads
gel food coloring
measuring cups, bowls, spoons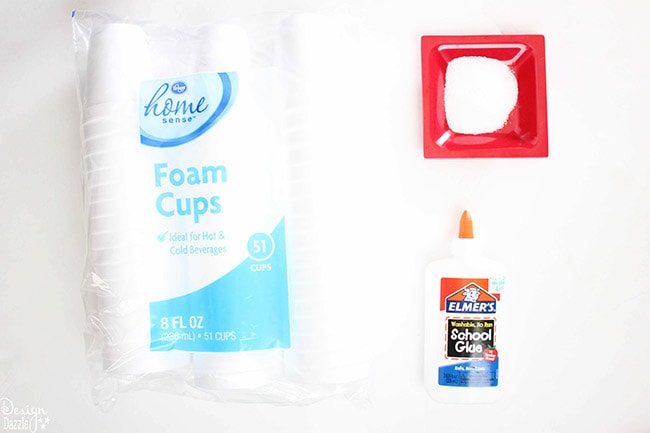 Step 1: Break 4 or 5 Styrofoam cups into your blender. Mix them in your blender with about 1-2 tablespoons of water until they become finely ground up and make small beads.
I would recommend pulsing your blender and then mixing for about a 30 seconds until the Styrofoam is all broken up.
The time will vary depending on your blender, but try to get the foam broken up easily. It doesn't have to be perfect, though!
Don't over pulverize.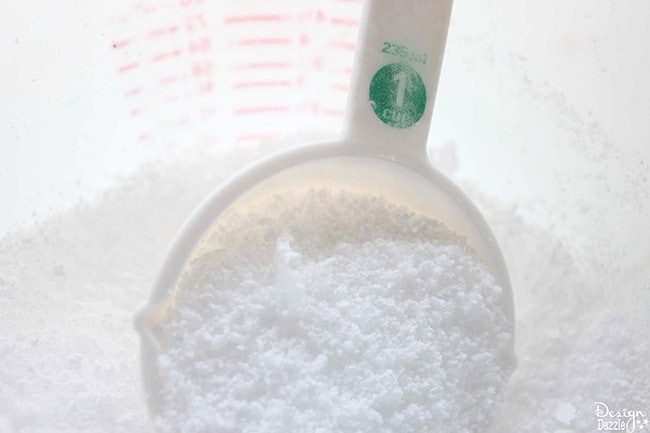 Step 2: Mix 2 tsp of Borax with 1/2 cup of very warm water. Stir this mixture and let the Borax dissolve. Set this bowl aside.
In another bowl, mix 1/4 cup of glue and 1/4 cup of warm water. Also add food coloring into this mix.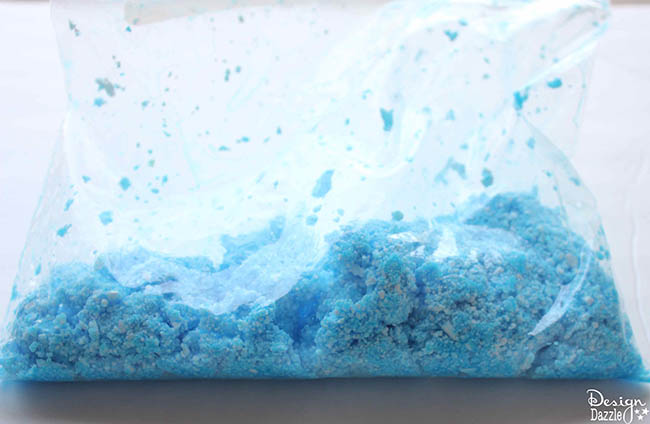 Step 3: Pour both the Borax and glue mixtures into a gallon ziplock bag. Then, measure about 1 1/2 – 2 cups of the shredded Styrofoam cup and add this to your slimy mixture.
You can always add more or less of the Styrofoam if the Floam seems too wet or dry.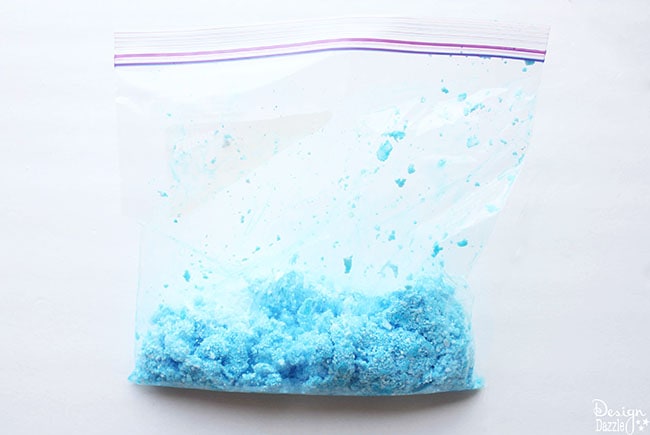 Step 4: Now comes the fun part! This step is perfect for your kids to be your little helpers.
Close the ziplock bag and squeeze the mixture around until it begins to solidify.
Soon you will have floam!
Let the completed mixture air out for a few minutes. Add more Styrofoam if your floam seems too watery.
That's it- you're good to go!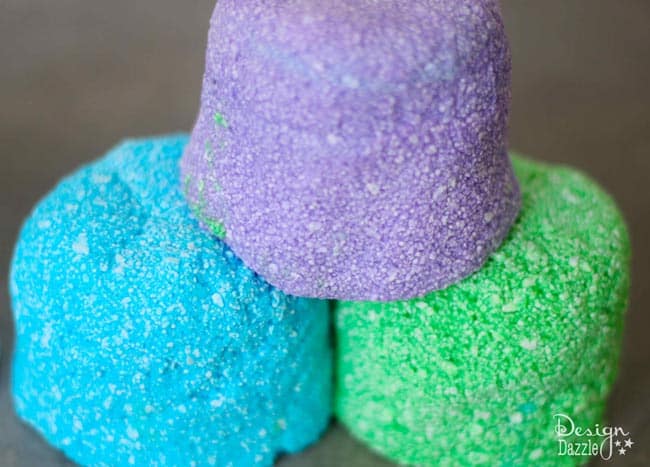 Your kids will love making AND playing with this floam!
It will be a great summer activity that will beat the heat and keep boredom at bay.
The beauty of this activity is that your kids will love to play with it for many summer days to come!
You can't beat an inexpensive, interactive activity!
Make sure to keep this in a airtight container or ziplock bag.
This was made about 1 month ago and still is working great!
This floam is not edible. Have caution with kids.
Eating styrofoam, glue and borax can be toxic. Also, glue and borax is made with chemicals – use caution.
This floam activity needs adult supervision.
If you prefer to purchase floam or slime instead of making it, there are some awesome options below to look at!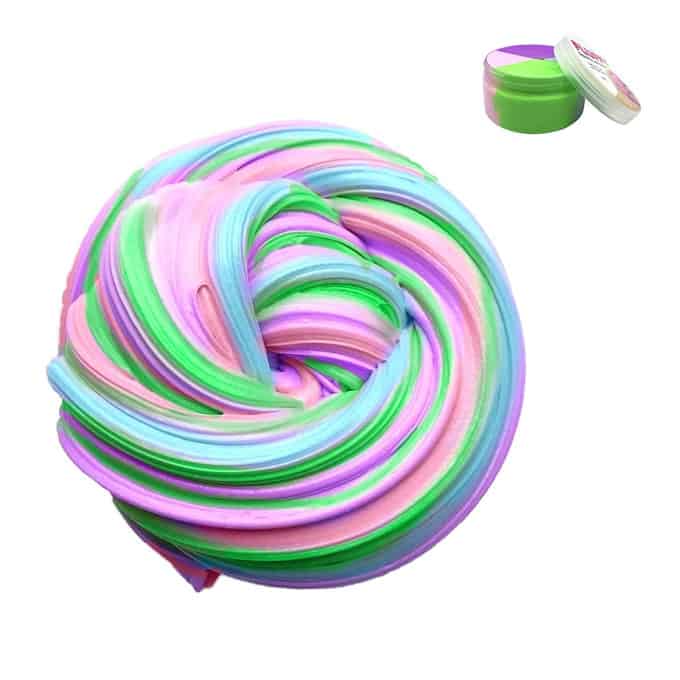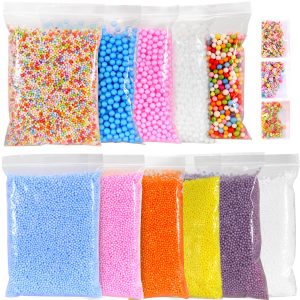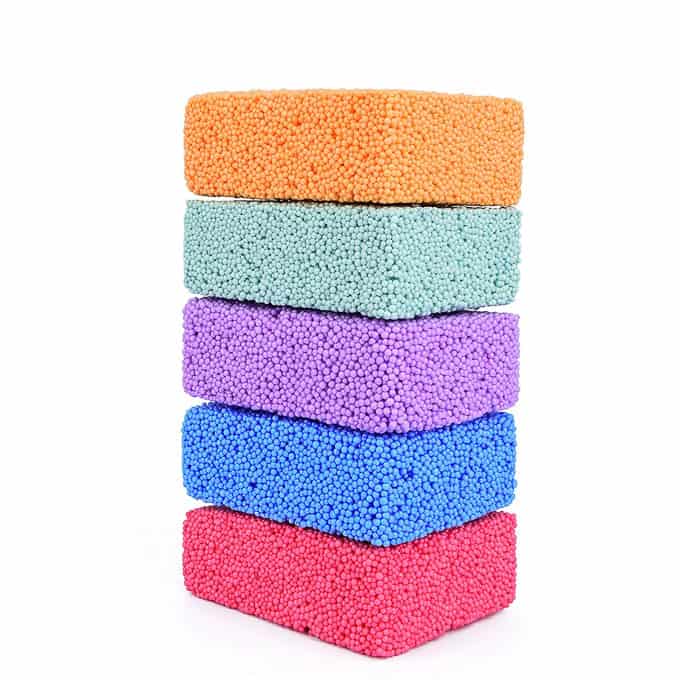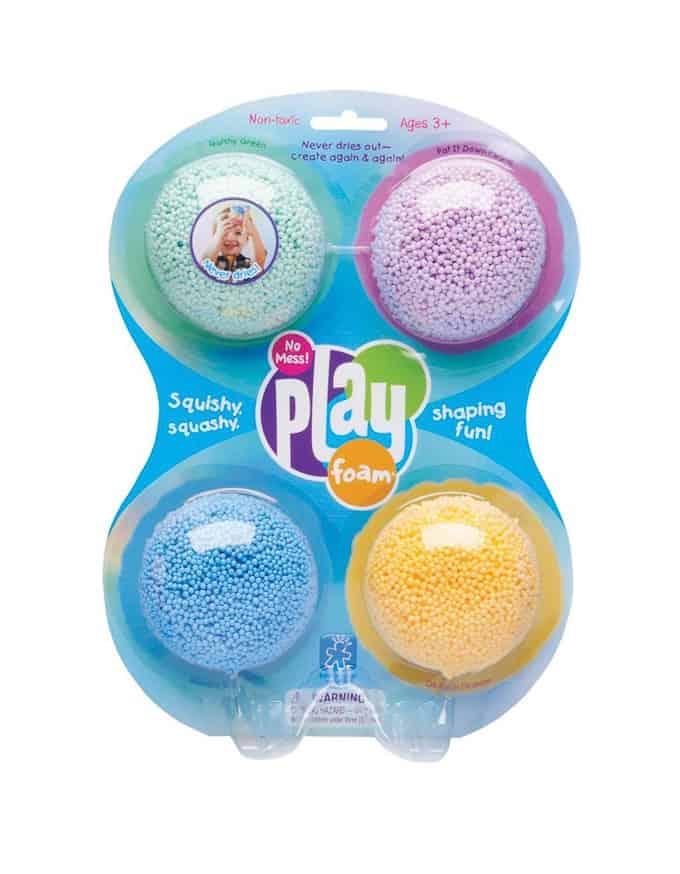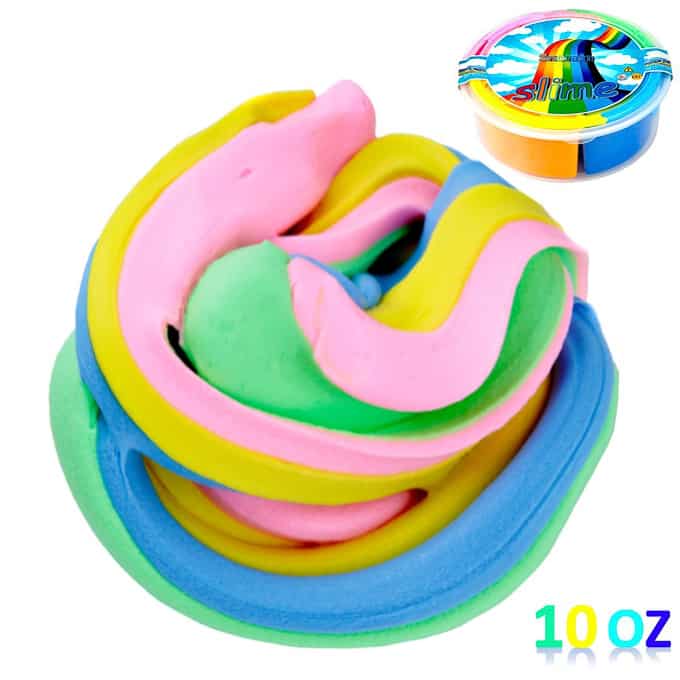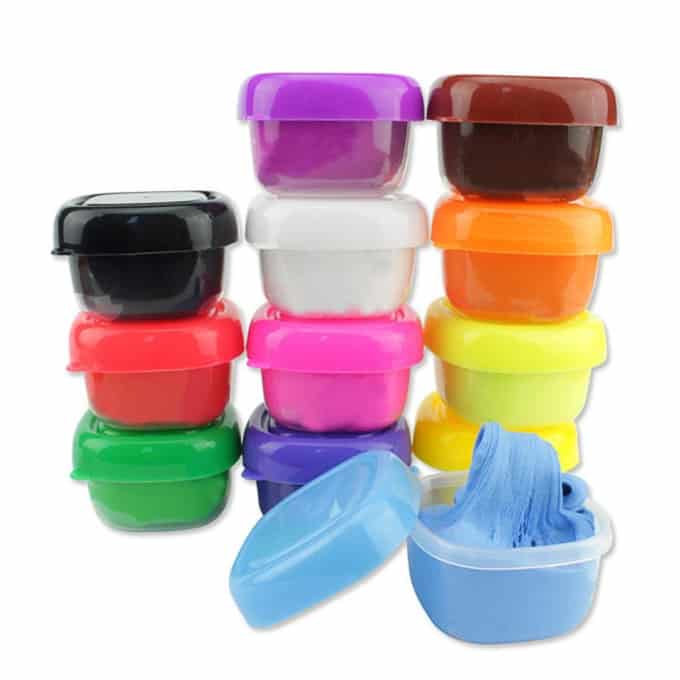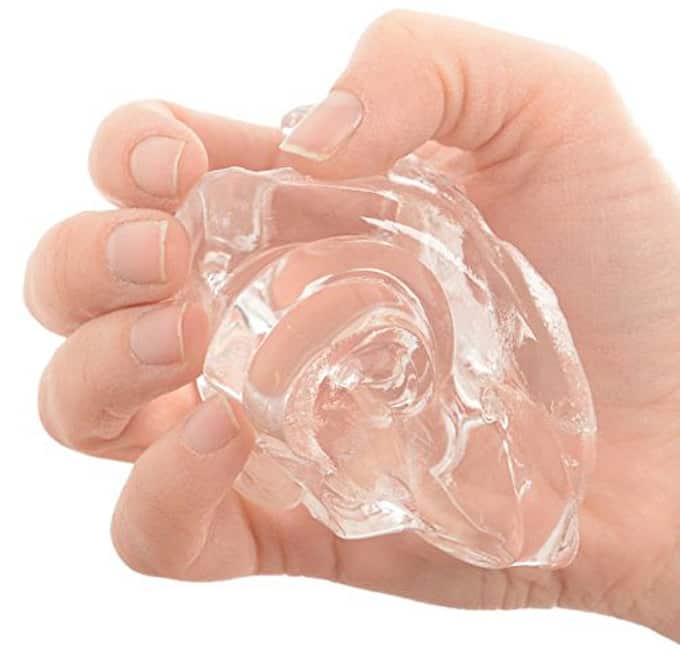 Have fun with your kids, grandkids, or friends. Enjoy a fun time of being a kid again by making floam.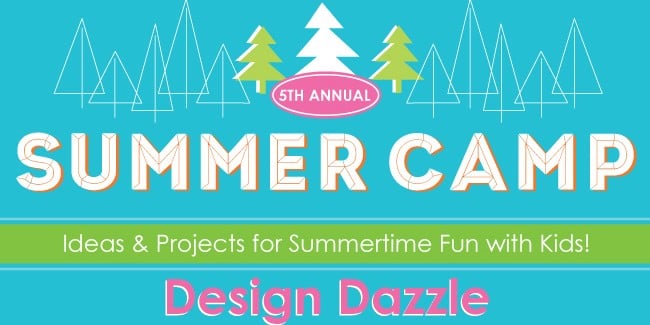 Save
Save
Save