This post may contain affiliate links that, at no additional cost to you, I may earn a small commission. Read our Disclosure Policy.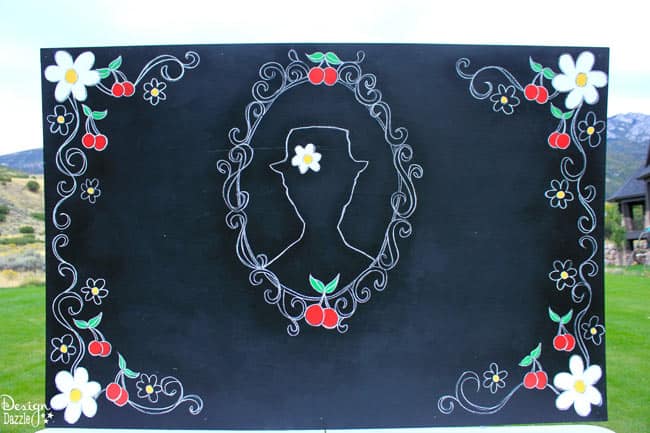 Last month I had a Mary Poppins party at my home. There were 12 bloggers (including myself) who put on a spectacular party for 20 of our guests. Since we served some delicious desserts a dessert table backdrop was very necessary. We held this event outdoors and I have no structure or wall to attach a party backdrop to (also great for setting up at a park). So I'm sharing the DIY: how-to make a freestanding party backdrop. This was made heavy duty to the winds and weather (in my area). It took a little longer to make than your usual lightweight indoor backdrop. If you were to make an indoor party backdrop, there is a tutorial for a much lighter version. Check out my foam insulation party backdrop.  With the exception of the paint, the backdrop materials came from Lowe's.
It was well worth it to make the backdrop for the cutest dessert display.
Materials:
– 3: bags of Quikrete Concrete Mix
– 2: PVC Pipe (18 inches long)
–  2: 5 Gallon Buckets
– 2: 1″ x 60″ Galvanized Pipes
– 4: 1″ Galvanized Pipe Strap
-1/4″  4'x8′ Plywood Underlayment (Cut down to 4'x6′)
– 2: or 3 1″x2″ scrap lumber
– Screws
– Black Chalkboard Paint
– Chalk
– Red, White and Yellow Paint
Steps: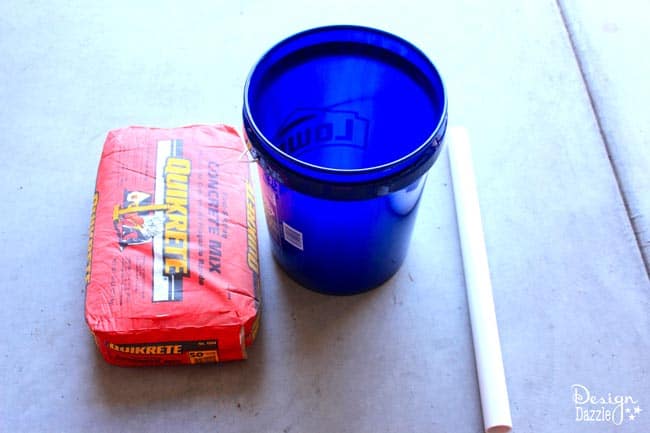 1. Pre-mix the quikrete in a larger bucket or wheelbarrow. Use water and a shovel while mixing.
2. Pour the wet cement in the 5 gallon bucket around the PVC pipe in the middle. Use a level to make sure the PVC pipe is straight up and down.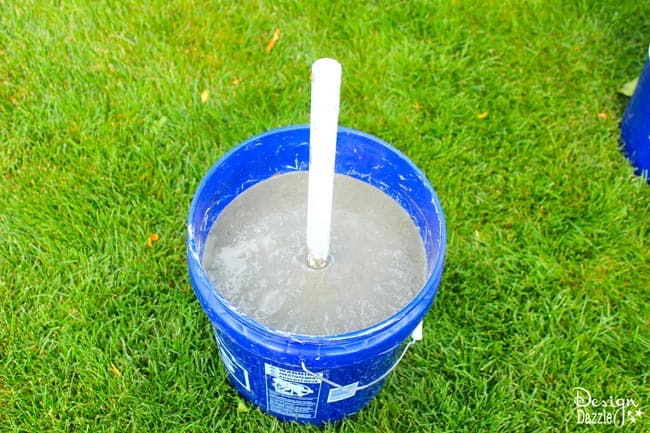 Allow the cement to dry completely – several hours or overnight.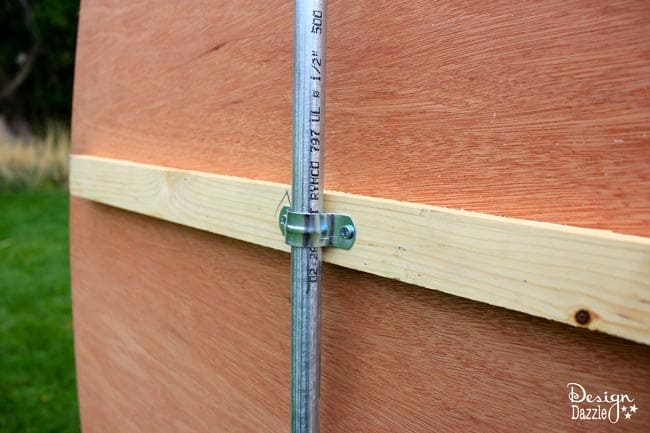 3. Screw the 1″ x 2″ scrap lumber to the back of the plywood underlay for bracing. You can use a regular thick plywood board for the entire backdrop but that makes the backdrop very heavy.
4. Screw the galvanized pipe straps to the scrap lumber around the galvanized pipes. Make sure they are tight to clamp the pipe to the board.
5. Stick the galvanized metal pipes in the PVC pipes.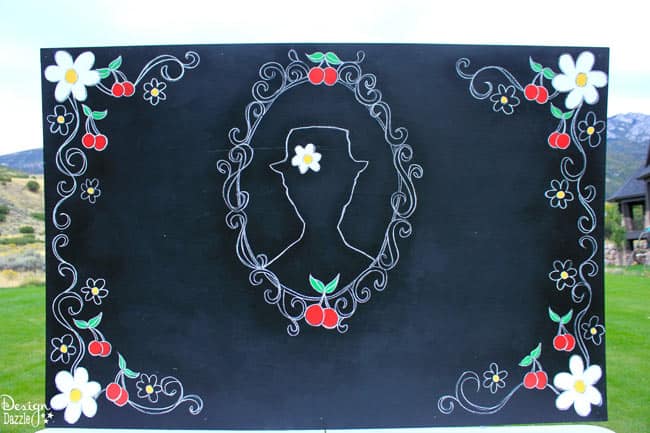 We painted the board with a black paint and then used chalk to create this lovely Mary Poppins dessert table backdrop. Paint was added to the flowers and cherries for a pop of color. I used cheap hair spray to spray over the entire chalk drawings. Guess what? It doesn't smudge.
What is nice about this backdrop is that you change it into a new backdrop by stapling fabric to it to fit your new party theme or painting over it for future parties.
Thank you to Lowe's for the supplies to make this backdrop! All opinions are my own.