Have you ever made Oreo truffle balls? If not, then give this recipe a try.
If you have never tried an Oreo Truffle ball, then this is a MUST to eat!
This is the easiest recipe on the planet. But there is a problem – you cannot eat just one!!
So beware!! This is might kind of recipe – easy and delicious!
I've taken a simple easy recipe – TWO ingredients and then dipped the Oreo Truffle balls in melted candy and you've got some VERY CUTE colorful monster Oreo truffle balls!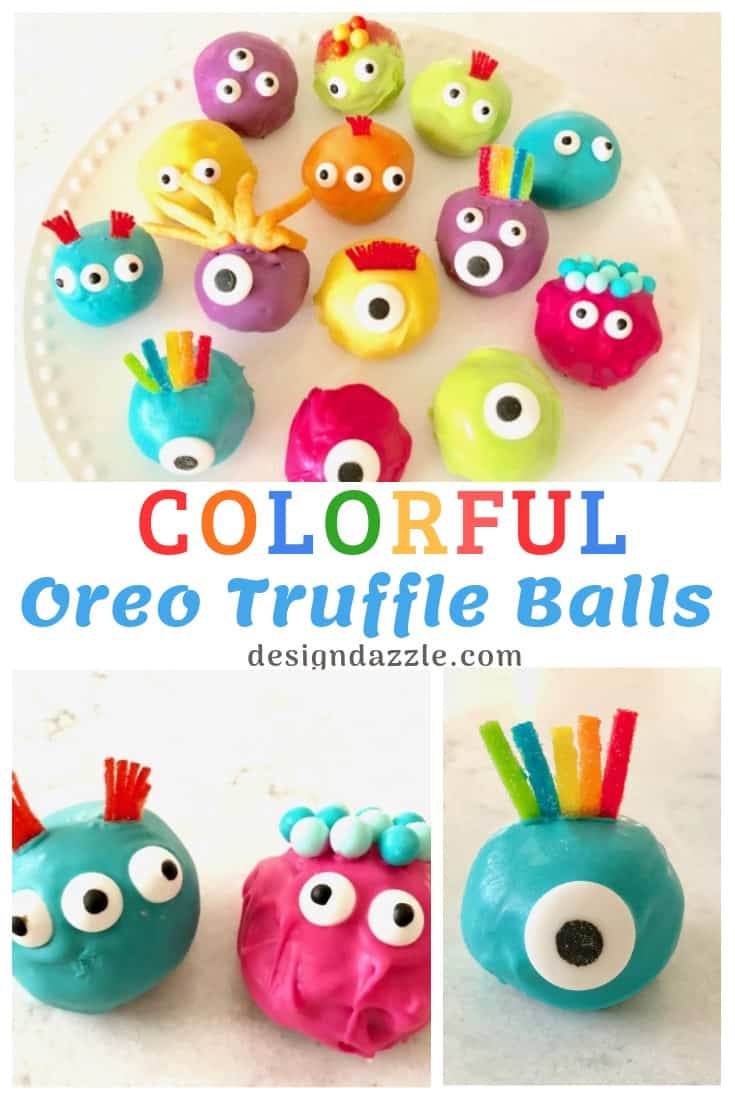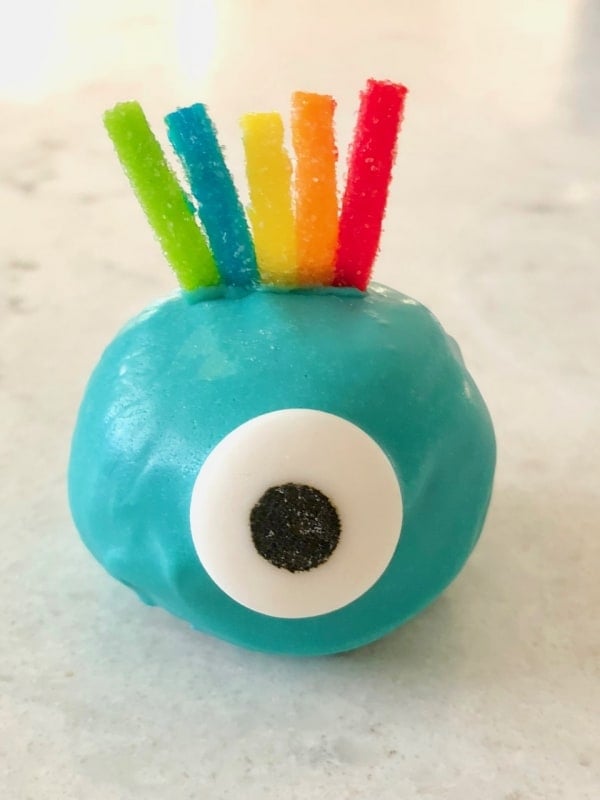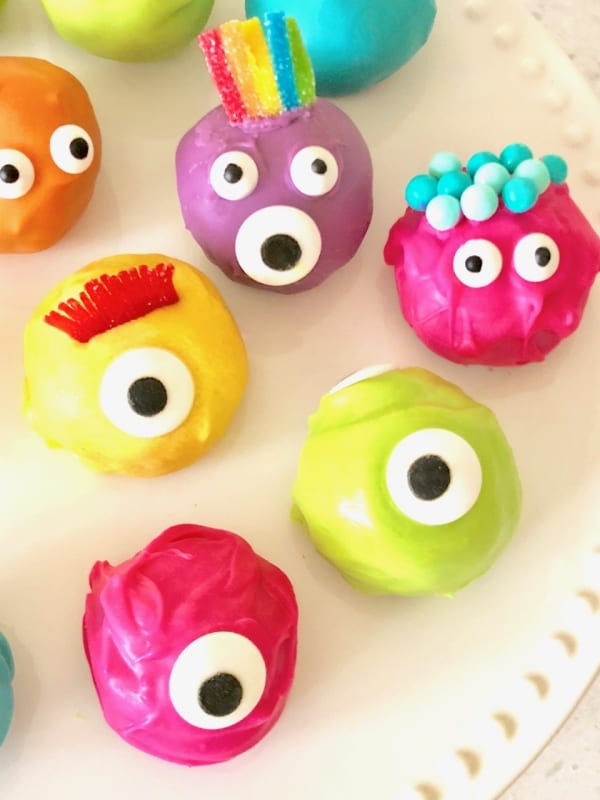 Kids will enjoy making these for a party, for Halloween or just for fun!
They are super easy to make. And don't forget – very addicting!!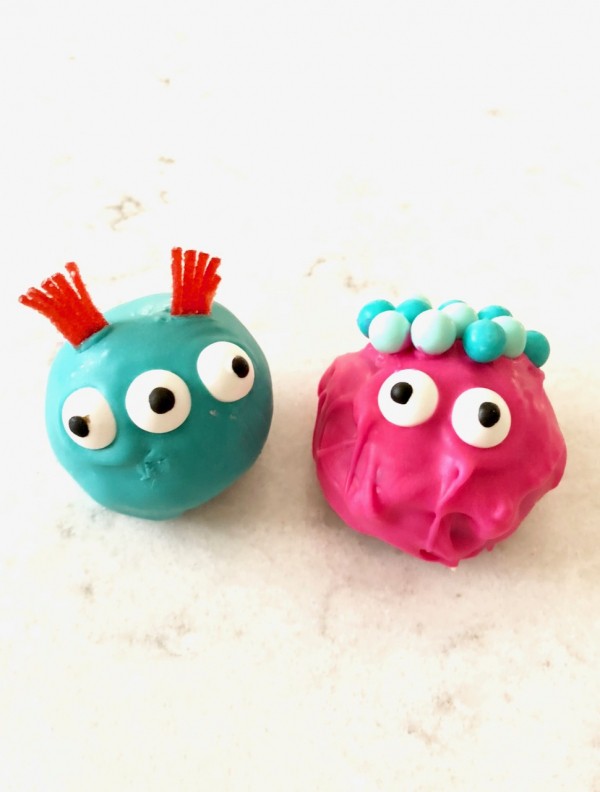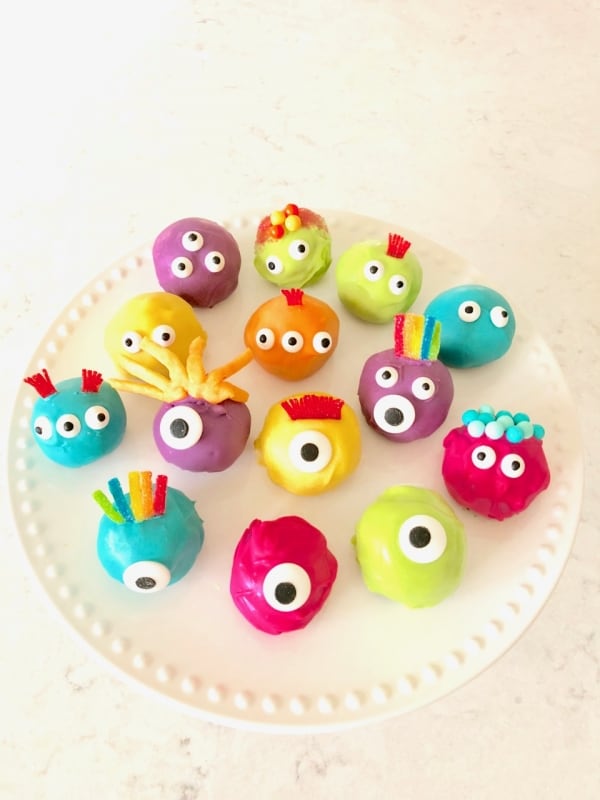 RECIPE:
1 – 15.5 ounce package of Oreo's
1 – 8 oz package cream cheese (softened)
Crush the Oreos until they turn into fine crumbs (mixer or food processor).
Then cream together crumbs with the softened cream cheese (electric mixer works good for this part).
Form the mixture into small balls (smooth as possible). Place on cookie sheet lined with parchment paper.
Freeze the balls for 30-60 minutes.
Melt the candy melts in small microwavable cups. Read package instructions for details.
Place balls (cold or frozen) into the melted candy. Use a fork and skewer to hold the ball and then dip into  the melted candy.
Place the ball/truffle back on the cookie sheet. Decorate with candy eyes, colorful nonpareils, confectionaries, etc. while still still wet.
I used rainbow sour belts for some of the hair. Let harden.
TIPS for "chocolate" candy melts:
Melt candy melts (Wiltons or similar brand) in the microwave.
Read the directions on how to melt. When "chocolate" candy melts, it is ideally a smooth mixture.
However, if it comes in contact with water, it will "seize" or turn into a grainy, clumpy mess.
If you melt the candy too long (overheated), it will be thick and lumpy.
Pay close attention to the instructions and you'll melt these candies just fine.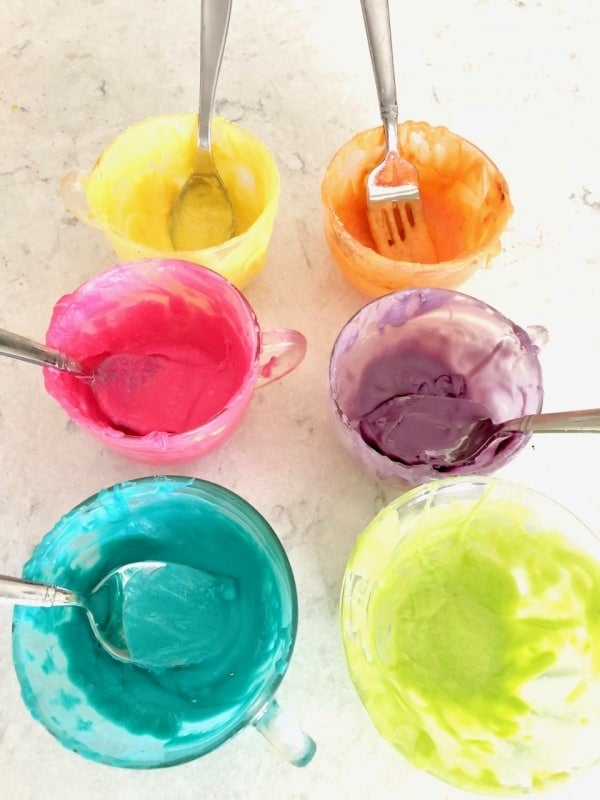 I used small glass cups to melt the candy melts in the microwave.
You will need something small and shallow and several cups depending on how many different colors you are melting.
The fork and a long skewer was used to help navigate the Oreo ball in the melted candy.
The spoons shown in the picture was for mixing the candy melts when melted.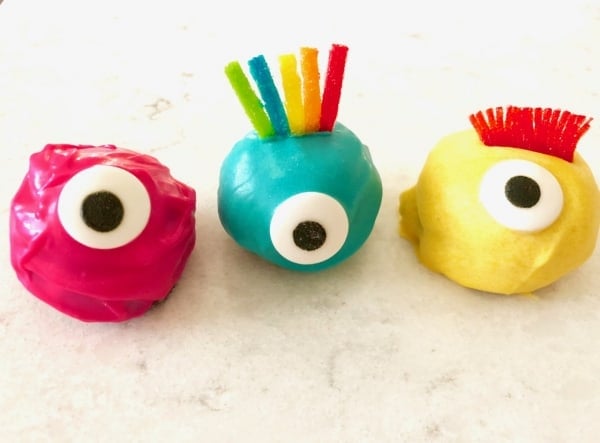 Super simple and super cute colorful monster Oreo truffle balls!
If you're looking for other fun things you can do with Oreos, check out these 12 show stopping Oreo recipes or these 15 magnificent Oreo treats!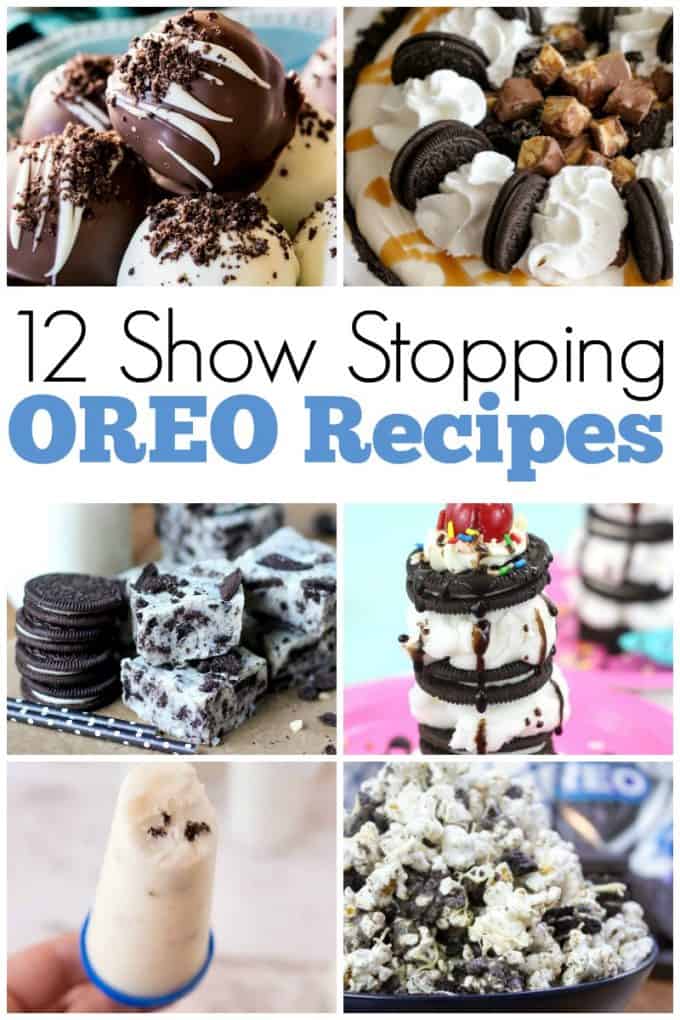 Here are the fun things you need for your colorful Oreo truffle balls: