This post may contain affiliate links that, at no additional cost to you, I may earn a small commission. Read our Disclosure Policy.

We are starting our 100 ideas of Christmas Wonderful with "have a thankful heart" free printables perfect for a Thanksgiving table for kids.
Being thankful and having a heart of gratitude is the best way to start the Christmas season!
It can be tricky keeping your kids occupied at Thanksgiving dinner and having fun!
While the adults are sitting around the big table, the kids' table is alive and buzzing with energetic children who feed their veggies to the dogs in order to get a piece of pie.
So we put together a table filled to the brim with fun activities to keep the kids entertained while you eat your turkey with the big kids- I mean adults!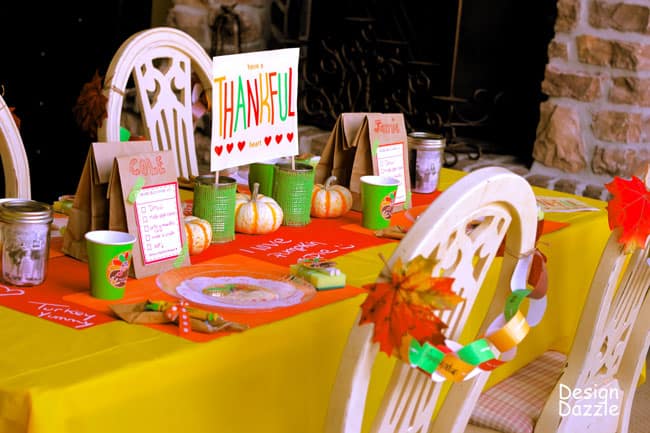 What do you think? How cut is this Thanksgiving Table for kids?
I love how all the details turned out. How cute are the paper chains? Kids can write what they are thankful for on each chain link, make the chain, and then hang it from the back of their chairs.
We made Thanksgiving "kits," where adults can write a to-do list for their kids on Thanksgiving, then put treats or toys in a bag and attach the list.
Or, you could put a DIY project (like a paper airplane kit or playdough) in the bag, and then attach the list with instructions for the craft on it.
The possibilities are endless!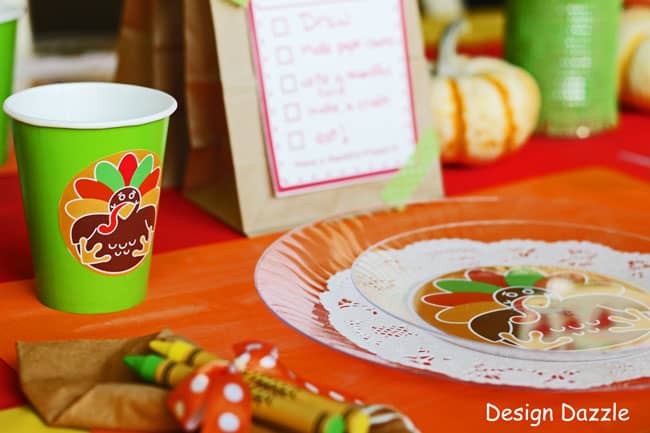 The nice thing about these ideas? You can pick and choose from them.
If you want to go all out and do all of these ideas (or even add a few of your own), you totally can!
If you want to keep things simpler, you can just do a few of these things and your kids will still have a blast.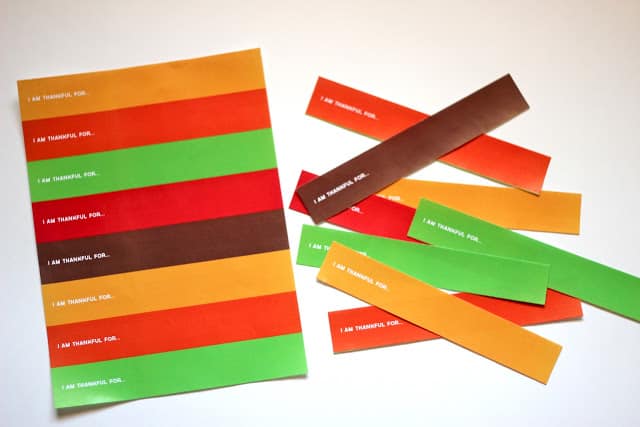 How fun are these paper chain printables?
On Monday I shared this tutorial on how to make your own chalkboard paint place mats and table runner.
The process is so easy, and here's how it turned out!
Chalk is so cheap to buy, and a sponge makes the perfect eraser.
For the kid's table centerpiece, we kept things inexpensive and simple.
We printed the "have a thankful heart" banner and glued it to two wooden dowels.
We stuck the dowels into nut-filled (we used what we had on hand, pistachios, but you could use beans, rice, etc) tin cans wrapped in painted burlap.
Here are some easy instructions on how to make the cans: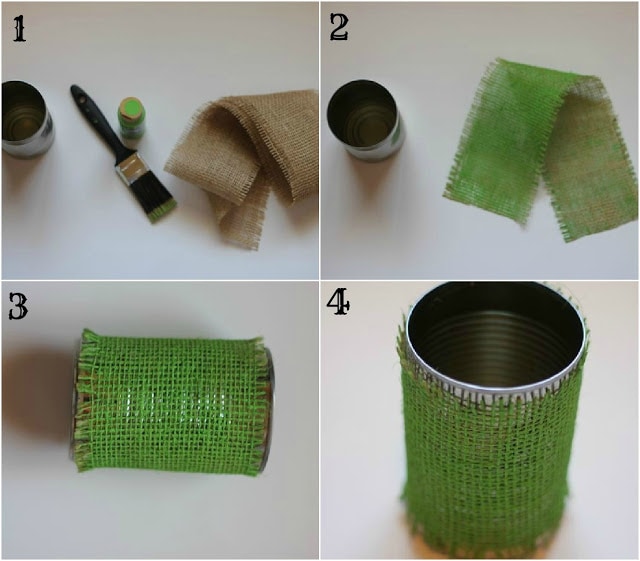 1. You will need a paint brush, two tin cans (to make the full centerpiece), acrylic paint, and burlap. I purchased the burlap roll at Home Depot.
2. Cut the burlap to fit around your can once, then paint the burlap whichever color you wish.
3. Use a glue gun to attach the burlap around the can.
4. Repeat with the second can and enjoy your easy centerpiece foundations!
Did you notice the adorable printables we used for our table? Here are what the printables look like before they are incorporated into your table:
Thankful card
Have a thankful heart banner
Paper chains
Small turkeys
Salad plate turkeys
Dinner Plate Turkey
Here's how we used our printables. You could use them how we did, or even come up with more ideas of your own!
1: For the dinner plate, I cut out the big dinner plate turkey, then modge podged him to the back of the plate. I let it dry and then put it on the table!
2 & 3: For the small turkeys, I first cut out a few and using a glue stick I glued one on each of the drink cups. Then, I cut out a few more and attached them to the chalk and eraser. They add such a fun flair!
4: For the "Have a Thankful Heart" card, have your guests write thank you cards to members of the military or to friends or family. This is a good opportunity to mention what they have heartfelt thanks and gratitude for.
5: For the salad plate, I did what I did to the dinner plate (cut out the salad plate turkey and glued it to the back of the salad plate), then put a doily under the salad plate for decoration. Easy!
The "Grateful Heart" tag printable is FREE and available for immediate download by subscribing to Design Dazzle!
To receive this free printable – enter your email address in the box below and click submit. Make sure to check your inbox for an email from Design Dazzle. You will have access to all of our FREE printables and also will receive an email newsletter filled with lots of great information. Don't worry your email address will never be sold.
Printable files are for personal use only. They are not for commercial use.
If you are looking for more awesome ideas for Thanksgiving, check out these 12 beautiful DIY Thanksgiving centerpieces.
Today is our first day of 100 Ideas of Christmas Wonderful. Click on the banner to visit last year for some fabulous ideas!