This post may contain affiliate links that, at no additional cost to you, I may earn a small commission. Read our Disclosure Policy.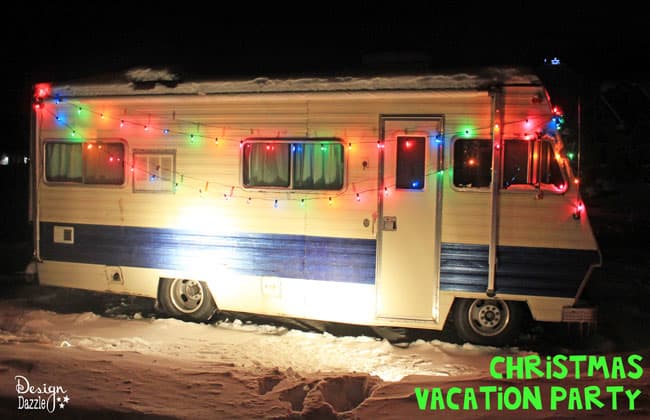 This past weekend we had a movie-theme Christmas party where we invited some of our friends to dress up in ugly Christmas sweaters or as one of the characters from National Lampoon's Christmas Vacation. Now if you have seen this movie you know that it is hysterical. Everything goes wrong and just when you think you've seen it all it just keeps on getting worse. We had a house full of friends and it was definitely a Christmas Vacation Party: Griswold Style. Such an FUN evening. We found a RV to rent for the night. As you can see, Cousin Eddie did arrive ; )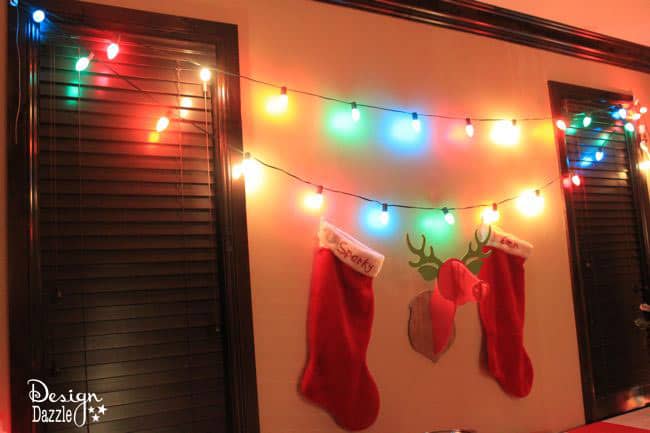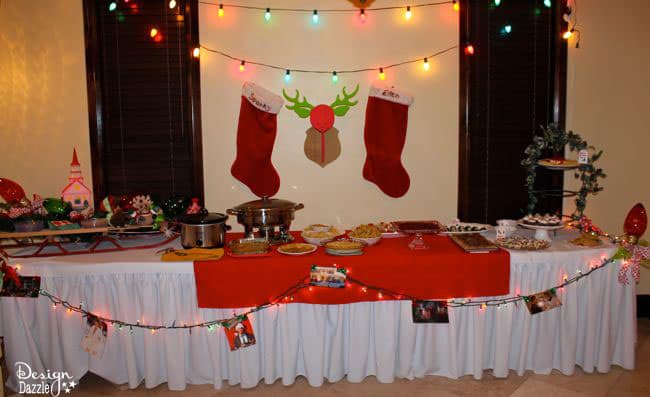 Here are a few things we did to prepare for this party. I went to the thrift store to find a lot of the decorations and party supplies. I found these perfect 80's looking Christmas drinking glasses, huge fluffy stockings, and some tacky Christmas decorations and trinkets to add to the whole feel of the party. On the Christmas stockings we wrote "Sparky" which is the nickname for Clark and we also wrote Ellen (his wife). They were the perfect food table backdrop. I found that foam deer head (Target) and thought it would add just the right amount of fun to the backdrop. All that was needed after that was the C9 colorful lights strung up above.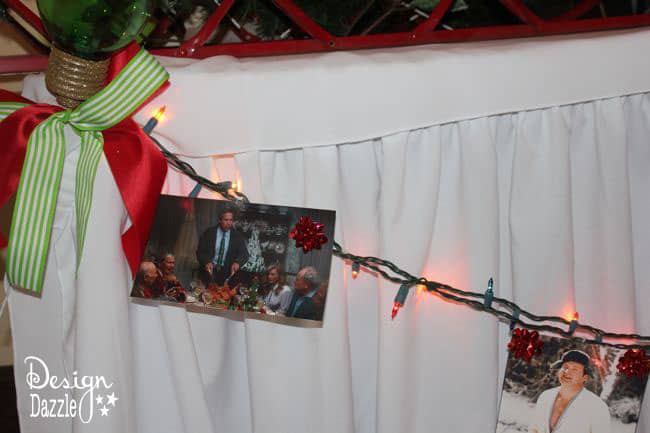 For the food table we strung lights and taped some pictures that we found off the web of the movie. We also used the sled to display the plates and utensils on with a few decorations. Part of the fun of a party is when everyone dresses up. And that certainly happened at our party. Like I mentioned guests either came in "Christmas Vacation" attire or an ugly sweater. Here are a few ideas below for what to wear to a Clark Griswold party…
Need Christmas Vacation Wear?
Looking for Christmas Vacation, "You serious Clark?" pajamas? Perfect gift or matching Christmas pajamas!
Griswold Family Christmas Apparel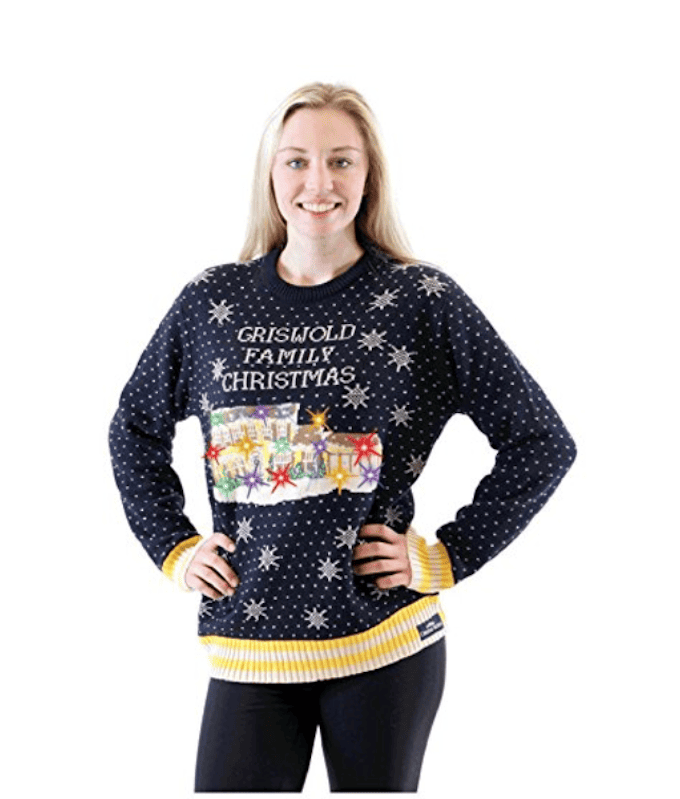 And if you're looking for the perfect Ugly Griswold Family Christmas Sweater, this is the perfect one!
Christmas Vacation Party Griswold Style Moose Mugs
Christmas Vacation Moose Mug
Assortment of Moose Mugs
Inflatable Turkey – perfect for a Clark Griswold prop
For the beverage table, we had some Christmas glasses and I purchased 1 dozen Moose Mugs that were shown in a couple of scenes of the movie. Because they are expensive I also purchased 80's Christmas glasses from the thrift store. We served Egg Nog, Luscious Slush Punch, water and Hot Apple Cider.
This is the YUMMY Luscious Slush Punch recipe that we served at the party. We don't drink alcohol so this is great punch to serve at events without alcohol. I served it at a SWAT Christmas party years ago – even the guys on my husbands team mentioned how much they liked it and asked for the recipe.
Luscious Slush Punch
1.5 – 2 cups white sugar
6 cups water
2 (3 ounce) packages strawberry gelatin mix
1 (46 fluid ounce) can pineapple juice
2/3 cup lemon juice
1 quart orange juice
2 (2 liter) bottles Sprite soda (Chilled)
Directions:
In a large saucepan, combine sugar, water, and
strawberry flavored gelatin. Boil for 3 minutes. Stir in pineapple juice, lemon juice, and orange juice. Divide mixture in half, and pour into 2 – freezer bags (gallon size). Lay flat and freeze at least 24 hours.
Let sit out an hour before serving. When
ready to serve, place the frozen contents of one bag in a punch bowl, and stir in 1 bottle of Sprite until slushy.
Keep extra bottles of Sprite around. I might actually prefer 2 1/2 bottles of sprite per the recipe (instead of 2 bottles).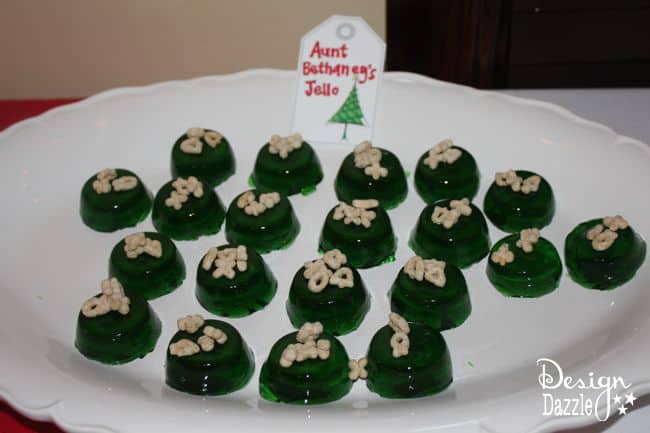 We prepared Aunt Bethaney's Cat Food, don't worry we didn't use real cat food – we used cereal and flavored gelatin. For the life of me, I can't figure out why only one or two guests tried it? ; ) We used little muffin tins for single servings instead of the bundt pan like Aunt Bethaney used, just to make it easier to eat.
We made "Jelly of the Month Club" which was cream cheese covered with red pepper jelly served up with crackers.
 We served some delicious Shnotz Puppy Chow which was peppermint Chex mix. Cousin Eddies dog is named Schnotz. There is a scene in the movie where Clark purchases months worth of dog food for Schnotz because Cousin Eddie loads up the grocery cart with dog food.
For "Where's the Tylenol?" (Clark was at his wit's end and needed Tylenol after his rant about his boss) we served white York candy pieces. The package contains blue and white pieces but we just used the white pieces. We also had the guests bring a few dishes we had some delicious dips and desserts!
We had a white elephant gift exchange and there was some roll on the floor laughing, FUNNY gifts. We had "fish'n'chips" which were some live fish and Pringle Chips. Check the end of the post to see what ended up happening to those fish.
We had some half-used gift cards, and surprisingly that was a fought-over gift, I opened up a gift with some hotel slippers and was pretty excited about those but of course, when you open a good gift it's highly likely that it will get taken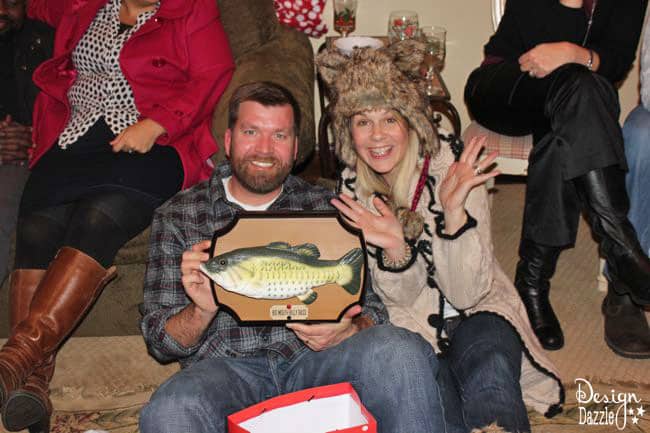 We gave away one of those singing bass plaques. It was actually wanted by Amy and Ryan
During the party, we had some Griswold activities.
We had a Christmas Vacation Trivia. Our friends Suzy and Tom won the trivia. Their prize was a Moose Mug tree ornament.
They are dressed up as Eddie and Catherine (fun costumes) and are holding their White Elephant Gifts (which was stolen from me ; )
We had a Costume contest that Brenda and Wade won. They dressed up as Cousin Eddie and Cousin Catherine. They were hilarious! Green Beans were the White Elephant gift.
Looking for 'Christmas Vacation' gifts? Check out this blog post all about Christmas Vacation! We even share a Christmas Vacation themed Christmas tree!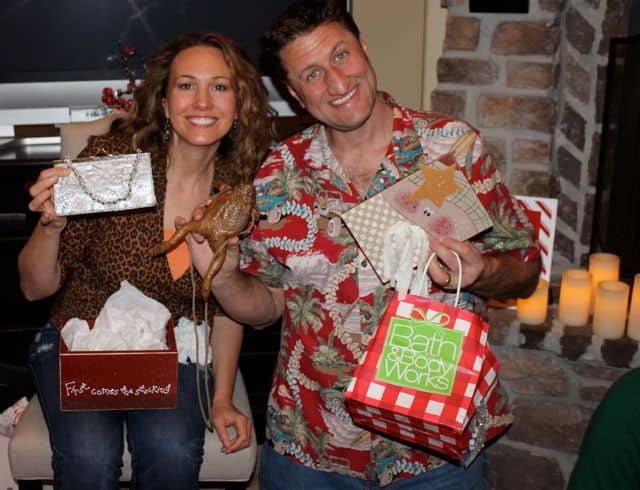 Marlo and Rhett
A "real" frog purse and some half used gift cards were a hit at the party.
My husband and I dressed up for the party. He dressed up in a Santa Suit and a blue dress shirt with a Christmas tie just like Sparky. We also attached a squirrel to the back just for the finishing touch. Does he not look like Sparky? I found a 3D moose that moves and sings (thrift store) and tied that around my red Christmas sweater for my ugly Christmas sweater.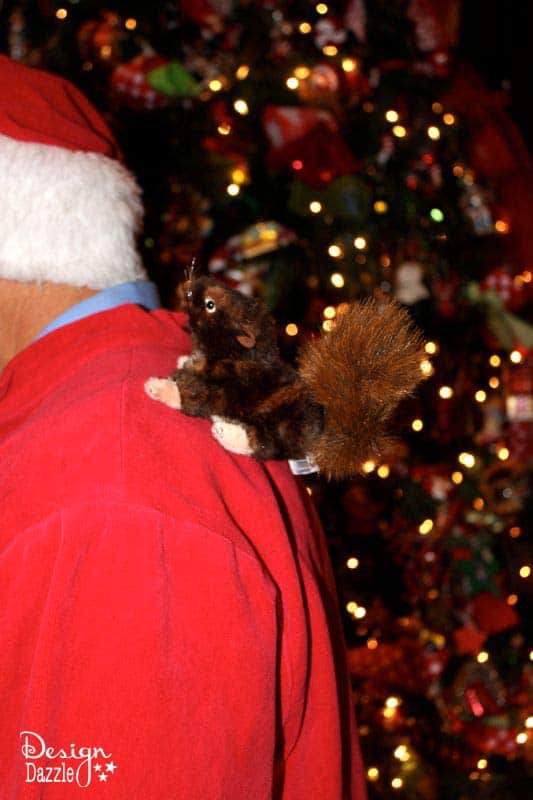 We also showed the opening clip from the movie where Clark is driving to go get the tree and he is being an aggressive driver, it was a great chance for all the wives to joke about their husbands.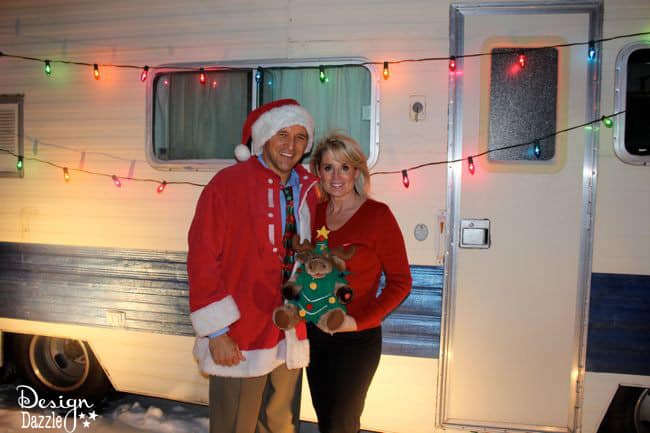 Now let me tell you about the highlight of the party. Do you remember Cousin Eddie who shows up in his RV with his wife and kids? Well, he showed up at the party. We found the perfect "Cousin Eddie RV" and we parked out in front of our house and decorated it with C9 lights. Is that not the best backdrop for a photo background at a Christmas Vacation party (Griswold style)?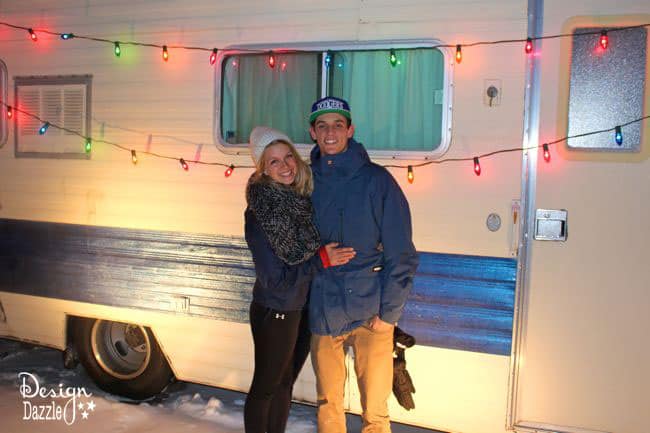 Marissa and Cole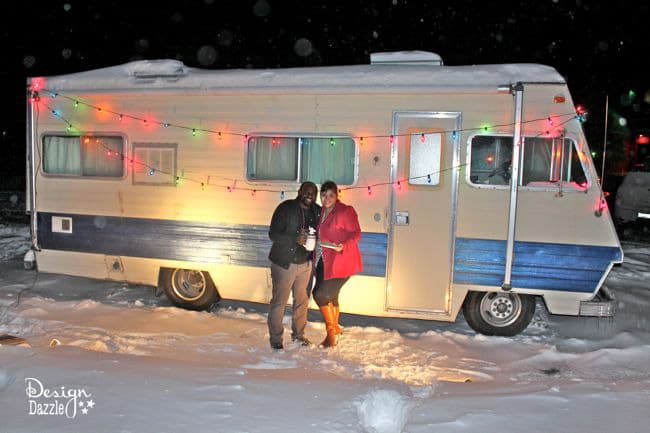 Jen and Spencer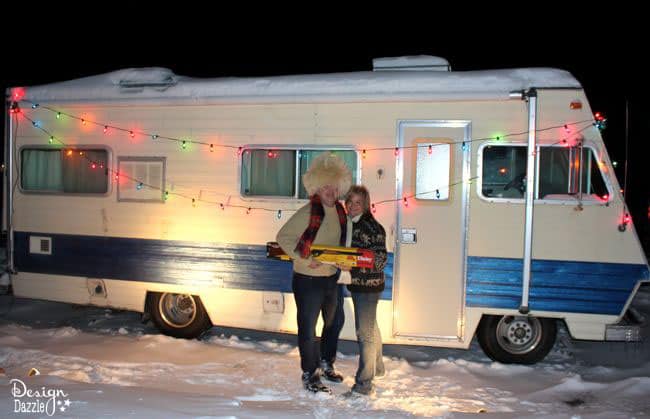 Chad and Cassie. By the way, that is a hat ; )
Earlier we mentioned the "Fish and Chips" gift that was one of our White Elephant Gifts. We later found the fish in our water dispenser. No fish were harmed in this prank.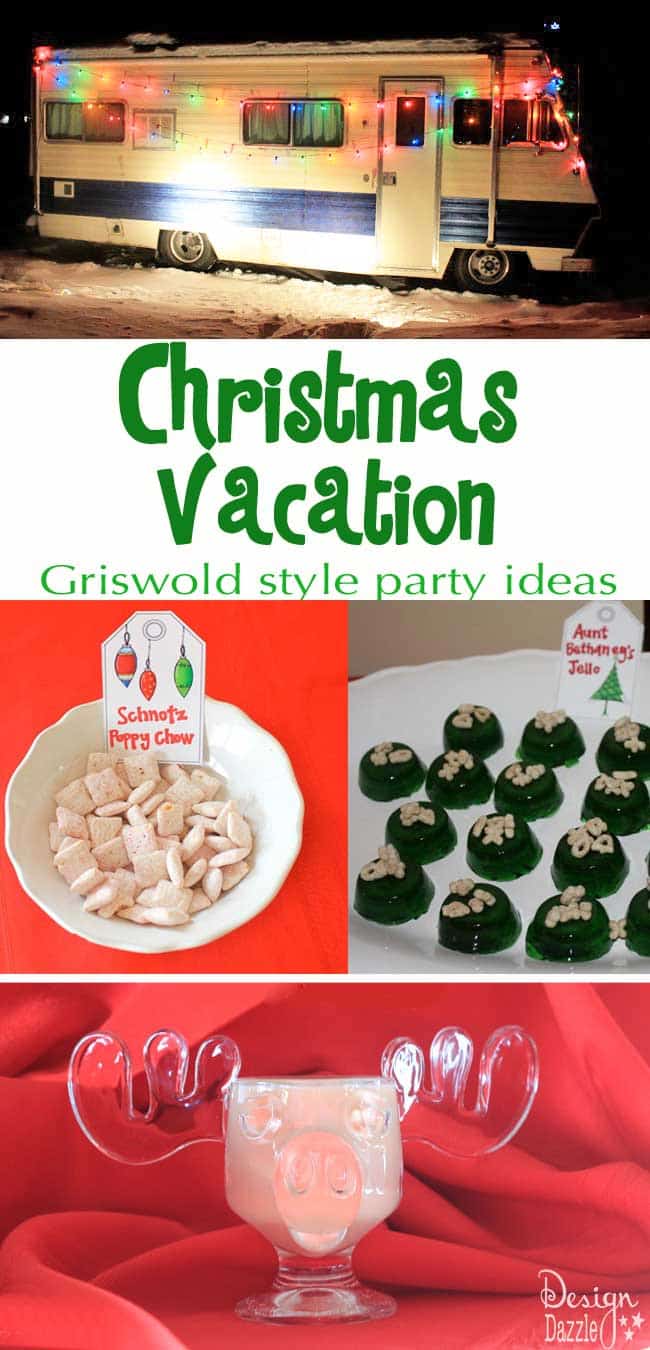 The infamous Cousin Eddie

We had so much fun at this party and I know our friends did too! We have a lot more photos of friends but just included a few in this post. Christmas is just a wonderful time of year and its the perfect time to do something special and do it with people you love. We already know our movie theme party for next year…