This post may contain affiliate links that, at no additional cost to you, I may earn a small commission. Read our Disclosure Policy.
I'm so happy to be sharing part one of my Christmas Entryway Home Tour with you today!
Stacy Risenmay has been awesome enough to put together a Christmas Home Tour roundup with so many fantastic bloggers.
There are some amazing ideas included that you shouldn't miss!
Make sure to check it out and see the next Christmas Home Tour blogger by clicking the link at the bottom of this post!
Decorating for the holidays is something I look forward to and enjoy every year.
I love being able to get creative and make my home as fun and festive as possible!
This year has been especially great, and since there's so much I want to show you, I'm breaking my home tour into a four-part series!
Make sure you stay tuned and check out the links at the bottom of this post to see my Christmas kitchen, living room, and dining table!
To kick it all off, I'm starting with showing you around my holiday themed front porch and entryway!
Let the Christmas entryway and home tour begin!
The porch is an important part of any home because it's what gives a sense of welcome and refuge to anyone who visits.
I love adding some non-traditional elements to my porch to make it feel extra cozy and homey.
Pillows, the tree, and the big red rocking chair all add a cozy and rustic element that invites you in and keeps you interested!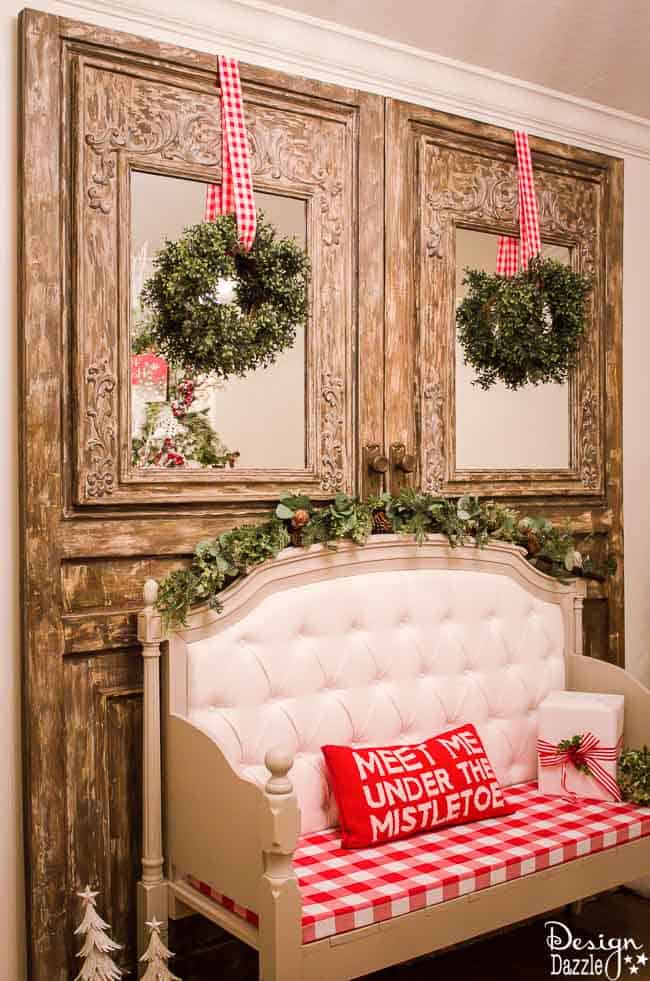 I adore these doors and bench that I made!
Even though these doors look vintage, they were actually created with new wood!
You can read all about how I made them here.
I created the bench out of a headboard and baseboard back in the spring, and I'll be posting about it in detail soon, so keep an eye out!
If you've known me for a while, you know that the first thing I always recommend doing when decorating is to "shop your home."
You might have forgotten about some things you have, or you might find something that you can use in a new way!
You can get inspiration from things you already have and don't always have to buy a lot of new things.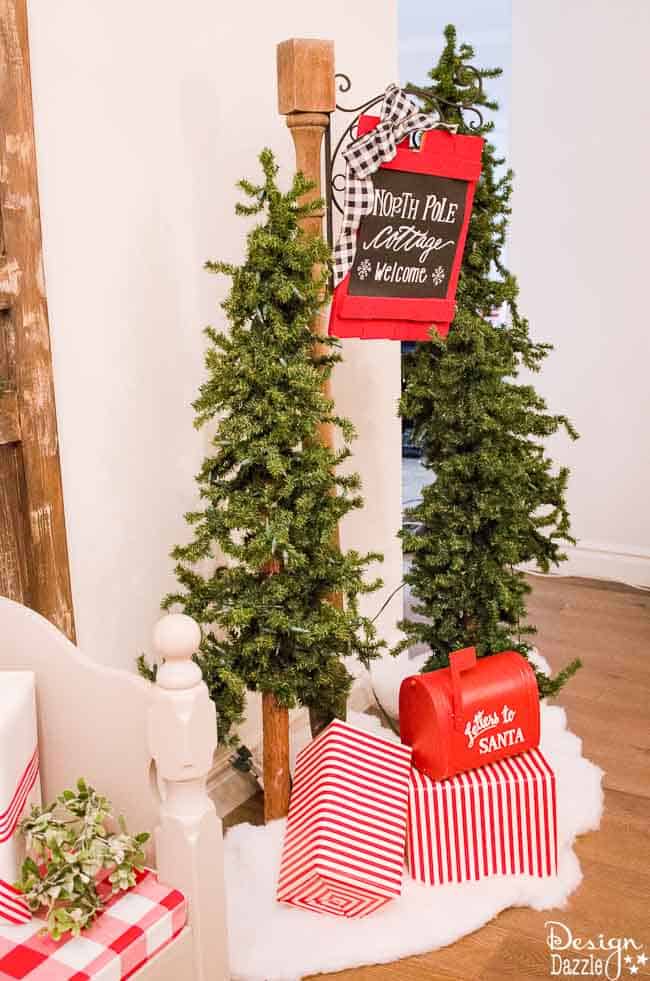 I find the majority of my holiday decor at Michael's. They always have an amazing selection with lots of different styles!
I rented this adorable white door came from Blissful Charm. It compliments the rest of my decor perfectly!
This year I decorated a Christmas tree with the theme "Mrs. Claus' Cottage" and I am thrilled with how it turned out!
To see the full tree and all its details, check it out here!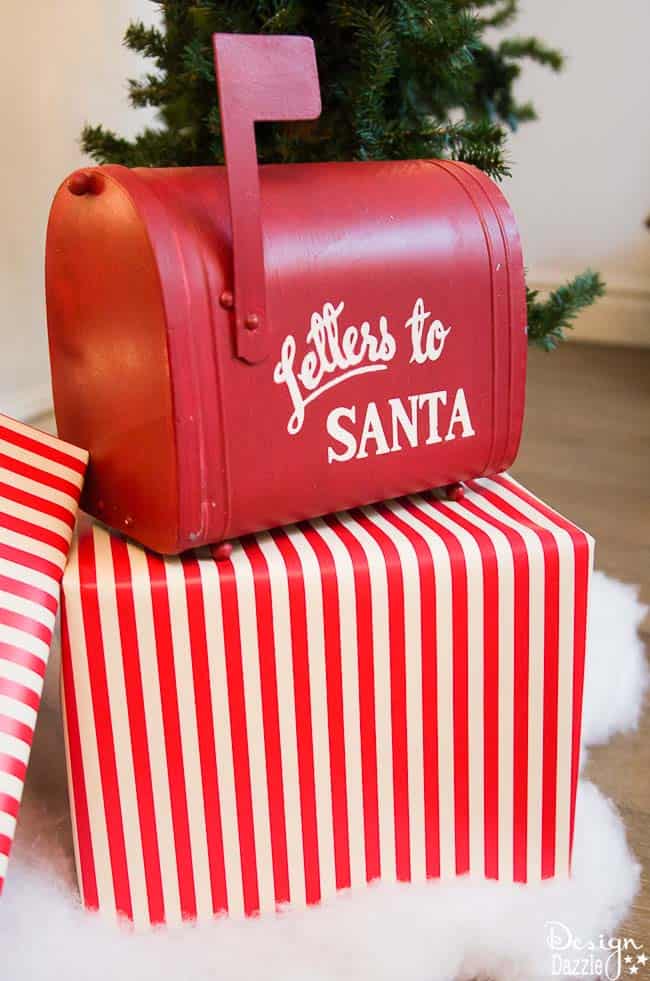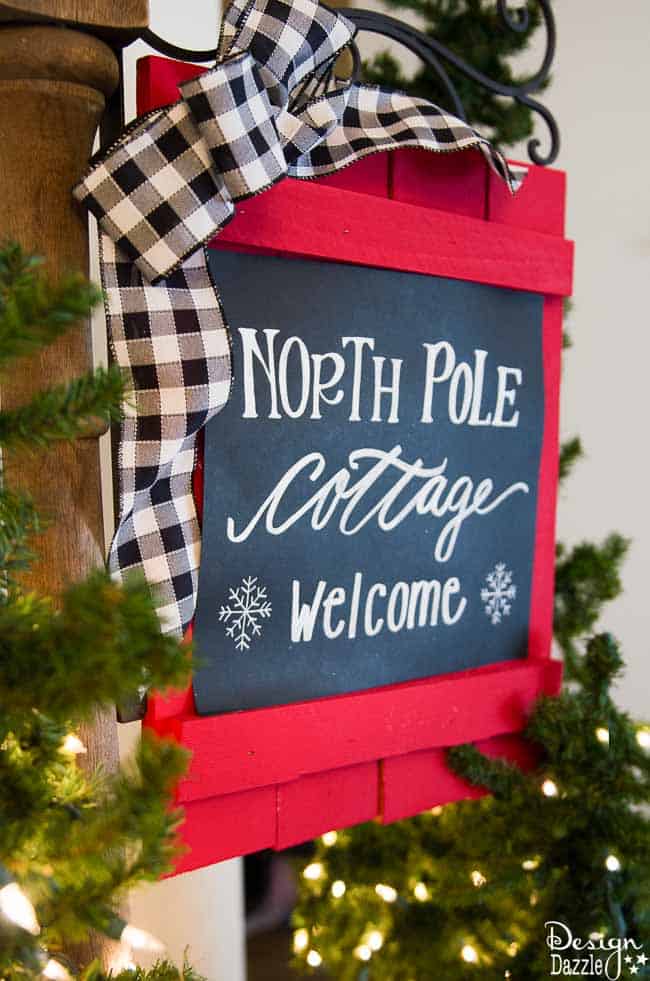 Isn't this sign adorable? It was actually so easy to put together.
I already had the red background, then just created the chalkboard part and stuck it on, and it looks perfect with the mailbox and presents!
I just love how everything came together on my porch and in my entry way.
It's so festive, cozy, and just what I wanted. My kitchen turned out spectacularly as well, so take a peek at that as well!
Be sure to go to the next home tour on the list so you can see all of the gorgeous homes in the home tour and get some other fantastic holiday home decor ideas! The next blogger to visit is Jessica Wangelin from Decor Adventures.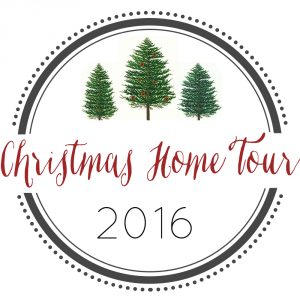 See more of my Christmas Home Tour!
Front Porch and Entryway (This post)
Living Room (Will be posted on Friday!)