This post may contain affiliate links that, at no additional cost to you, I may earn a small commission. Read our Disclosure Policy.
Hello, friends! Christie from Ritzy Parties here, and I'm bringing you a bright and cheery, unconventionally cute Christmas tree featuring renowned Mexican artist, Frida Kahlo. Check out this unique Friday Kahlo tree!
Frida is an inspiration to so many artists and crafters. Her floral crown and connection to Mexican design elements like cacti and llamas were the basis for this fun design.
To begin, I hand painted shatterproof ornaments with cute Frida faces using acrylic paint. Yarn hair was added, as well as that signature flower crown. I made a total of eight darling Frida ornaments to hang on my skinny white tree.
I also created some fun ceramic cacti ornaments. These are simple to create, just paint the base color a deep shade of your favorite green, then add white details like lines, dots and other graphic shapes. A coat of Glitterific paint in green adds just the right amount of sparkle and shine.
Llama pinatas were hung in this Frida Kahlo tree as well. I love their larger scale and the addition of pink and turquoise from their cute accessories.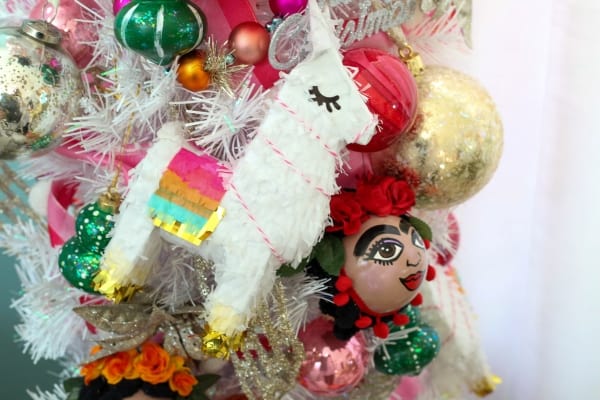 Of course loads of sparkly ribbon and coordinating ball ornaments in shades of sunset orange and iridescent coral pink really pulled the entire look together. Packages below the tree are wrapped and embellished with fun trims like pom poms and fur, and feature llamas on the wrap and ribbons!
And speaking of coordination…I just had to bake some cookies to go with the entire theme! These Frida and llama cookies were so much fun to make. The Frida heads are actually cut from a cute nested flower cutter, I used the largest and the smallest to create the Fridas in this set. A full llama body, as well as a larger llama head were also cut. I used a small holly leaf cutter to create the "corazones" or hearts.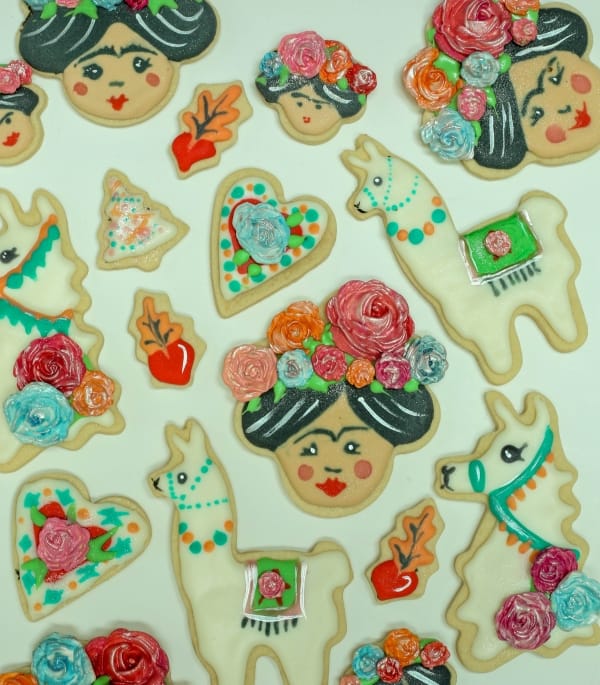 The fondant flowers on the Frida crowns and detailing the llamas are hand painted with edible paint, and then dusted with edible shimmer dust.
The overall look is so artful and pretty, they're nearly impossible to eat! I'm sure I can tempt my friends and family to try them, though.
Merry Christmas Wonderful, and Feliz Navidad! I hope you've enjoyed seeing how we're celebrating this year
Christie Troxell is a Designer, Event Planner and Artist based in sunny Southern California. She believes in beautifying the world, one project at a time. Her motto is, "There are no rules, celebrate everything!"
If you are looking for more fun DIY Christmas tree ideas, check out this "Believe in the Magic of Christmas" dream tree.