Fifty bloggers are doing a blog hop to bring all of our readers easy, fantastic dinner ideas! I'm sharing an easy dinner (or breakfast) recipe that I've been making for 25 years! Scroll down to the bottom of the post to see all of the other ideas as well. Thank you to Sarah of Becoming Martha for putting together the blog hop.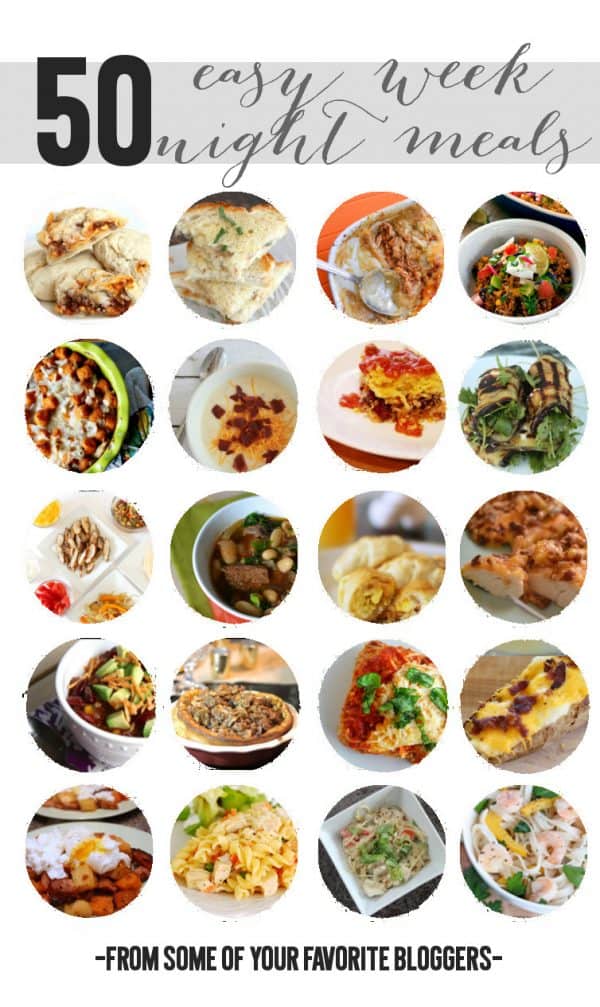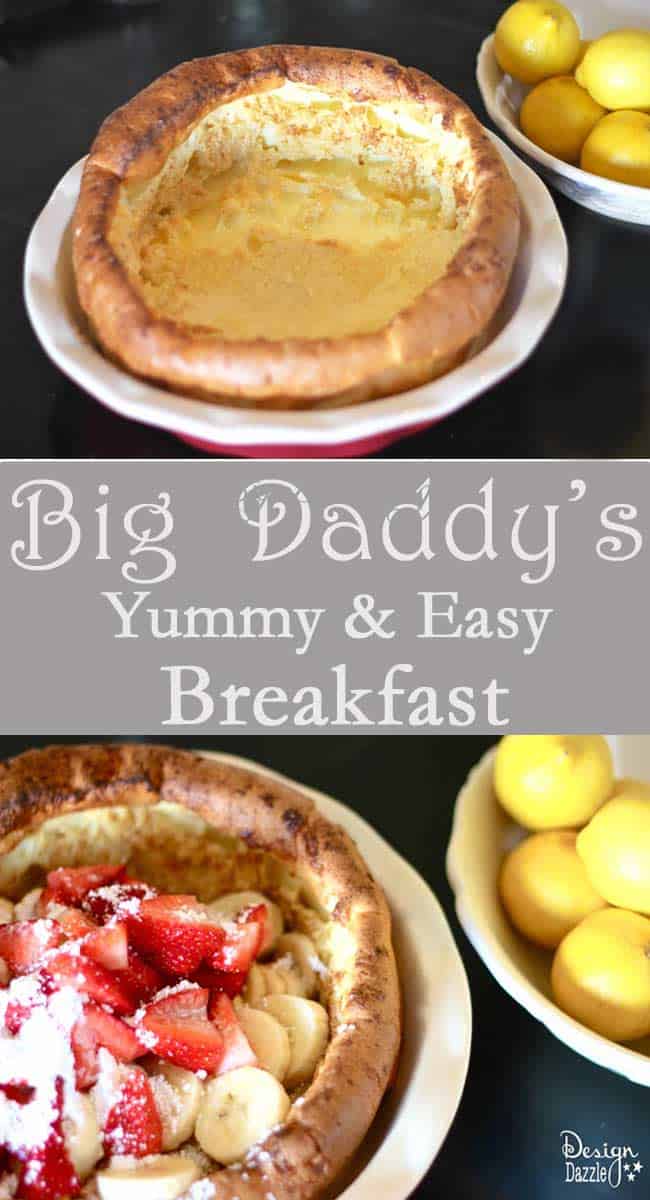 What in the world are Big Daddy's?? Just imagine a big puffy crepe or big puffy pancake (like a souffle). If you've heard of German oven or dutch oven pancakes these are them, but with a much better name! When they come out of the oven they are really huge – so the kids and I named them Big Daddy's. I love the fact that Big Daddy's make for An Easy Breakfast or Dinner! Our family occasionally has breakfast for dinner ; ) Do you have a picky eater? Yep, I've got them too and this was always a favorite! And I especially like that these are so easy for a large family or group of guests and EVERYONE loves them. Making individual pancakes or crepes can be a little time consuming. It only takes about 10 minutes to assemble the Big Daddy's and about 20-25 minutes to bake. While they are baking we get the toppings ready. This is also one of those meals where it is easy for little kids (and big kids) to help. Give the little kids a butter knife and have them cut the strawberries and bananas. No sharp knives to use and the kids will enjoy being a "big" kid!
If you need a gluten-free Big Daddy, I substitute gluten-free flour for the regular flour. These are a yummy gluten-free dish!
We serve fresh fruit such as bananas, strawberries, blueberries, etc. and a squeeze of lemon and powdered sugar to finish it off for the perfect touch.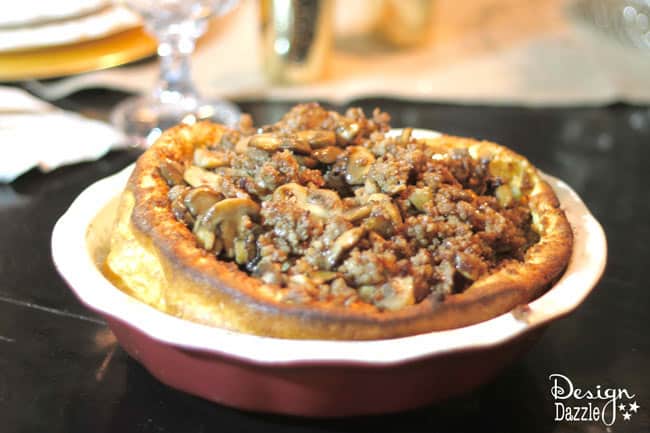 I've also made a savory Big Daddy. I cooked up some bulk breakfast sausage with onions and mushrooms and added the mixture to the top of the Big Daddy's. Pretty yummy!
Big Daddy's Pancakes
Ingredients
Ingredients for 3-4 People
6

eggs

1

c.

flour

all-purpose, cake flour or gluten-free flour

1

c.

milk

5

tbsp.

butter

I use salted butter
Ingredients for 5-6 People
9

eggs

1 ½

c.

flour

all-purpose, cake flour or gluten-free flour

1 ½

c.

milk

1

cube butter

I use salted butter
Instructions
Bake in a 9 x 13" baking dish.

Pre-heat oven to 450 degrees. This is a MUST.

Place butter in the baking dish. Bake in the oven until melted.

While the butter is melting, get your batter ready. In a large bowl, beat eggs until light and frothy. Add milk and flour beat well.

Pour batter directly into hot pan that has the melted butter in it. The butter will rise up over some of the batter (as shown in the pictures). This is normal.

Bake 20-25 minutes in 450 degree oven until golden brown and completely puffy on the sides.
As you can see there are lots of lumps in my batter. You can use a mixer or blender to mix the batter well (I didn't this time). You can't taste the lumps once cooked.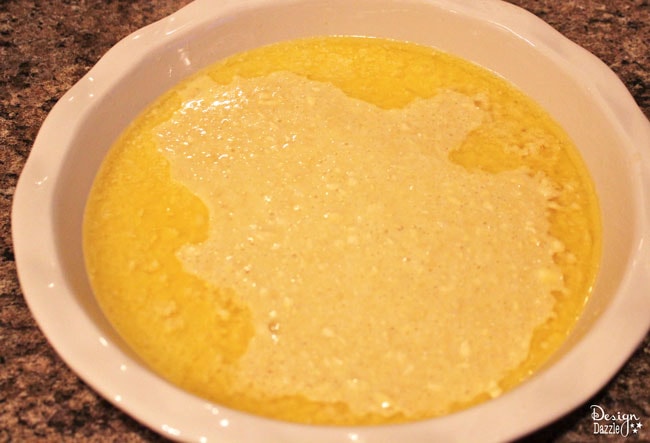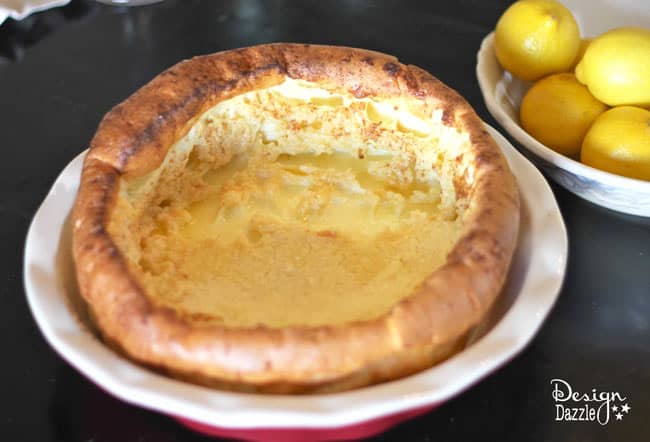 This is what it looks like when it comes right out of the oven. The Big Daddy was baked in a 9 inch baking dish. You can see the melted butter which is one of my favorite parts. Serve immediately. This is a showpiece when you bring it out of the oven. So I always have the family seated at the table before it is removed from the oven.
I added strawberries, bananas and powdered sugar shown in the picture  above. But I usually serve it plain and have several toppings in individual bowls so my family can serve themselves and add the toppings they choose.
Topping Ideas:
Bananas
Strawberries
Blueberries
Raspberries
Applesauce
Syrup
Confectioners Sugar
Strawberries & Whipped Cream
Squeeze of lemon and a sprinkling of powdered sugar.
or you can do any savory type of  topping that sounds good to you!
TIPS for making Big Daddy's:
Use room temperature milk for the recipe
Place a hot pad or wood trivet on your dining room table so you have a place to set the HOT dish/pan (right out of the oven)
Make sure your family/guests are seated before you bring the dinner out of the oven
Little kids can help cut the bananas and strawberries (any other soft fruit) by using a butter knife
I would keep frozen berries in the fridge for a last minute "what am I doing for dinner?". All the other ingredients I always have in my pantry or fridge.