Prep this make-ahead breakfast casserole (refrigerate overnight) for an easy pop in the oven casserole and you're done with breakfast (just like that)! This refrigerated overnight casserole takes minimal effort and is yummy. I've only been making this recipe for almost 30 years. It is a great Christmas breakfast casserole since it's made ahead of time. I don't want a lot of effort on my part on Christmas morning. So we open gifts while this casserole bakes. This casserole is expected in my home Christmas morning.
One of the unique ingredients is croutons?? Who would've guessed croutons are used in this yummy recipe. I've made this breakfast casserole recipe many times with gluten-free croutons. After tasting it, you wouldn't even know it's gluten-free. Walmart carries gluten-free croutons.
Place croutons on the bottom of the casserole dish.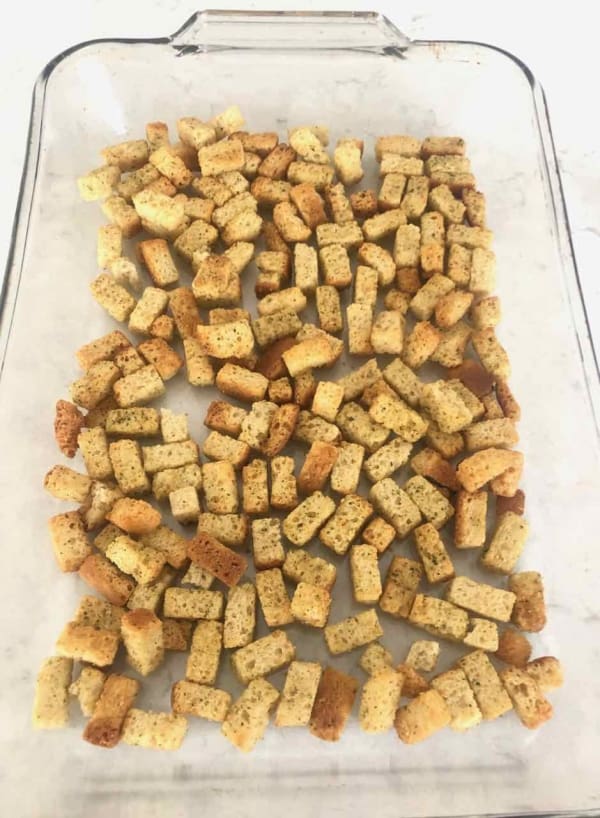 Place sliced cheese over the croutons. I use Pepper Jack, Swiss and Cheddar.
Cook sausage on stove top, drain grease and place on top of cheese.
Mix the rest of ingredients and pour the egg-mixture over the top of the croutons, cheese and sausage.
Tightly wrap foil over the dish and place in refrigerator overnight.
In the morning when you will be serving the casserole, pull out of the fridge and let sit for 30 minutes or so. Bake as directed til golden brown. Serve immediately. Sour cream and salsa are yummy additions.
I like baking the casserole til golden brown!
Best Breakfast Casserole
Ingredients:
1 pound pork sausage
1 (5.5 ounce) package seasoned croutons
9 slices of Cheddar Cheese or 1 ½ cups, grated Cheddar Cheese
7 slices of Swiss Cheese or 1 cup grated Swiss Cheese
7 slices Pepper Jack Cheese or 1 cup grated Pepper Jack Cheese
8 eggs
1 pint half and half cream
1 ½ cups milk
1 ½ teaspoon dry mustard
1-2 tablespoon minced onion
Salt and pepper to taste
Steps:
Cook sausage over medium-high heat until evenly browned. Drain, crumble and set aside.
In a lightly greased 9 x 13 baking dish, arrange croutons in a single layer. Layer with Cheddar cheese, Swiss cheese and Pepper Jack cheese. Top with the cooked sausage.
In a large bowl, beat together the eggs, half and half, milk, mustard, onion, salt and pepper. Pour into the dish over the sausage. Cover with foil and refrigerate overnight.
The next morning bake in an oven preheated to 375 degrees bake for 55-60 minutes (with foil on). Bake another 5 minutes with the foil removed. The casserole should be browned when done.
Tips:
The dry mustard is an important ingredient. If you leave out the dry mustard, it's more bland.
To make this casserole gluten-free, use gluten-free croutons.