I love learning new things. It is a part of my personality ever since I was a child. As long as it interests me, I want to try it.  Never be afraid to try new things!! Set a goal to try a new hobby – crafts, paper crafts, art, cake decorating, jewelry making, (whatever speaks to you as fun!!). Speaking about jewelry making. I took a class called Back In Class at Michaels on how to make some jewelry. I had never made jewelry and guess what? I really enjoyed it!!
Do you like my leather wrapped bracelet I made with a charm and a stone? So pretty and quite easy.
Back In Class: Try New Things!
Michaels Stores has quite a list of classes they offer monthly. Did you know that Michaels offers free classes in their stores? You can try out a new craft skill for just the cost of supplies.
Another great way to explore your creativity is by trying out a craft kit. Michaels has everything from sewing kits to art kits and everything in between.
I signed up for the Jewelry Making Wire Wrapping: Glass Bead Leather Bracelet class. When I arrived at the class the instructor helps you gather the materials needed. There are so many choices at Michaels it was nice to have help.
The instructor, Tiffany, was a great help and certainly knew her stuff!! She went over the basic tools typically used in jewelry making. Here are the very basic descriptions:
Flat nose pliers- close crimps
Chain nose pliers – help attach jump rings
Round nose pliers – make loops
Side cutters – cut wire
I was taught how to make an eye pin loop which certainly is a "must-know" step to create jewelry. Items I used to create this leather wrapped charm bracelet:
head pins
eye pin
crimp closure
jump ring
toggle clasp
crystal bead
gold bead
charm
leather cord
Almost done. I added the letter "T" for my initial and I was done. It took me about 1.5 hours from start to finish. I would highly encourage you to take a class to learn something new!!
It's so nice to walk into a clean and brightly lit classroom.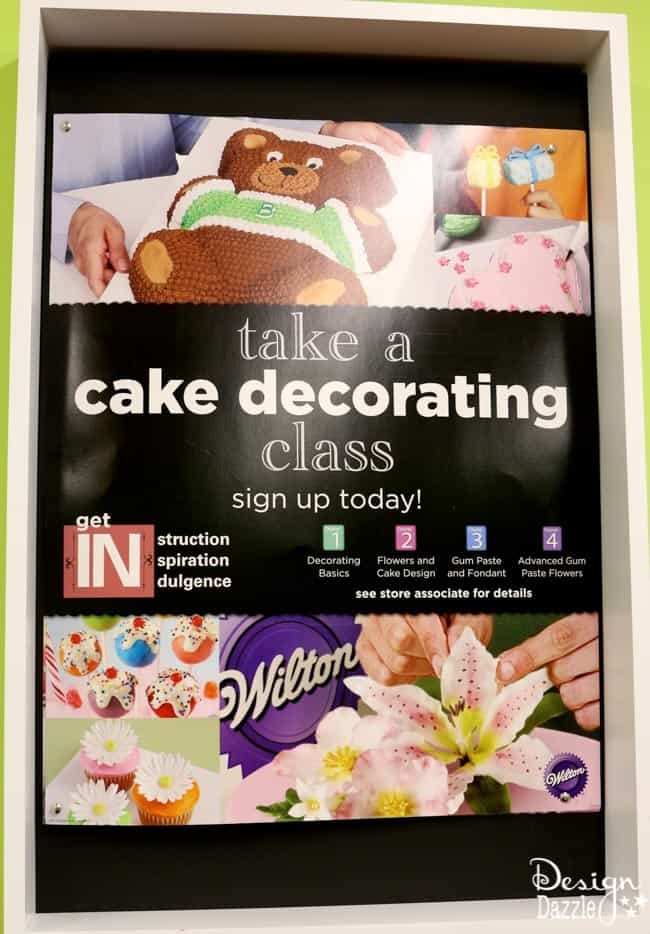 Lots of classes to choose from – art, cake decorating, jewelry, crochet, drawing, paper crafting, floral and more.
Indulge yourself in a fun time for yourself! Check out my friends Back in Class Challenge: