This post may contain affiliate links that, at no additional cost to you, I may earn a small commission. Read our Disclosure Policy.
Do you love visiting the Los Angeles area in California, but would like to do something new in LA? Venice Beach is a place you must check out at least once in your lifetime! This past year, my son graduated from USC with his Batchelor's degree, and we were so excited to celebrate with him. A few of our family members were coming and we wanted to be able to stay together, so we rented a house in the Venice Canal Historic District. When renting airbnb or VRBO, we have found that it's worth it to find a really unique and fun place. Venice Beach is about 30-40 minutes of driving from downtown LA and only 7-8 miles from LAX. Having our own space to hang out and make memories together was wonderful!
We got a place right along the water front of the canals. Along the canals, there are so many unique houses to daydream about. Here are a few of my photos from our many walks along the canals!
Do looking at these photos make you feel like you're in Venice, Italy? The developer that designed these canals over 100 years ago wanted to bring a bit of Italy to Southern California. Back in the day, this was the ultimate place to visit. There were imported gondolas and gondoliers from Italy, amusement parks, foreign exhibits, a miniature steam railroad, and more. It's not like that today, but still such an interesting place to visit.
The area covered by canals used to be three or four times the size of what it is now. The former canals have been filled with cement, but there are still four main canals. There are sidewalks and great pedestrian bridges all throughout the canals, which make it a perfect place to explore.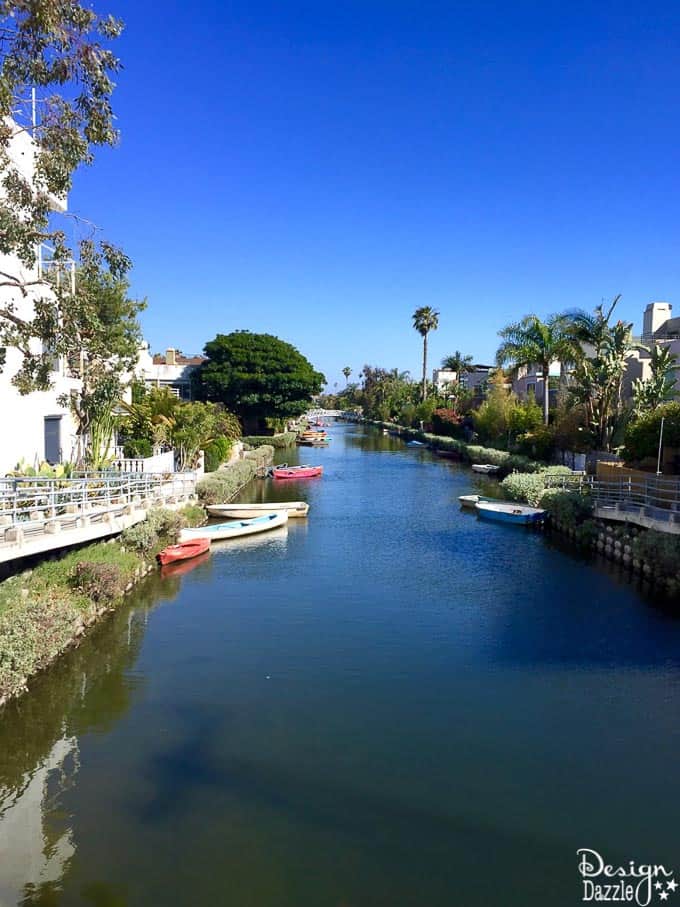 I love that you can see all the little boats, kayaks, and canoes tied up in front of the houses. It would be so fun to kayak down the canals!
I love how the canals change at sundown. It becomes so peaceful and calm. The reflection of the lights on the water was so beautiful to watch as we sat on the patio.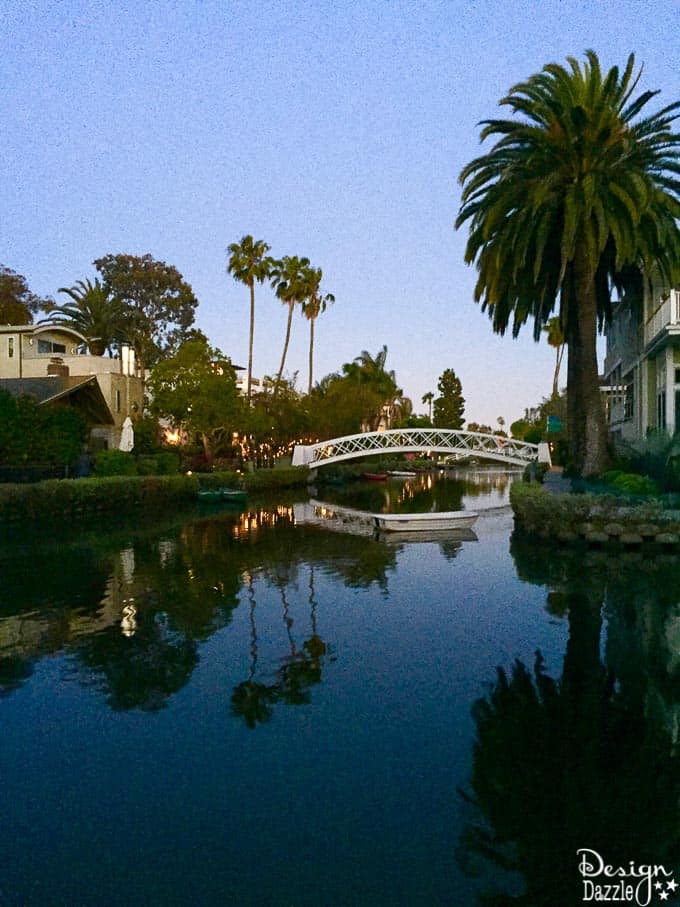 Sunset is always a fun time to be outside, and the canals only made it better.
I loved the assortment of lanterns and lights hanging from this tree! It was enchanting.
We loved exploring around our rental. One of the perks of our location is that from the canals, the beach is about a 5 minute walk. We got to spend a day exploring a few different beaches- check them out below!
Venice Beach
I always love a good beach day! Venice Beach is pretty unique. It is a huge area with many public outdoor amenities. There are skateboard parks, weight lifting stations, tennis courts, racket ball courts, playgrounds, sand volleyball courts, bike trails, and more. If you like spending time outside, this is the perfect place for you!
Another exciting part of Venice is Muscle Beach. Muscle Beach is a popular place for bodybuilders, including Arnold Schwarzenegger at the peak of his bodybuilding career. At Muscle Beach, you'll find a large facility with weight lifting equipment, as well as exercise stations outside for public use. A large fitness competition is held here each year. While we were there, there was a crossfit competition. Some of you may want to participate, but I think it's more fun to be a spectator. 😉
While this beach does have playgrounds and plenty of outdoor facilities, it certainly has a different vibe from other beaches. You see a variety of people, which made for great people-watching. However, it gets pretty crowded and you could smell marijuana at times. ( :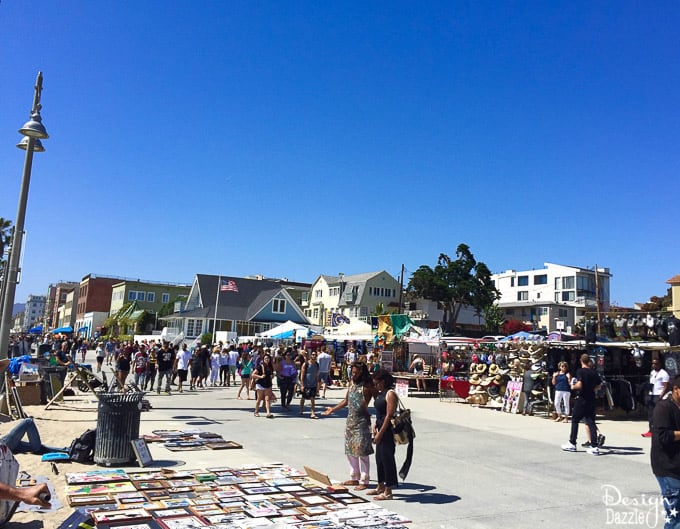 There were artists lining the sidewalks, painting as you walk by. The art wasn't my style, but it was fun to watch them work. There are lots of tourist trinkets to choose from at the Oceanfront walk. Vendors and performers fight for your attention as you walk by.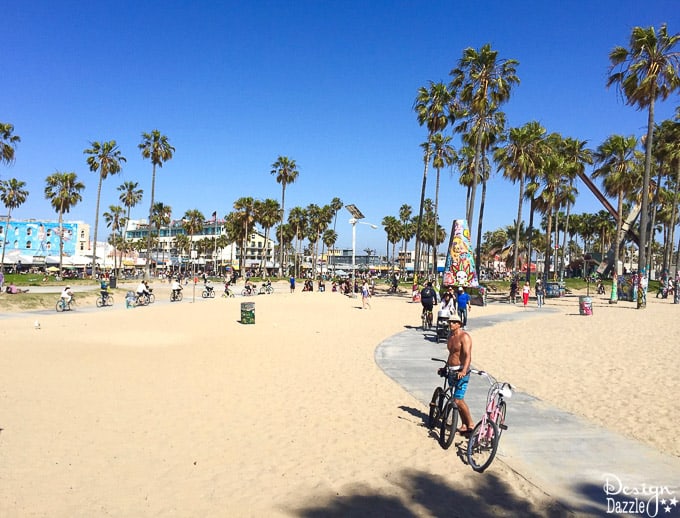 The amazing bike paths were one of our favorite parts of Venice Beach. It was so fun to ride bikes on the smooth paths, as they go on for miles and miles. It was a beautiful day for a bike ride! From Venice Beach, we rode to Santa Monica, where we spent the rest of our day. Venice Beach does start closing down before evening at the boardwalk and Santa Monica has the night life. Something to think about when planning a trip.
Santa Monica
Here's the view of the road between Venice Beach and Santa Monica. I would say that Santa Monica certainly feels a bit higher-class but Venice is a fun place to visit at least once.
If you're an avid cyclist and are looking for some good urban pathways, be sure to come here! As you can see, there is plenty of room for pedestrian and bike traffic. This would also be a great place to rollerblade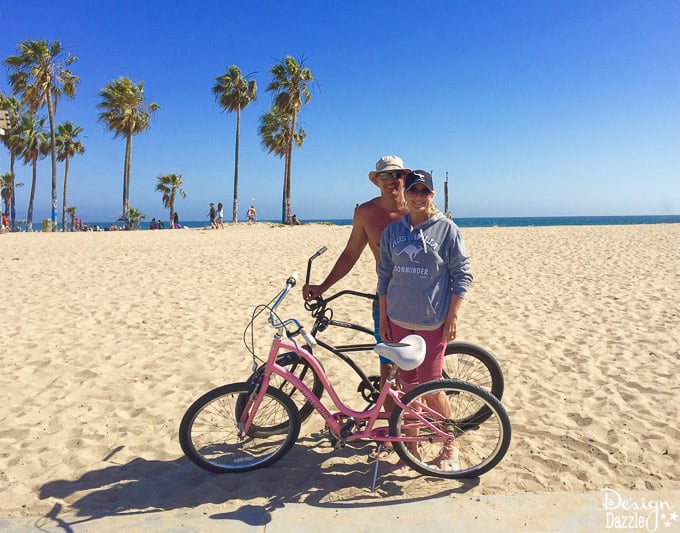 My hubby and I had a great time on our bike ride! It was so nice to be out and about, and even better to enjoy the beautiful scenery together. The bike paths made it so easy!
Up ahead, you can see the amusement park and fun rides at Santa Monica. This is a very family-friendly area. Because of this, it can get quite crowded, but it is still so fun to be around.
After busy graduation festivities and long, fun days at the beach, it was nice to come back to our rental. We loved having room to spread out and get cozy in. Having a fire pit to gather around as a family was so wonderful!
Another perk of having our own place was that we could go out to eat whenever we wanted, but we could also prepare food if we felt like it. For example, when I'm on vacation, I don't typically cook…but I could be convinced to make the easiest dessert ever per my family's request. Sometimes I'll make easy dishes such as spaghetti or my famous Big Daddy's casserole .What is nice is everyone can make a simple breakfast – cereal and milk, eggs and toast etc since we have a kitchen. And having ice cream goodies in the freezer is a plus for movie night.
We truly loved having our own private space but still getting to be along the community of the canals. And you really can't complain when you are so close to two amazing beaches! Let's break down what I liked and didn't like about Venice Beach and Santa Monica.
Two Beaches: Compare and Contrast
Venice Beach
Different vibe – funkier atmosphere
Could smell marijuana at times
Perfect people-watching beach
Street performers
Great facilities like skate park, racketball courts
Weightlifting scene
Great bike paths
Venice boardwalk swapmeet like shopping
Lifeguards were on duty while we were at the beach
Santa Monica Beach
Cleaner beach
More upscale
More children and family-friendly
Small amusement park and rides on the pier
Great bike paths
I personally didn't smell marijuan while I was there
Lifeguards were on duty while we were at the beach
Overall, I would recommend going to both of these beaches if you are in the area. If you have kids, you might consider spending your time closer to Santa Monica. In my personal opinion, I prefer Santa Monica, but both are fun to experience! This was such a special weekend for our family, and it was so fun to spend some time outside together! We loved making some really special memories in Venice Beach as a family.
Have you been to Santa Monica Beach or Venice Beach? If so, what are your favorite memories? I would love to hear them.


Save
Save
Save
Save
Save